These Tacos Al Pastor are a convenient spin on a traditional dish native to Central Mexico! With a fresh pineapple-centered marinade, crispy finish, and fresh cilantro relish, these tacos are a great meal for a family night in or your next hosted party.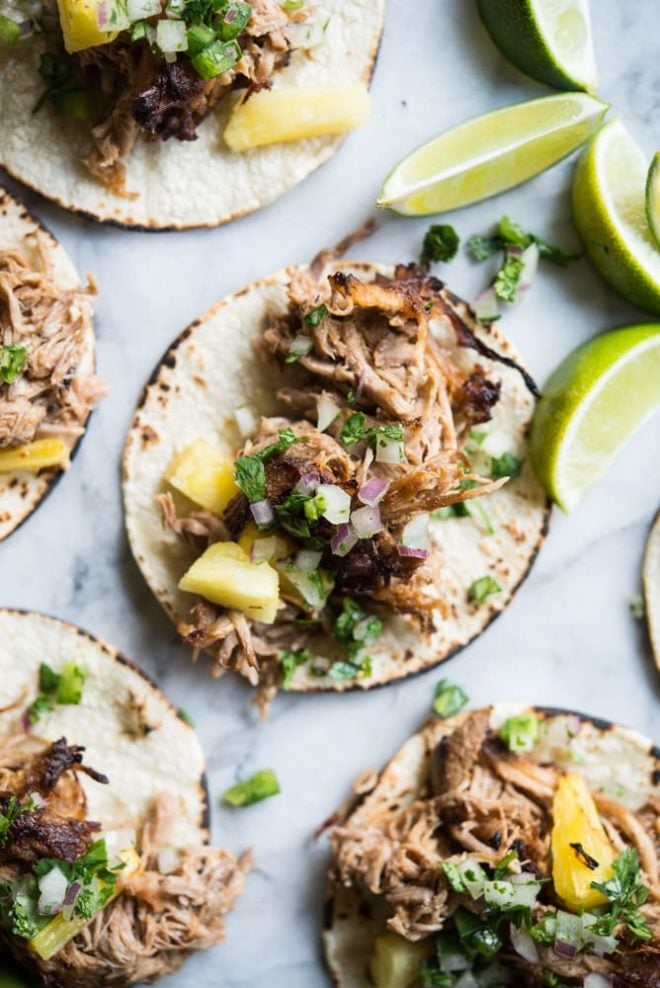 Tacos Al Pastor …do they need an introduction? Once upon a time, I needed an introduction to their (magical) secrets. Before they were in regular rotation in my life, I glazed over their presence on menus for YEARS.
Then, one day, I saw a waiter walk out of the kitchen carrying a plate with 4 tiny tacos that were stuffed with (what looked like) crispy pork, cilantro, and a bit of pineapple. "THAT! I WANT THAT!"
I'm one of those people who will shamelessly STARE DOWN plates as they walk by. I will lean way, way back to get a glance at what everyone ordered at your table. We all avoid eye contact, but we know what's happening. If you're proud of your order, maybe you lean back a bit so others can really take it in.
BUT, as soon as someone picks up a fork, I avert my eyes. Watching you eat would be weird …but drooling over your untouched choices is a little less weird.
Snooping what plates hit neighboring tables is how I've discovered so many of my favorite meals! Tacos Al Pastor included.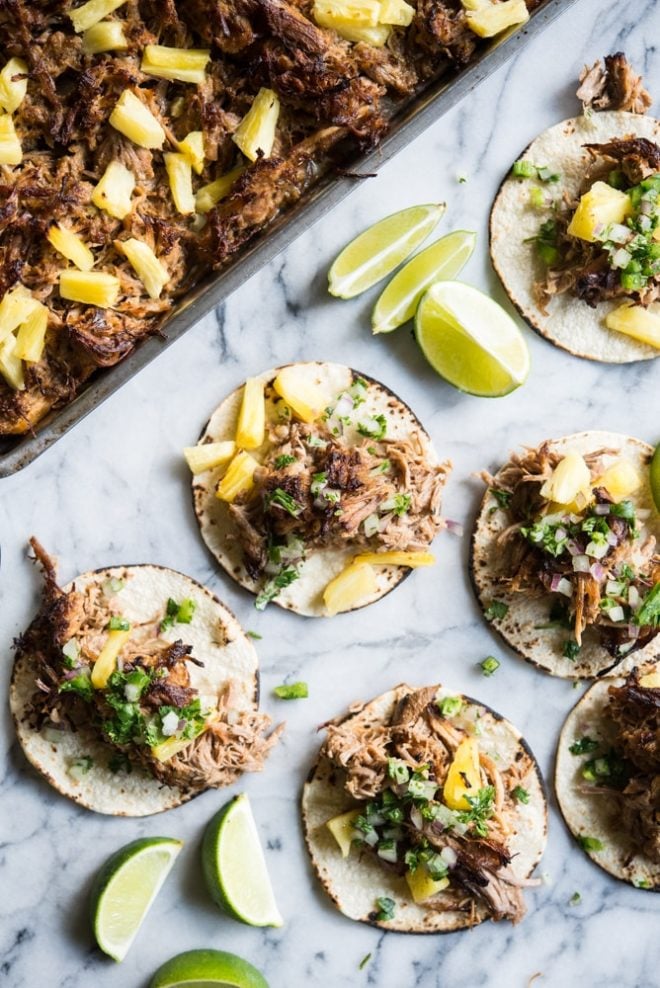 What are Tacos Al Pastor? What meat does Tacos Al Pastor have?
SO, what's up with these tiny tacos? Here's the scoop: they're usually made with pork shoulder, but can occasionally be found with pork tenderloin instead. Personally, I prefer pork shoulder. Why? Pork shoulder, marinated in a special chili marinade, makes for the most delicious, flavorful, crispy-on-the-outside, but juicy-on-the-inside taco filler. Add pineapples and, VOILA!, you've got the most scrumptious, spicy (but not too spicy), tangy (thanks, pineapple!) tacos known to mankind (or at least to me!)
Al Pastor Taco Ingredients
You'll need a few ingredients for the pork marinade, and a few ingredients for the tacos themselves!
For the Pork
Pork Shoulder

– we'll use a 4-5 pound pork shoulder for our tacos! Unless you're feeding a crowd, 5 pounds of meat = leftovers…leftover tacos al pastor is a beautiful thing!

White Onion

– ½ of a white onion gets blended into our al pastor marinade…

Pineapple

– …as does ½ (about 2 cups) of a pineapple!

Oregano + Chili Powder

– these classic spices used in Mexican fare are a must!

Garlic

– garlic makes everything better, am I right? 4 cloves get blended up!

Orange Juice

– orange juice really helps to break down and tenderize the pork and adds to the amazing flavor! You'll need 1 cup of freshly squeezed orange juice for this marinade.

Sea Salt

– 1 tablespoon of salt get added to the mix!

Guajillo Peppers in Adobo

– traditionally, dried chili peppers are used in the tacos al pastor marinade, but we've found that they can be too hard to get your hands on (many stores don't carry them), they're a bit difficult to use (you have to go through the process of re-hydrating them), and you're left with a bunch of leftover chilis when its all said and done. For these reasons, we tend to grab canned peppers. You'll need 4 peppers in adobo – guajillo peppers are our first choice, but chipotle peppers are a great sub!
For the Tacos Al Pastor
Pineapple

– we love to crisp the cooked pork in the oven with some extra pineapple! You'll need about a cup of diced pineapple for this.

Ghee, Butter, or Avocado Oil

– we pour a bit of butter (ghee or avocado oil work too!) over the cooked pork before popping it in the oven for a good crisp. The butter really helps to achieve that crispy texture – don't skip it!

Tortillas

– these Tacos Al Pastor are served on mini corn tortillas, but use whichever tortillas you love best!

Onion

– ½ of a (finely) diced onion, plus…

Jalapeno

– …½ a (finely) diced jalapeno, plus…

Cilantro

– …1 whole head of chopped fresh cilantro, and…

Lime Juice

– …1/4 cup of lime juice (about 2 limes) are combined to form a mouthwatering fresh taco-topper relish!

Sea Salt

– 1 teaspoon sea salt is sprinkled over the shredded pork and another is tossed in with the quick green pico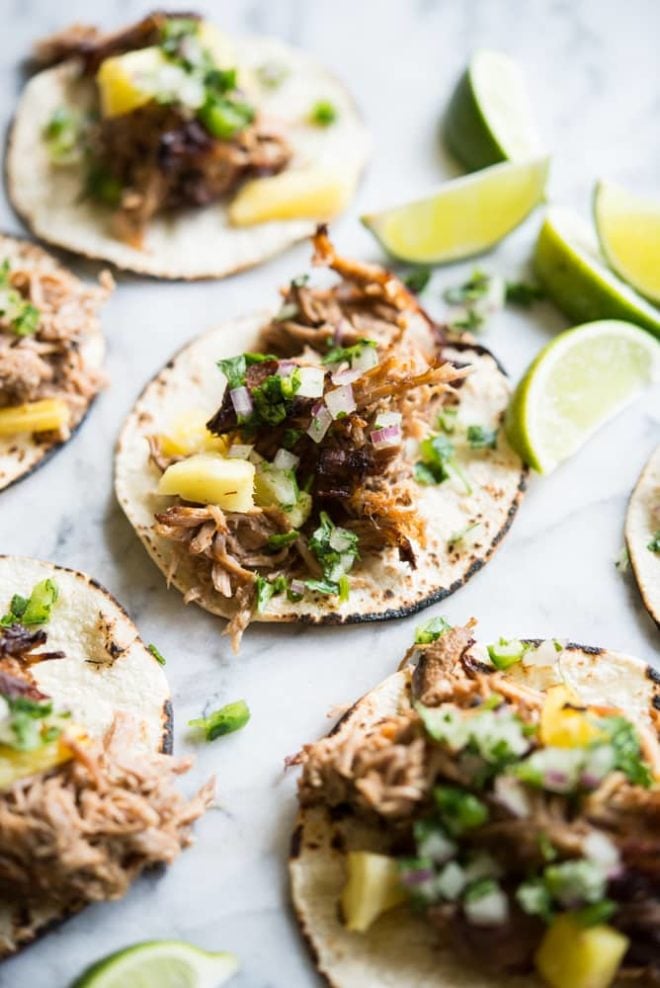 How to Make Tacos Al Pastor
Al Pastor is traditionally made by marinating the pork in a fresh mix to include fresh pineapple and some special chilis for at least a day (but not much longer). The pork is then roasted on a spit and thinly sliced (think: gyro meat, but Central Mexico-style).
Between the cabinet over-stuffed with baby plates (that we aren't even using yet) and the appliances crowding my countertop, I didn't quite have enough room for a spit in our kitchen…and I'm guessing you don't either! Don't fret – tacos al pastor can still be a part of your life thanks to these 3 easy (and totally accessible) cooking methods!
Part 1: Marinate the Pork
No matter which cooking method you pick, you'll need to get the pork marinating first! Here's how you do it:
Cut the pork shoulder.

Cut the pork shoulder into several 3-inch sized pieces, and then place the pieces in a large bowl.

Make the marinade.

Blend the onion, pineapple, oregano, garlic, orange juice, chili powder, sea salt, and guajillo (or chipotle) peppers until smooth.

Marinate the pork.

Pour the marinade over the pork shoulder and toss to coat. You can either cook right away (especially if you're using either the oven or slow cooker method to cook) or, if you have time on your hands, cover and refrigerate for 4 hours, up to overnight.
Part 2: Cook the Pork
Once the pork is sufficiently marinated, it's time to cook it! We're giving you 3 cooking methods…you pick whichever works best for you!
Instant Pot Method
The Instant Pot is a pressure cooker, slow cooker, you-name-it cooker all in one. It makes flaky meat (in no time) possible!
Add the pork + marinade to the Instant Pot.

Add the pork and marinade to the Instant Pot.

Cook the pork.

Secure the lid on the Instant Pot, make sure the valve is set to 'sealed,' press the 'manual' button, and set the Instant Pot to cook for 45 minutes. After 45 minutes is up, let the pressure release quickly (or naturally, if you're not in much of a hurry).
Slow Cooker Method
This method is perfect for the "set it and forget it" cook!
Add the pork + marinade to the slow cooker.

After marinating, add the pork and marinade to the slow cooker.

Cook the pork.

Cook the pork on low for 8-10 hours or on high for 4-6 hours, until it shreds easily with a fork.
Oven Method
The oven method is great for those who don't have an Instant Pot, and don't want to wait for the pork to cook in the slow cooker!
Preheat the oven.

Preheat the oven to 325°F.

Cook the pork.

Add the pork and marinade to a Dutch oven or enameled cast iron pot. Place the pork in the oven and cook for 3 ½ to 4 ½ hours, until the pork shreds easily with two forks.
Part 3: Crisp the pork!
This part is KEY! Crispy pork really takes tacos al pastor to the next level. No matter which cooking method you used, you'll follow these 4 steps to finish off your tacos.
Preheat the oven.

Preheat the oven to broil (though the meat is cooked, it still needs a good crisp in the oven!)

Shred + crisp.

Shred the pork with two forks, then toss the shredded pork with additional cooking liquid, butter, and pineapple. Once tossed, spread the pork out on a rimmed baking sheet, and broil it in the oven for 5-7 minutes. Be sure to keep a close eye on the pork – we want it crisp, but not burnt!

Make the fresh relish.

In a small bowl, combine the lime juice, diced onion, jalapeno, cilantro, and salt.

Assemble + enjoy! Warm the tortillas (I toasted mine on the flame on my stove), fill with the pork and pineapple, top with the fresh onion + cilantro relish, and enjoy!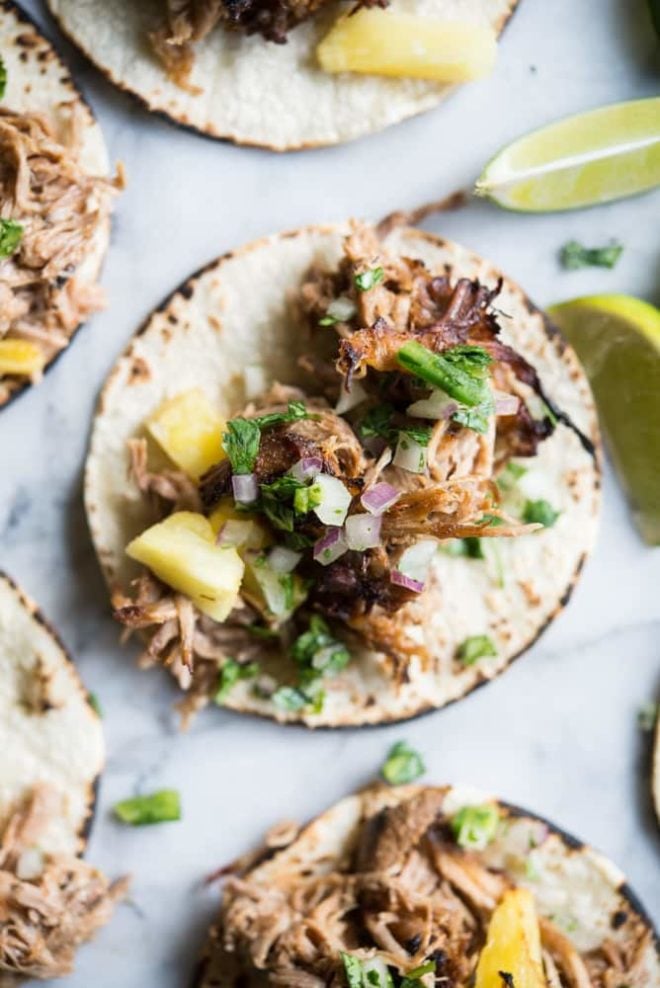 How to Store
We recommend storing each of the tacos al pastor components (think: shredded pork, tortillas, and fresh relish) separately. The pork + relish can go in the fridge (these glass airtight containers are perfect for proper storage!), and the tortillas (depending on the type) can go in the fridge or pantry! When you're ready to make a taco from the leftover components, either heat the pork in the microwave, in a pan on the stove, or throw it on a sheet pan to re-crisp in a broiling oven! If you go the oven route, don't forget to keep an eye out…burnt pork is no bueno!
I hope you enjoy these easy, pick-your-method Tacos Al Pastor! They're fresh, delicious, and will feed a crowd!
This Tacos Al Pastor recipe features tender, fall-apart pork that is marinated in a flavorful guajillo pepper sauce, slow-cooked, then baked until crisp for the perfect taco!
Ingredients
For the Pork:
1, 4-5

pound

pork shoulder

1/2

white onion

1/2

pineapple

cut into chunks (about 2 cups or 1 pound)

1

tablespoon

oregano

1

teaspoon

chili powder

4

cloves

garlic

1

cup

freshly squeezed orange juice

1

tablespoon

sea salt

4

guajillo peppers in adobo

– may also substitute chipotle peppers in adobo
For the Tacos al Pastor:
1

cup

diced pineapple

1/2

cup

ghee

butter, or avocado oil

12

tortillas of your choice

1/2

of a finely diced onion

(other half of onion from marinade)

1/2

jalapeno

finely diced

1

bunch

chopped cilantro

about 1/2 cup

1/4

cup

fresh lime juice

about 2 limes

2

teaspoons

fine sea salt
Instructions
Recipe Notes
If you don't like spicy food, skip the chili powder or remove the seeds from the peppers before blending, or strain them out afterward.
Nutrition
Calories:
785
kcal
|
Carbohydrates:
70
g
|
Protein:
45
g
|
Fat:
36
g
|
Saturated Fat:
17
g
|
Polyunsaturated Fat:
4
g
|
Monounsaturated Fat:
12
g
|
Cholesterol:
162
mg
|
Sodium:
2779
mg
|
Potassium:
1015
mg
|
Fiber:
7
g
|
Sugar:
19
g
|
Vitamin A:
375
IU
|
Vitamin C:
78
mg
|
Calcium:
207
mg
|
Iron:
7
mg