This Paleo Deep-Dish Pizza delivers a thick, but fluffy and crispy crust that stands up to any traditional Chicago-Style pizza!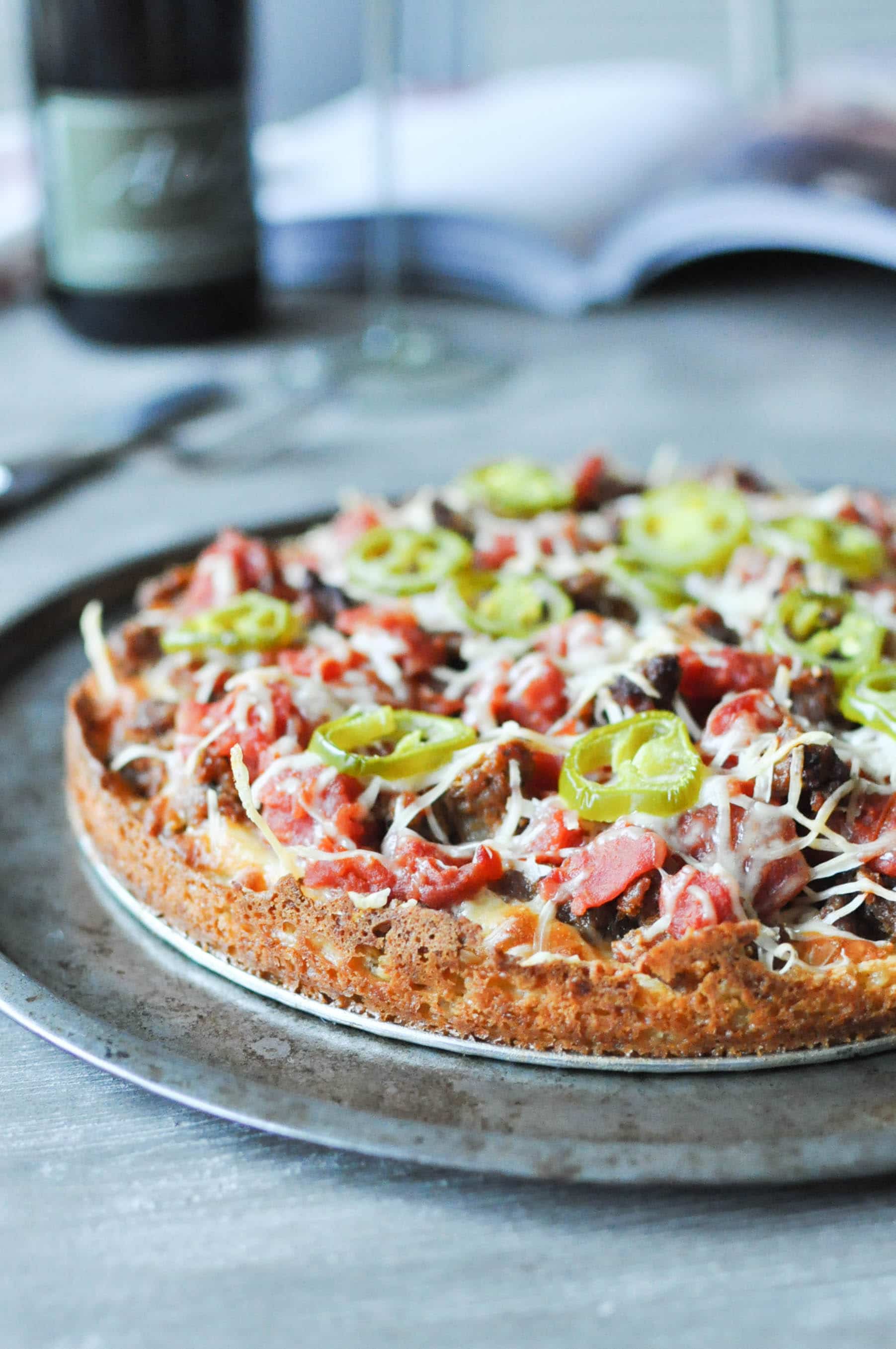 The other day, I came home after an extended Thanksgiving stay at our favorite football getaway town (College Station, TX) to find a good amount of mail had piled up. We sorted through the envelopes, recycled a big pile of ads, and just when I was about to curl up with latest Pottery Barn magazine to fantasize about all their pretty Christmas decorations, Austin said there was one more package for me. For me?! OH How I LOVE packages! It was heavy, about two inches thick, and the size of a book …it's a book!! In fact, I bet it's a Paleo cookbook! I have a few friends with new cookbooks coming out right about now. Oh hallelujah, how I love a good cookbook! I plopped down on the couch, tore open the package, and beheld …the incredible work of art titled "Every Last Crumb" by my friend, Brittany Angell.
Brittany, an accomplished blogger and author, set out this past year to write a Paleo bread book. Through the magic of social media, I felt like I was there with her during the development process – drooling over her book work photographs and dreaming of the day when I could learn exactly how she pulled off a completely grain-free pretzel. All I can say about her hard work is that it shows and that we'll probably still never know how much she poured into each page. Instead of just presenting her recipes as magical recreations of our favorite comfort foods (which they are), she took it upon herself to also teach each reader the science behind Paleo-friendly bread making.
5 years in this Paleo recipe development world, I've never learned so much from one concentrated source.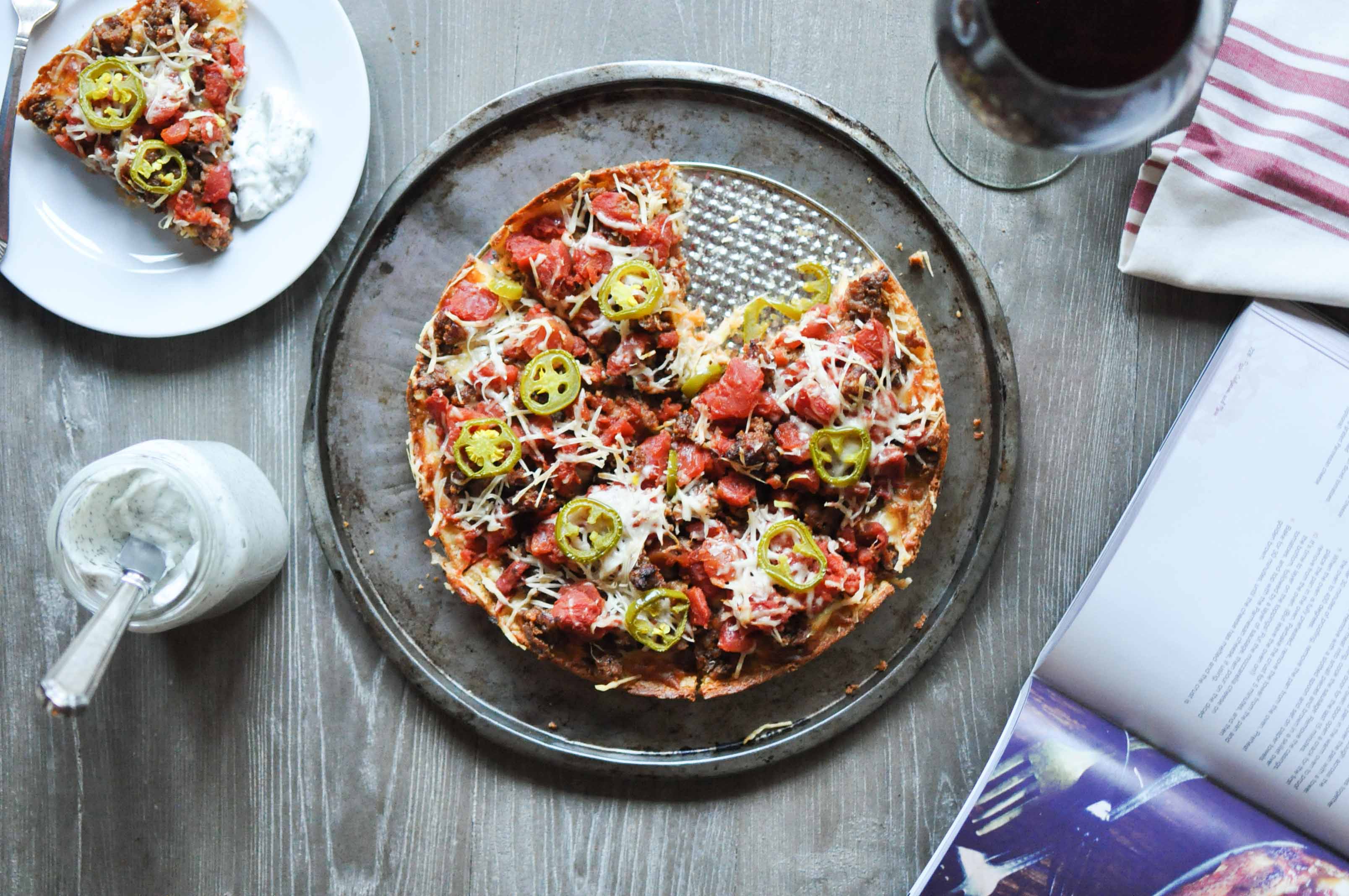 Though the list of recipes that I'm eager to make is LONG, I couldn't get past the Chicago Deep-Dish Pizza. I have a deep, meaningful love for deep-dish pizza and this pizza recipe completely …and entirely …exceeded my expectations.
By Brittany's instructions, I went to the store and bought my first packets of instant yeast and then traveled to the dairy section for some mozzarella and Parmesan cheese. Though you can omit the cheese or opt for a dairy-free version, I wanted to make sure this from-scratch Paleo-friendly pizza was putting its absolute best foot forward.
Though I was apprehensive at first (the yeast intimidated me), I have to say that the crust mixing, proofing, and baking process was a BREEZE. A total breeze! Just follow her instructions and you will end up with a crust that is perfectly crunchy on the outside and still wonderfully soft on the inside. It's going to blow your mind.
Note that she outlines directions for both very precise weighed measurements OR for volume measurements. I followed her volume directions and my crust turned out great.
I loved the toppings she outlined in her book, Every Last Crumb, and only added some pickled jalapeno slices before baking. I also served my deep-dish pizza alongside some of my 5-Ingredient Ranch Dressing …because I'm one of those weirdos who can't have pizza without ranch dressing.
To Brittany: my most heartfelt thank you. No longer will I endure the gluten/conventional dairy bloat because I wanted Chicago-style Deep-Dish pizza so badly that I went out for one. From now on, I'll flip to page 228 in Every Last Crumb for my deep-dish pizza fix.
To everyone else: I highly recommend you grab a copy of this book for yourself or as a gift for that person in your life who loves to bake. Pre-order HERE before its release date (December 9th) for a special price on Amazon and for a special thank-you eBook from Mrs. Angell.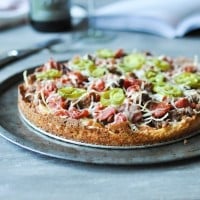 This Paleo Deep-Dish Pizza delivers a thick, but fluffy and crispy crust that stands up to any traditional Chicago-Style pizza!
Ingredients
Yeast Mixture::
100

grams

lukewarm water

about a scant 1/2 cup

1

tablespoon

instant yeast

2

teaspoons

coconut sugar

1

teaspoon

gelatin
Pizza Dough::
97

grams

blanched almond flour

about 2/3 cup

55

grams

potato starch or sweet potato starch

about 1/3 cup

27

grams

tapioca starch

about 1/3 cup plus 2 teaspoons

2

teaspoons

xanthan gum or guar gum

1

teaspoon

kosher salt

1

teaspoon

double-acting

aluminum-free baking powder

62

grams

oil of choice

about 1/4 cup plus 1 tablespoon, plus more for the pan

1

tablespoon

apple cider vinegar
Toppings::
6

links

or 1.5 lbs hot Italian sausage

1 1/2

cups

shredded mozzarella cheese

dairy or non-dairy

1

14 1/2-ounce can diced tomatoes, slightly drained

1/2

cup

grated Parmesan cheese

optional

1/4

cup

sliced pickled jalapenos

*my personal addition
Instructions
Preheat the oven to 400 degrees to warm it up as a "hot box" for the pizza dough to proof. Oil an 8-inch round pan, an 8-inch cast-iron skillet, or, for a pretty presentation, a springform pan (this is what I used).

In a small bowl, mix together the lukewarm water, yeast, sugar, and gelatin; set aside.

In the bowl of a stand mixer, using the whisk attachment, mix the almond flour, starches, xanthan gum, salt, and baking powder until blended.

Add the oil, vinegar, and yeast mixture and mix until it comes together into a sticky dough that holds together.

Place the dough in the prepared pan. Press the dough across the bottom of the pan and 1 inch up the sides. Cover the pan with a towel.

Turn off the oven and place the covered pan in the warm oven to proof for a total of 30 minutes. Leave the oven door open a crack for the first 15 minutes, and then close the door for the last 15 minutes.

While the dough is proofing, cook the sausage: Remove the casings. Break the sausage meat into small pieces and brown in a skillet over medium heat. Remove with a slotted spoon and set on paper towels to drain.

After 30 minutes of proofing, remove the pan from the oven. Preheat the oven to 400 degrees.

When the oven is full preheated, remove the towel from the pan and place the pan in the oven. Prebake the crust for 5 minutes, and then remove from the oven. (But leave the oven on!)

It's time to layer on the toppings! Put the mozzarella cheese on the bottom, followed by a layer of sausage, then pour on the diced tomatoes, and top with the Parmesan cheese, if using.

Bake for 30 minutes, until the cheese has melted and the crust is golden brown.
Nutrition
Calories:
719
kcal
|
Carbohydrates:
22
g
|
Protein:
31
g
|
Fat:
57
g
|
Saturated Fat:
17
g
|
Polyunsaturated Fat:
5
g
|
Monounsaturated Fat:
23
g
|
Trans Fat:
0.2
g
|
Cholesterol:
111
mg
|
Sodium:
1730
mg
|
Potassium:
561
mg
|
Fiber:
4
g
|
Sugar:
4
g
|
Vitamin A:
523
IU
|
Vitamin C:
8
mg
|
Calcium:
328
mg
|
Iron:
3
mg