This ranch dressing is dairy free, contains no junky oils, and comes together in minutes with only 3 ingredients!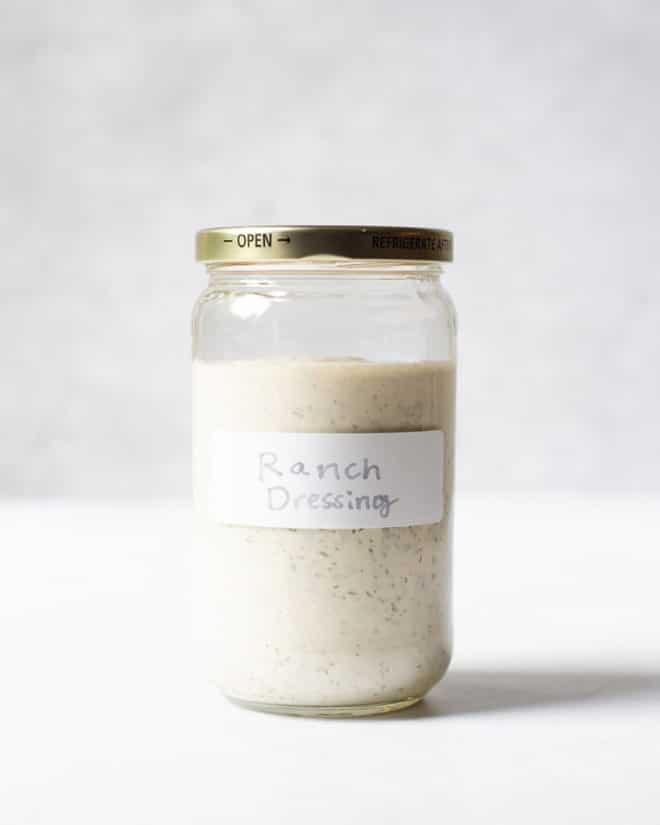 Best Dairy Free Ranch Dressing (Paleo Friendly and Whole30 Compliant)
Every person has their condiment of choice. Some people like to drown each bite of their eggs and steak in ketchup. Others like to slather everything from morning frittatas to evening pizza in Tabasco. There's the mustard people, the Sriracha people, the mayo people, and the apple cider vinegar people. While I enjoy all those fabulous sauces from time to time, there's one condiment that is MINE. I am a banner-waving, button-wearing, proud ranch dressing enthusiast.
Store-bought ranch dressing is full of vegetable oil (we know to avoid because of rancidity and an unbalanced Omega-6/Omega-3 profile), sugar, and nonfat buttermilk. While grabbing a bottle of the famous vegetable dip is easy and appealing, I'm here to tell you that you CAN make it from home and that it's easy. as. pie.
Does Ranch taste like Mayo?
While it may have some underlying flavors similar to mayo (because that is the base of the dressing, afterall), between the additions of lemon juice and dried dill, the dressing itself does not have an overwhelmingly mayo-y taste.
Whole30 Ranch Ingredients
You only need three really simple ingredients here: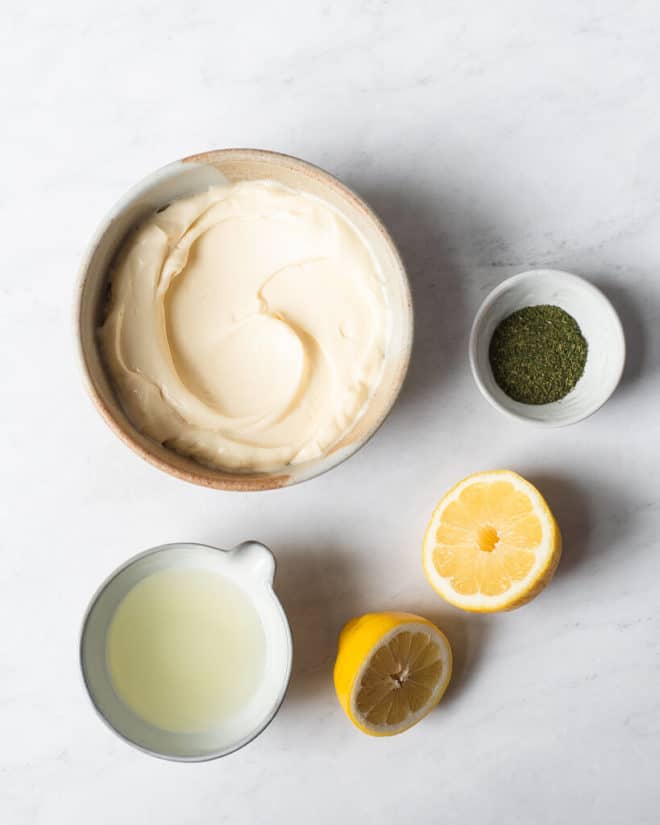 Mayonnaise – the base of this dairy-free ranch dressing is mayo — you'll need about 2 cups here.
Lemon Juice – to thin the mayo and brighten the dressing, you'll need a ¼ cup of fresh lemon juice. This is equivalent to the amount of juice from about 2 juicy lemons.
Dried Dill – 1 tablespoon of dried dill weed really brings the classic ranch dressing flavor!
How To Make Ranch Dressing
The process is incredibly easy: you'll just add all of the ingredients to a bowl or jar and whisk until fully combined and smooth.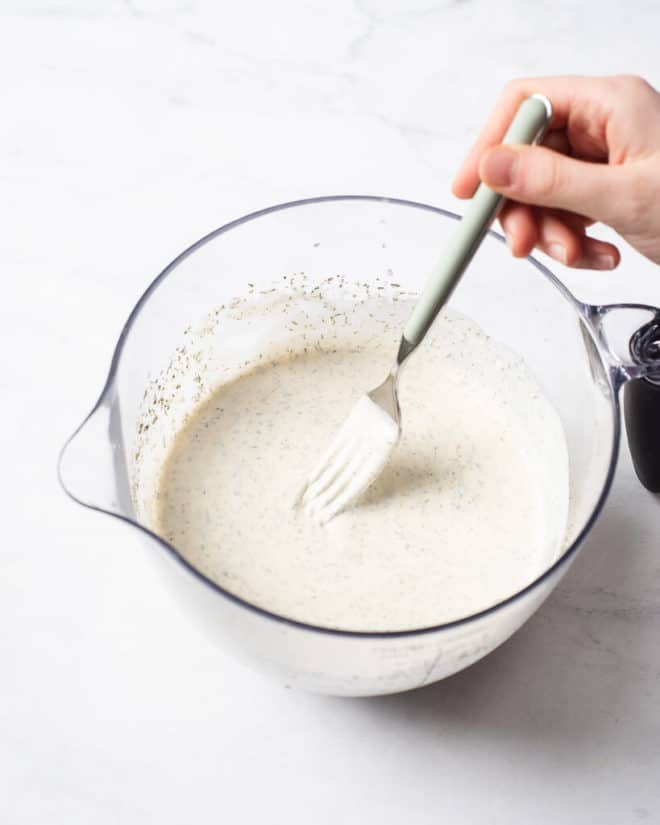 How do you make ranch dressing from scratch without buttermilk?
It's so easy! You'll just add the mayo, lemon juice, and dried dill to a bowl and whisk until combined — no buttermilk (and no fussy instructions) needed!
Serving Suggestions for Whole30 Ranch Dressing
If you're a ranch-lover, you KNOW that ranch can literally go on anything. And if you aren't a ranch-lover, you probably know someone who is, and that someone probably puts it on *all* of the things. This homemade, 3-ingredient ranch dressing can go on anything you'd use normal, store-bought ranch on. Here are a few recipes that we think are especially perfect for a good ole ranch finish:
And, of course, ranch is always a delicious dipping sauce for crunchy veggies, chicken tenders, and pizza!
How to Store Dairy-Free Paleo Ranch Dressing
Your homemade ranch can be stored in an airtight container (a mason jar works great!) in the refrigerator.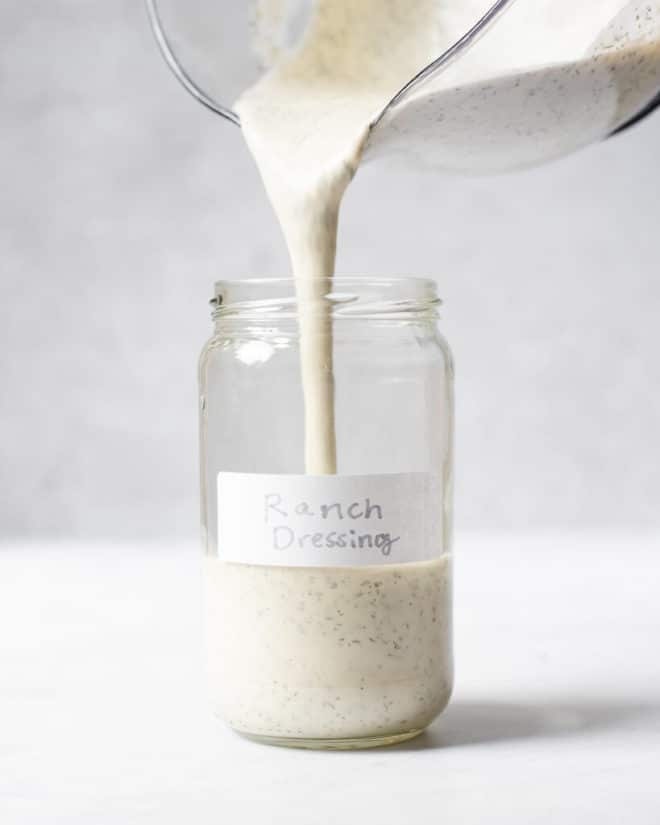 How long does homemade ranch last in the fridge?
This homemade dressing will last for about 1 week in the fridge. Plenty of time to slather it on all of the things you can think of!
How do you thicken ranch dressing?
Because the base of this easy ranch dressing is mayonnaise, it really doesn't need any thickening at all. The lemon juice thins out the mayo to the perfect consistency.
Dairy Free Ranch Dressing Recipe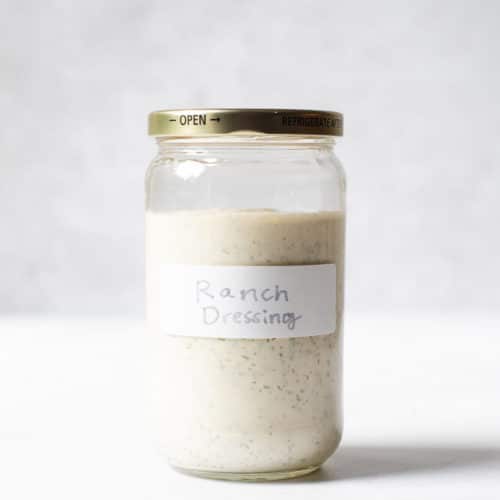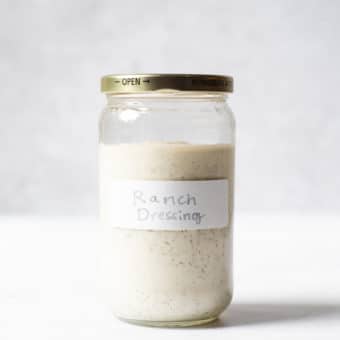 This homemade ranch dressing is made with just 3 ingredients and is so yummy!
Ingredients
1/4

cup

fresh lemon juice

1

tablespoon

dried dill weed

2

cups

avocado oil mayonnaise
Instructions
Whisk all ingredients together until fully combined.
Nutrition
Serving:
2
tablespoons
|
Calories:
307
kcal
|
Carbohydrates:
1
g
|
Protein:
1
g
|
Fat:
34
g
|
Saturated Fat:
5
g
|
Polyunsaturated Fat:
20
g
|
Monounsaturated Fat:
8
g
|
Trans Fat:
0.1
g
|
Cholesterol:
19
mg
|
Sodium:
285
mg
|
Potassium:
25
mg
|
Fiber:
0.1
g
|
Sugar:
0.4
g
|
Vitamin A:
47
IU
|
Vitamin C:
3
mg
|
Calcium:
9
mg
|
Iron:
0.2
mg