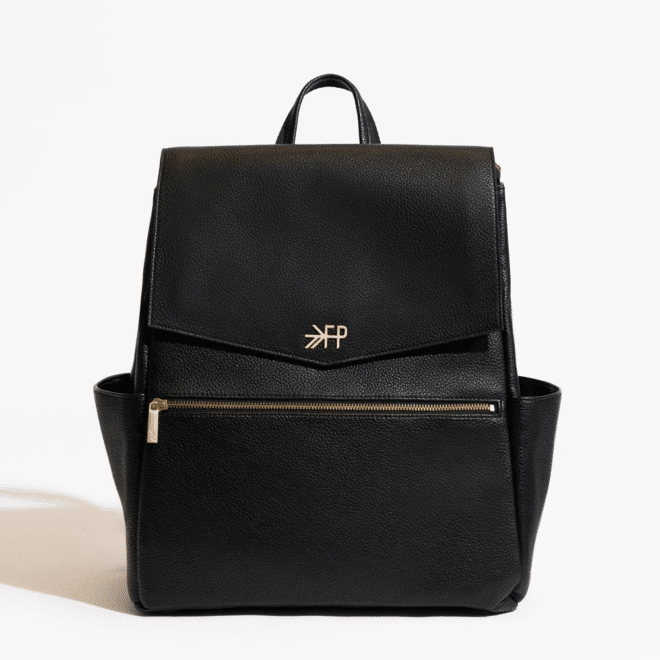 If you've never done it before, packing a diaper bag can feel overwhelming. You want to make sure that you'll have everything that you (and your little one) may need, but you also want to keep it as compact as possible – that's quite the task! As a mom of three, I have learned a lot about what to pack in my diaper bag (and what I don't need). Below, you'll find everything that I keep in my diaper bag on a day-to-day basis.
What's In My Diaper Bag Right Now
Copper Pearl Nursing Cover – I use this nursing cover to nurse when I'm out and about. I also love that it can be used as a car seat cover!
Aden + Anais Blanket – this baby blanket is really nice and large. It's perfect for laying down on a surface when we're out to keep Dagny from touching anything too germ-y.
Honest Baby Wipes – these are my favorite wipes. I always have a full pack in my diaper bag. When it starts to get low, I replace it with a full pack right away. I do not want to be without a full pack of wipes while I'm out!
Bambo Nature Diapers – it wouldn't be a diaper bag without diapers! I cloth diaper at home but use disposable when we're on the go.
2-3 Footies/Outfits for Baby – just in case baby needs an outfit change! I prefer footies (vs. full outfits), because I really like being able to throw the footie on her and know she'll be nice and warm and comfy.
Outfits for My Older Girls – I also keep one spare outfit for each of my older girls in a plastic bag with their name on it.
Hand Sanitizer – this hand sanitizer moisturizes as well as disinfects. This is great to have for myself or for someone who may want to hold the baby!
Burp Cloth – none of my kiddos have ever spit up a whole lot, but I still travel with a burp cloth just in case! The "U" shape of this Aden + Anais one is really nice and friendly on the shoulder, but ANY burp cloth will work!
My Wallet – I like to keep this in a secure outer pocket on my diaper bag so that I can grab it quickly if I need to!
My Phone – same as with my wallet, I like to keep my cell phone in an outer pocket of my diaper bag also. Keep a charger in your bag alongside your phone if you're really on your A game!
Protein Bars – another thing I like to keep in the diaper bag for myself. As a breastfeeding mama, I am constantly hungry, so having a hearty protein-rich snack is a must.
Water Bottle – a full water bottle (for myself and my girls) is also a diaper bag staple.
LMNT Electrolytes – these are my favorite electrolytes (my personal favorite flavor is the "raw unflavored" variation). I try to take two packets a day to stay nice and hydrated!
Beautycounter Beyond Gloss – pregnancy and nursing dry my lips out! This gloss is one of the only products I've found that keeps my lips moisturized without irritating them.
Diaper Cream – I always love to have this on hand for whenever I need it!
Beautycounter's Balm for All – I use this on myself, little babies, and my older kiddos. It's great for chapped, dry, or irritated skin.
Baby Brush – this isn't a super necessary thing, but I do like having it in my bag in case I need it.
Honorable Mentions
Though these things are currently in my diaper bag, they are really great honorable mentions that I like to throw in the bag if I have the space.
Kid Snacks – applesauce packets and brown rice rollers are some of our go-tos. Anything non-perishable that my kiddos are loving at the moment would be a great addition to the diaper bag.
Water Bottles for My Older Girls – they're welcome to share mine, but if I've got the space, I also love including a water bottle for each of my older girls.
Postpartum Personal Care Products – when I'm newly postpartum, I always have pads and an extra change of clothes in my bag just in case I need either one of those.
Solly Baby Wrap – I love babywearing, and this Solly Baby wrap is so perfect for on the go because it's so compact.
Video