Bursting with fresh flavor, this dairy-free, Paleo fennel pesto makes for a delicious roasted chicken and craveable pesto zucchini spaghetti!
.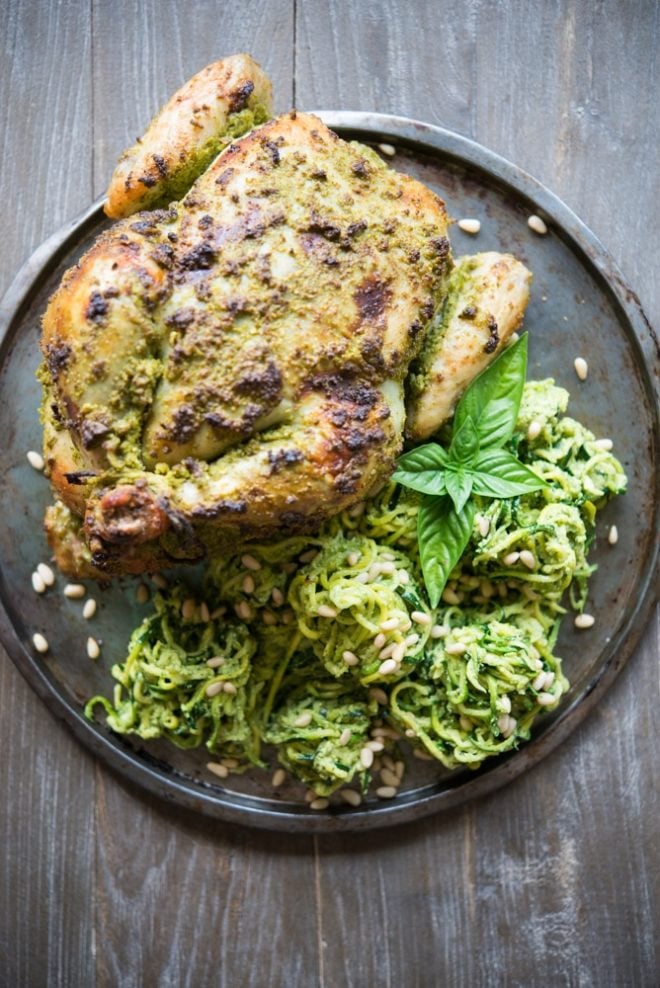 .
BOY HOWDY I was pumped about this dish. To begin with, I have a love affair with all things pesto related. Remember this roasted garlic pesto? I still make it. STILL! In fact, a slightly updated version is in my soon-to-hit-shelves Fed & Fit book. While roasted garlic pesto is the bomb.com, I felt like I needed to open my heart to other possibilities – other, fennel possibilities. So the challenge in this Summer CSA Recipe Series Lexi, Juli, and I have embarked on is to use those abundant, "how do you eat this?" vegetables that are ALL over the farmer's market and grocery store produce section. Fennel is one of those vegetables for me. I've used it in salad and I've used it for a yummy pork dish, but knew that this crisp little vegetable has more potential than I'd given it credit for.
.
A note to those of you who may not like fennel because of its slight licorice flavor, I couldn't taste it in this pesto! Truly! Maybe it's the basil, or the lemon juice, or the divine little fresh cloves of garlic, but NO licorice flavor. Hallelujah.
.
.
Instead, it added a fresh brightness to the pesto that made me want to eat the whole bowl with a spoon before any of it made it onto the chicken. Speaking of which, OH THE CHICKEN! I like to roast my chickens at a 375 F for 45 minutes because I think it creates the perfect fall-off-the-bone texture I love. The pesto, which I rubbed both under AND over the skin, made it 100x better.
.
For the zucchini spaghetti, I'm sharing one of my favorite tricks. You see, I was once turned off by zucchini noodles because they were just too darn watery for my liking! I hated how adding them to the pan was essentially like pouring in 1/2 cup (or more) of water. My sauces thinned too much and I couldn't get a texture I liked. SO, I got busy dreaming up a better way to prep those little cuties. I have all the details listed below in Step #4, but the trick is to use a little salt to pull the water out BEFORE you cook them! Then you squeeze the noodles, releasing any remaining water, rinse (if you can still taste the salt) and cook to your liking. BAM! Soggy zoodle problem fixed.
.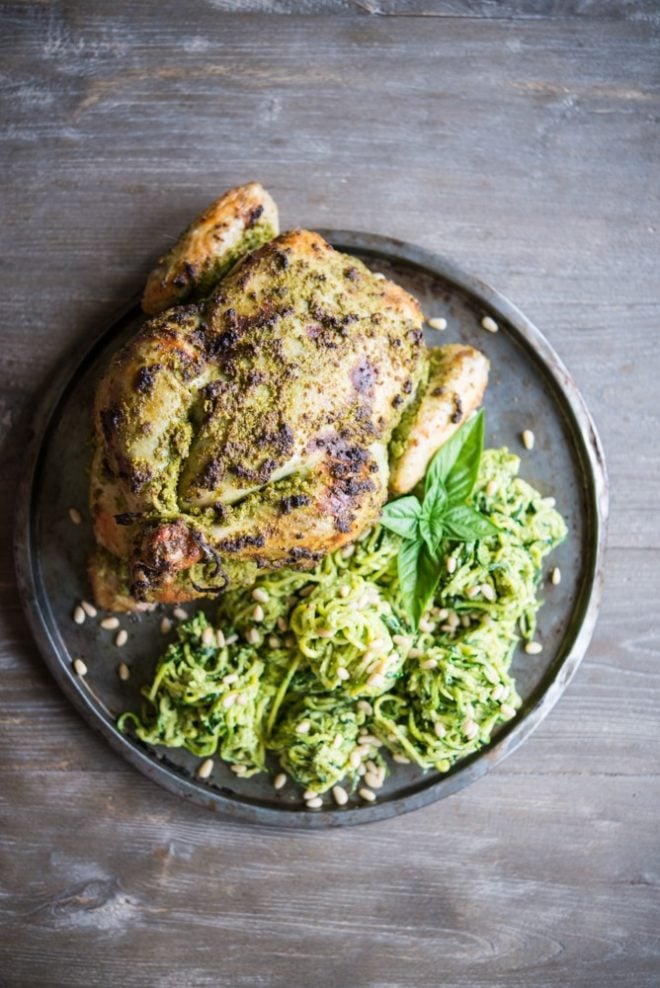 .
I hope you're loving these recipes as much as I'm love creating them for you! Remember to check out Juli and Lexi's sites to see what they cooked up this week for our Summer CSA Series!
.
Flavorful slow cooker shredded Vietnamese beef topped with pan-fried okra and blistered shishito peppers wrapped in napa cabbage for a delicious meal pulled together from your CSA or farmer's market haul!!
 .
.
.
A cold soup for the hot summer months that is filled with cucumber, carrots, and tomatoes, mixed with ingredients like coconut milk and lime leaves to give it a Thai flavor and spice!
.
Fennel Pesto Chicken & Zucchini Spaghetti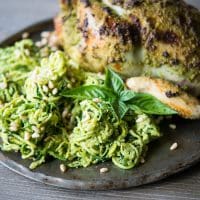 Bursting with fresh flavor, this dairy-free, Paleo fennel pesto makes for a delicious roasted chicken and craveable pesto zucchini spaghetti!
Ingredients
For the pesto::
1

cup

packed fresh basil leaves

1

bulb fennel

trimmed

1/2

cup

pine nuts

2

small cloves fresh garlic

optional

1/4

cup

fresh lemon juice

about 2 lemons

1/4

cup

extra virgin olive oil

1/4

teaspoon

fine sea salt

black pepper to taste

1

whole chicken

rinsed and dried

4-5

large zucchini

2

teaspoons

fine sea salt

optional - see step 4 below

1

tablespoon

butter

ghee, or coconut oil

1/4

cup

pine nuts

for garnish

fresh basil

for garnish
Instructions
For the pesto, blend all the ingredients together in a food processor until smooth and creamy. Place half the pesto in a bowl for dressing the chicken.

To prepare the chicken, use your hands to separate the skin on the breast and legs of the chicken away from the muscle. Spoon the small bowl of pesto over the outside of the bird and under the skin until it's evenly coated. Bake at 375 F for 45 minutes, or until the internal temperature reaches 165 F. Note: check the chicken after 30 minutes to make sure it isn't burning. If it's getting too brown, use a single piece of aluminum foil to tent the top until it's finished cooking. Let the chicken rest at least 5 minutes before carving.

To prepare the zucchini pasta, spiral slice the zucchini using a spiral slicer (I love THIS ONE).

Optional Noodle Step: place the noodles in a large bowl and sprinkle with the 2 teaspoons sea salt. Toss the noodles so that the salt evenly coats each side of every noodle. Let them sit for at least ten minutes. To drain, place the noodles in either a nut bag or colander. Rinse with fresh water and squeeze out as much water as you can. This step will help the noodle texture and will prevent them from becoming too watery during cooking!

Melt the butter in a large frying pan over high heat. Add the drained and strained zucchini noodles to the pan, toss to combine in the butter, and let them heat through - this should take about 5 minutes. Turn off the heat, add the remaining pesto to the pan, toss to combine, and serve!

Plate with extra pine nuts and fresh basil. Enjoy!
Nutrition
Calories:
444
kcal
|
Carbohydrates:
15
g
|
Protein:
13
g
|
Fat:
39
g
|
Saturated Fat:
7
g
|
Polyunsaturated Fat:
12
g
|
Monounsaturated Fat:
17
g
|
Trans Fat:
0.1
g
|
Cholesterol:
32
mg
|
Sodium:
1401
mg
|
Potassium:
1008
mg
|
Fiber:
5
g
|
Sugar:
9
g
|
Vitamin A:
929
IU
|
Vitamin C:
50
mg
|
Calcium:
84
mg
|
Iron:
3
mg