How to Make Easy Homemade Hummus
jump to recipe
This guide will show you how to make hummus that is smooth and creamy in just a few simple steps. You'll never want to go back to eating store-bought again!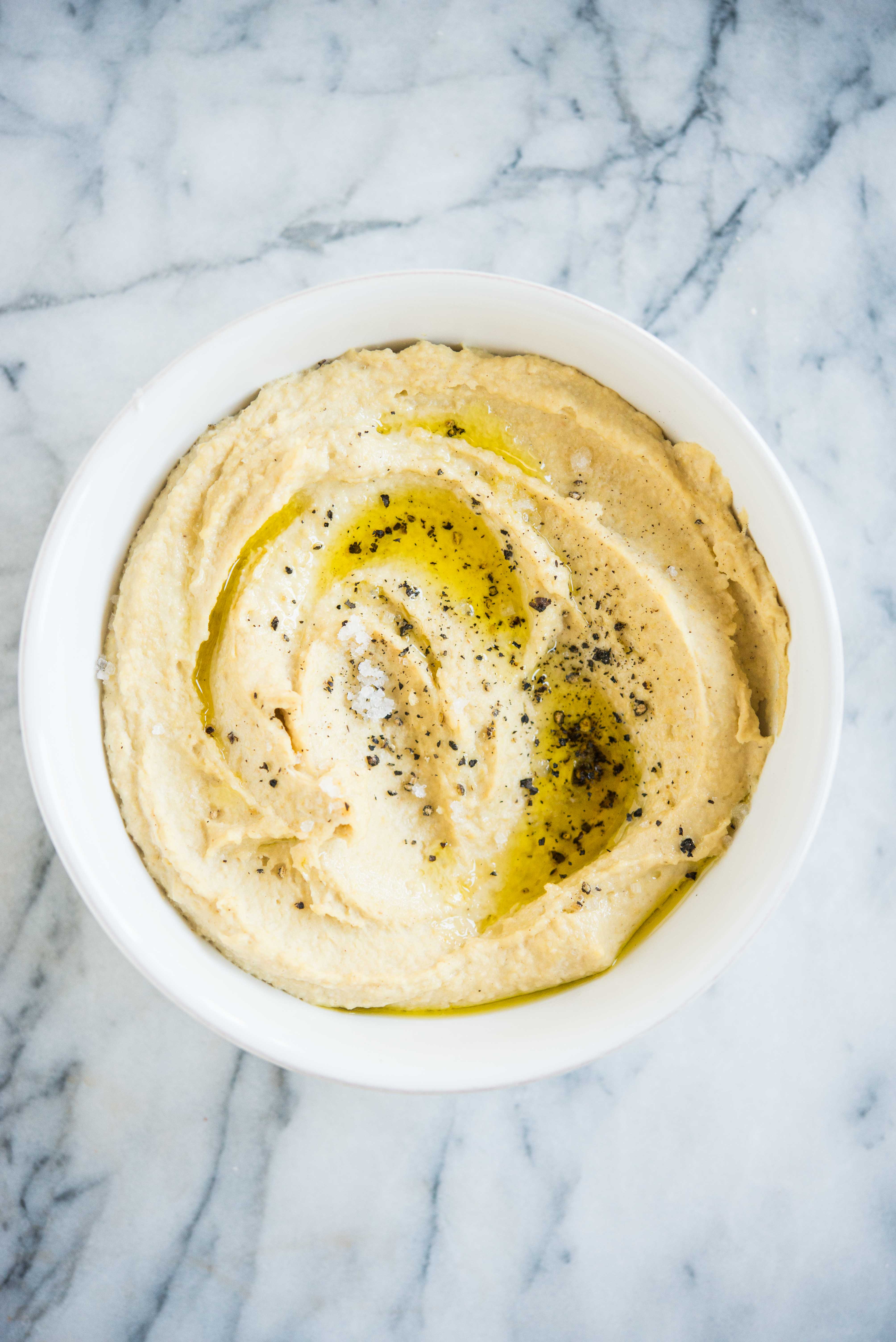 We get a lot of questions about healthy snacks, and hummus is one of our go-to recommendations! It's satisfying and has a great combination of carbohydrates, healthy fats, and protein. However, store-bought hummus can often be expensive, have additives you don't want, and sometimes be disappointing. Luckily, homemade hummus is easy to make! Today, we're going to walk you through how to make homemade hummus that is smooth and creamy – without any extra effort.
What is hummus?
Hummus is a blend of chickpeas, tahini, olive oil, and other ingredients like lemon juice and garlic that are added for flavor. It originated in the Middle East and is also popular in Mediterranean cuisine. It can be used as a dip or spread and makes for a great snack!
Is hummus good for you?
As long as you can tolerate legumes, hummus can be a great healthy choice. When we look at snack options, we try to recommend only reaching for snacks that really satisfy. When you reach for snacks like chips or crackers, you'll often find that you can eat a lot without ever feeling truly satiated – this is because they lack fat and protein, both of which help us feel full. Hummus, on the other hand, really checks all of our healthy snacking boxes! The chickpeas are a good source of carbohydrates and fiber and contain a bit of protein, while tahini provides healthy fats and some protein, and olive oil provides an additional source of healthy fats. Together, this creates a balanced snack that is a good source of all three macronutrients and also contains fiber and minerals such as manganese, iron, and zinc.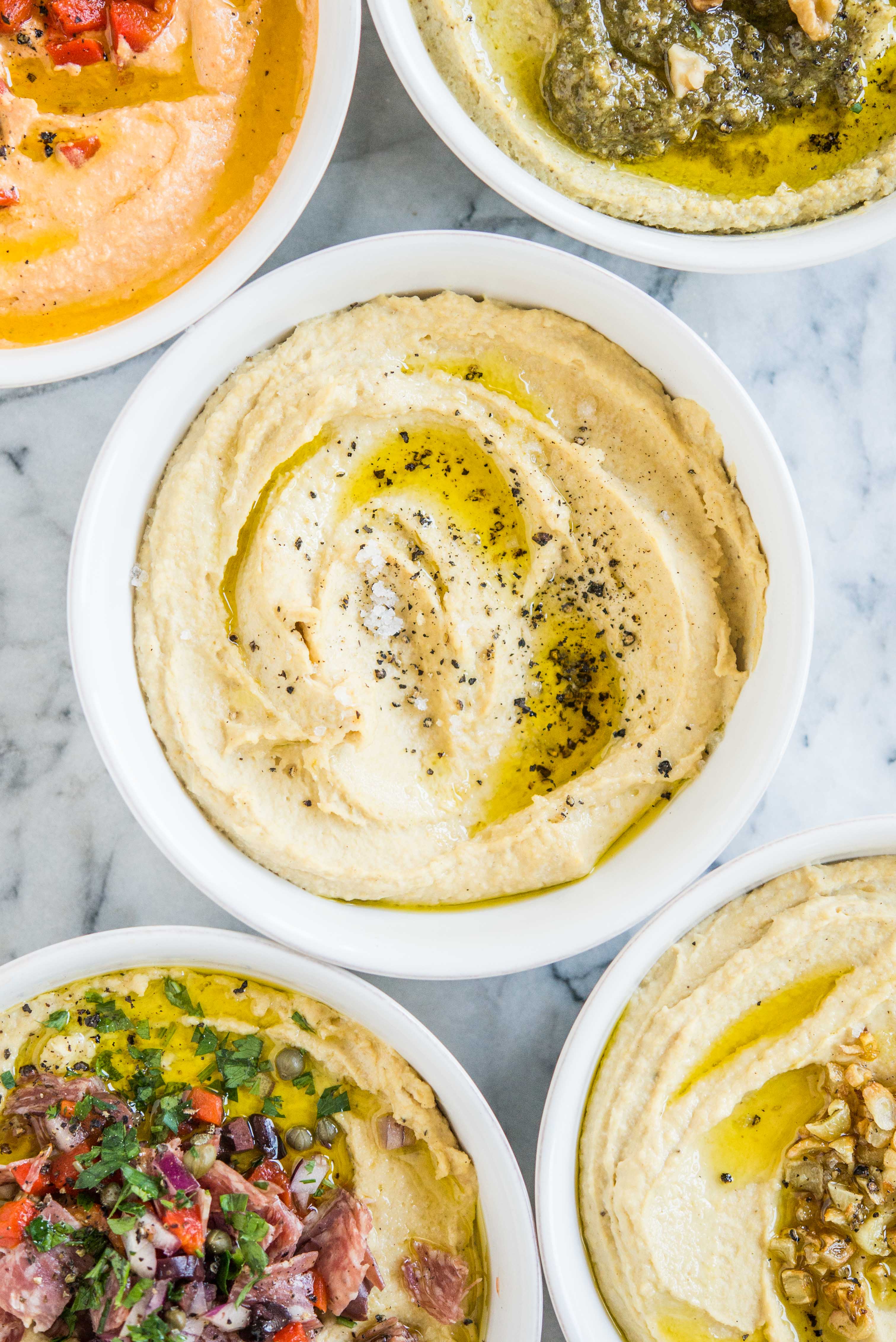 What is hummus made of?
Here's what you'll need to make basic hummus:
Canned Chickpeas – The main ingredient in hummus is chickpeas. While you can cook your own from scratch, we like to keep things simple by using a can of cooked chickpeas instead.
Tahini – The other key ingredient to hummus is tahini. Tahini is made from ground sesame seeds and provides creaminess and a slight hint of bitterness to the hummus.
Olive Oil – Olive oil helps thin out the hummus and adds richness and flavor. This is a good place to use high-quality olive oil to really help the flavor stand out!
Lemon Juice – Lemon juice helps to brighten the flavor of the hummus and balance the bitterness of tahini.
Garlic – Most recipes also contain a clove or two of raw garlic, which gives the mixture a delicious flavor.
Is hummus gluten-free?
Yes! Hummus is a naturally gluten-free food, as none of its ingredients contain gluten. However, if you're buying store-bought hummus, always make sure to check the ingredients.
How to Make Hummus
Now that you've got your ingredients, it is time to make hummus! Here's what you'll need to do:
Add the chickpeas, lemon juice, and tahini to a food processor. You'll add these ingredients to the food processor first because the chickpeas are too dense to blend on their own. The tahini and lemon juice will help thin out the chickpeas to form a smooth paste.
Add the olive oil, salt, and garlic. Next, you'll add the olive oil, salt, and garlic, and blend again until the mixture is smooth.
Add the water from the can of chickpeas one tablespoon at a time. Next, you'll add in a tablespoon of water from the can of chickpeas and blend the hummus for about 1 minute. Check the consistency. If you'd like it smoother, add another tablespoon of water and repeat the process until you achieve your desired consistency.
Can you make hummus in a blender instead of a food processor?
This is a commonly asked question, and in most cases, the answer is no. The reason for this is that a blender won't be able to properly blend a mixture this thick, so the blender will likely get stuck multiple times and you'll end up with lumpy hummus as a result. If you only have a blender on hand, I recommend adding all of the liquid ingredients to the blender first (lemon juice, chickpea water, olive oil, and tahini), then adding in the chickpeas in 1/4 cup increments. This is your best bet for properly blending it!
Tips for Smooth and Creamy Hummus
At the start of the article, we told you we were going to teach you how to make smooth and creamy hummus without any extra work. Many recipes call for peeling the chickpeas, which does help the creaminess but takes an extra 10-15 minutes. Others call for boiling them until super soft with baking soda or making your chickpeas from scratch, but both of those options add significantly more time and around here we are all about quick and easy! So, here are our tips for getting the smoothest hummus possible, without investing extra time:
Use smooth tahini. Not all tahini is created equal. For our first batch of hummus, we used tahini that we found at our local grocery store. That tahini wound up being pretty roughly ground and resulted in a less smooth hummus. Our advice is to look for the smoothest one your store carries – we had great results with this one.
Use the liquid from the can of chickpeas instead of water. This trick is what really went the furthest in terms of changing the texture of our hummus! We swapped the water in our recipe for the liquid leftover in the can of chickpeas with great results. This liquid is also known as aquafaba and it has a thick texture from the starch of the chickpeas. It is often used as a substitute for egg whites. In this recipe, it helps thin the hummus without sacrificing that rich, creamy texture as water does.
Use a high-powered food processor. Of course, getting a smooth, creamy hummus will also be affected by the quality of your food processor. If you've tried our other tricks and you're still not getting the results you want, it may be the food processor. We use this one and love it!
In the coming weeks, we'll be giving you 4 more flavors of hummus, but we hope you love this basic hummus in the meantime!
Try out our homemade plantain chips for a yummy, crunchy hummus dipper!
Print
Basic Homemade Hummus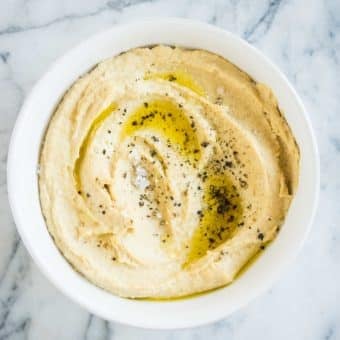 This hummus is smooth, creamy, and comes together in just a few simple steps!
Author:
Prep Time:

15 minutes

Total Time:

15 minutes

Yield:

Serves 8

Category:

Snack

Method:

Food Processor

Cuisine:

Middle Eastern
Ingredients
15 ounces canned chickpeas, rinsed and juice reserved
1/3 cup tahini
1 clove garlic, minced
3 tablespoons extra-virgin olive oil
2 tablespoons lemon juice (about 1 lemon)
1 teaspoon coarse sea salt
¼ teaspoon fresh cracked black pepper
2–4 tablespoons of juice from the can of chickpeas (aquafaba)
Instructions
Add the chickpeas, lemon juice, and tahini to a food processor and blend until smooth.
Add the garlic, salt, pepper, and olive oil to the food processor and blend for one minute.
Add 2 tablespoons of juice from the can of chickpeas to the food processor and blend for one minute. If the hummus is still thicker than you'd like, add another tablespoon of juice and blend again. Repeat the process until the desired consistency is achieved.
Eat immediately or store in the refrigerator for up to 5 days.
Keywords: Hummus, smooth, creamy, plain, basic, garlic, homemade, chickpeas