Paleo Plantain Chips
jump to recipe
These Paleo plantain chips are the tastiest crunchy snack that are perfect for scooping up your favorite dips, and can be made in just a few easy steps!
If you tell me a dish has plantains I'm automatically 100% in! Whether it is a side of pan-fried breakfast plantains, a plantain pizza crust, or roasted plantains for a Cuban Casserole, I love plantains in all forms. But of all the things I've used plantains for, I have to say that these crispy, crunchy plantains chips are my absolute favorite use for them! These chips are perfect for snacking, are really easy to make, pack well for on-the-go, and are ideal for scooping up salsa, guacamole, or ceviche.
If you've never had plantains before, know that even though they look like a banana, they do NOT taste like one! Instead, they are very starchy and have a mild flavor that is unique to the plantain. You can typically find them in the produce aisle with the international fruits, and they look just like a larger version of a banana.
What type of plantain is best for making plantain chips?
When it comes to choosing a plantain, there are two options: more ripe or less ripe. The more ripe plantains are yellow with brown spots. The less ripe plantains are green. The green plantains have a higher starch content, which makes them firmer and less sweet, and they are easy to slice thinly. On the other hand, yellow or brown plantains can be a little sticky, because their starch has converted into sugar. This makes them a little bit mushier and harder to cut and leads to a sweeter taste. While you can make plantain chips out of yellow or brown plantains if you can't find another option, I recommend using green plantains for a perfectly crisp chip if you can find it.
How to Make Plantain Chips
Now that you've picked out your plantains, let's talk about how to make these chips!
Peel the plantain. While a plantain may look like a banana, it doesn't peel as easily as one. The peel of the plantain is much thicker. Instead, you'll need to score the plantain along the seams, then slide your finger under the peel to break it off.
Slice the plantain. The key to making crispy plantain chips is thin, evenly sliced plantains. The thinner you can slice them, the crispier they will be!
Season the plantains. Next, you'll toss the plantains with either olive or coconut oil and a bit of sea salt.
Spread the plantains on a cookie sheet and bake. Finally, you'll spread the plantain chips on a parchment paper-lined baking sheet and bake the chips at 350°F for 20-25 minutes. If you weren't able to slice all of the plantains to a consistent thickness, some may be done before others. Simply pull those off, then bake the remaining chips for an additional few minutes.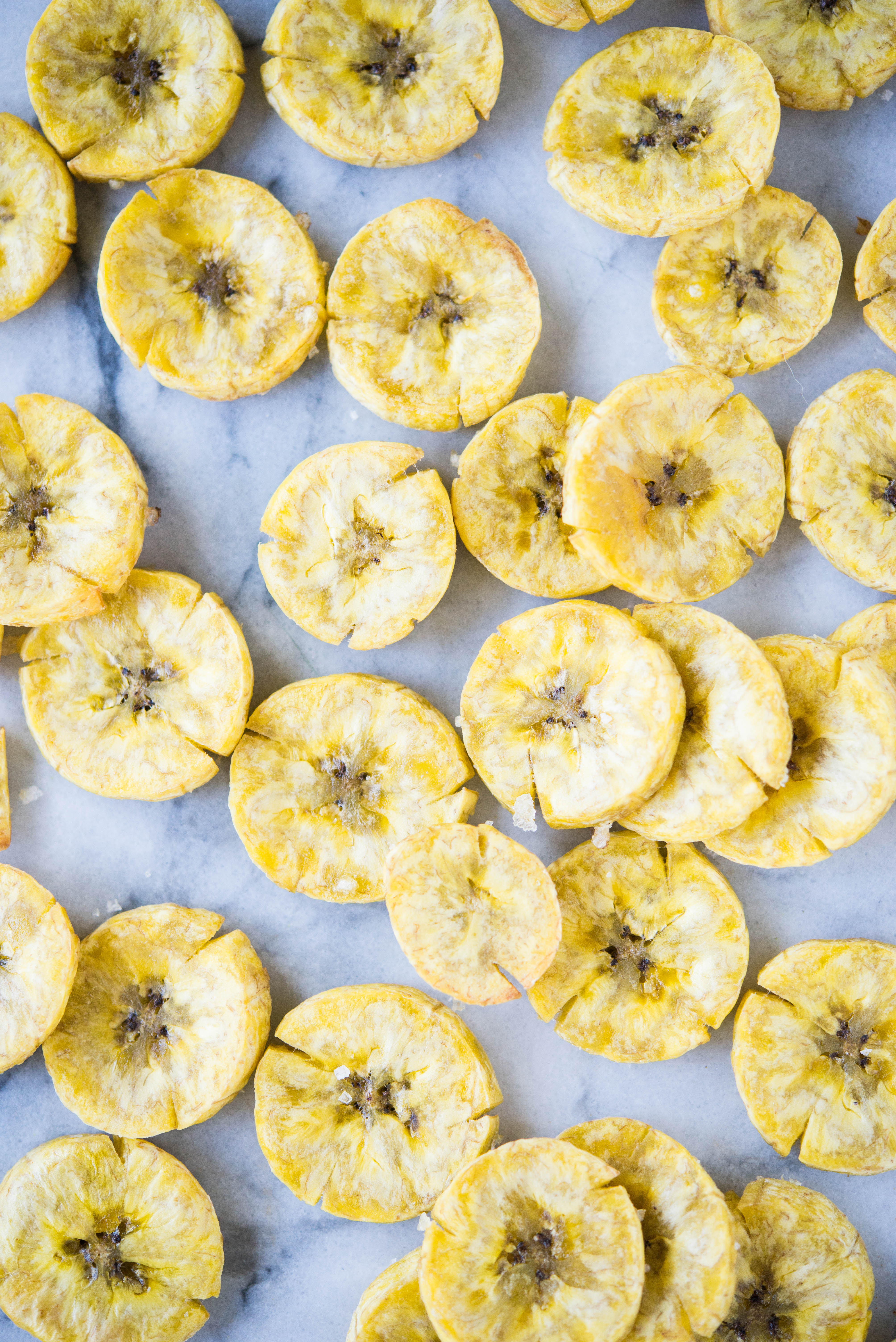 What is the best way to slice plantains?
The best way to get perfectly-thin, even plantain slices is to use a mandoline. A mandoline will help you work quickly through slicing the plantains, and guarantees that your slices will be the exact same thickness every time. However, if you don't own a mandoline you can absolutely still make these. Just make sure you are using a sharp knife, and slice slowly and methodically. If a few slices are a bit uneven, that's ok! Just let the thicker slices cook a bit longer.
Are plantain chips healthy?
Yes, plantain chips are a great healthy snack! Since they are oven-baked, they are not high in fat and calories like deep-fried plantain chips would be, and since you are making them from home, you can use a high-quality, healthy oil like olive or coconut oil to make your chips. Plantain chips are also Paleo and Whole30 compliant.
How long do plantain chips keep?
Plantain chips will be the best within 2-3 days of making them! We recommend storing them in an airtight container at room temperature to keep them crisp.
Print
Paleo Plantain Chips
The perfect crisp, and slightly salty snack – great for dipping!
Author:
Prep Time:

5 minutes

Cook Time:

25 minutes

Total Time:

30 minutes

Yield:

36 chips

Category:

snack

Method:

baked

Cuisine:

Mexican
Ingredients
1

green plantain

1 teaspoon

extra virgin olive oil or melted coconut oil

1/2 teaspoon

coarse sea salt
Instructions
Preheat the oven to 350°F and line a baking sheet with parchment paper.
Cut off the ends of the plantain then score the 3 edges of it with a knife, being careful to only cut into the skin, not the plantain itself. Run your fingers down the cut edges of the plantain to lift off the skin, then discard it.
Thinly slice the plantain on a diagonal into 1/8th inch slices, or as thinly as you can consistently manage. Toss the plantain slices with olive oil and sea salt then lay on a baking sheet and bake for 20-25 minutes, until crisp.
Notes
The key to great plantain chips is to slice the plantain as evenly as possible so all of the chips cook at the same time. If you aren't able to slice them all evenly, they may not be done at the same time, so you can simply remove the ones that are crisp at the 20 minute mark, then continue to bake the ones that are still soft for an additional few minutes.
You can use ripe plantains to make these chips, but it is much easier to use a green, unripe plantain because it is more firm.
Keywords: gluten-free, vegan, vegetarian, baked