Every item on this page was chosen by The Fed & Fit team. The site may earn a commission on some products (read more here).
This honey-sweetened whipped cream is my 3-ingredient go-to recipe — it's really delicious without being way too sweet!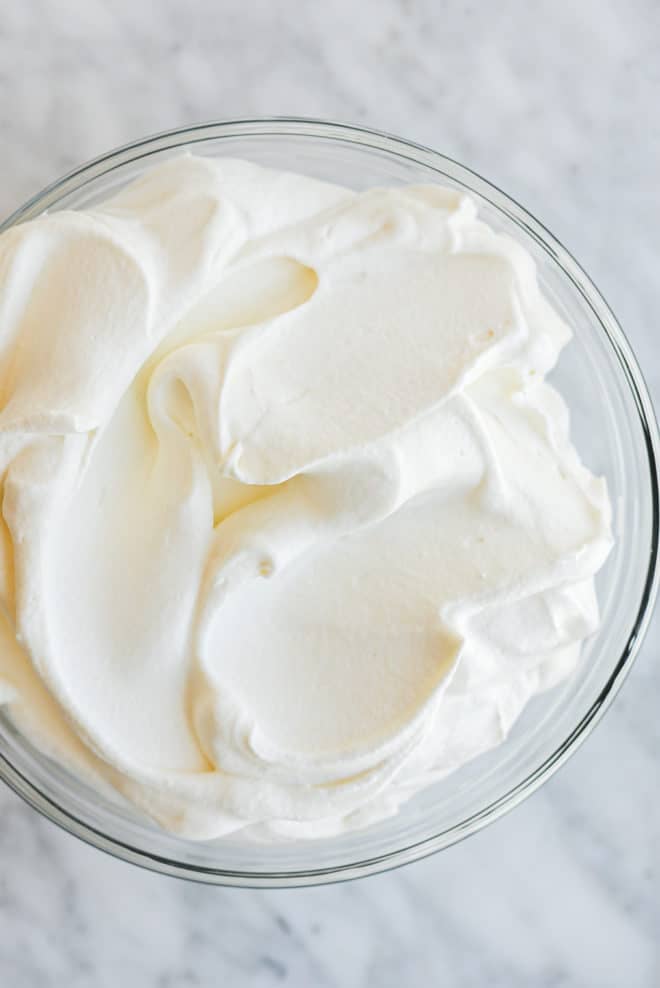 Honey-Sweetened Whipped Cream
This whipped cream recipe is my go-to, y'all. I originally started using honey in my whipped cream when I was on a refined sugar-free diet, but (as I'm sure you know), I've since added sugar back into my diet. Even so, honey is still my VERY favorite sweetener to use in whipped cream — it subtly sweetens the whipped cream without overwhelming your dessert or so you can enjoy it by the spoonful.
Ingredients for Homemade Whipped Cream
Just 3 ingredients combine to form the most delicious, fluffy homemade whipped cream. Here's what you'll need: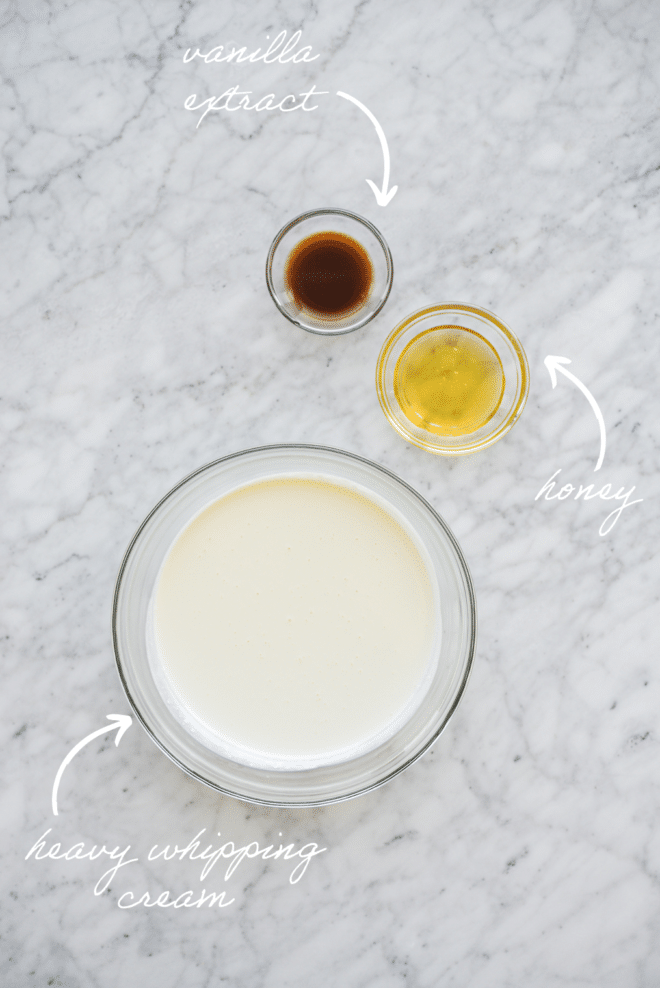 Heavy Cream – the base of the whipped cream is 1 pint (2 cups) of heavy cream.
Honey – 1 1/2 tablespoons of honey sweetens the whipped cream perfectly. If you're looking for a less sweet option, 2 teaspoons is a good amount.
Vanilla Extract – to add a touch of vanilla to the whipped cream, you'll need 1 teaspoon of vanilla extract.
Ingredient Modifications
Though this recipe is incredible as written, I totally understand (and fully support) the need to make ingredient modifications. Here are a few that I know work really well:
Make it dairy-free: swap the heavy cream for the cream from the top of a can of full-fat coconut milk. Pro tip: this will work best with chilled coconut milk, so keep a can in your fridge for recipes like this!
Omit the vanilla extract: if you don't have vanilla extract on hand or it just isn't your favorite flavor, feel free to skip it. It adds a nice touch if you have it (and like it), but it definitely isn't necessary.
Supplies Needed to Make this Recipe
How to Make Whipped Cream at Home
Goodness, this whipped cream process could not be any easier! Here's how you'll make your very own honey-sweetened whipped cream:
Combine the ingredients – add the honey, heavy cream, and vanilla to either a large bowl or the bowl of your stand mixer.
Whip – whip the ingredients until soft peaks form.
Serve and enjoy – serve in coffee, on top of a slice of pie, or on top of a few scoops of ice cream, and enjoy!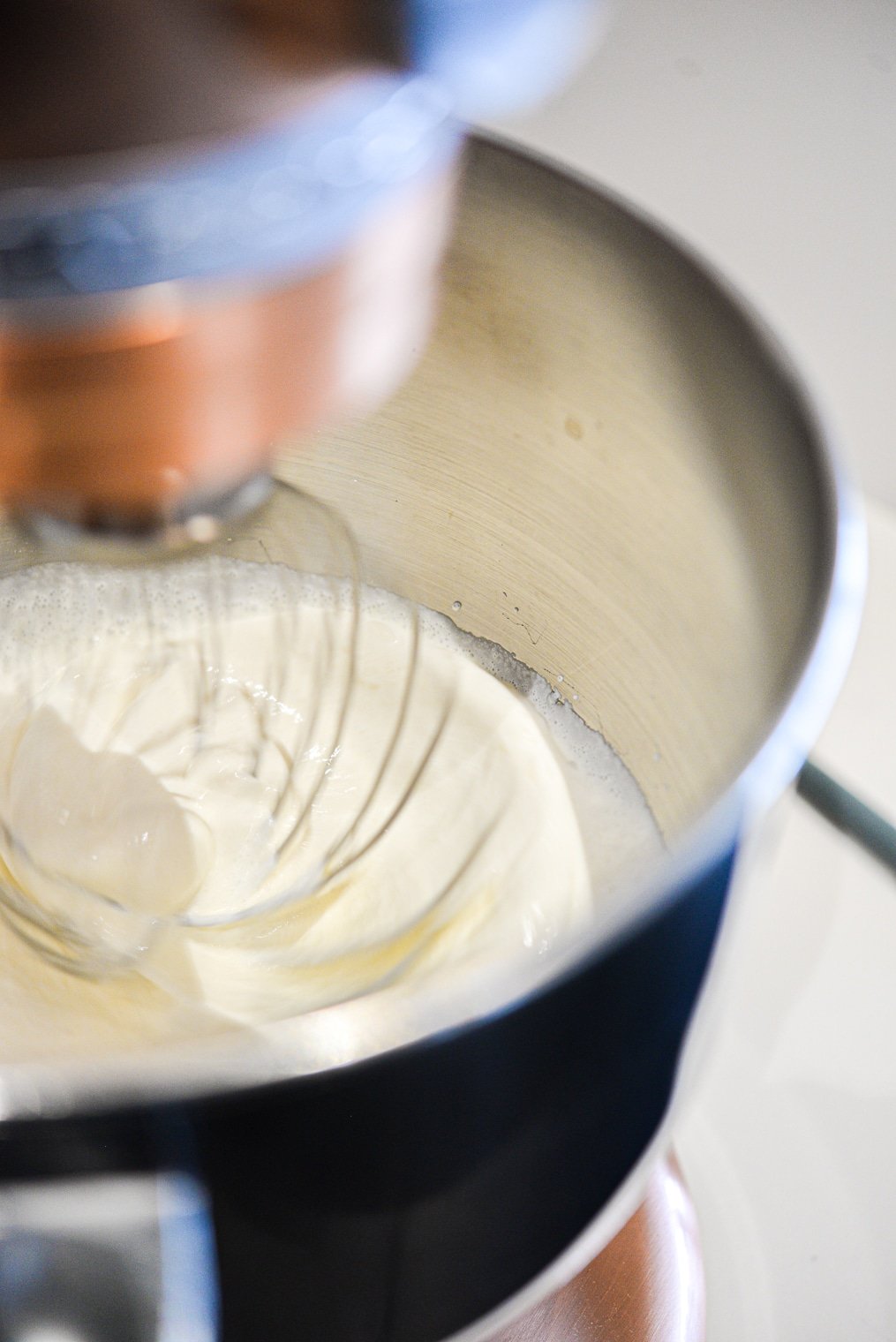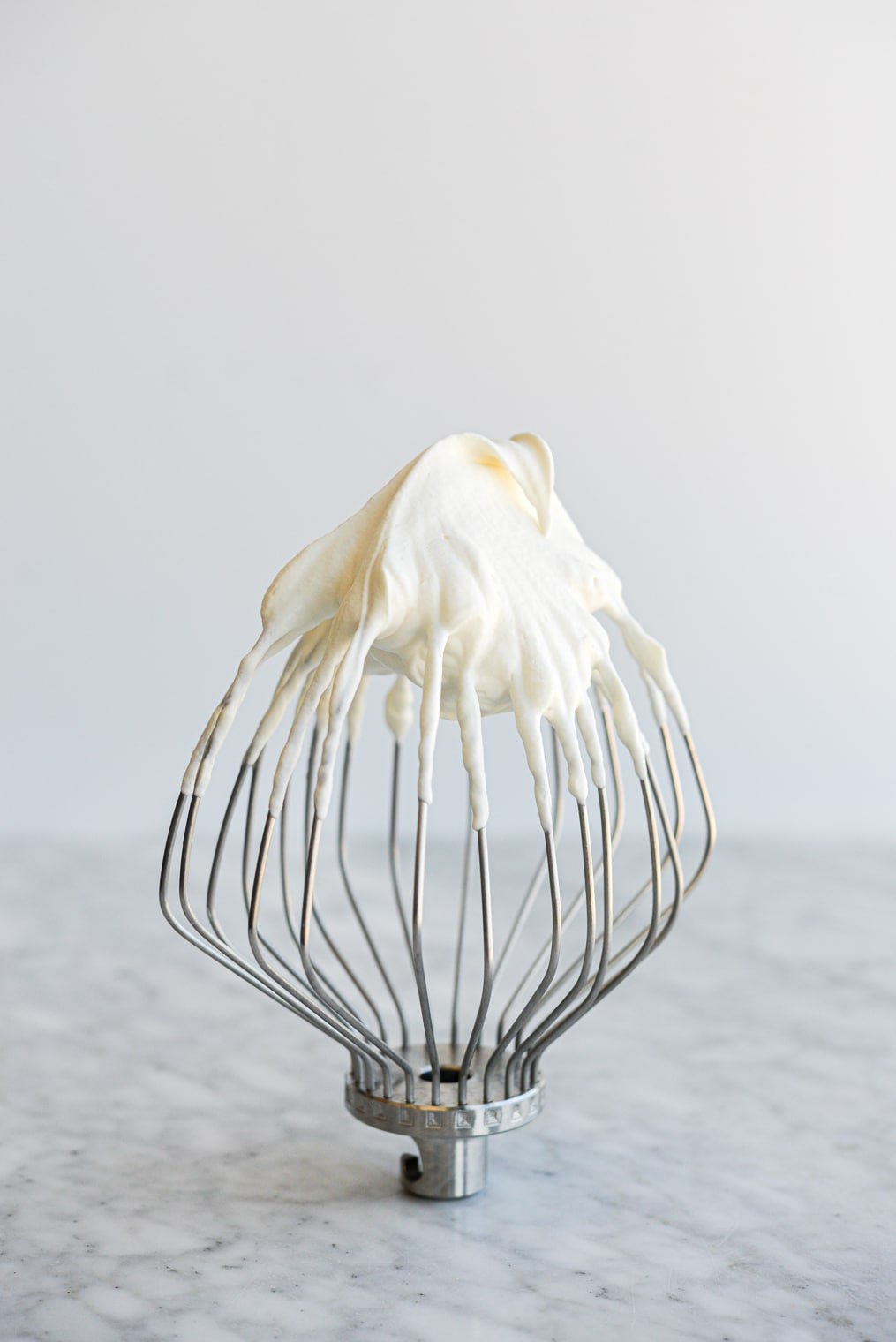 Why is my whipped cream not pulling together easily?
Room temperature heavy cream is probably the biggest culprit here! Using chilled heavy cream (as in, straight from the refrigerator) will make a big difference in how quickly and easily your whipped cream pulls together.
How do I know the difference between soft and stiff peaks?
While stiff (or firm) peaks stand straight up as soon as the mixer is lifted from the whipped cream, soft peaks will start to fall over just slightly, barely holding their shape. For whipped cream, you're looking for soft peaks. Fun fact: if you whip your whipped cream way TOO much, it'll go straight past stiff peaks to subtly sweetened (and vanilla-flavored) butter!
Something to keep in mind: if you're making this whipped cream as a mousse (say, for some sort of mousse pie), you'll want to whip it to a stiff peak so that it's sturdier than a traditional, put-a-dollop-on-top whipped cream.
More of our Favorite
Dessert Recipes
What are the best sugars to sweeten whipped cream with? powdered sugar or honey
My very favorite sugar to sweeten whipped cream with is, of course, honey — that's why I used it in this recipe! Second to honey, though, I'd say that powdered sugar makes for a really delicious whipped cream sweetener.
Why does my whipped cream separate in the fridge?
Good question! Because this whipped cream is free of any kind of shelf stabilizers or preservatives, there's a good chance that it'll separate during storage. If that is the case, don't worry! It's completely normal and to be expected. You can either pour off the extra liquid or use a hand whisk to whisk everything together until it's reincorporated.
Video
Recipes to Make with this Whipped Cream
Just for You
Dessert Recipes
Want more recipes and ideas like this?
Ingredients
1

pint

2 cups heavy cream

1 1/2

tablespoons

honey

2 teaspoons for a less sweet option

1

teaspoon

vanilla extract
Instructions
Add the honey, heavy cream, and vanilla to either a large bowl or the bowl of your stand mixer.

Whip the ingredients until soft peaks form.
Nutrition Information
Nutrition Facts
Homemade Honey Whipped Cream
Amount per Serving
% Daily Value*
* Percent Daily Values are based on a 2000 calorie diet.