We're talking all about the benefits of dermaplaning, walking you through how to dermaplane at home, and sharing our favorite tools for the job!
Ok, so is it a trend, or does it really work? Are there actually benefits? WILL YOUR HAIR GROW BACK THICKER? That's a big one, y'all…NO ONE wants thick facial hair (except for the beard-growing men among us, but I'd be willing to bet that they aren't reading this article!) We're answering those questions, and giving you the nitty-gritty on all things at-home dermaplaning and whether or not it's something you should add to your routine!
What is dermaplaning?
Essentially, dermaplaning is an exfoliating treatment that looks a lot like shaving your face! When you dermaplane, you remove dead skin cells and vellus hair (peach fuzz) from your face, and though that may sound scary or intimidating, it's really not! Dermaplaning is dermatologist-backed and has been done at spas and salons for years, but one dermaplaning session can set you back $75-$150. When you consider that you need to do it at least once a month, that adds up quickly – which is why we're diving into how to dermaplane at home!
What are the benefits of dermaplaning?
Because dermaplaning removes the dead skin cells + vellus hair (fine hairs) from your face (removing all of the dirt and oil that's trapped with it), it's an excellent exfoliation treatment. Dermaplaning also reduces the appearance of acne scars and fine lines, allows for deeper skincare product penetration (meaning that you get the most out of your skincare products after a dermaplaning treatment), boosts collagen production, and stimulates cell regrowth, resulting in smoother, younger, fresher looking skin.
How to Dermaplane
Below, you'll find our best recommendations for dermaplaning tools, how to prep your skin prior to dermaplaning, and step-by-step instructions to guide you through the process!
Dermaplaning Tools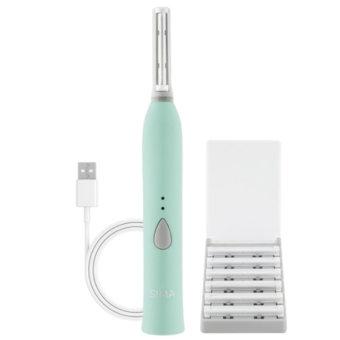 Facial Razors – if you're just getting starting with dermaplaning and don't want to go all-in yet, these facial razors are a great budget-friendly option to start with. Each razor will last for about 3 sessions, but make sure to properly clean and sanitize them after use!
Dermaflash – if you've decided to commit to regular dermaplaning, we love this device! It is a 3-in-1 exfoliation, hair removal, and anti-aging device that gently vibrates to painlessly remove hair and smooth the surface of the skin.
SIMA Dermaplaning Tool – if you're interested in dermaplaning and want to jump right to a dermaplaning tool (rather than the facial razors mentioned above), this SIMA dermaplaning tool is a fraction of the price of the Dermaflash but still does such a great job!
How to Prep for Dermaplaning
There isn't much to do to prep for dermaplaning! All you'll need is a big headband to hold small hairs back and a makeup-free face. We love this headband as a splurge option and this one as a budget-friendly option! As far as getting that makeup off goes, this balm + these makeup wipes are our top picks!
Step-by-Step Instructions
This is my FULL exfoliation + TREAT YOURSELF dermaplane routine. Feel free to skip the mask if you're short on time, but I highly recommend it if you can squeeze it in! Here's what you'll need to do for younger, smoother looking skin:
Wash Your Face – get all of your makeup off before you dermaplane, and thoroughly dry your skin.
Dermaplane – get to shaving. It's best to use short, feathery strokes over your entire face when dermaplaning. Using a steady hand, you'll want to work your way across your entire face, from your forehead to your jawline.
Cleanse – use a gentle cleanser to get any residual dead skin and shaved peach fuzz off of your face.
Mask – your pores are opened up so this is the best time to take things a step further with a face mask! We love this Calming Mask from Primally Pure (use code FEDANDFIT10 for 10% off your first purchase). If you'd like to make your own mask, this homemade pumpkin mask is a great option! Apply your mask with a flat brush for a mess-free experience, and remove it with warm water and a soft muslin cloth for ultimate spa vibes!
Wash your Razor – If you plan to use your razor again, wash it with soap and water, then dunk it in rubbing alcohol to remove any remaining bacteria and sterilize the blade.
Tips for the Smoothest Shave
Hold your razor at a 45-degree angle and shave with short downward strokes the natural direction of your hair growth. Shaving in an upward direction is more likely to cause ingrown hairs, breakouts, and cuts.
Pull your skin tight to get the closest shave. Pulling your skin tight will allow you to access the full surface of your skin.
Puff Out Your Cheeks. If you're still having trouble fully removing hair from areas like your cheeks, you can puff them out to create a smooth surface that is easier to shave. This will also help reduce the possibility of cuts in hard-to-get areas like your upper lip.
Frequently Asked Questions
Should I dermaplane?
We think so! Dermaplaning is a safe and effective exfoliating treatment for all skin types. It's safe while pregnant, for those with sensitive skin, and is great for those with acne scars, fine lines, sun damage, and dull or dry skin. Essentially, if you want your skin to look smoother, brighter, and more youthful, dermaplaning may be an excellent addition to your skincare routine.

However, If you have active cystic acne, hold off on dermaplaning until your breakout is no longer active. Dermaplaning can actually help to lessen acne breakouts (because it removes the dirt + oil from your face and makes acne-fighting skincare products more effective), but it isn't recommended during active breakouts. Also, if you have super sensitive skin or rosacea, we would recommend talking to your dermatologist before starting a dermaplaning routine.
Is dermaplaning safe?
It is! Dermaplaning is totally safe and a really great way to take your skincare routing to the next level. The biggest risk of dermaplaning is getting a cut, so be sure to take it slow and steady!
Will my hair grow back thicker?
NO! This question is our most asked and for good reason! Trust me, I wouldn't be dermaplaning if there was a risk of thick, dark hair regrowth. While your hair may grow back feeling a bit stiffer than it did before, this is not due to thickened regrowth. It's actually just caused by the blunt edge at which the hair was cut during dermaplaning.

If you decide to stop dermaplaning, the hair may feel a bit weird at first, but will soften back up after a few weeks! In my experience though, you may not want to stop once you get started!
Does dermaplaning hurt?
Not at all! The biggest risk here is cutting your face, but as long as you're taking it slow and being really careful, that shouldn't happen.
Will dermaplaning make me break out?
For most people, no! Thank goodness! In the long run, it actually does the opposite. Dermaplaning unclogs your pores by sloughing off your dead skin cells, fine hairs, and all of the oil + dirt trapped between the two… unclogged pores = cleaner face = fewer breakouts! Phew!

If you have sensitive, acne-prone skin, you may notice a breakout just after dermaplaning (though we haven't personally experienced this), but your acne-fighting skincare products (this is a GREAT line for acne-prone skin, by the way), are actually able to do a *better* job and penetrate further because your dead skin cells aren't acting as an extra barrier anymore! Just remember, if you're having an active breakout, do not dermaplane until your skin has settled, and if you fall into the sensitive or acne-prone skin camp, we recommend consulting with a dermatologist before adding dermaplaning to your routine.
How often should I dermaplane?
I dermaplane every 2(ish) weeks, but if you're new to dermaplaning, you may consider adding it to your routine every 3 weeks or so!
We hope that this has opened your eyes to the benefits of dermaplaning, and given you the confidence to add this easy, effective, at-home exfoliation treatment to your skincare routine!