In this post, we're walking you step by step through making your own DIY cold brew coffee at home! The brewing process is easier than you may think and just requires a bit of time and patience.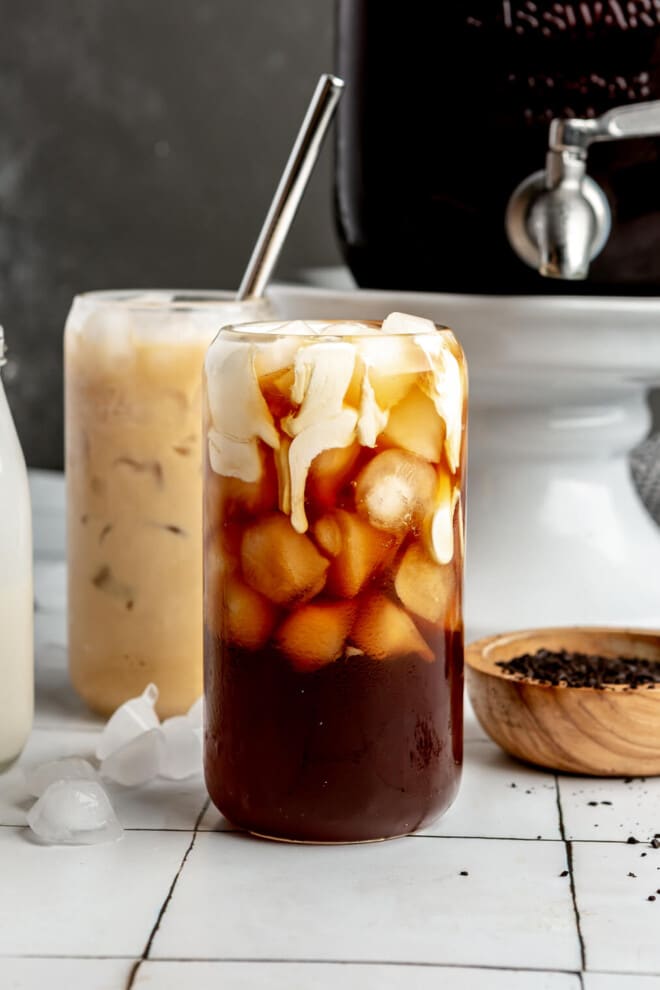 If you, like me, have been using this extra time at home to experiment in the kitchen with things like sourdough starter or Dalgona coffee, then you should definitely add cold brew coffee to your list!
I've been a lover of cold brew coffee since Cassy got me hooked on it years ago when I joined Fed + Fit. I love that it is so smooth, just a bit sweet, and makes for the absolute perfect pick-me-up!
Over the years, I've gone through many phases of making my own cold brew (mainly to save money vs. buying it) but could never find just the right formula, or got frustrated by the effort involved. With the extra time on my hands though, I've finally nailed a recipe that I like even more than my beloved Chameleon cold brew!
Why

cold brew

?
So, what's the deal with cold brew anyway? I mean, is it really all that different from iced coffee? I think so! Let's talk about why you should consider this yummy twist on traditional coffee.
1. It's Smoother Than Regular

Coffee
While I love a cappuccino or an iced latte, cold brew is one of my go-tos because it is so much smoother than hot–brewed coffee or espresso. Traditionally, coffee is made quickly with boiling water to create a delicious, hot brew. If you want a cold beverage, the coffee or espresso is simply poured over ice. While this is definitely a tasty option, you can sometimes end up with an overly-acidic, too-strong iced coffee.
To make cold brew, you mix ground coffee and water and let it steep for 12-24 hours. All coffee beans contain oils where fatty acids are stored, and these oils are best extracted using hot temperatures. The cold, slow brewing process prevents many of the oils stored in coffee beans from being fully extracted, meaning that the acids contained within them aren't present in the final product. This leads to a more mellow brew that allows the flavors of the beans to truly shine.
2.
It's Easier on Digestion
As we noted above, cold brewing coffee has been shown to produce a less acidic brew than regular coffee, with some claiming it is up to 60% less acidic. The exact amount varies based on the type of beans and brewing methods used. Many people find that this decreased acidity makes it easier on their stomach, so if you avoid coffee because you can't tolerate it, it's worth giving cold brew a try!
3.
It Lasts for Weeks
While making cold brew may be a little more involved than brewing a cup of coffee, the good news is you'll reap the benefits for weeks to come (depending on how much you drink). Once you have a batch, all you'll need to do is pour it over ice and mix with your preferred add-ins, and you're good to go!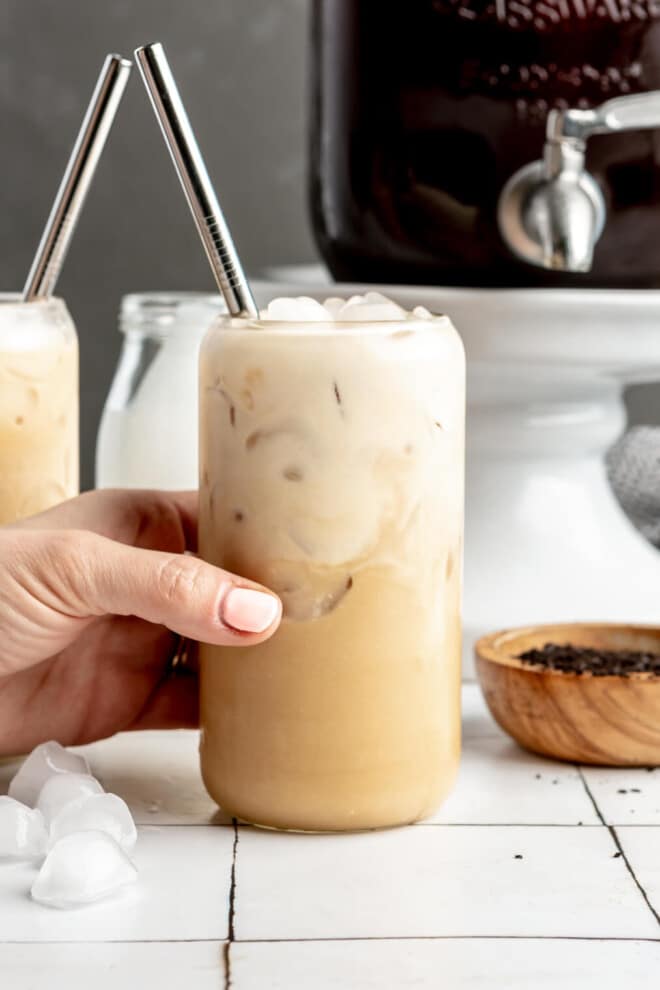 How to Make the

Best

Cold Brew Coffee
Ok, now let's talk about how to make the best cold brew coffee. I once thought it wasn't possible to beat what I was purchasing at grocery stores and coffee shops, but I've learned a lot of lessons along the way and now think that my homemade coffee is even better than store-bought!
Also, the process of making it sounds more intimidating than it actually is, all you need is a little bit of patience and the right materials. Let's walk through it.
Can you

use

re

gular

coffee

beans to make

cold brew

?
Yes, you can use regular coffee beans to make cold brew, so your favorite coffee is a great place to start! However, we recommend using coarse ground coffee beans. If you use regular or finely ground coffee beans, you'll wind up with a bit of thick, gritty sludge at the bottom of your cold brew jar. While this isn't the end of the world, it definitely isn't the tastiest when you reach the end of the jar. Using finely ground coffee also makes the process just slightly more difficult.
How do you find coarsely ground coffee beans? Here are 3 options:
The Best Beans for

Cold Brew
The quality of your cold brew is directly affected by the type of beans you choose to use! Since cold brew is lower in acidity, the flavors of the coffee itself are more prominent than in regular coffee. This means that if you use low-quality coffee, you're going to REALLY taste the bad notes. For this reason, we recommend using a high-quality coffee. It may cost a bit more, but you'll still be saving money vs. buying from the grocery store or coffee shop.
I've tried many varieties to make my coffee with, and I've found I prefer to use a medium to medium-dark roast because the long steeping process will produce a deep flavor that I don't want to be overshadowed by roasting. At this moment, my absolute favorite to use has become this half-caff Mayan water process from Stone Street Coffee. It has the best flavor (I actually prefer it to store-bought), and I love that I can get a brew that's lower in caffeine. I like to order in bulk from their website because they will coarsely grind the beans for you, and it's a bit cheaper. Below are a few other options I've enjoyed:
The Perfect Ratio for

Cold Brew Coffee
While the beans are the foundation for making the perfect cold brew, the next most important thing is getting the right ratio of coffee to water. There are two ways you can make cold brew, and the ratio you choose really depends on the size of your container, how strong you like it, and how much coffee you want to make.
Ratio for

Cold Brew

Concentrate
More often than not, you'll find that store-bought cold brew is actually a concentrate. This means that you'll need to dilute it with water before drinking or you'll have a very strong, highly caffeinated cup of coffee. We recommend this method when you're using a smaller container, like a mason jar or French press (more on this below!). For a concentrate, you'll use a 2:1 ratio of water to coffee – for example 2 cups of cold water to 1 cup of coffee.
Ratio for Ready-to-Drink

Cold Brew
If you have a larger container, you may want to make ready-to-drink cold brew instead so that it's quicker to prepare. In this case, you'll use a 4:1 ratio, or 4 cups of cold water to 1 cup of coffee.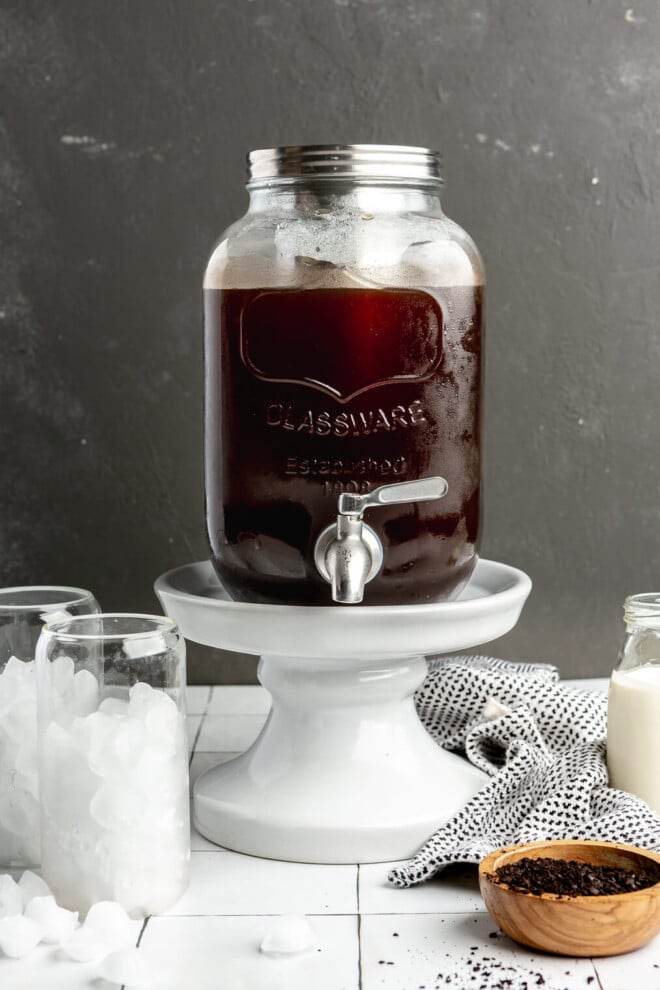 What to Make Your

Coffee

In
The next thing you'll need to decide on is what to make your cold brew in! Below are a few of our favorite vessels:
Good: The Mason Jar Method
If you're just starting out, a mason jar is perfect for testing your first batches of cold brew.
Better: The

French Press

Method
This method is also great to use if you are just starting out and aren't trying to make a large batch of cold brew!
Best: The

Cold Brew Coffee Maker
This is my personal favorite method! It allows me to make a large batch of cold brew with minimal effort and eliminates the mess and hassle of discarding the coffee beans. Plus you get cold brew on tap, what's better than that?! If you are going to be making cold brew on a regular basis, a dispenser is well worth the investment.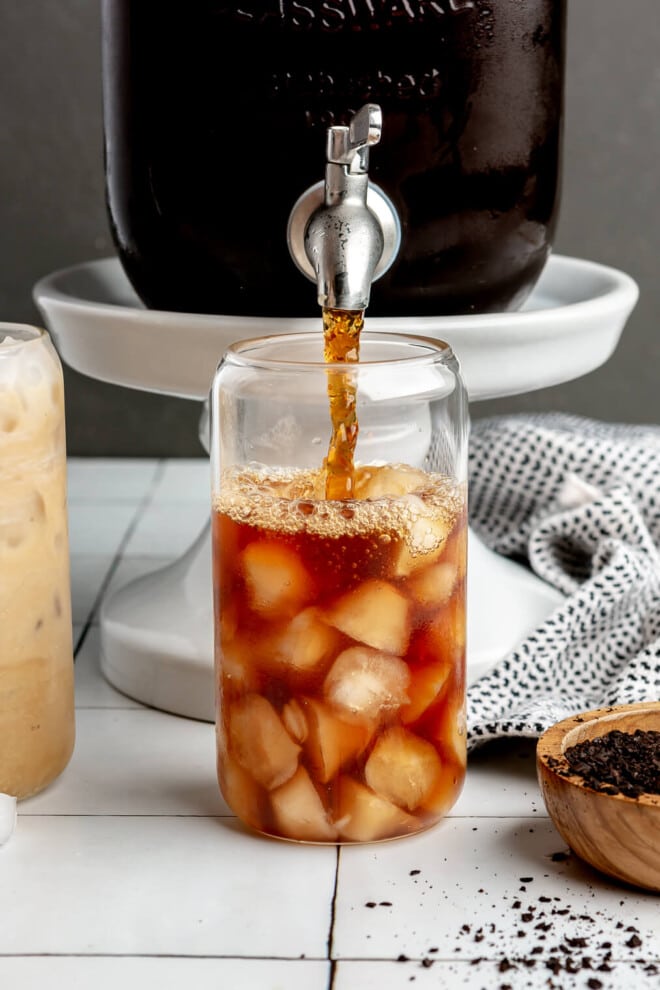 How long does it take to make?
I recommend making sure you brew for at least 12 hours, but no more than 24. The longer your brew goes, the more strong and caffeinated it will be.
How to Drink

Cold Brew
If you're using a concentrate, you'll want to dilute your cold brew to be about 1 part coffee to 1 part cold water. You can also dilute it with a dairy-free milk for a creamy treat! Personally, I like to pour my coffee concentrate over ice cubes, dilute with an equal amount of water, then use a sweetener and a creamer for the perfect blend. Below are our favorite options.
Best Sweeteners
While you can drink your coffee black, a bit of sweetener can also be a great touch! You'll want to use a liquid sweetener instead of something like granulated sugar though, so that it can mix into the drink. Here are our favorites:
Best Creamers
While you can drink your coffee black, I love a bit of milk mixed in for a creamier consistency! In my opinion, nothing beats heavy cream or half-and-half, but if you're dairy-free like me, there are plenty of close options!
Iced or

Hot

?
While we've mostly talked about iced cold brew, you can actually drink it hot as well! If you want to drink your cold brew hot, I'd recommend warming it up on the stovetop for a minute or two then drinking. If you have concentrate on hand, it can also work as a great substitute for espresso in beverages like lattes and cappuccinos. Just substitute 2 ounces of concentrate per shot of espresso.
There you have it, our complete guide to making the best cold brew coffee – from the best coffee beans to our favorite creamers! We hope that this guide helps you feel confident about cold brewing your very own batch at home.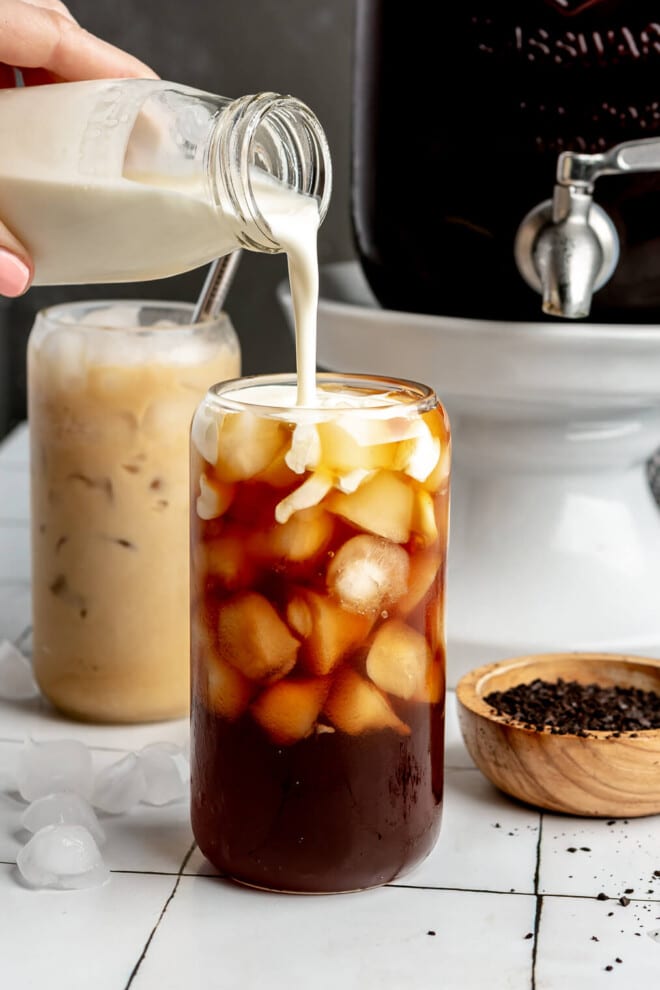 Cold Brew Coffee Frequently Asked Questions
Is cold brew coffee healthier than regular coffee?
Cold brew has a reputation of being healthier than regular coffee because its lower acidity is easier on the stomach and has less impact on tooth enamel. However, more acid isn't necessarily a bad thing. Also, cold brewed coffee has also been shown to have a lower concentration of antioxidants than regular coffee, and it has a higher concentration of caffeine. Our take? Both types of coffee are great options, but if you can't tolerate regular coffee, suffer from stomach problems like GERD, have been advised to avoid acidic foods, or just simply love iced coffee, cold brew may be worth a try!
Is cold brew stronger than regular coffee?
While cold brew may not taste stronger than regular coffee, it typically has a higher caffeine content. It is a common misconception that this is because of the longer brewing time. Interestingly, the cold brewing process actually extracts less caffeine than hot water does, but cold brew uses a higher ratio of coffee to water, which is the real cause of the increased caffeine content.

How much more caffeine are we talking? An average 8-ounce cup of coffee has about 95 mg of caffeine, one shot of espresso has about 63 mg of caffeine, and one 8 ounce serving of cold brew (or 4 ounces of concentrate) has about 200 mg of caffeine. That's over double! This is one of the reasons why so many people love cold brew – it gives you a serious buzz.
Why make cold brew instead of buying it?
I'd say the top reason to DIY your cold brew over buying it is to save money! The average bottle of Chameleon cold brew costs $9.99, which adds up to about $2 per serving. Between my husband and I, we were going through about 2 bottles a week – which adds up quickly! Depending on which beans you buy, you can usually make your cold brew for right around $1 per serving.

The other thing I like about making my own is that I can control the caffeine content. As noted above, cold brew has more caffeine than your typical cup of coffee. Since I'm caffeine-sensitive, but love the lower acidity, I use a half-caff coffee to make mine, which means I can drink my cold brew without getting jittery!
More Favorite Drink Recipes
How to Make Cold Brew Coffee at Home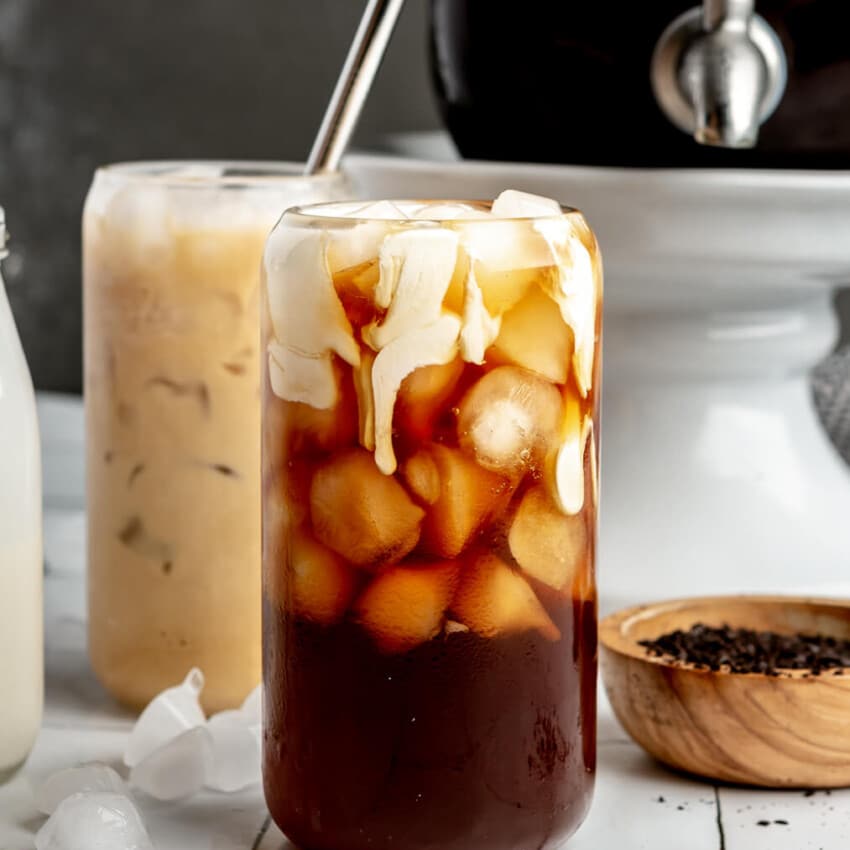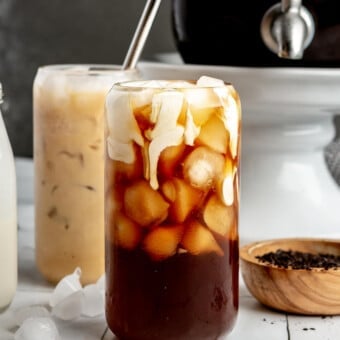 Make the perfect cold brew at home with this simple method!
Instructions
Place the coffee grounds in an

8-cup French press

(ideal), a

2-quart glass mason jar

, or a medium-sized glass bowl. Pour the water over the coffee grounds, cover, and refrigerate for at least 12 hours but no more than 2 days.

Press the French press stopper down to separate the grounds from the coffee, or strain the grounds through a

fine-mesh strainer

lined with a coffee filter. Pour the coffee into a mason jar or pitcher for storage.

To serve, mix 1 part cold-brew concentrate (about ½ cup) with 1 part cool water (about ½ cup). Serve over ice with your favorite coffee creamer!
Recipe Notes
If using a larger dispenser as outlined in the article above, fill the dispenser filter with 4 cups of coarsely ground coffee, then pour in about 13 cups of water. Refrigerate for 12-24 hours, then remove the filter, discard the coffee grounds, fill the pitcher with 3 more cups of water, and place back in the refrigerator. This will create a ready-to-drink brew!
Nutrition
Calories:
1
kcal
|
Protein:
0.1
g
|
Fat:
0.01
g
|
Saturated Fat:
0.001
g
|
Monounsaturated Fat:
0.01
g
|
Sodium:
7
mg
|
Potassium:
29
mg
|
Calcium:
5
mg
|
Iron:
0.01
mg