Every item on this page was chosen by The Fed & Fit team. The site may earn a commission on some products (read more here).
We've been percolating on writing this article for some time (see what I did there) and the door opened for me to walk right through. I'm going through a hormone overhaul and with that came the exodus of coffee. Coffee equals increased cortisol, which for my body was not helpful in my fertility journey. With a whole lot of kicking and screaming, I nixed caffeine and replaced it with an earthy alternative: mushroom coffee. Let's dive into why fungus has made a comeback.
What is mushroom coffee?
Mushroom coffee is having a moment, but it has a history all the way back to World War II when Finnish people used native chaga mushrooms as an alternative to coffee, a hot commodity during wartime. Four Sigmatic, one of the most well-known mushroom coffee purveyors with Finnish founders, put it back on the map in 2012 and we've seen overflowing cups of fungus all over Instagram ever since. Lucky for us, it has a whole host of mental and physical benefits (and, sorry to say, hallucination is not one of them).
There is a clear difference between the wartime chaga and blends made by brands like Four Sigmatic and Mud\Wtr that combine different types of mushroom extracts for a cozy cup. Here's a breakdown of the medicinal mushrooms most often used in the alternative coffee.
Lion's Mane for mental performance and neuro generation
Chaga for overall wellness, immunity, and modulating inflammation
Reishi for immune function, restful sleep, and overall relaxation
Cordyceps for athletic performance and an energy boost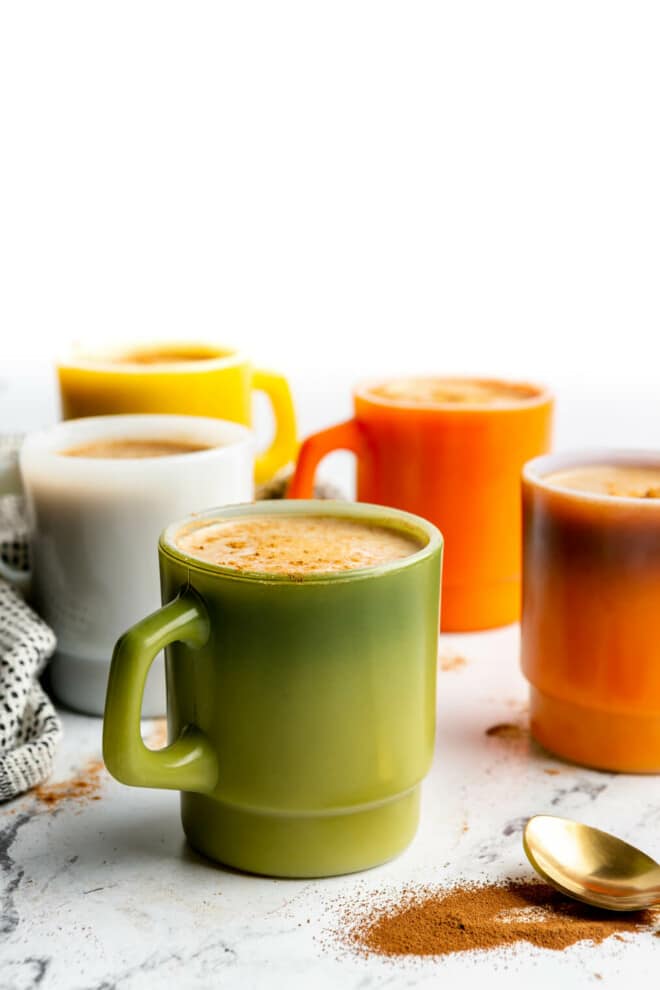 Mushroom Coffee Benefits
These little powerhouses pack a punch with many health-promoting properties and may convince you to make mushroom coffee a part of your morning ritual. Here are our top 5 benefits!
Reduces Inflammation
Mushrooms have been used extensively, throughout history, due to their medicinal properties, and modern research confirms that mushrooms are rich in anti-inflammatory properties. Inflammation is both the source and symptom of many diseases. If our body is low in antioxidants, deficient in key nutrients, or under a state of stress its ability to down-regulate inflammation is compromised. Reishi, Cordyceps, Chaga, and Lion's Mane mushrooms have all been shown to have incredible anti-inflammatory effects. From the athlete looking for recovery support to those suffering from problems related to chronic inflammation; there may be healing benefits from this inflammation-fighting superfood.
Boosts Energy
Mushroom coffee can be made with or without coffee, and even without its caffeine counterpart, it can be used to support athletic performance, energy, and stamina. Many types of mushrooms support a rise in energy, but the star of this fungus show is Cordyceps, or the "Olympic mushroom." A famous story broke in 1993 as members of the Chinese women's Olympic running team surpassed numerous world records at the Beijing national games. The women were accused of doping, and the team was tested for banned substances, and surprisingly, none were found. The athletes credited a cordyceps elixir for their above-average performance and incredible success! Cordyceps have been shown to boost ATP, adenosine triphosphate, the source of energy that keeps everything going in the body, and helps deliver oxygen to all areas of the body, reducing muscle fatigue, and supporting stamina.
Provides Immune Support
Mushrooms have evolved to be the masters of survival! Mushrooms predate all other life forms on land and their magic is contained within their cell walls. Medicinal mushrooms contain beta-glucans, which have powerful immune-boosting effects that may protect against bacteria, viruses, and other pathogens. Chaga is the real antioxidant powerhouse, combating oxidative stress (ahem, also linked to skin aging), slowing the growth of cancer cells, and even lowering overall cholesterol.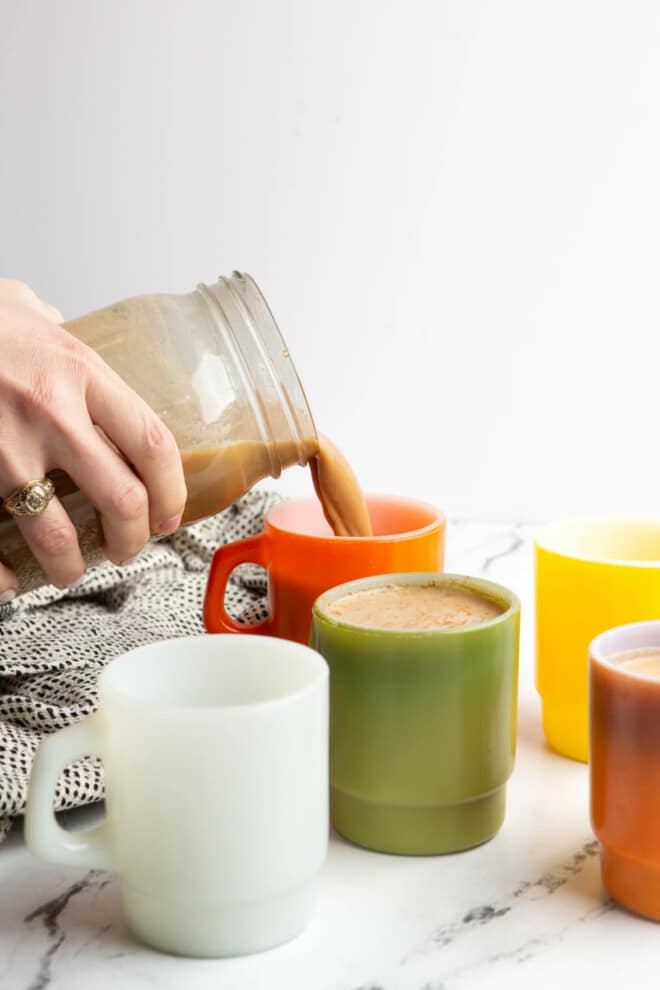 Bolsters Mental Performance
Lion's Mane has become well known for promoting cognitive function. It is said that Buddhist monks used it in tea to increase their ability to concentrate during meditation. Lion's Mane helps to stimulate the production of Nerve Growth Factor, repair and create neurons, and one study even demonstrated that Lion's Mane, when given to injured rats, regenerated damaged nerve cells. In a world where neurodegeneration is on the rise, regular consumption of medicinal mushrooms may reduce cognitive decline.
Supports the Nervous System
Stress is the plague of modern society and when the body is stressed, a series of chemical changes occur that allow us to adapt and overcome. Sometimes the body gets stuck in a state of stress, though, and adaptogenic herbs and mushrooms can be supportive in calming down the system. Reishi, the "mushroom of immortality", has been widely revered in traditional Eastern medicine for thousands of years and is not only known for its anti-aging properties, but also as the ultimate anti-stress herb. Of all of the medicinal mushrooms, Reishi is the best for sleep, relieving symptoms of anxiety and depression and calming the mind. The polysaccharides within the mushroom promote healing within the parasympathetic (rest and digest) nervous system and blunt the stress response following a significant event.
The potential health benefits of mushrooms are far and wide, and still being studied. We have a lot left to learn from new research and ancient cultures that have been using these magical superfoods throughout time for a myriad of healing benefits. In fact in 1991, a 5300-year-old mummified body, whom the press named Otzi, was found with mushrooms on cords around his neck and tucked inside his special pouch. It is believed Otzi used one strain to remove intestinal parasites, of which he had many.
More of our Favorite
Drink Recipes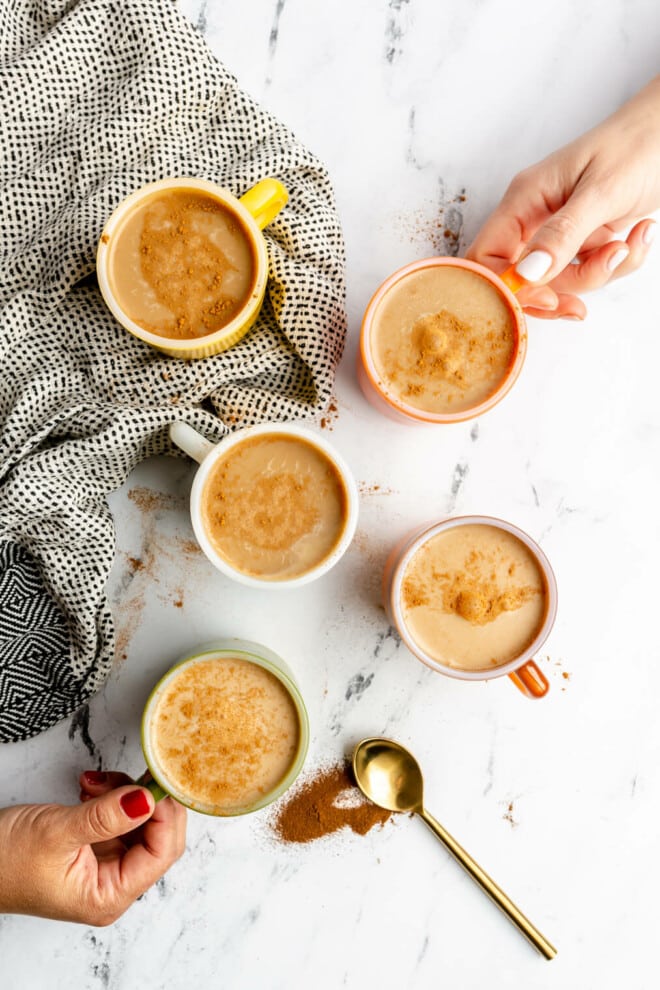 Best Mushroom Coffee Brands
Luckily we don't have to go foraging and mushroom coffee is now available in many forms so everyone can find their ideal cup of shroom-y Joe. To help you navigate, here are the top mushroom brews.
Four Sigmatic
I was hesitant to make the non-caffeinated switch, but Four Sigmatic mushroom ground coffee was the perfect way to ease the transition. Veterans of the game, Four Sigmatic has the most extensive line of products to choose from, including "Think" (a caffeinated coffee blend for steady energy), "Defend" (a functional blend for immune support), and "Chill" (a decaf blend for relaxation). The brand is transparent with their ingredient list and the Instant Mushroom Coffee with Lion's Mane tastes the closest to traditional coffee.
MUD\WTR
This 100% organic coffee alternative uses a tea base with added spices and herbs for a ritualistic morning cup. MUD\WTR offers two options in their starter kits: Morning and Evening. Their Morning blend is made with black tea, spices, cacao, and stimulating medicinal mushrooms. Their Evening blend is made with rooibos chai tea, spices, and calming herbs and adaptogens. The brand has an array of recipe ideas on its website, including pancakes, smoothie bowls, teas, and even cauliflower mud wings.
Renude Chagaccino
Dubbed a "mushroom mocha," this cleaned-up version delivers you all of the great mocha taste with a healthy dose of wildly foraged chaga. It can be used as a superfood coffee boost or on its own as a vegan, sugar-free, keto-friendly latte. The Chagaccino comes in packets, which are ideal for on the go, whether at the office or traveling when you're in need of an extra shroom dose. 
Ingredients Needed for a Simple Mushroom Latte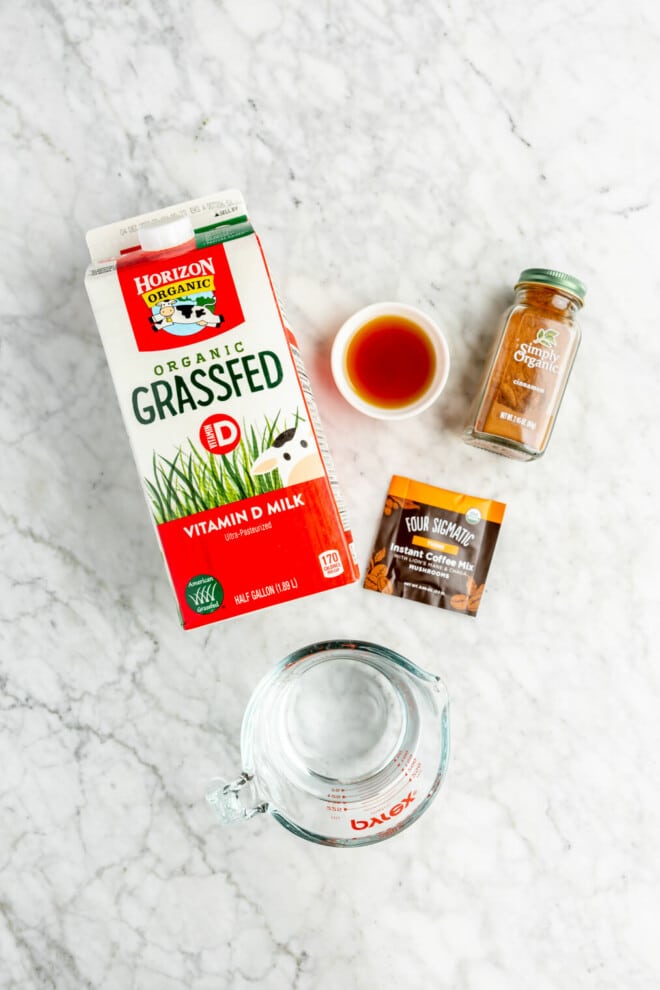 1 individual packet or 1 tablespoon of a mushroom blend
6 fluid ounces of hot water
1-2 fluid ounces of milk (can be steamed/heated or cold)
1 tablespoon of maple syrup
Optional
Dash of cinnamon
Shot of espresso
How to Make a Mushroom Latte
Add the mushroom mix, hot water, and maple syrup to a mug and froth or stir.
In a separate cup, froth the milk until foamy.
Top the mushroom latte with the frothed milk, and enjoy!
Tips and Tricks for Making a Mushroom Latte at Home
Blend well – I like to give any of these mixes a really good blend… I mean a really good blend! I highly recommend using a frother or an extra-strength stir. MUD\WTR comes with a hand blender or you can use an immersion blender or frother to make sure you don't have sediment at the bottom of your cup.
Add some extras – for extra taste or a nutritional kick, you can add anything you like. I personally prefer to add some maple syrup or honey as a sweetener as most brands don't have added sugar. You can add coconut oil to kick up the thermogenic properties, a small spoonful of nut butter for a creamy twist, a scoop of protein powder, 1/2 tsp of maca for hormonal support or extra spices like cardamom.
Just for You
Drink Recipes
Want more recipe ideas like this?
Ingredients
1

individual

mushroom coffee packet

(or 1 tablespoon of a mushroom blend)

6

fluid ounces

hot water

1-2

fluid ounces

milk

hot or cold

1

tablespoon

maple syrup
Optional
Dash

cinnamon

1

shot

espresso
Instructions
Add mushroom mix, hot water, and maple syrup to a mug and froth or stir.

In a separate cup, froth the milk until foamy.

Top the mushroom latte with the frothed milk, and enjoy!