Our tangy and slightly sweet Immune Boosting Gummies are every kid's dream snack, but packed with a powerful healthy punch!
I vividly remember eating packets and packets of gummy fruit snacks after school pretty much right up until I graduated college y'all.  COLLEGE.  I also ate things like ramen noodles, drank way too much coffee, stayed up until 3 am regularly, and barely did laundry–doesn't mean they were all good ideas, if you know what I mean!
These little tart and tangy treats are actually a GREAT idea as a snack option for your kiddos around this time of year.  Why, you ask?  Because they're loaded with citrusy Vitamin C, a powerful immune booster, to help protect your kids from those back to school sniffles.  With a blend of sweet orange and tangy grapefruit, these bite sized bears are bound to be a favorite lunch box addition.
These Immune Boosting Gummies are another incredibly versatile recipe. Feel free to experiment with different size and shape molds if you prefer, or you can simply poor the mixture into a large shallow pan, refrigerate and cut into squares if molds are too much trouble.  Also, be sure to taste your juice prior to setting, if you find that your mixture is to tart, you can always add a bit of local honey (a great immune and allergy support too!) to the mix, making sure to whisk well to incorporate.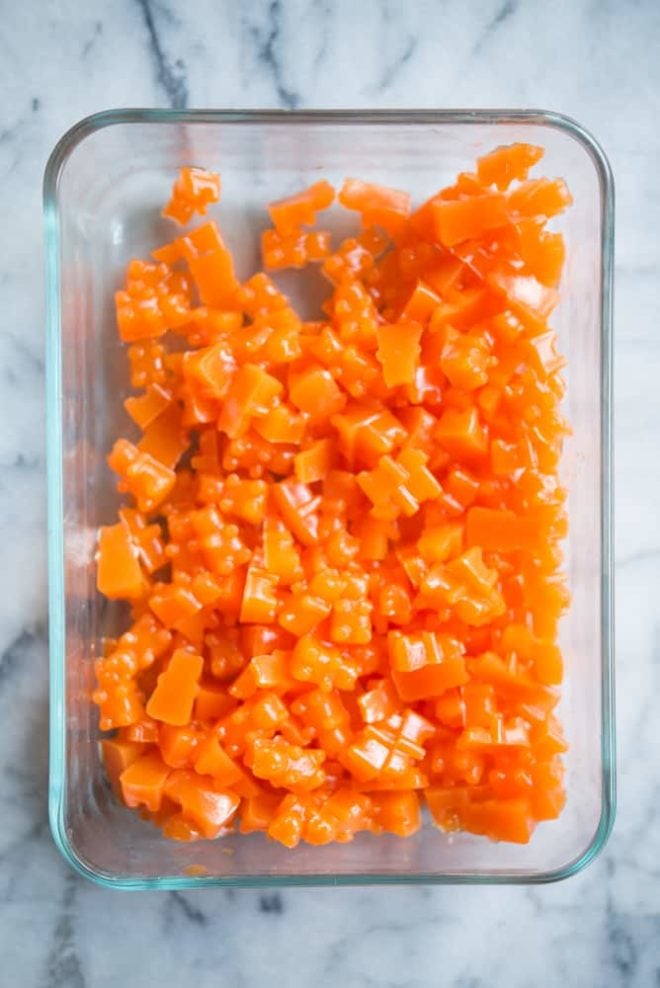 So far, I've made these Immune Boosting Gummies three times (mind you, each batch yields about 300 small gummy bears), and they've been consumed in a matter of HOURS—HOURS I tell you!  Make sure you store these bad boys in the fridge when not eating, and hide them if you don't want them gone quickly!  We hope you enjoy them as much as we do!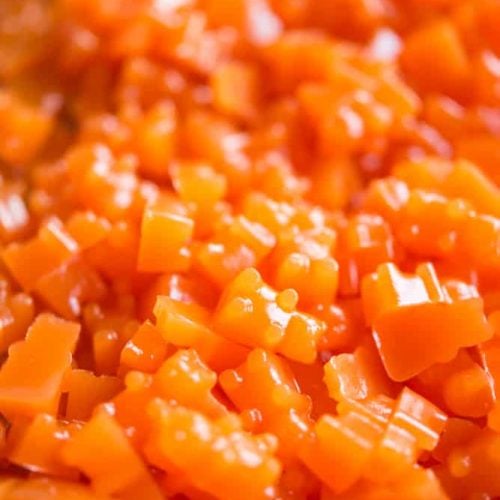 Bite sized, tart, and powerful little immune boosting treats!
Ingredients
Instructions
Prepare the juice if making at home by processing the juice ingredients an a juicer and setting aside.

Dissolve the gelatin in 1/2 cup boiling water.  If any clumps remain, scoop them out and discard them.

Whisk the juice into the gelatin water until smooth. 

Add optional honey and whisk fully to incorporate at this time.

Pour the mixture into a silicone mold or 8 inch square ceramic or glass baking dish.

Refrigerate the gummies for at least three hours.  If using a silicone mold, I recommend freezing the tray so that the gummies are easier to extract.  If using a baking dish, use a butter knife to cut the gummies into squares or other shapes.  Store in an airtight container in the refrigerator for up to 5 days.
Nutrition
Serving:
10
bears
|
Calories:
13
kcal
|
Carbohydrates:
2
g
|
Protein:
2
g
|
Fat:
0.01
g
|
Saturated Fat:
0.002
g
|
Polyunsaturated Fat:
0.002
g
|
Monounsaturated Fat:
0.002
g
|
Sodium:
5
mg
|
Potassium:
14
mg
|
Fiber:
0.02
g
|
Sugar:
2
g
|
Vitamin A:
380
IU
|
Vitamin C:
2
mg
|
Calcium:
2
mg
|
Iron:
0.05
mg