Every item on this page was chosen by The Fed & Fit team. The site may earn a commission on some products (read more here).
Hot Italian sausage-filled savory red sauce meets a hollowed-out eggplant in this epically satisfying, but still healthy, 'Fed & Fit' book sneak peek recipe Paleo love affair that is Italian Stuffed Eggplant.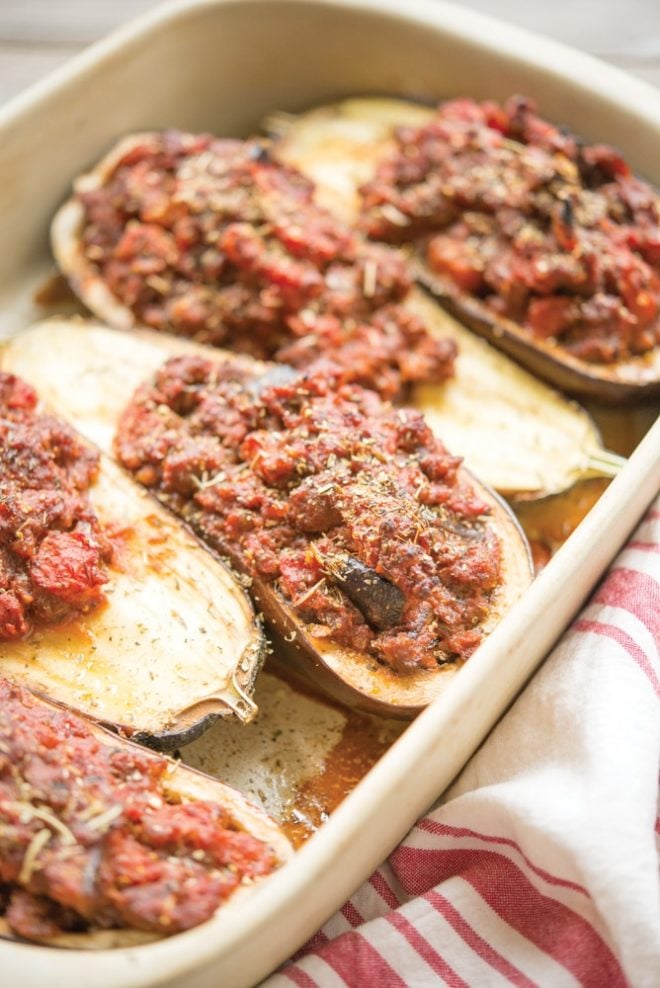 Don't let the simplicity of this recipe fool you into thinking that the enjoyment it offers is simple …because IT IS NOT simple. It's big, bounding, tastebuds will sing, bellies will rejoice, husbands will approve, your inner kitchen diva will be doing simultaneous back flips and high-fives with herself. I like to think that this recipe is the food equivalent to a dress with pockets. Separately, a dress and a set of pockets are ordinary and uninteresting. However, when you put the two together …when you sew a couple pockets into a big flowy skirt …it transforms that ordinariness into what feels like a heaven-sent miracle outfit. All of a sudden, you LOVE this dress! Ordinary no more, those cleaver lip gloss-stowing pockets make you feel like you're walking on sophisticated but functional fashion air.
THAT is essentially what happened when we took an ordinary eggplant, carved out the seeded cavity, filled it with a delicious homemade Italian sausage meat sauce, and baked the two together. We just sewed culinary pockets onto that eggplant and the world will never be the same. Looking at this meal, you may be thinking "but it looks like it needs cheese …won't I miss the cheese?" My answer: NO YOU WILL NOT miss the cheese. I promise. The flavor here is BIG and highly satisfying. As it currently sits (and remember that I have complete approximate nutrition facts for this recipe below + ALL 190 recipes in the 'Fed & Fit' book), this is meal offers up an all-star plate of healthy veggies, fats, and protein.
This meal satisfies my most intense craving for Italian food …without the Italian food bloat. I don't need pasta (even gluten-free pasta) as a vehicle for tasty hot Italian sausage meat sauce anymore. I just need a wholesome eggplant and about an hour for the oven to perform a miracle – where it turns that eggplant into something I CRAVE.
As if you needed more convincing, I must also tell you that these Italian Stuffed Eggplants make IDEAL make-ahead freezer meals. IDEAL, I say! Below is a detailed list of how I prepare them for the freezer.
TO FREEZE (as individual servings)
Cook according to the instructions below.
Let cool completely.
Wrap tightly in parchment paper (or plastic wrap – I'm not here to judge).
Place in either a big plastic bag or seal-able container for the freezer.
TO DEFROST (oven is ideal, but feel free to microwave – again, I'm not here to judge)
Pull out your individually wrapped eggplant(s).
Peel the paper off the eggplant and place it on a rimmed baking sheet.
Place it in a COOL oven and the turn the temperature to 350 F. We want the ice-cold eggplant to slowly defrost in the oven as it rises to temperature.
When the oven reaches temperature, set a timer for 5 minutes and then come back to check on the eggplant when it dings. We really just want it to get hot, NOT to cook it again entirely. You'll know it's done when the inside is no longer frozen (stick a knife through the middle to be sure) and when the top is sizzly and delicious looking.
ENJOY!
Italian Stuffed Eggplant
Hot Italian sausage-filled savory red sauce meets a hollowed-out eggplant in this epically satisfying, but still healthy, 'Fed & Fit' book sneak peek recipe Paleo love affair that is Italian Stuffed Eggplant.
Ingredients
3

large eggplants

about 3 pounds

1

tablespoon

extra-virgin olive oil

2

tablespoons

salted butter

sub EVOO for Whole 30

1

small onion chopped

4

cloves

garlic

minced

1

pound

hot Italian sausage

removed from casings if using links

1

28-ounce can diced tomatoes with juice

2

tablespoons

Italian seasoning plus additional for garnish

1

teaspoon

fine sea salt

1/4

teaspoon

ground black pepper
Instructions
Cut the eggplants in half along their length. Using a spoon or small knife, carve out the center of five of the eggplant halves, leaving at least a 1-inch "wall" on all sides. Place the five hollowed-out eggplants in a baking dish, cut-side facing up. Drizzle the tops with the olive oil and set aside.

Melt the butter in a large frying pan over high heat. Once melted, add the chopped onion, reduce the heat to medium, and cook for 10 minutes, or until golden brown. Add the garlic and cook for an additional 4 minutes, or until fragrant. Add the Italian sausage and, using a spoon or spatula to break it up into pieces, cook until browned and starting to become crispy.

While the sausage is cooking, cut the sixth eggplant half into ½-inch cubes. When the sausage is finished cooking, add the eggplant, stir, and cook for at least 5 minutes, or until the eggplant softens. Add the tomatoes, Italian seasoning, salt, and black pepper. Stir to combine and bring to a simmer, then remove from the heat.

Preheat the oven to 350ºF. Spoon an equal amount of the sausage filling into each eggplant boat. Sprinkle the top with additional Italian seasoning and bake at for 45 minutes, or until the thickest part of the eggplant is easily pierced with a fork.

Enjoy warm!
Nutrition Information
Nutrition Facts
Italian Stuffed Eggplant
Amount per Serving
% Daily Value*
* Percent Daily Values are based on a 2000 calorie diet.
Recipe Notes
Approximate Calories & Macro Breakdown (based on 1 of 5 servings)
 Calories: 387; Protein: 18 g; Fat: 25 g; Carbohydrates: 25 g
Tips
Leftovers will keep refrigerated for up to 5 days. This dish also freezes really well if you wrap each stuffed eggplant individually.
Reheat in either the microwave for 4 to 5 minutes or in a preheated 350ºF oven for 20 minutes.