This lemon vinaigrette is incredibly easy to make, really flavorful, and so versatile!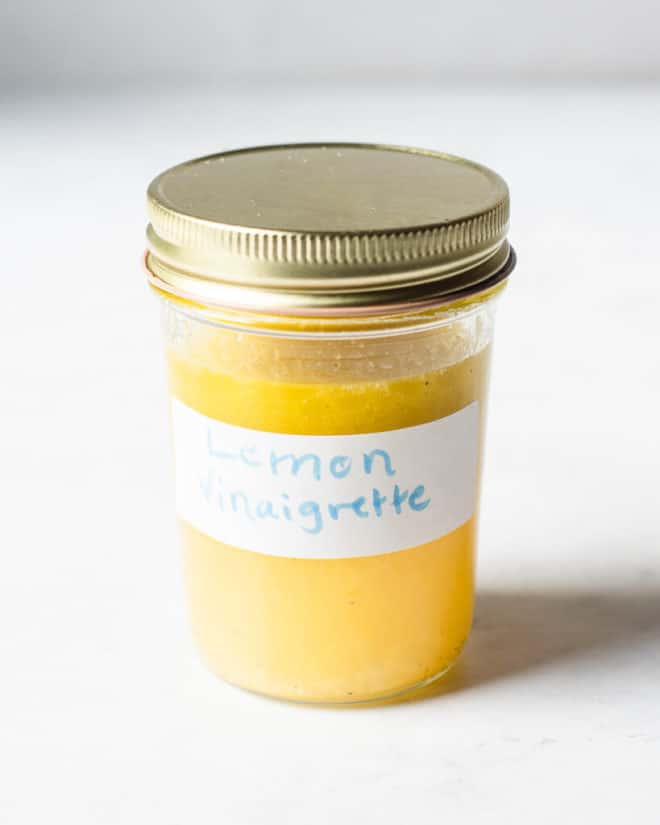 What makes Lemon Vinaigrette so special?
This lemon vinaigrette is one of those things that's incredibly easy to make, and because of that, so surprisingly delicious.
While you can certainly buy bottled lemon vinaigrettes at the store (and there is no shame in that if that's where you're at), this recipe is incredibly easy and making your own means that you can use fresh lemon juice AND a really delicious, good-for-you oil. We also love the use of lemon zest here — it really boosts the lemon flavor without making it too acidic.
Lemon Vinaigrette Ingredients
This dressing is 5-ingredient simple (and that's counting salt AND pepper as ingredients all on their own). Here's everything you'll need:
Lemon Zest – to start, you'll need 1 tablespoon of grated lemon zest (the zest from about 1 lemon).
Lemon Juice – a ¼ cup of fresh lemon juice (about 2 small lemons-worth of juice) makes up half of the bulk of this dressing. The lemon juice pairs so beautifully with the olive oil and adds such a deliciously simple flavor.
Extra-Virgin Olive Oil – the other half of the bulk of our dressing is olive oil! You'll need a ¼ cup of extra-virgin olive oil here.
Salt and Pepper – a ½ teaspoon of fine sea salt and a ½ teaspoon of ground black pepper are the only seasonings needed!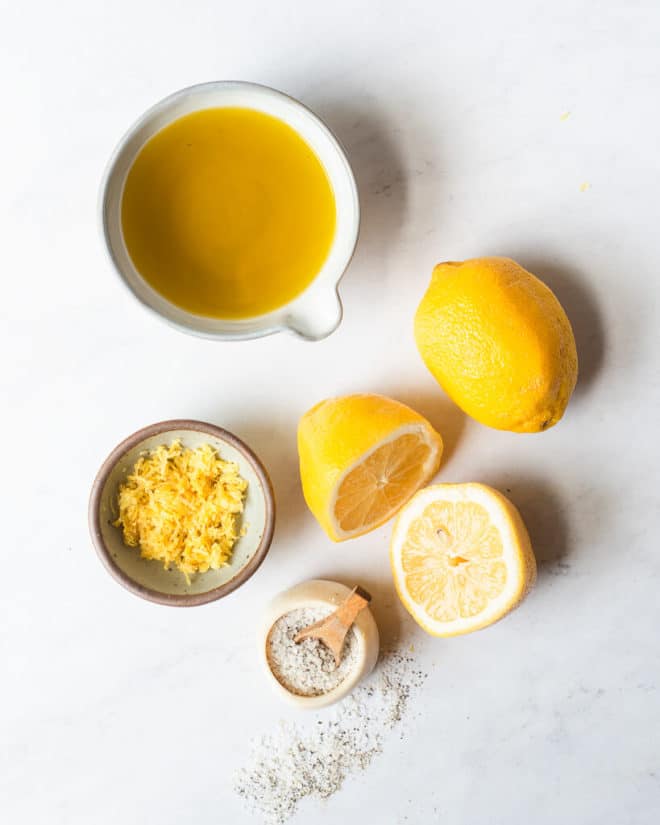 How to Make a Lemon Vinaigrette
As with most dressings, this vinaigrette is about as fuss-free and easy as it gets! You'll just need to throw all of the ingredients in either a mason jar or a bowl and either shake or whisk everything together. Doesn't get easier than that!
Fresh lemons vs lemon juice?
When it comes to citrus, we are firmly of the fresh-is-best belief. There really isn't a reason to ever use the bottled stuff, especially when you just need a couple citrus fruits-worth of juice! The only exception here is if your local grocery store sells bottled fresh-squeezed juice — that keeps things fresh and easy!
Tips and Tricks for an Easy Lemon Vinaigrette
Because this dressing is so simple, it's really important to make sure that you're not taking any shortcuts (like bottled, preserved lemon juice) to get to the end product. The simple ingredients are what really makes the dressing SHINE, so keep that in mind as you're pouring and mixing! Here are our best tips and tricks:
Don't skip the zest – this is a big one! While the lemon juice obviously adds a lot of really delicious flavor, the zest gives a PUNCH of lemon flavor. It's a must. To make zesting super easy, use a microplane!
Use fresh lemons – as mentioned above, fresh lemons are a MUST. The flavor is incomparable!
Change up the flavor – to change up the flavor, add garlic, red pepper flakes, or even fresh or dried herbs to the mix!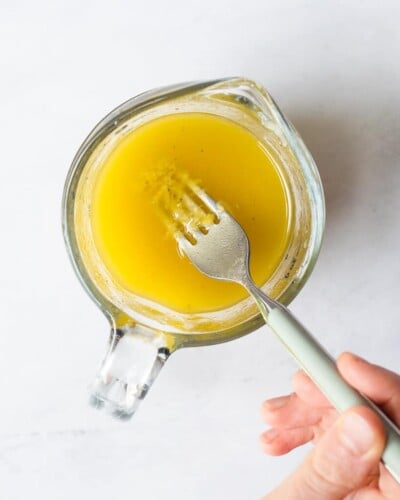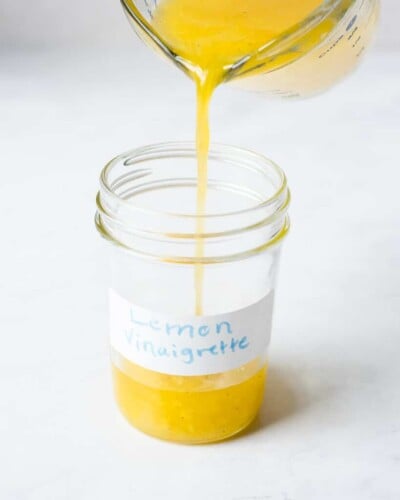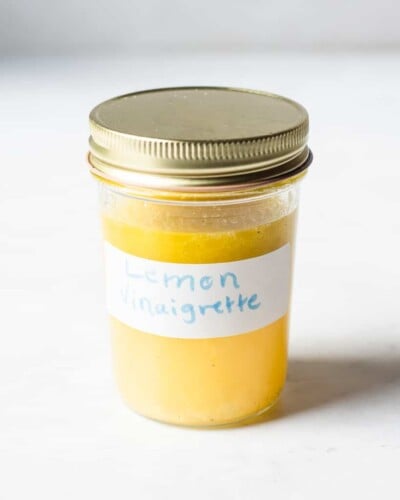 What types of salads go best with this lemon vinaigrette dressing?
Short answer: *all* of them! Truly, because of the simple ingredients, so many salads pair beautifully with this dressing. From really simple salads (think: dressing + greens of choice) to more elaborate salads (think: greens + nuts + cheese + and maybe even a protein), I really think that it'll be one that you turn to over and over again.
What else goes best with lemon vinaigrette?
When it comes to lemon vinaigrette, you don't have to stop at salads! This dressing can be drizzled over grilled chicken, shrimp, or fish for a really delicious flavor-packed finisher.
How to Store Lemon Vinaigrette Dressing
This dressing is best stored in an airtight container (a mason jar works great) in the fridge.
How long does this lemon vinaigrette recipe keep?
Stored in a closed jar in the fridge, this lemon vinaigrette will last for about a week. After a couple of days, the lemon juice may not be as punchy as it was the day-of, but it'll still be really delicious and safe to consume for the better part of a week!
Lemon Vinaigrette Dressing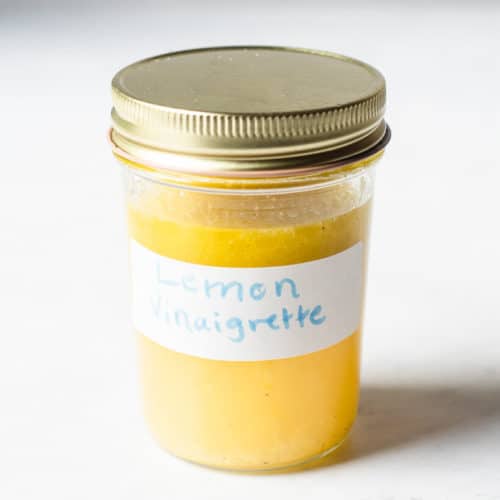 This lemon vinaigrette is the perfect easy dressing for any salad!
Ingredients
1

tablespoon

lemon zest

about 1 lemon

¼

cup

fresh lemon juice

about 2 small lemons

¼

cup

extra-virgin olive oil

½

teaspoon

fine sea salt

½

teaspoon

ground black pepper
Instructions
Add all ingredients to a small bowl and whisk to combine, or add all ingredients to a mason jar, then close the lid and shake to combine. 

Use immediately or store in the refrigerator for up to two weeks.
Recipe Notes
Makes about 1/2 cup of dressing
Nutrition
Calories:
83
kcal
|
Carbohydrates:
1
g
|
Protein:
0.1
g
|
Fat:
9.4
g
|
Saturated Fat:
1.3
g
|
Sodium:
194
mg
|
Fiber:
0.2
g
|
Sugar:
0.3
g