This timeless recipe for My Mom's Egg Salad is an excellent way to use up hard-boiled eggs in a way that gets a comforting, healthy meal on the table.
There comes a time in a thing's life where it arrives at a defining fork in the road. While all things start off shiny, new, and quickly evolving, they each eventually find themselves at the same fork. This fork is less a fortune teller than commissioner. Given two choices, the thing must decide if it will veer left towards "keeps getting better with age" or right, towards "timeless classic."
Marriages, world views, style, certain wines, and grand central Texas oak trees all veer left.
Memories, books, red nail polish, your favorite song, and need-no-work recipes head right.
Timeless classics aren't so much frozen in time as they are impervious to it. They glide by, year-by-year, waving at the passing moments, secure in who they are and what they represent. Egg salad, a recipe perfected generations ago, is firmly in this category.
Like so many truly confident things, this recipe isn't boastful. It doesn't brag about innovations, the tables it has graced, the people it has met, or its success on social media. It's egg salad and that is more than enough.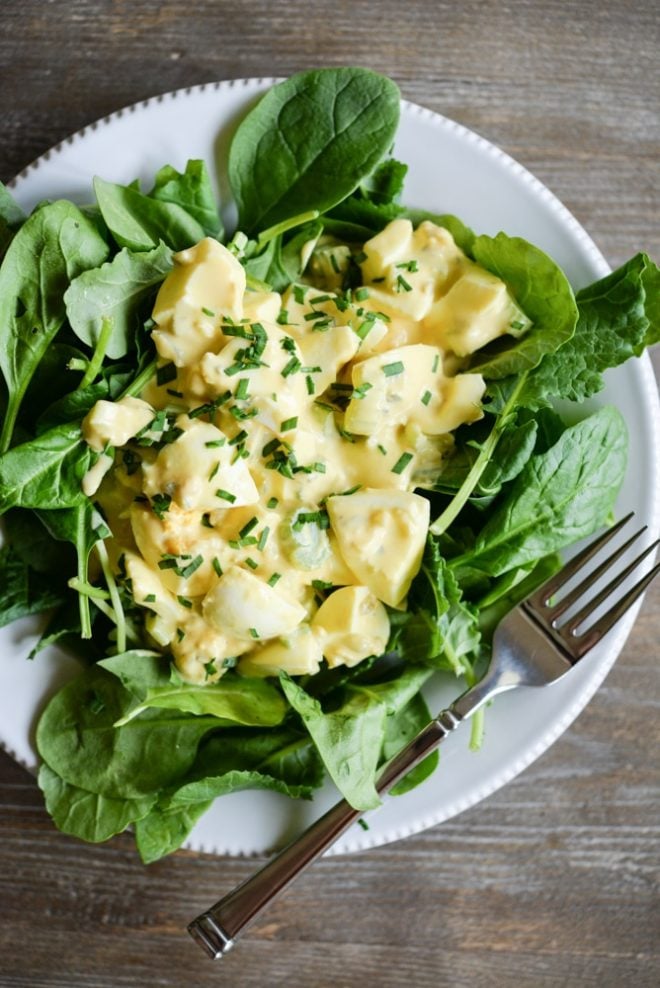 I grew up enjoying my mom's egg salad (unassuming and mustard-ey and pickle-y) on toasted bread, usually with a glass of ice-cold coke on the side. Egg salad sandwiches were enjoyed around a quiet 11:30 a.m. lunch table in my parent's home. Nobody argued with egg salad because egg salad wouldn't argue back. It gracefully bookmarked the change of morning into afternoon. Those days always seemed to flow more smoothly.
How to Hard Boil Eggs for Egg Salad
Egg salad, of course, starts off with hard-boiled eggs. To be honest with you, the perfect hard-boiled egg has always eluded me – I tried all of the tricks, and still ended up with mostly yolk in my hand and the mass of the egg whites stuck to the shells. I finally found the fail-proof trick to hard-boiled eggs, though, and it all has to do with temperature. 
What's the key? Once your eggs are done boiling, let them sit in an ice bath for a few minutes before peeling. For more details, you can check out our perfect hard-boiled eggs tutorial!
Classic Egg Salad Ingredients
Hard-boiled eggs – this one's a given! We use a dozen hard-boiled eggs for this egg salad.

Celery – chopped celery gives our egg salad a good crunch.

Mayonnaise – we use ¼ cup mayo to hold our egg salad together. If you don't like mayo, feel free to use plain Greek yogurt. Do note that if you are using Greek yogurt, you'll need a bit more salt, pepper, and mustard to balance out the flavors.

Mustard – a squirt of yellow mustard (about 3 tablespoons) is the perfect amount for a tangy egg salad.

Dill relish – arguably my favorite ingredient in the bunch – 3 tablespoons of dill relish gets our egg salad perfectly salty and briny and adds a nice crunch. 

Garlic powder, onion powder, salt, and pepper – the oh-so-classic seasoning combination that always seems to get the job done *just* right.

Toasted bread or lettuce (for serving) – in my house, the mixture is stirred up and served on a bed of lettuce or in between two pieces of toast. If you're looking for some healthier bread options, I recommend checking out

Legit Bread

for a Paleo-friendly option and

Canyon Gluten-Free

(a personal favorite of mine) for a GF option.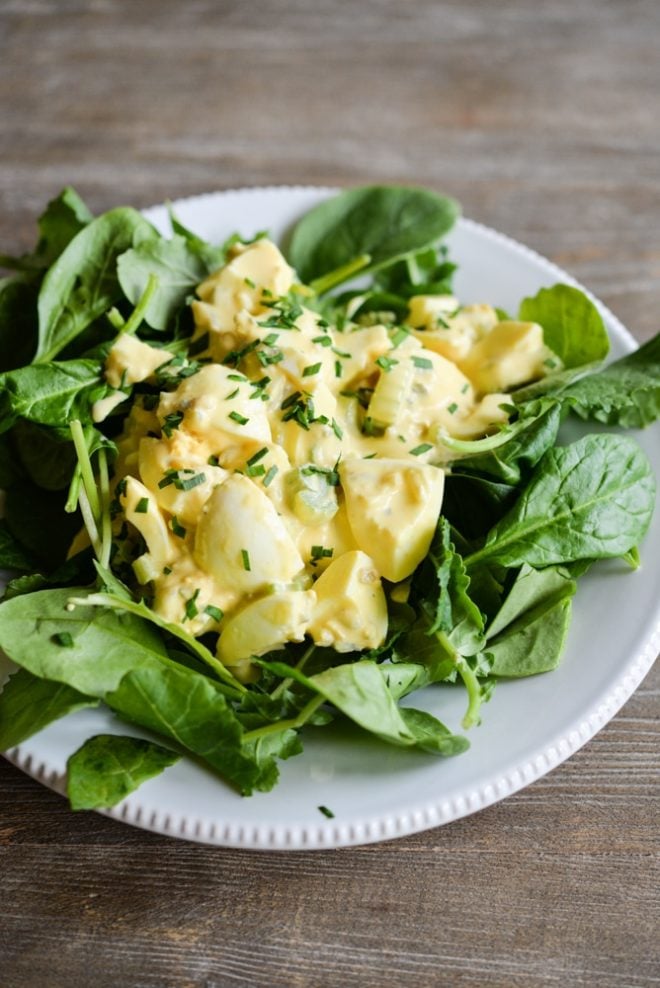 What can I substitute for mayo?
Plain Greek yogurt can certainly be substituted for mayo, but if you go this route, we suggest adding another tablespoon or so of mustard, plus a bit more salt and pepper (to taste), to achieve that classic egg salad taste. Another option is to use Greek yogurt in place of half of the mayo (2 tablespoons mayo + 2 tablespoons plain Greek yogurt). 
How long does egg salad keep?
The best way to store egg salad is in an airtight container (like these) in the refrigerator. Stored this way, it'll keep for 5 days max, and is best enjoyed by day three.
Enjoy!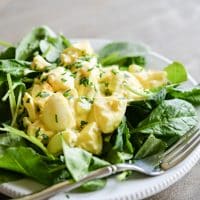 This timeless recipe for My Mom's Egg Salad is an excellent way to use up hard-boiled eggs in a way that gets a comforting, healthy meal on the table.
Ingredients
12

hard-boiled eggs

peeled and cut into quarters

1

cup

celery

chopped

1/4

cup

avocado oil mayo

or make your own via the recipe in my book

3

tablespoons

mustard

3

tablespoons

dill relish

drained

1/2

teaspoon

garlic powder

1/4

teaspoon

onion powder

1/4

teaspoon

fine sea salt

more to taste

1/4

teaspoon

cracked black pepper

1

tablespoon

fresh chives

chopped, optional
Serving options::
fresh spinach

fresh Romain lettuce

Legit Bread

Canyon Gluten-Free Bread
Instructions
Stir all the egg salad ingredients together until evenly mixed.

Spoon the salad on a bed of lettuce or between slices of toast.

Enjoy!
Nutrition
Calories:
351
kcal
|
Carbohydrates:
6
g
|
Protein:
20
g
|
Fat:
27
g
|
Saturated Fat:
7
g
|
Polyunsaturated Fat:
9
g
|
Monounsaturated Fat:
9
g
|
Trans Fat:
0.03
g
|
Cholesterol:
565
mg
|
Sodium:
687
mg
|
Potassium:
293
mg
|
Fiber:
1
g
|
Sugar:
2
g
|
Vitamin A:
963
IU
|
Vitamin C:
1
mg
|
Calcium:
96
mg
|
Iron:
2
mg