Mom's Egg Salad
jump to recipe
This timeless recipe for My Mom's Egg Salad is an excellent way to use up hard-boiled eggs in a way that gets a comforting, healthy meal on the table.
There comes a time in a thing's life where it arrives at a defining fork in the road. While all things start off shiny, new, and quickly evolving, they each eventually find themselves at the same fork. This fork is less a fortune teller than commissioner. Given two choices, the thing must decide if it will veer left towards "keeps getting better with age" or right, towards "timeless classic."
Marriages, world views, style, certain wines, and grand central Texas oak trees all veer left.
Memories, books, red nail polish, your favorite song, and need-no-work recipes head right.
Timeless classics aren't so much frozen in time as they are impervious to it. They glide by, year-by-year, waving at the passing moments, secure in who they are and what they represent. Egg salad, a recipe perfected generations ago, is firmly in this category.
Like so many truly confident things, this recipe isn't boastful. It doesn't brag about innovations, the tables it has graced, the people it has met, or its success on social media. It's egg salad and that is more than enough.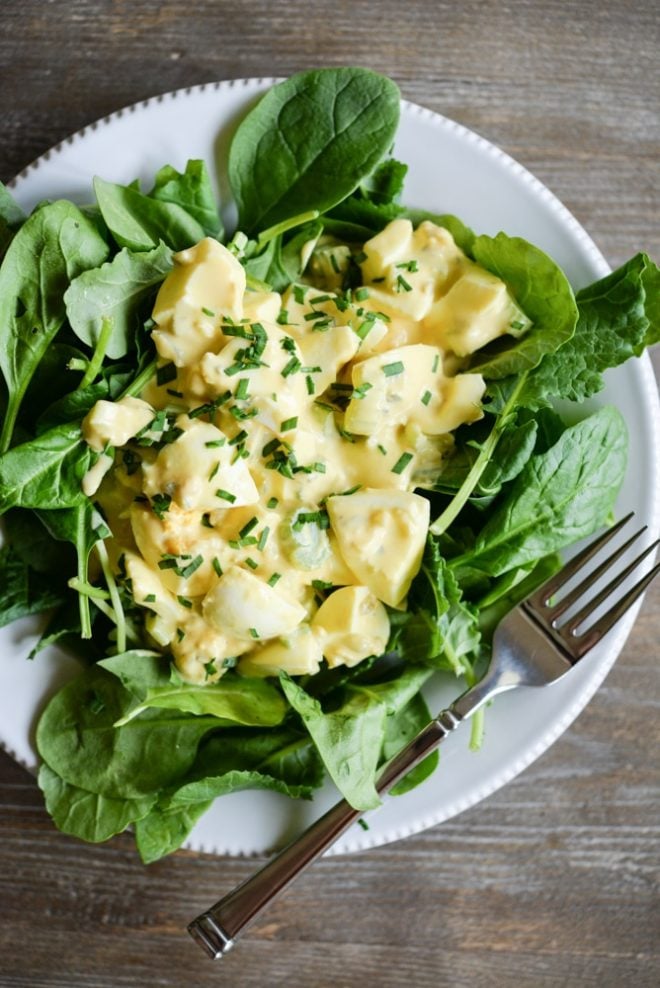 I grew up enjoying my mom's egg salad (unassuming mustard-ey and pickle-y) on toasted bread, usually with a glass of ice-cold coke on the side. Egg salad sandwiches were enjoyed around a quiet 11:30 a.m. lunch table in my parent's home. Nobody argued with egg salad because egg salad won't argue back. It gracefully bookmarked the change of morning into afternoon. Those days always seemed to flow more smoothly.
My Mom's egg salad starts off with hard-boiled eggs (see my book for an actual flawless method) that are cut into quarters. They're plopped in a bowl and topped with a handful of chopped celery (for crunch), spoon of mayo, a squirt of mustard, a few forks of dill relish, garlic powder, onion powder, and some s&p. The mixture is stirred up and served on a bed of lettuce or in between two pieces of toast.
If you're looking for some healthier bread options, I recommend checking out Legit Bread for a Paleo-friendly option and Canyon Gluten-Free for a gf option (a personal favorite of mine).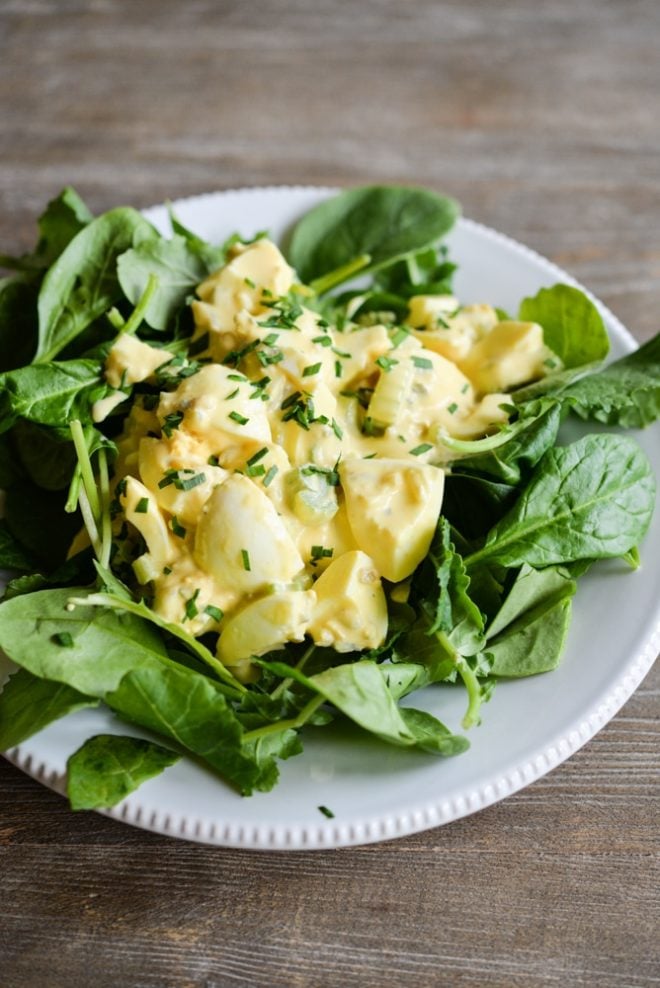 Enjoy!
Print
Mom's Egg Salad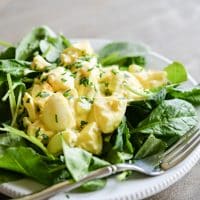 Author:
Prep Time:

5 minutes

Total Time:

5 minutes

Yield:

4 to 6 servings
Ingredients
12

hard-boiled eggs, peeled and cut into quarters

1 cup

celery, chopped

1/4 cup

avocado oil mayo (or make your own via the recipe in my book)

3 tablespoon

s mustard

3 tablespoon

s dill relish, drained

1/2 teaspoon

garlic powder

1/4 teaspoon

onion powder

1/4 teaspoon

fine sea salt, more to taste

1/4 teaspoon

cracked black pepper

1 tablespoon

fresh chives, chopped, optional
Serving options::
fresh spinach
fresh Romain lettuce
Legit Bread
Canyon Gluten-Free Bread
Instructions
Stir all the egg salad ingredients together until evenly mixed.
Spoon the salad on a bed of lettuce or between slices of toast.
Enjoy!