Perfect Hard Boiled Eggs
jump to recipe
Perfect Hard Boiled Eggs, are they an urban legend or actually possible? After years (truly, years), I've finally cracked the code for shells that peel off with ease using just a simple temperature trick.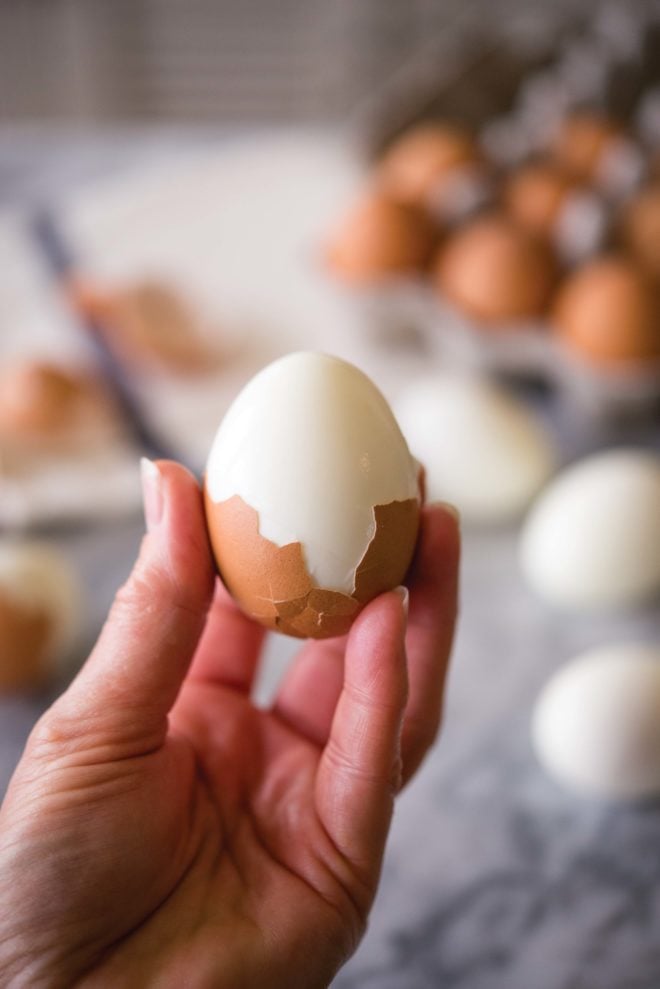 I'm so glad that this is a safe space (we're all friends, right?), because I'm almost embarrassed to admit this …y'all, I am NOT an egg cook. They perplex me! Maybe I take them for-granted. They're so small, seemingly simple, but so, so feisty. More times than not, I over-cook scrambled eggs and turn poached eggs into egg water. Hard boiled eggs were always the most humbling. After following directions to a T, I'd still find myself holding (what essentially amounted to) a peeled egg yolk and a real temptation to nibble egg whites off the shell.
As with all things, practice can make things slightly better. I'm a slow learner, so it's especially taken me A LONG TIME to master any egg-cooking technique.
The one egg technique I sought out to master first is the hard boiled egg. If you do an internet search for the "perfect hard boiled egg," you'll find instructions that cover a strange, perplexing spectrum …and I've tried them all. I've baked my eggs, steamed them, poked holes in them, and boiled them with a bit of vinegar. I've also let my eggs "age" a bit in the refrigerator, following the logic that slightly older eggs peel easier. While there were a few successful flukes, NOTHING produced consistent results.
SO, I hit the books and started doing some figuring on my own. I'll save you from my nerdy notes on the subject, but I finally (FINALLY) cracked the Perfect Hard Boiled Egg code. What's the secret? No holes, no vinegar, no baking, steaming, or aged eggs …nope, just drastic temperature changes. THAT'S IT FOLKS. This method results in perfect, easy-to-peel eggs EVER. SINGLE. TIME.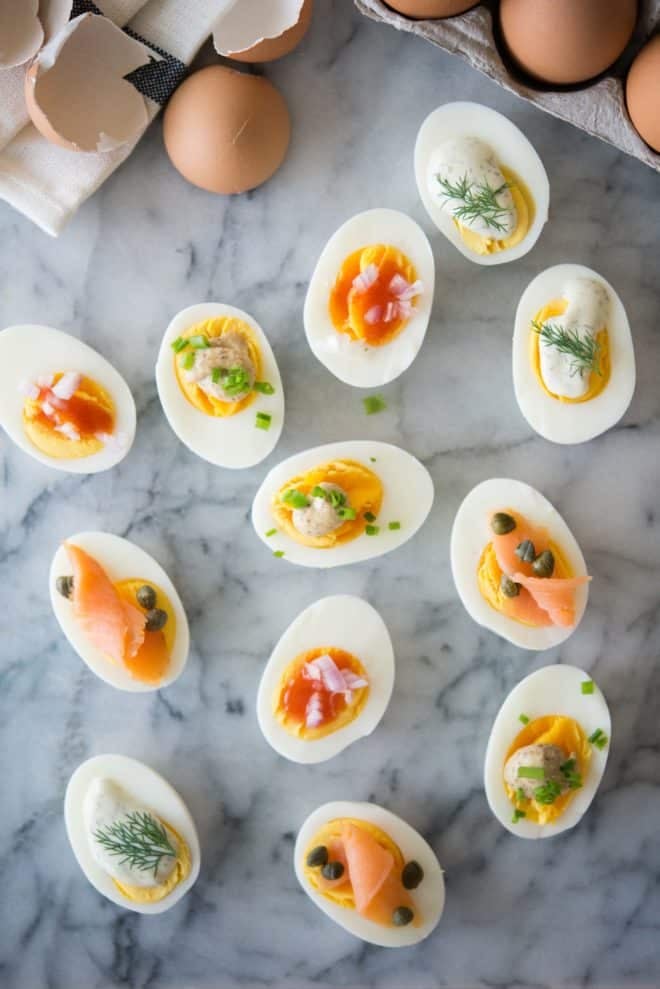 Remember, I'm saying this is a person who has zero egg cooking skills or luck.
How do we make it work? Simple. Start off by bringing water to a boil (enough water to cover your eggs). Once simmering, pull your eggs from the refrigerator and slowly place them in the water (using a slotted spoon). The more slowly you place them in, the less likely they are to crack. Boil for exactly 10 minutes (for a bright yellow, but not over-cooked yolk). 6-7 minutes in the boiling water will yield a soft-boiled egg, btw. After the timer is up, use that same slotted spoon to transfer them to an ice bath. ((An ice bath is just a bowl full of half ice and half water.)) Let the eggs chill there for at least 5 minutes, then ENJOY the pure pleasure of a shell that just slides right off the whites. It's the most satisfying feeling in the whole wide world.
I hope this trick serves you as well as it has me!
Print
Perfect Hard Boiled Eggs
These perfect hard boiled eggs feature a simple cooking method that results in an egg shell that comes right off and leaves your eggs looking beautiful!
Author:
Prep Time:

15 minutes

Cook Time:

10 minutes

Total Time:

25 minutes

Yield:

12 eggs
Instructions
Bring about 3 inches of water to a boil in a large pot. Once boiling, pull the eggs from the refrigerator. Using a slotted spoon or fitted strainer basket, carefully place or submerge the eggs in the boiling water. Boil the eggs for exactly 10 minutes.
While the eggs are boiling, prepare an ice bath by filling a large bowl with at least 5 cups of ice cubes. Add enough water to cover the ice cubes.
Use a slotted spoon (or the strainer basket) to pull the eggs from the boiling water. Immediately place them in the ice bath, making sure that each egg is submerged. Let them sit in the bath for at least 15 minutes.
Once completely chilled, either peel the eggs and enjoy right away or transfer to the refrigerator for up to 7 days.
Notes
Suggested Toppings:
3-Ingredient Paleo Ranch
Capers, smoked salmon, and fresh dill
Mustard, mayo, and chives
Chives and diced red onion