These roast beef wraps are the perfect low carb lunch option! They come together in minutes for a quick lunch with roast beef, bell peppers, and a creamy horseradish sauce.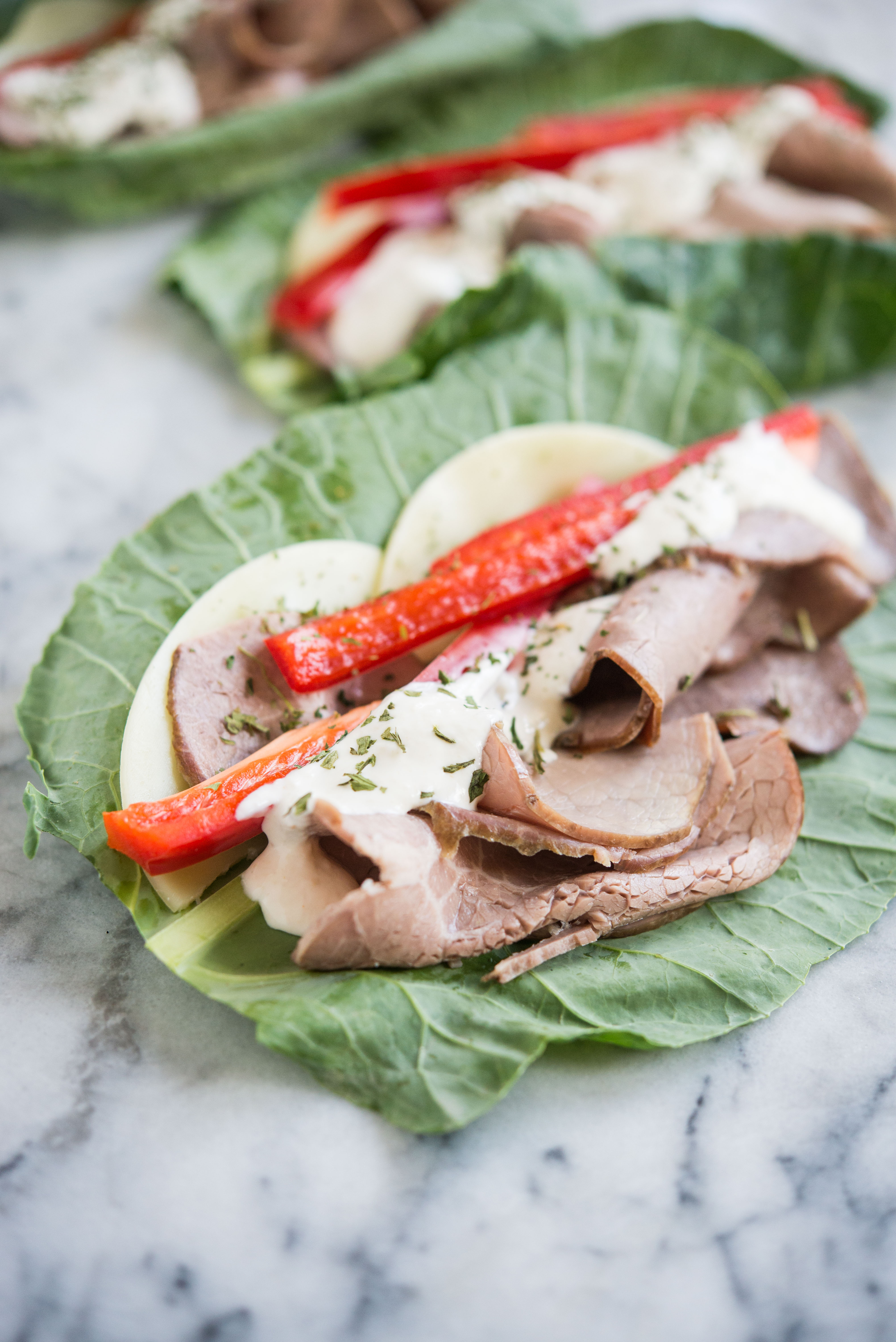 When I first transitioned to a healthier lifestyle, lunch was one of the hardest meals for me to figure out. I went from eating sandwiches or grabbing something on the go to having to plan a real food meal when I'd never given it much thought before. I started prepping myself elaborate salads and other meals specifically for lunch, but quickly found that having to prep more complicated meals just for lunch was getting exhausting. So, I eventually decided to just keep it simple! For me, that means leaning on leftovers, turkey avocado wraps, and simple southwestern chicken salads.
Since we know that you also want to eat healthy, without spending a ton of extra time in the kitchen, we're sharing 4 simple meal prep lunches for September starting with these roast beef wraps. The downside of simple lunches is that they can get boring, fast. So, we're bringing you new combinations to try that will make you actually look forward to your lunch every day.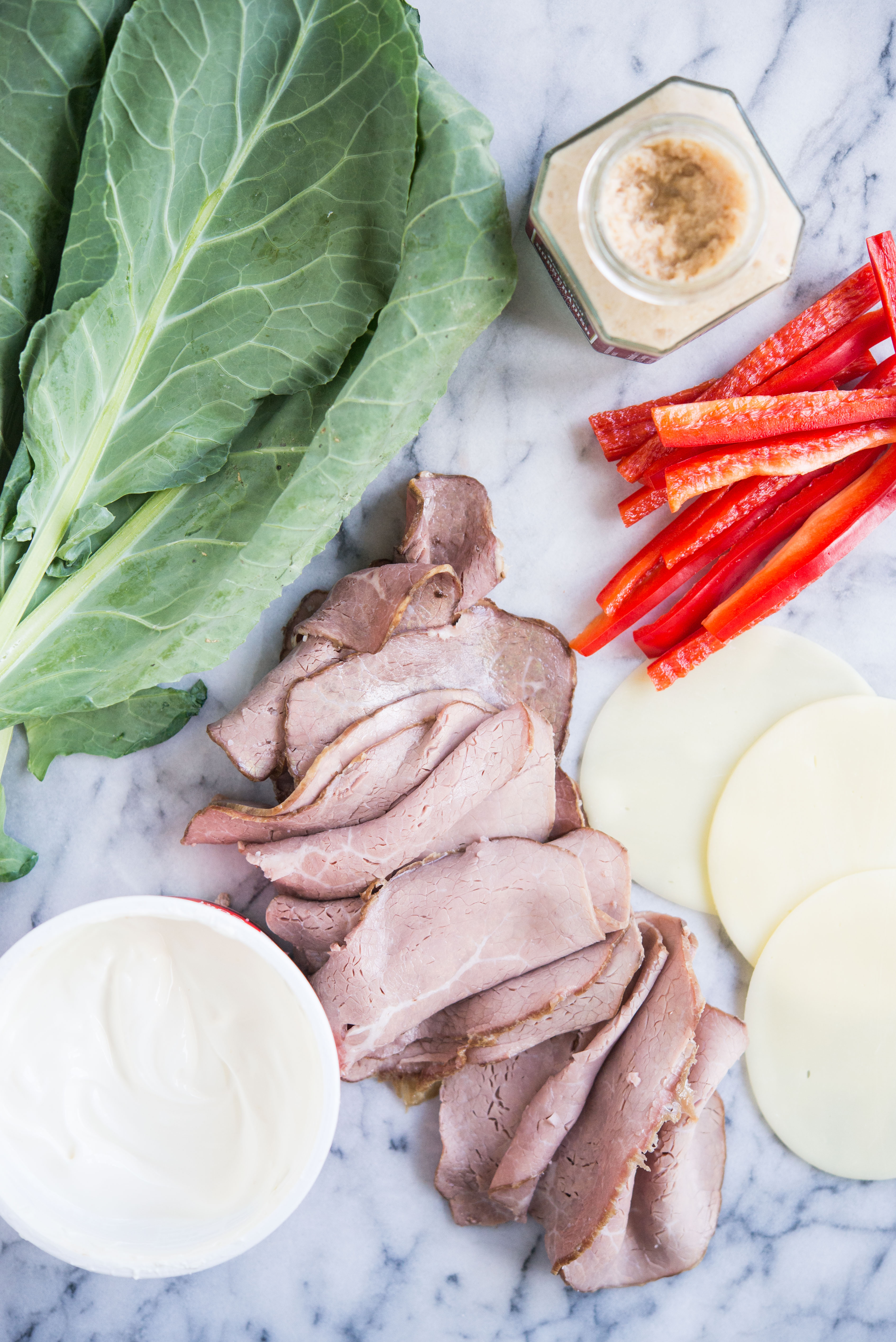 What You'll Need for these Low-Carb Roast Beef Wraps
These wraps only require a few simple ingredients:
Collard greens. Collard greens are the base for these wraps. We LOVE collard greens as a grain-free or low-carb wrap option. They are sturdy (often more so than the gluten free wraps on the market), easy to work with, have a large surface area, and are a great way to get an extra dose of leafy greens in.
Provolone cheese. Is a roast beef sandwich even complete without provolone cheese? We think not.
Roast beef. The star of the show is, of course, roast beef! We recommend looking for a brand that is nitrate and nitrite-free, like Applegate.
Red bell pepper strips. These add just a bit of crunch and good flavor to the wraps.
Horseradish sauce. Horseradish and roast beef are a match made in heaven. This simple sauce combines horseradish and sour cream for a tangy, creamy sauce with just a bit of kick that really makes these wraps craveable.
How to Use Collard Greens to Make a Wrap
We love using collard greens for wraps, but there are a few keys to making them work really well:
Shave the stems. The stems of collard greens are tough, so shaving the stems down to be as thin as possible will help the wrap taste better, and make it easier to work with. To shave the stems, you'll flip the collard green with the brighter green, concave side down, then use a sharp knife or potato peeler to shave down the stem until it is as thin as you can get it.
Buy a bunch of collard greens with larger leaves. The larger leaves are perfect for big wraps that leave you feeling satisfied!
Put the sauce on the inside. Whether you are making these roast beef wraps or you are making another version, the key to making sure these wraps hold up is to try to protect them from too much moisture. So, don't smear your sauce or mayo on the leaf, put it on the inside instead.
We hope these tips help you up your lunch game this month!
More Low-Carb Lunch Recipes
Roast Beef Wraps with Horseradish Sauce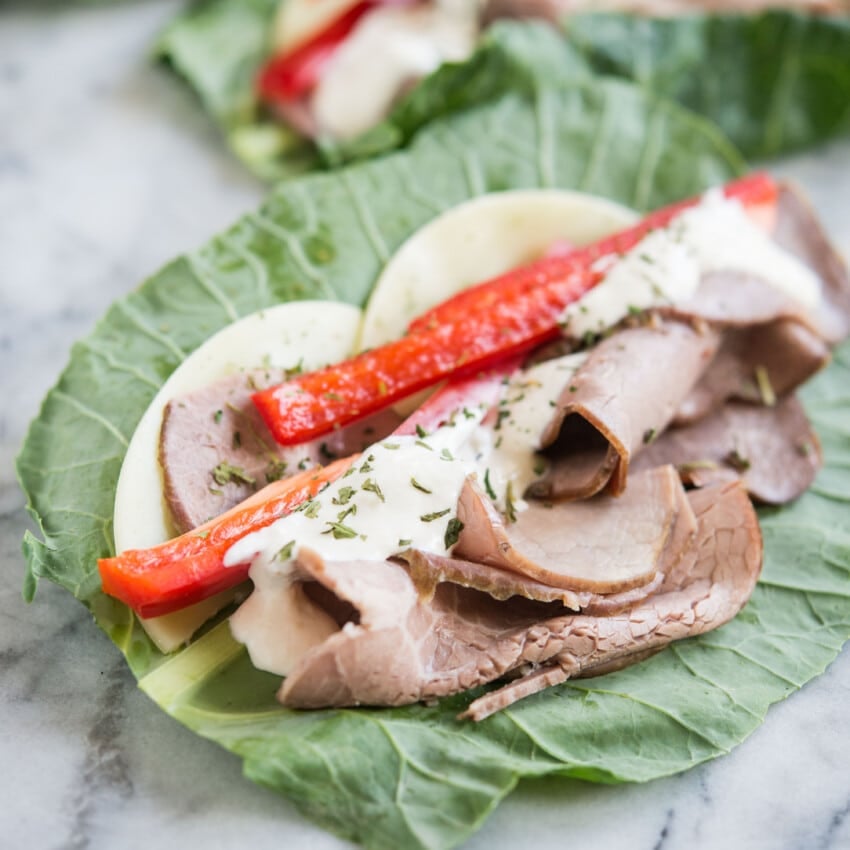 These roast beef wraps are the perfect simple, but delicious lunch!
Ingredients
For the wraps:
1

collard green leaf

washed and dried

3

ounces

sliced roast beef

2

slices

provolone cheese

omit for dairy-free

3

slices

red bell pepper
For the sauce:
1/4

cup

sour cream

substitute avocado oil mayo for dairy-free

1

tablespoon

prepared horseradish

2

teaspoons

lemon juice

1/2

teaspoon

Dijon mustard

¼

teaspoon

freshly cracked black pepper
Instructions
Lay one of the collard leaves on a cutting board so that the side with the prominent spine is facing up (it is the outer, or convex side of the leaf). Cut the stem off of the leaf at the base of the collard. Then, using a knife, slide it carefully across the raised part of the stem, keeping the knife parallel to your cutting board and the leaf. Slide the knife down the length of the stem to "shave" the stem. Your goal is not to remove the stem, but to shave it until it is about as thin as the leaf itself. This will make the leaves more pliable and easier to roll around the roast beef. Repeat this process for all 6 leaves.

Spread one to two tablespoons of the horseradish sauce on the collard leaf (unless storing for later), then add the cheese, roast beef, and bell pepper strips, and roll.

Tie the wrap together then eat immediately or store in the refrigerator for later use.
Nutrition
Calories:
436
kcal
|
Carbohydrates:
24
g
|
Protein:
33
g
|
Fat:
25
g
|
Saturated Fat:
14
g
|
Polyunsaturated Fat:
1
g
|
Monounsaturated Fat:
7
g
|
Cholesterol:
109
mg
|
Sodium:
1678
mg
|
Potassium:
1024
mg
|
Fiber:
7
g
|
Sugar:
15
g
|
Vitamin A:
9841
IU
|
Vitamin C:
403
mg
|
Calcium:
639
mg
|
Iron:
3
mg