These make-ahead collard green wraps are a healthier spin on a lettuce-wrapped Italian sub sandwich! They're ideal for meal prepping as a quick, on-the-go lunch or healthy snack.
These Italian Lunch Wraps were born from a NEED for an easy lunch that didn't require reheating and that wasn't a hard-boiled egg. Nothing against hard-boiled eggs, but after a few weeks of scrambled eggs for breakfast followed by 3 hard-boiled eggs for lunch, I thought I might actually turn into an egg myself.
One of my FAVORITE quick meals (usually for lunch), while I'm out and about, is the "#5 Perfect Italian" from Jimmy John's. I'll order it "unwich-style" so that it comes wrapped in lettuce, not bread. I also ask that they HOLD the Italian dressing that comes on it because mystery fats (like the oil used in the vinaigrette) freak me out a bit. While I LOVE a good vinaigrette made with GOOD olive oil, I will try to avoid vegetable oils of other blends if at all possible.
Today's Make-Ahead Italian Lunch Wraps are inspired after that sandwich, and are such a fun way to enjoy that long-time favorite! I can't tell you how many times I've opened my refrigerator and just wished that I had a Jimmy John's sammie inside. So, I made my own …and (I argue), I made them even better. Instead of lettuce that tends to break and fall apart as you eat it, these wraps are wrapped in a sturdy (and more nutritious) collard green leaf. They're packed with the same Italian cold cuts, a few pieces of provolone cheese (omit if you avoid dairy), and we even made our own GOOD Italian vinaigrette. Because we're using collard leaves instead of flimsier lettuce wraps, these wraps are actually IDEAL make-ahead meal options.
How to Prepare Collard Greens for Wraps
Pro tip: if you're interested in the collard leaf for the wrap, I highly recommend shaving the thick part of the stem down before rolling up your Make-Ahead Italian Collard Wrap. To shave the stem, lay the leaf face-down on a cutting board so that the round part of the stem faces up. Starting at the top of the leaf (going toward the bottom of the leaf), and using a paring knife, run your knife parallel to the cutting board through the stem, cutting it almost in half length-wise. This will help make the stem as thin as the actual leaf itself, making it MUCH more appetizing and easier to eat.
Italian Collard Green Wrap Ingredients
The line-up of classic Italian cold cuts make an appearance here, as do a few other easy-to-find ingredients! Here's what you'll need:
Collard Green Leaves – you'll need 4 large collard green leaves for these wraps. You'll likely get 8-10 leaves in a bunch from the grocery store, so just pick the 4 largest ones for this recipe and then use the rest for this Corned Beef Breakfast Hash (this means you'll have breakfast + lunch ready for the week!).

Salami, Capicola, and Prosciutto – the Italian cold cut gang is all here! You'll need 16 slices of salami, 8 slices of capicola, and 4 slices of prosciutto. If you can't find one of these, don't worry – just use what you can find!

Provolone Cheese – 8 slices of cheese will do here! Feel free to omit this if you're dairy-free.

Extra Virgin Olive Oil – ¼ cup of extra virgin olive oil makes up the bulk of our Italian vinaigrette, and…

Red Wine Vinegar – …2 tablespoons of red wine vinegar, and…

Italian Seasoning – …1 teaspoon of Italian seasoning finish it off!
Italian Collard Wrap Add-Ins + Swaps
Though the list above is all that you need to make a seriously DELICIOUS lunch wrap, feel free to add in anything that you would typically love in an Italian sub sandwich. Bell peppers (roasted red peppers OR fresh and crunchy), thinly sliced red onions, pepperoncini peppers, alfalfa sprouts, blanched asparagus spears, or any raw veggie that you love would all be great additions here. If you want to swap the Italian dressing out, feel free to add a spread of hummus instead!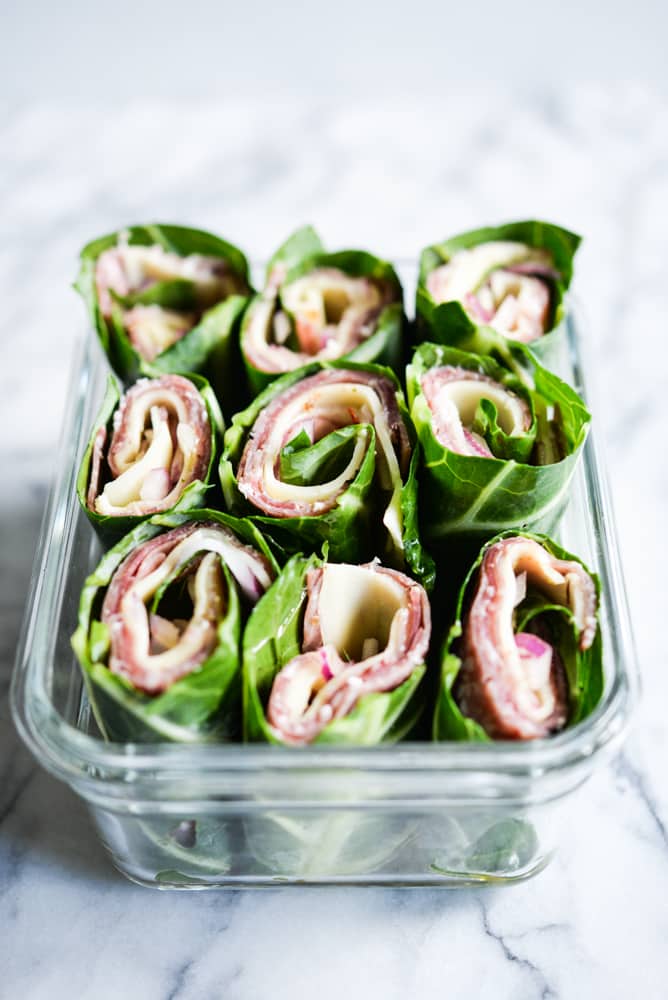 How to Make Collard Green Wraps
The prep that these collard green wraps require is MINIMAL, and they result in several days worth of lunch! Here's how you'll put these wraps together:
Make the Italian Vinaigrette. In a small bowl, whisk together the extra virgin olive oil, red wine vinegar, and Italian seasoning to make the vinaigrette.

Assemble. Lay your prepared (stem-shaved) collard greens on a flat surface (think: large plate, cutting board, or directly on a clean counter), then layer on to each wrap 4 pieces of salami, 2 pieces of capicola, 1 piece of prosciutto, and 2 slices of provolone cheese, then spoon your desired amount of vinaigrette onto each wrap.

Roll + Cut. Roll the wrap so that the stem spans the length of the whole roll, then cut the wrap into thirds.

Chill and Enjoy! Chill until ready to serve and then enjoy!
I hope you enjoy this recipe and that it helps you stock your refrigerator with a travel-friendly and "QUICK! I need lunch NOW!"-friendly meal option.
More Easy & Healthy Lunch Ideas
Make-Ahead Italian Collard Wraps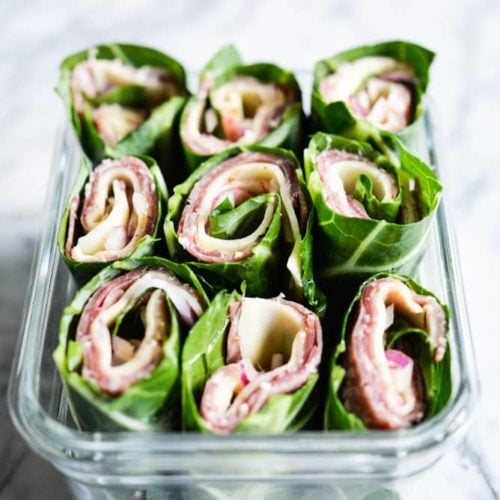 These collard green wraps are sturdy enough that they won't fall apart like traditional lettuce wraps, and are filled with Italian meats and cheese for a tasty lunch option!
Ingredients
4

large collard green leaves

rinsed, stems shaved

16

slices

salami

8

slices

capicola

4

slices

prosciutto

8

slices

provolone cheese

omit for Whole 30
For the Italian Vinaigrette:
Instructions
In a small bowl, whisk together the ingredients for the Italian Vinaigrette.

Lay collard greens on a flat surface, then layer on to each wrap 4 pieces salami, 2 pieces capicola, 1 piece prosciutto, and 2 slices provolone cheese, then spoon desired amount of vinaigrette onto each wrap.

Roll the wrap so that the stem spans the length of the whole roll, then cut into thirds.

Chill until ready to serve and then enjoy!
Nutrition
Calories:
449
kcal
|
Carbohydrates:
2
g
|
Protein:
20
g
|
Fat:
40
g
|
Saturated Fat:
14
g
|
Polyunsaturated Fat:
4
g
|
Monounsaturated Fat:
20
g
|
Trans Fat:
0.01
g
|
Cholesterol:
62
mg
|
Sodium:
1188
mg
|
Potassium:
235
mg
|
Fiber:
1
g
|
Sugar:
0.3
g
|
Vitamin A:
848
IU
|
Vitamin C:
4
mg
|
Calcium:
324
mg
|
Iron:
1
mg