This gluten free strawberry shortcake sheet cake is the perfect summer party dessert! A perfectly moist, buttery vanilla sheet cake is topped with a homemade strawberry sauce, whipped cream, and fresh strawberries for a delicious treat.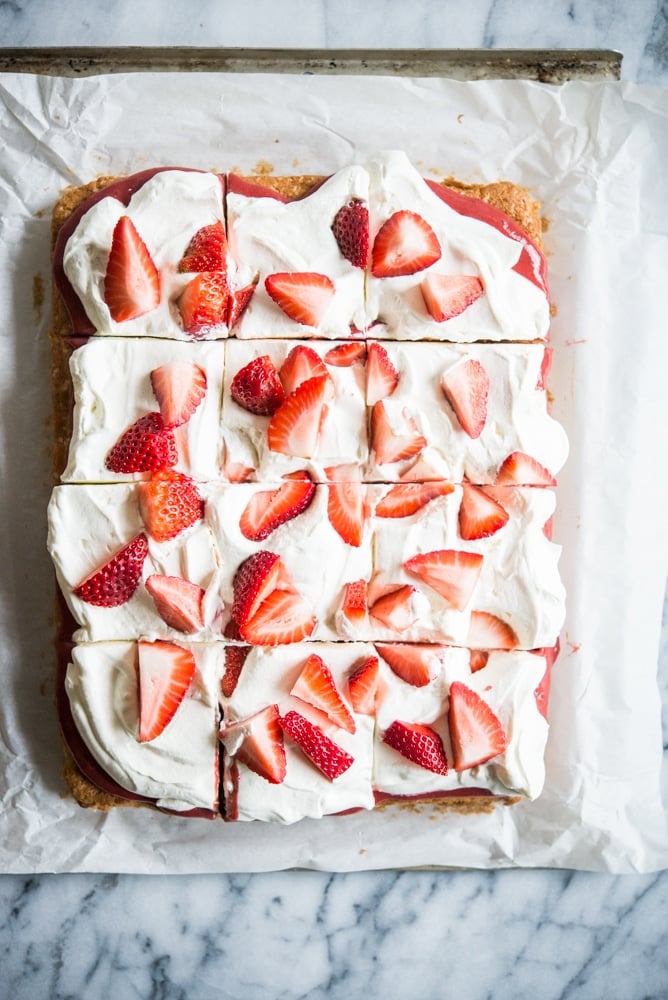 Strawberry shortcake always screams summer to me! This cake is a great way to take advantage of summer's fresh strawberries because the simple ingredients truly allow the berries to shine. Now, you may be wondering exactly what a strawberry shortcake is because there are about a million ways to make it and everyone has their own personal preference. What everyone can agree on is that there is always some kind of cake-like component, fresh strawberries, and whipped cream.
Traditionally, strawberry shortcake is actually less of a cake, and more of a sweetened biscuit. You bake the biscuits, cut them in half, then fill them with whipped cream and strawberries. If you're in the strawberry shortcake MUST have biscuits camp, we've got a great Paleo strawberry shortcake skillet version too. In this recipe, we're making a cake more similar to what I had growing up – and it's going to be make-ahead and crowd friendly!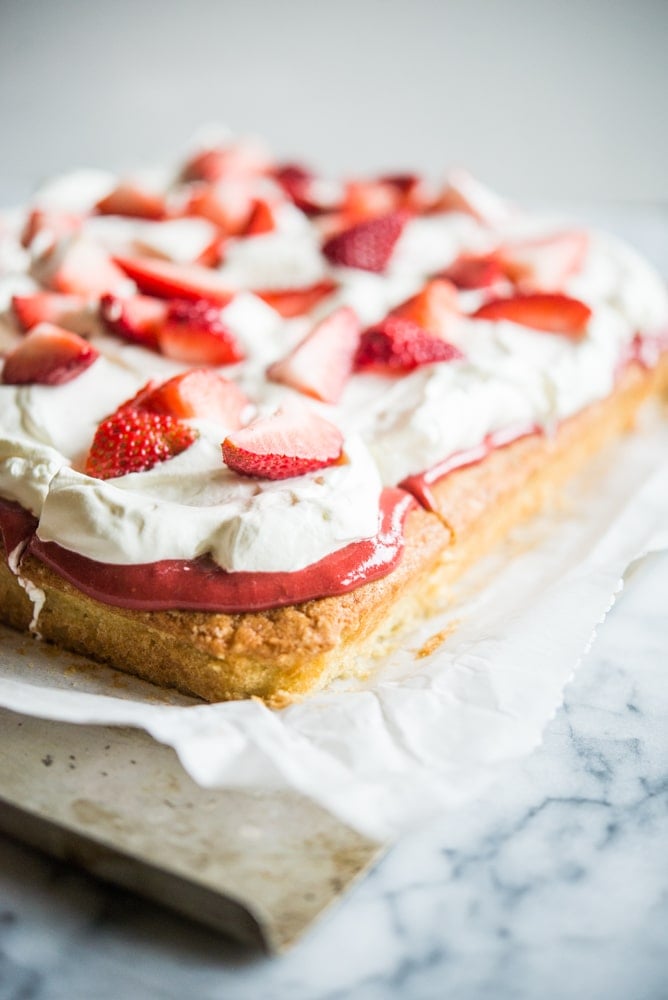 How to Make Gluten Free Strawberry Shortcake
This cake has 4 components – a gluten free vanilla sheet cake base (adapted from our Funfetti cupcakes!), a fresh strawberry sauce that really helps up the strawberry flavor, whipped cream, and a final layer of fresh strawberries to finish things up. Here's how to make each component:
Gluten Free Vanilla Sheet Cake – the cake is the star of the show here and is surprisingly simple to make. This recipe is for a quarter sheet cake which serves 12, so you'll want to use a 12″x10″x1″ sheet pan. You can also easily double this recipe if desired! You'll start off by whisking together flour, baking powder, baking soda and sea salt. Next, you'll cream the butter and sugar, then mix in the eggs and vanilla. Once the wet mixture is fully combined, you can slowly mix the flour into the batter. Finally, you'll add the milk, then you'll pour the cake into the sheet pan to bake for 15 minutes.
Strawberry Sauce – this is my favorite layer of the cake because it adds so much flavor! While the cake bakes, add a pint of sliced strawberries to a saucepan over medium heat with lemon juice and honey and cook for about 8-12 minutes. You'll know it is ready when the strawberries have cooked down and become somewhat mushy, and the liquid has thickened. Once it reaches that point, remove the strawberries from heat, let them cool, and then blend until smooth and you've got the perfect strawberry sauce!
Whipped Cream – the next layer is whipped cream! You'll simply combine cream, honey, and vanilla and whip it with an electric or stand mixer until soft peaks form.
Fresh strawberries – our final layer is simply quartered strawberries. Just chop them up and sprinkle them over top to your liking!
Once you have all your components made, you'll just spread the strawberry sauce on top of the cake, then layer on the whipped cream, and finish with the strawberries. After that you're ready to slice and serve or store for later!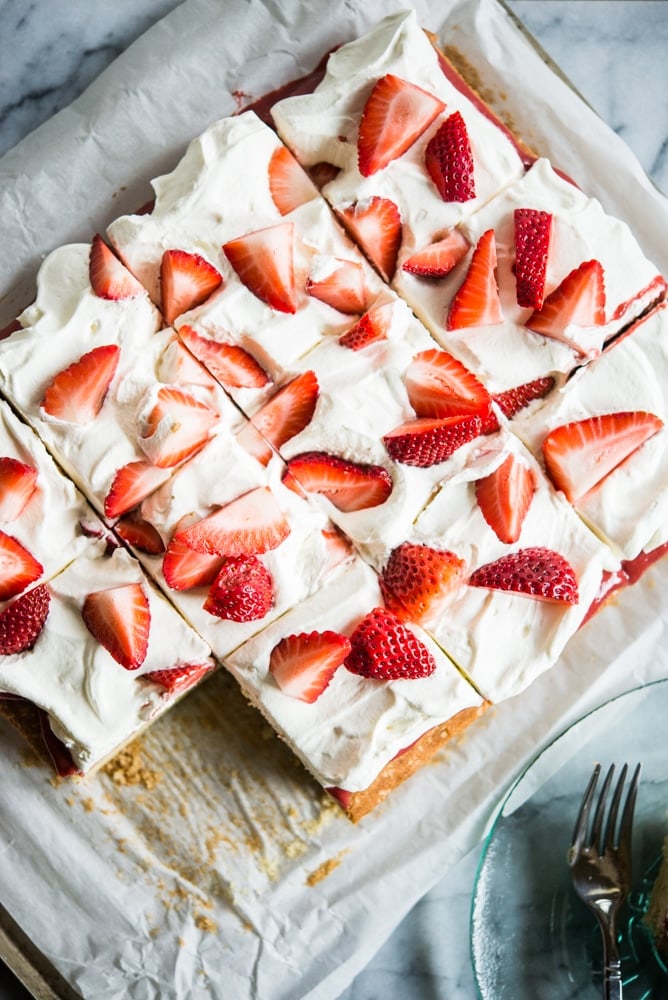 Frequently Asked Questions
What is the best flour to use for gluten free strawberry shortcake?
We've found that the two gluten free flour blends that work best for this strawberry shortcake recipe are Bob's Red Mill 1 to 1 and King Arthur Measure for Measure. If you choose to use a different flour blend you may wind up with different results!
Can this strawberry shortcake be made dairy-free?
Yes! If you want to make dairy-free strawberry shortcake, you can substitute whipped coconut cream for the traditional whipped cream. For this recipe, we'd recommend using the cream from the top of 3 cans of coconut milk, or 2 cans of coconut cream. You can substitute almond milk or coconut milk beverage for the milk in the recipe. If you need to substitute the butter, you can use softened ghee, coconut oil, or your preferred butter substitute.
Can this be made egg-free?
It can! In fact, we tested a TON of different egg substitutes in several different baked goods, took all kinds of notes, and then laid it all out for you in this super helpful guide to egg-free baking. For cakes and cupcakes, we recommend subbing in plain Greek yogurt (¼ cup of yogurt per egg) – Greek yogurt made for fluffy and slightly crisp on the outside cakes that had a really delicious flavor and held together really well.
Can I make strawberry shortcake in advance?
Yes! This strawberry shortcake is perfect for a make-ahead dessert. Gluten free cake has a tendency to dry out quicker than its gluten-filled counterparts so we wouldn't recommend making this cake more than one day ahead of time. At that point, you can fully assemble the cake, refrigerate it overnight, and serve the next day! It will keep for 3-4 days in the fridge.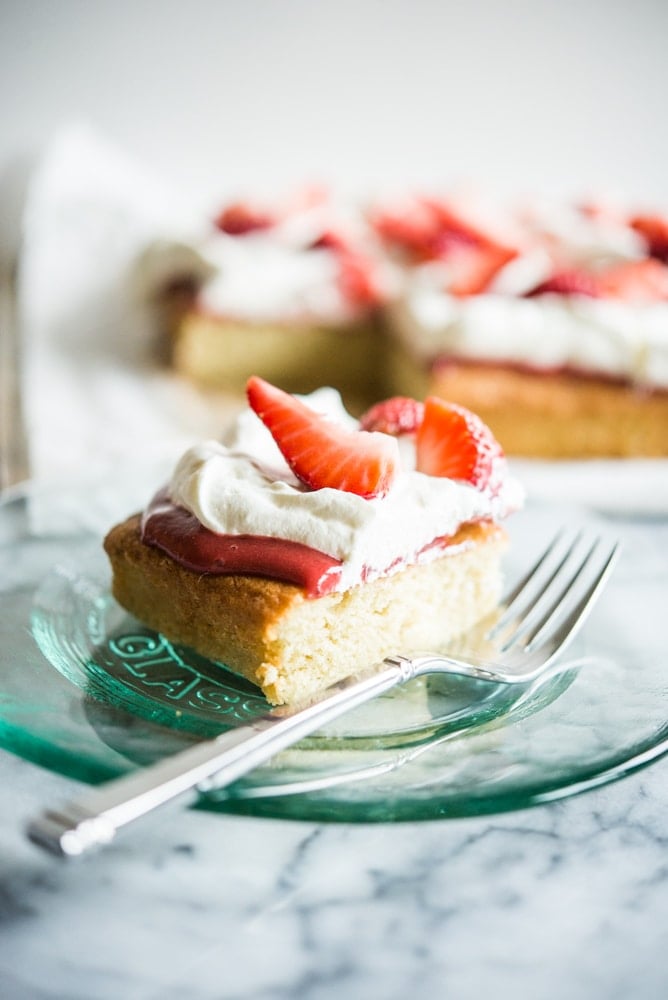 Strawberry Shortcake Sheet Cake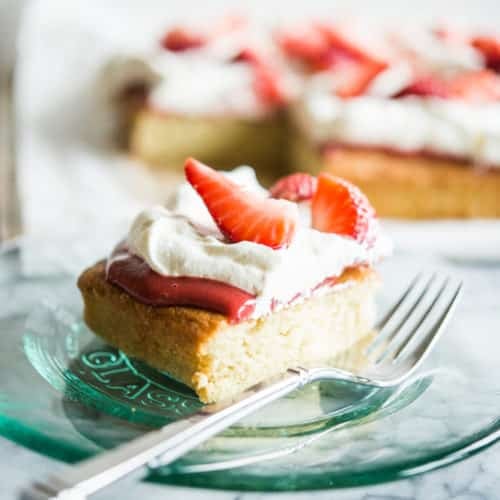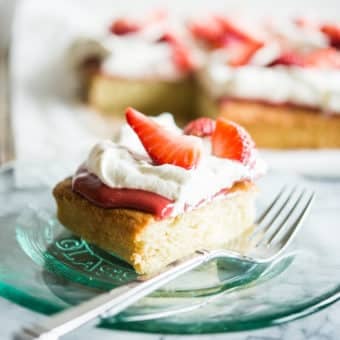 Moist and buttery vanilla cake is topped with homemade strawberry sauce, whipped cream, and fresh berries for the ultimate gluten free strawberry shortcake!
Ingredients
For the Strawberry Jam:
1

pint

strawberries

tops removed and sliced

2

tablespoons

lemon juice

2

tablespoons

honey
For the Whipped Cream:
1

pint

whipping cream

1

teaspoon

vanilla extract

1/4

cup

honey

1

pint

strawberries

quartered, for topping the cake
Instructions
Preheat the oven to 350 F and line a 12″x9″x1″ sheet pan with parchment paper, or grease well with butter or oil.

In a medium-sized bowl, whisk together the flour, baking powder, baking soda, and salt, then set aside.

In a large bowl, add the butter and sugar. Beat with an electric mixture until fluffy, then mix in the eggs and

vanilla extract

until fully combined.

Add half the flour mixture to the butter mixture, then beat until the flour is fully incorporated, and add in the rest of the flour. Pour the milk into the batter and mix until it is smooth.

Pour into the sheet pan and bake for 15 minutes, until the top is browned and a toothpick inserted into the cake comes out clean, then let cool.

While the cake cooks, add the strawberries, honey, and lemon juice to a pot over medium heat. Stir berries until the mixture begins to boil and berries start to burst, then reduce heat to low and cover. Cook for 8-12 minutes, stirring occasionally, until mixture has thickened to a jam-like consistency. Blend the mixture until smooth, then set aside to cool.

For the honey-sweetened whipped cream, add all the ingredients into a large mixing bowl. Using either a stand mixer or hand mixer, whip the ingredients together until stiff peaks form. This may take about 5 minutes. Set aside in the refrigerator to chill.

To assemble the cake: spread the cooled strawberry jam over top, then spread the whipped cream on, and top with additional strawberries. Store in the refrigerator until ready to eat!
Recipe Notes
This recipe makes a quarter sheet cake in a 12″x10″x1″ sheet pan and serves 12. For a larger cake, double the recipe and use an 18″x13″x1″ sheet pan!
We've tested this cake with both Bob's Red Mill 1 to 1 and King Arthur Measure for Measure flours with good results – but other gluten free flour blends may result in a different texture.
For refined sugar-free – you can substitute the cane sugar for either maple sugar or coconut sugar, but note that using coconut sugar has a slightly stronger flavor and will result in a darker cake.
For dairy-free – follow this recipe for whipped coconut cream. We recommend using the cream from the top of 3 cans of coconut milk, or 2 cans of coconut cream for this recipe.
Nutrition
Calories:
392
kcal
|
Carbohydrates:
44
g
|
Protein:
4
g
|
Fat:
24
g
|
Saturated Fat:
14
g
|
Polyunsaturated Fat:
1
g
|
Monounsaturated Fat:
6
g
|
Trans Fat:
0.3
g
|
Cholesterol:
93
mg
|
Sodium:
228
mg
|
Potassium:
192
mg
|
Fiber:
3
g
|
Sugar:
31
g
|
Vitamin A:
877
IU
|
Vitamin C:
48
mg
|
Calcium:
104
mg
|
Iron:
1
mg