These no-bake cheesecake bars include a gluten-free graham cracker crust and a quick triple berry jam! They're a silly simple dessert that will blow your socks right off.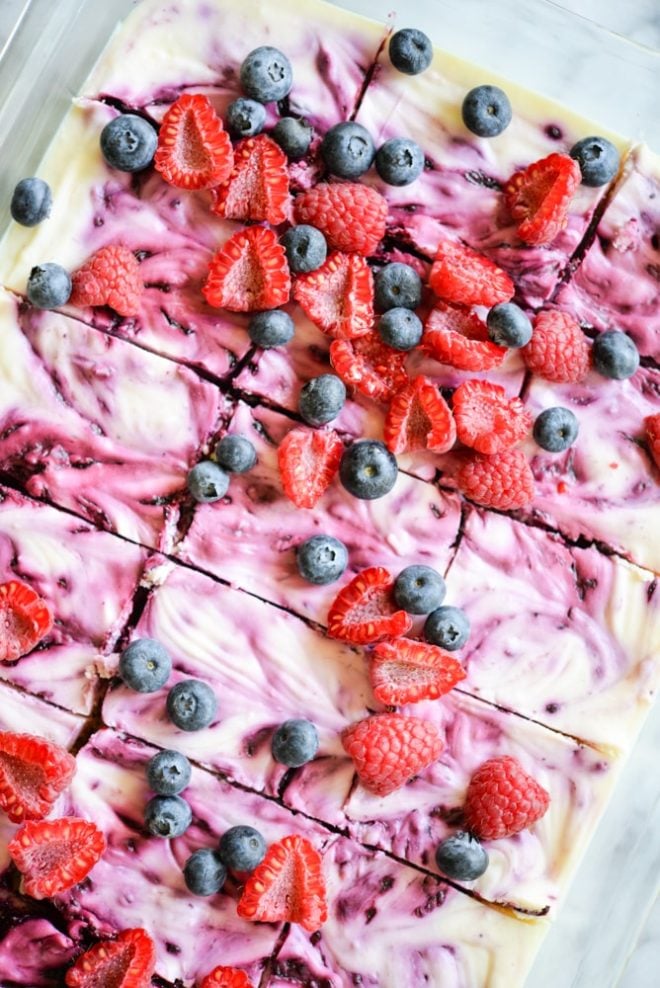 A few of my favorite worlds are colliding with this recipe, you guys. There's a graham cracker crust, quickie berry jam, and most importantly, CREAM CHEESE!! Amber (my trusty, amazing right-hand here at Fed and Fit) brought to my attention that when I tell her a story about food (a recipe idea, something I had in a restaurant, or a food memory from childhood) that involves cream cheese, I get ESPECIALLY excited. Apparently I have zero poker face because I really, really do love the stuff. Growing up, if I could convince my mom to buy the cream cheese-stuffed toaster strudels (rememeber those?), I'd do my best to hide them behind containers in the freezer with the hopes that my other family members wouldn't see them. I'm not good at sharing things that involve cream cheese.
SO, when we were dreaming up a fun dessert option for Mother's Day (or ANY DAY), cheesecake bars seemed like a great option.
Let's talk about cheesecake for a hot minute. Traditional cheesecake usually involves cream cheese (num), sugar, and eggs (plus a few other ingredients) that are sloooooowly baked until the cake "sets." It's not necessarily difficult, but it doesn't feel like second nature to me. You know what DOES feel like second nature? Not baking.
No-bake cheesecake bars were born!
These no-bake cheesecake bars are so simple, it's almost silly. You start off by making the jam. Just toss some berries in a small saucepan with lemon juice, pinch of sea salt, and a glob of honey. Don't overthink it. Just give it a stir and let it simmer until the berries are broken down (you may need to use a spoon to help burst some berries) and then let it cool completely. NEXT, make the easy-peasy no-bake graham cracker crust. For the crust, just pulverize your favorite graham crackers (the gluten-free ones I use are linked below) with some softened butter. Pat that down in a 9×13″ pan and move onto the filling! Lastly, the cheesecake filling. Whip room temperature cream cheese (num) with condensed milk (I really like a dairy-free coconut sweetened condensed milk) with lemon juice and vanilla extract! Once fluffy and lovely pour over the crust and smooth into an even layer. If your jam is cool, drizzle that over the cheesecake filling. Twirl a fork through the jam so that it works into the filling a bit then chill until it sets!
Note that if you can't find store-bought sweetened condensed coconut milk, HERE is a link to a recipe!
ALSO NOTE that if you prefer to make these as exclusively dairy-free, you can use kite hill cream cheese!
I hope you enjoy these no-bake cheesecake bars as much as we did!
More Favorite No-Bake Dessert Recipes
No-Bake Berry Cheesecake Bars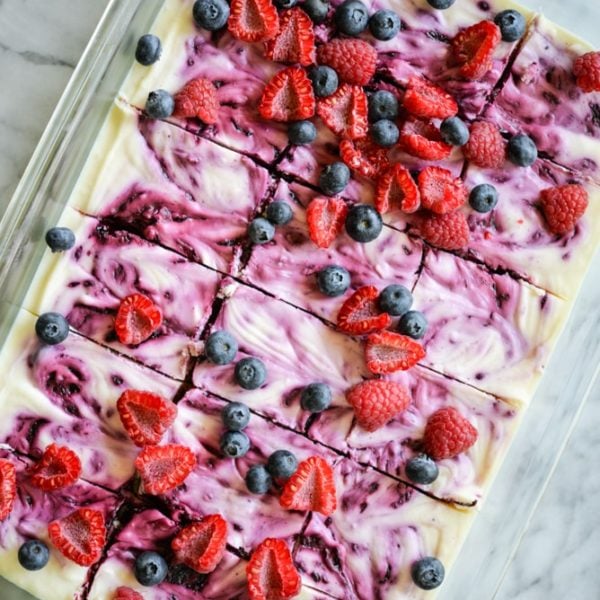 These no-bake cheesecake bars include a gluten-free graham cracker crust and a quick triple berry jam! They're a silly simple dessert that will blow your socks right off.
Ingredients
For the Berry Jam:
1

cup

blueberries

1

cup

raspberries

1

cup

blackberries

2

tablespoons

lemon juice

about one lemon

2

tablespoons

honey
For the Graham Cracker Crust:
Instructions
For the berry jam, combine all ingredients for the jam in a medium-sized saucepan over medium heat,  and stir together.

Stir berries until the mixture begins to boil and berries start to burst, then reduce heat to low and cover. Cook for 5-10 minutes, stirring occasionally, until mixture has thickened to a jam-like consistency. Set aside to cool.

For the graham cracker crust, place the two boxes-worth of graham crackers into a food processor and pulverize until you have a fine powder (no chunks). Adding 4 tablespoons-worth of softened butter pieces at a time, pulse the food processor with the butter. Continue for the rest of the butter, until the graham cracker crust comes together in a flaky, slightly-crumbly dough.

Pat the graham cracker crust into the bottom of a 9×13 inch pan and slightly up the sides to create a 1/4 inch thick crust.

For the cheesecake filling, add the condensed milk, cream cheese, lemon juice, and vanilla extract to a large bowl, then beat with an electric mixer or stand mixer for 2-3 minutes, until mixture is smooth and fluffy.

Pour the cheesecake filling on top of the crust, smoothing to even it out, then swirl in the berry jam.

Refrigerate for 4 hours, then slice and serve!
Nutrition
Calories:
359
kcal
|
Carbohydrates:
34
g
|
Protein:
4
g
|
Fat:
24
g
|
Saturated Fat:
14
g
|
Polyunsaturated Fat:
1
g
|
Monounsaturated Fat:
5
g
|
Trans Fat:
0.3
g
|
Cholesterol:
66
mg
|
Sodium:
246
mg
|
Potassium:
137
mg
|
Fiber:
2
g
|
Sugar:
20
g
|
Vitamin A:
645
IU
|
Vitamin C:
7
mg
|
Calcium:
96
mg
|
Iron:
1
mg