This baked almond butter banana is …
Melted, ooey, gooey, paleo goodness that will bring a smile to your face and tummy.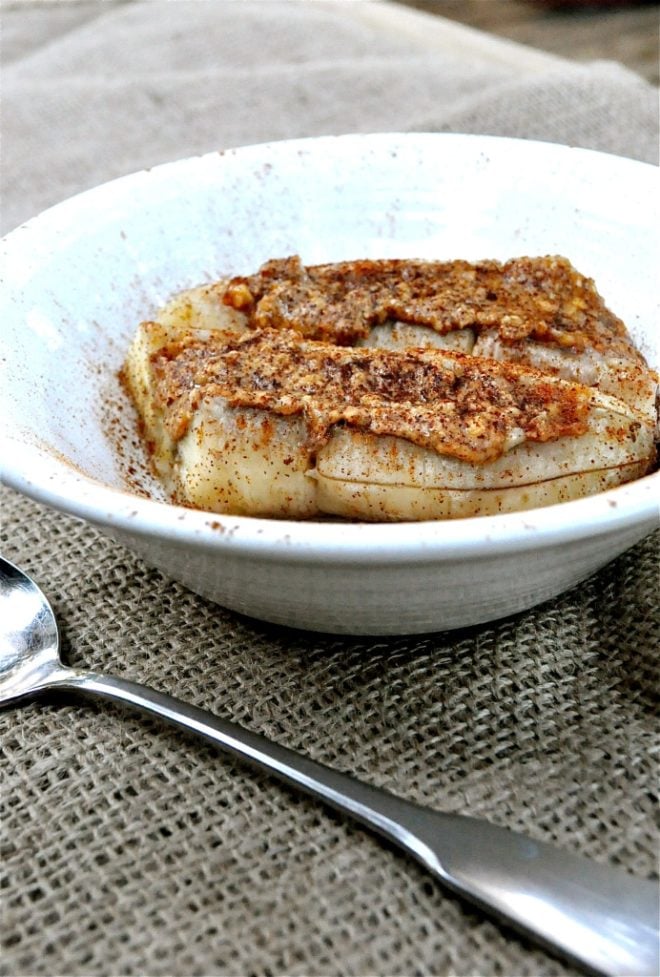 I'm a dessert gal. Dinner really isn't over until I've checked my "dessert" box. My repertoire for healthy/paleo desserts typically involves just fresh fruit with nuts. If I'm feeling extra creative, I'll whip up a cobbler of some sort (paleo peach cobbler and Paleo cherry cobbler are my favorite).
This Baked Almond Butter Banana is incredibly simple but, I believe, is just as fulfilling as a warm gooey brownie fresh from the oven. And that's really saying a lot because I also take my brownies VERY seriously around here.
When you're craving fresh baked goods, all you need is 15 minutes and this healthy baked almond butter banana will hit the spot. I promise. You won't be left with a sugar hangover or feeling too stuffed to move either. It's quite literally, the perfect dessert in my book. You could even jazz it up with a handful of dairy-free chocolate chips if you want!
Almond Butter Banana Boat Ingredients
3 ingredients: banana, almond butter, and cinnamon. That's it!
Oh, and some foil.
How to Make Almond Butter Banana Boats
Also, after much recipe testing, we've also found that you can make these little bad boys in a casserole dish just as effectively. Just layer your bananas, top them with the remaining ingredients, and secure foil over the top of your dish, then bake as directed for another variation of simple and crowd pleasing.
This dessert also makes for GREAT campout food. Prepare the same way identified below and then roast on your fire. You can spoon the melted goodness right from the aluminum foil.
Note: If you're looking for a 100-calorie treat, split the banana with a friend! Now, if you're like me, you're just going go back and make another one. But hey! You have to start somewhere.
Enjoy!
This is Gus, my 3 month-old Great Pyrenees puppy, inspecting/puncturing the bananas: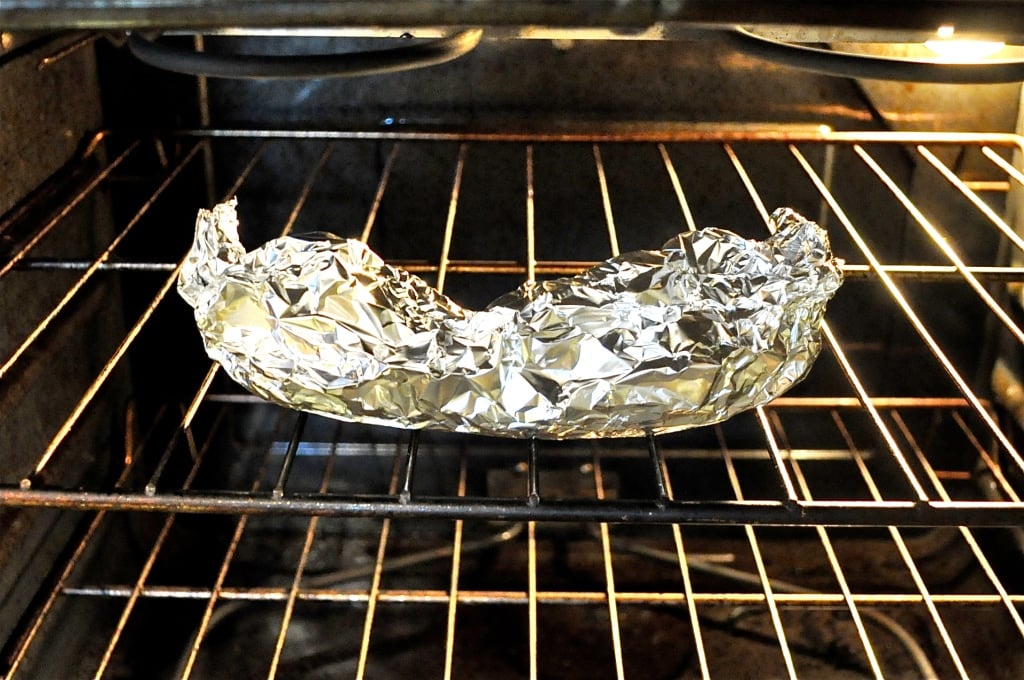 Baked Almond Butter Banana Boat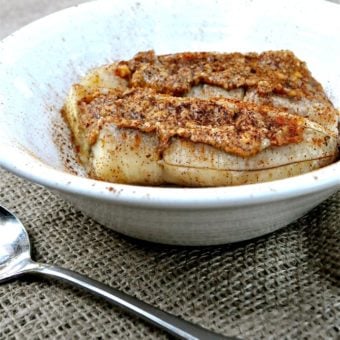 This baked almond butter banana is … Melted, ooey, gooey, paleo goodness that will bring a smile to your face and tummy.
Ingredients
1

Medium-Sized Banana

1

tablespoon

Almond Butter

1/2

teaspoon

Cinnamon
Instructions
Preheat your oven to 375 degrees.

Using a butter knife, cut about ½" deep down the length of your banana.

With the back of a spoon, widen the cut to make room for the almond butter.

Spoon the almond butter throughout the opening in the banana.

Sprinkle with cinnamon.

Wrap completely in aluminum foil.

Bake for 15 minutes at 375 degrees.

Remove from oven and let cool for 1-2 minutes (or until it's cool enough to handle).

Unwrap and either eat directly from the foil or move to a plate.

Enjoy!
Nutrition
Calories:
198
kcal
|
Carbohydrates:
30
g
|
Protein:
4
g
|
Fat:
9
g
|
Saturated Fat:
1
g
|
Polyunsaturated Fat:
2
g
|
Monounsaturated Fat:
5
g
|
Sodium:
2
mg
|
Potassium:
537
mg
|
Fiber:
5
g
|
Sugar:
15
g
|
Vitamin A:
79
IU
|
Vitamin C:
10
mg
|
Calcium:
67
mg
|
Iron:
1
mg