Roasted to perfection and tossed in a spicy mayo, this Buffalo Broccoli is a tasty way to revive the classic broccoli side dish!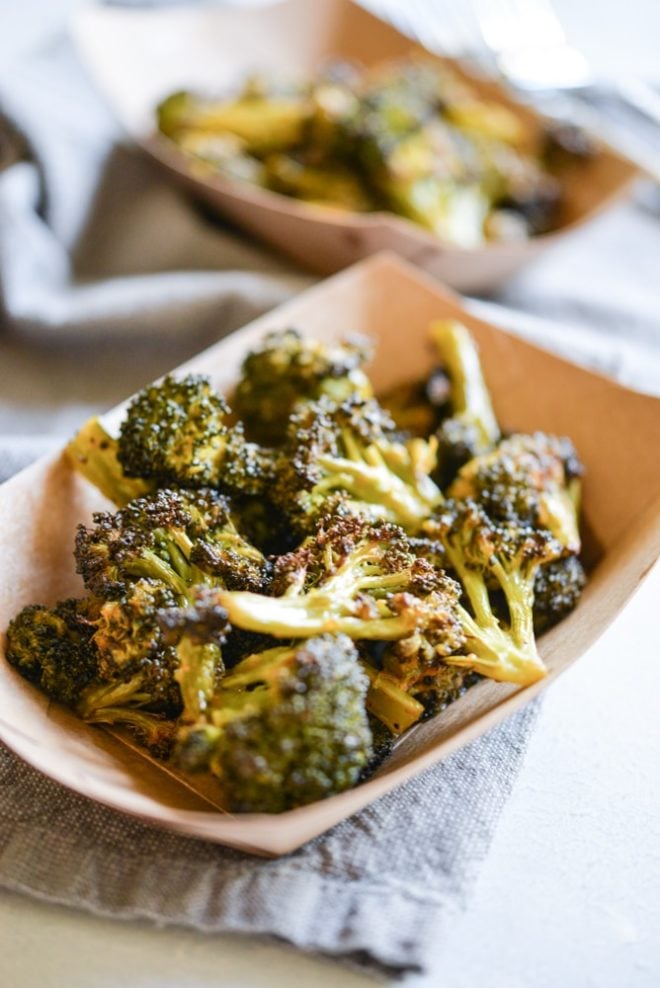 Broccoli …at first glance, not the most thrilling of recipe topics. I HEAR YOU. When I think of a broccoli recipe, I'm thinking that it'll fall into one of the following possible categories: stir-fried, mushy (boiled), raw (with a dip and destined to get caught in your teeth), or roasted. While some of those options are lovely, I'd like to throw out a NEW way to broccoli. It's a (dare I say?) tastier, more interesting way to enjoy the most popular cruciferous vegetable.
We're going to roast the broccoli until slightly crispy, toss said roasted broccoli in a heavenly mixture of hot sauce + mayo, and then return the broccoli to the oven so that the flavor has a chance to set and crisp. This Buffalo Broccoli is, in a word, remarkable.
I recommend doubling this Buffalo Broccoli recipe if you have broccoli-lovers in your home because it will go FAST.
Switching gears to this baby in my belly! I've been getting lots of requests for updates. Know that I'm planning to post a 1st trimester recap very soon! In the meantime, I want you to know that I'm feeling GREAT. A very kind reader (like so many of you) commented on our Instagram pregnancy announcement that she wished me a "very boring pregnancy." I loved that and I'm happy to say that it has been boring! Full details will be included in my 1st trimester recap, but everything has been smooth sailing.
All that being said, I'd love some help! We're at the beginning stages of starting a baby registry. I'd love to know, for those of you who've had experience, what would you consider to be your top 2 or 3 pieces of baby gear? (Please leave your suggestions in a comment on this post.) We're definitely a less-is-more kind of family, so we don't really want every gadget and gizmo in the book, but would instead like to focus on the SURE bets. Also note that baby girl has 5 older girl cousins, so we'll be happily partaking in any hand-me-downs offered. So far, we've acquired an AWESOME owlet oxygen baby monitor (soft monitor that will go on her foot while she's sleeping that would alert us if she has any trouble) and a fetal doppler heartbeat monitor (similar to this one) that we can use later in this pregnancy if we're ever concerned.
Thank you for the baby registry tips and I hope you enjoy this all-star Buffalo Broccoli side dish!
Here's the recipe video, enjoy!
xo,
Cassy Joy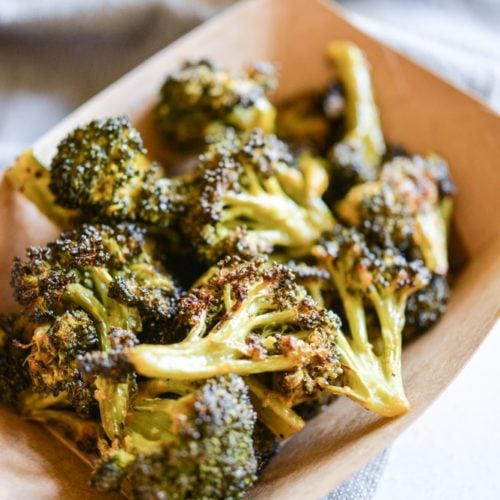 Roasted to perfection and tossed in a spicy mayo, this Buffalo Broccoli is a tasty way to revive the classic broccoli side dish!
Ingredients
2

large heads of broccoli

cut into florets (6 cups)

2

teaspoons

extra virgin olive oil

1/4

teaspoon

fine sea salt

1/4

cup

Paleo mayo

2

tablespoons

buffalo sauce
Instructions
Preheat oven to 375 degrees.

Toss the broccoli florets with olive oil and sea salt. Lay out on a baking sheet, making sure that the broccoli isn't crowded. Bake for 30 minutes or until the broccoli starts to brown.

While the broccoli is baking, whisk the mayo and buffalo sauce in a large mixing bowl.

Add the broccoli to the large bowl and combine with the buffalo mayo, then put it back on the baking sheet.

Turn the oven up to 400 then add the broccoli back to the oven. Bake for 8-10 minutes until the sauce has formed a crust.
Nutrition
Calories:
216
kcal
|
Carbohydrates:
20
g
|
Protein:
9
g
|
Fat:
14
g
|
Saturated Fat:
2
g
|
Polyunsaturated Fat:
7
g
|
Monounsaturated Fat:
4
g
|
Trans Fat:
0.03
g
|
Cholesterol:
6
mg
|
Sodium:
565
mg
|
Potassium:
963
mg
|
Fiber:
8
g
|
Sugar:
5
g
|
Vitamin A:
1903
IU
|
Vitamin C:
271
mg
|
Calcium:
144
mg
|
Iron:
2
mg