Today's post is all about my recent trip to Asheville, NC! I'm sharing the details on where we stayed, where we ate, and where we visited. This is a great place to mark on the map for your next family trip!
I just got home from the most enchanting trip to Asheville, NC! Backstory: my husband's family is relatively spread out. He's one of three boys and each one lives in a different town, at least 3 hours from one another. Austin's parents are in San Angelo, TX (where we got married); we're in San Antonio, TX; his younger brother lives in College Station, TX with his wife (happens to also be my best friend from college!) and two baby girls; and his older brother, a skilled Neonatologist (such an incredible profession), lives in Jacksonville, FL with his awesome wife and three adorable girls. I already feel like the luckiest girl in the world to have an incredibly tight-knit immediate family (my Mom, Dad, and two sisters + our significant others have genuine friendships with each other), and my in-law family is no different. They're also wonderful people and I'm so honored to call them family. Because my in-law family doesn't live close enough for a weekly (or heck, monthly) dinner, they counter by doing an awesome job of prioritizing at least one family trip a year.
This year, we tossed around a few late-Summer options! The two finalists were Breckenridge, CO and Asheville, NC. Though Austin and I like to go-with-the-flow and let the families with the most kiddos have the biggest say, I was secretly keeping my fingers crossed for Asheville. I've ALWAYS wanted to visit! Breckenridge is a semi-reasonable drive from Texas and each year through college, at least one of my friend groups would conspire for a ski-bound road trip to the mountains. Last Summer, we even had the awesome privileged of visiting our friends who spent a month in Basalt, CO, so we've been able to appreciate the incredible beauty of the mountains in the summertime as well. So in other words, Asheville was calling my name.
Because of the abundance of kid-friendly activities in the town, my secret vote won out!
Today's travel post is a little unique in that it really was geared more towards a family vacation, vs. a couple's vacation. Though the places we ate and visited are all great options for EVERYONE, where we stayed and how we got there was truly ideal for our group of 15 (plus baby Cricket in my belly).
Whether you're considering a trip to the Great Smokey Mountains for a relaxing getaway for a few or an enchanting escape for a large group, I can't recommend this charming corner of the country more.
Hotel
We stayed at this FABULOUS home-away! We found it through a group called Carolina Mornings and they were wonderfully accommodating. Note that I have no affiliation with this company, just so blown away by this property that I couldn't wait to tell you about it. When we first pulled up, I remarked that it looked like we were about to be house guests of the three little bears. It had plenty of room for our extra large crew, complete with a separate cottage (with its own kitchen) for my mother and father-in-law. The main house had 3 large bedrooms and a smaller kid's room with 4 bunk beds. Everyone had plenty of space to feel comfortable! The grounds were the best part of the house. The yard had the most beautiful tiered planters FILLED with more wild flowers than I'd ever seen. They also had a chicken coop, visiting wild turkeys, and even a few baby bears (+ their mamma) to strolled by one morning.
While we did eat out some, we also enjoyed a number of our meals in this home. Especially breakfast! I took advantage of the large oven and lots of hungry mouths to do what I love most: cook for people!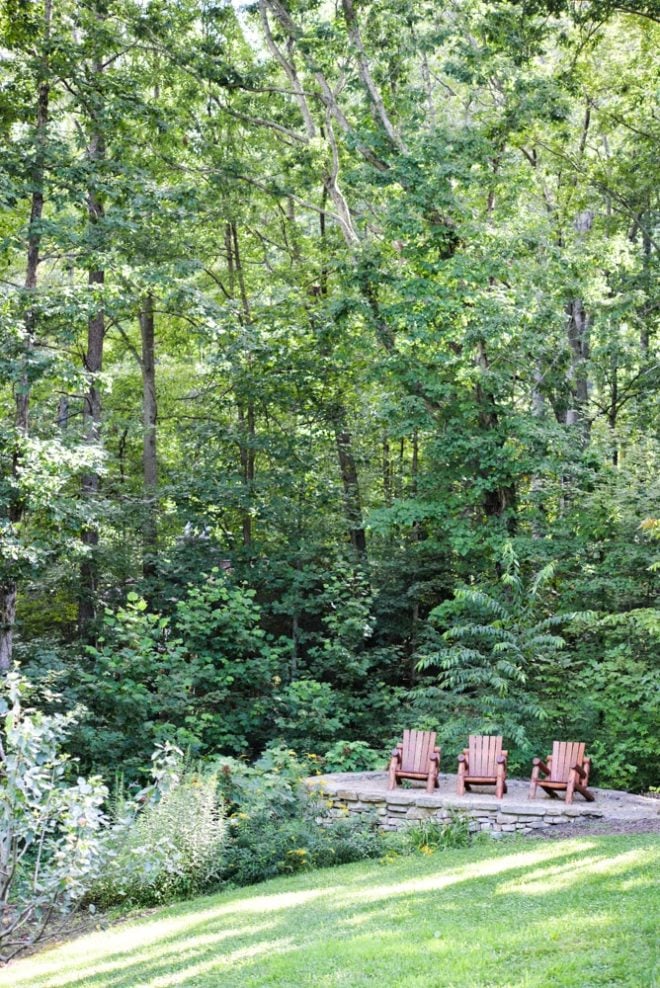 Food
This was our first meal in Asheville and it was GREAT. You all were so helpful in recommending places to eat and this suggestion was one of the many wins. Their burger patties are made with grass-fed beef and the toppings are the most delicious and diverse I've ever seen (bone marrow is an option!). They even had a really good gluten-free bun! If you go, I recommend splitting the "FB Fries," they're worth the splurge.
I was SO excited about this restaurant! Biscuit head specializes in breakfast-like foods that are centered around a biscuit. They EVEN have a gluten-free biscuit! I really enjoyed our meal here and the folks running the counter were really friendly. If you get a chance to visit, I highly recommend the Sour Cherry Jam from their homemade jam bar!
Believe it or not, I think this was our crew's favorite meal of the trip! It was a last-minute lunch decision and BLEW us away. I ordered the ribs, green beans, and potato salad. SO DANG GOOD. Their chalkboard menu is even labeled with allergen information so you know which main or side is gluten-free, dairy-free, or vegetarian.
This was the most recommended Asheville restaurant from the tips you all offered! Curate is a local tapas-style restaurant that features the foods of local producers in traditional Spanish-style dishes. A few of our favorites included the stuffed peppers, salt-cured sardines (SO GOOD), and the blood sausage. Austin's two brothers plus their wives joined us for this meal, so the 6 of us enjoyed a few of each dish that piqued our interested before we wondered off for a progressive-style dinner in Asheville. Our next stops were French Broad Chocolate (for the girls) and White Duck Taco (for the fellas).
I LOVE this place!! I enjoyed one of their sipping chocolates (opted for the salted caramel flavor, which was SO GOOD), a gluten-free peanut butter cookie, and a ginger tea (made with fresh grated ginger). I grabbed a small box of their beautiful chocolates as a thank-you gift for my parents for puppy sitting Gus while we were gone. In THAT box, I was the most interested in the dark chocolate turtle (my favorite chocolate).
This Asheville place also came highly recommended and it did not disappoint! I tasted my husband's green bulgagi taco and and his gyro taco. The gyro was my favorite! White duck has a great array of interesting tacos that are sure to please a wide array of tastes and preferences. Highly recommend!
Activities
I'm honestly surprised by how much I loved visiting the Biltmore. I didn't really know what to expect, other than we'd get a tour of a fancy old house. Though YES we did tour a fancy old house, it was so much more. What really drew me into this place was the history! The family history of the Vanderbelt family is FASCINATING. If there isn't a dramatic TV series featuring the incredibly influential and diverse American family, there needs to be. The tour of the home was interesting (I recommend at least someone in your crew spring for the audio tour) and, because we went before noon, not too warm. The younger kids in our crew visited the farm on another part of the property and we all met up for lunch! With fresh ice cream, great food, wine tasting, farm animal petting, garden touring, and a rich history, there is something for everyone here.
Hiking
We didn't get to do any major hikes in Asheville, but the hiking here is supposed to be truly fabulous! If there were time, we would've visited a few listed on this site.
Note that this is a recommendation just for the young kiddos. Don't expect to pull up to the side of a mountain and start chipping away! This place is located in a stand-alone building away from wildlife. The kids are given a bucket with silt and a few precious stones. They'll then use a sifter and a seat at the indoor water trough to find their treasures! The kids (ages 2 to 6) LOVED this experience.
This is another great Asheville idea for the kids! Though there are some age requirements (the youngest in our group to go is 4), it was one of their favorite activities. This facility offers a ropes course-style area and a zip lining course. My nieces came home JAZZED about their accomplishments!
Transportation
Air: Charlotte Douglas International Airport (CLT)
Because of our large crew, our best choice was flying in and out of the CLT airport vs. right into Asheville. The drive took no more than 2 hours and was through the beautiful hills. The Charlotte Airport is nice!
Ground: Car Rental
Because we stayed in a neighborhood on the outskirts of Asheville, it made the most sense for us to rent a few cars (especially with the car seats for my nieces). Getting around was easy and parking no problem!