Today we're chatting all about canned seafood, why it's a good option, and we're giving you three ways to use it, including a gluten free tuna noodle casserole! I couldn't be more excited to have teamed up with the Marine Stewardship Council (MSC) to promote wild, certified, sustainable seafood in honor of National Seafood Month!
Why Sustainable Matters
Before we dive into the food goods, let's talk about why sustainable seafood matters and what the MSC is doing to increase awareness. What's the MSC? I'm glad you asked! The Marine Stewardship Council (MSC) is a global nonprofit organization established to protect the last major food resource that is truly wild: seafood. The MSC works with fisheries, grocery stores, restaurants and other companies to change the way the oceans are fished, address food fraud, and make it simple for consumers to purchase sustainable, traceable, wild seafood. To accomplish this, the MSC sets standards for fisheries and supply chains based on strict, science-based sustainability standards. (and you KNOW we adore science!)
What to Look For
I love their dedication to transparency, and they've made it so easy to navigate the overwhelming aisles of the grocery store by creating the MSC blue fish label that helps you identify sustainable seafood. Not only does the MSC blue fish let you know that your seafood is good for the oceans, but you can also be confident that it's a healthy pick for you and your family. We are headed to the coast next week for a family trip, and I can't wait for Grey to see the ocean! I love that the MSC's goal is to ensure our oceans remain healthy and full of life for our kiddos and all of the generations to come.
Navigating the overwhelming number of seafood products at the store used to be so difficult. I remember being smack dab in the middle of the grocery aisle, totally confused with where to start. I'd stare at the rows of fresh, frozen, and canned seafood wondering just what I was buying, and in the end leaving with nothing in my cart (total analysis paralysis)! The MSC blue fish makes it easy to identify sustainable, wild caught seafood that has met the organization's strict standard for sustainability, and it can be found on every form of seafood including fresh, frozen, canned, nutritional supplements, and even PET FOOD. Yes, even Gus wants to make sure his food is responsibly sourced!
Get More Seafood in Your Diet
Now that we know the "why" behind selecting sustainable, let's talk about how we can easily incorporate more high-quality seafood into our diets. My life hack to get your daily dose of seafood nutrients is to choose canned versions (especially now that I know I can easily spot with the MSC blue fish) because they check all my food requirements. They're easy, budget friendly, and SO DELICIOUS! On a busy day jam packed with team meetings, recipe development and kissing some chubby baby cheeks, I love to get a few things packed and prepared to nom on in between projects. My go to snack is always oyster crackers! I always top my favorite gluten-free cracker with a little dairy-free cream cheese, and a smoked oyster. It makes for the perfect savory bite sized snack. I can easily eat a whole tin of those little nutritious nuggets in one sitting when I make it this way!
My favorite lunch time staple is a perfect salmon salad using canned salmon, a little mayo, a little mustard, some capers and fresh or dried dill (easily adjusted to your liking). The flavor is phenomenal, and I love that you can adjust the ingredients to get exactly the type of taste you want! Serve it on a bed of greens and you've got the easiest lunch that can be prepped and stored ahead of time to save your sanity.
Video
Dinner Time
Don't worry friends, we've got your dinner needs covered too! Raise your hand if you ever ate tuna casserole growing up as a kid?! Long gone are the days of canned cream of mushroom soup and soggy noodles because we've got the perfect healthier version of gluten free tuna noodle casserole that's easy to have on the table in a flash! Our take on this staple casserole is just as creamy and hearty, but uses responsibly sourced tuna (thanks MSC blue fish!), and some key substitutes that make it just a little more nutrient packed than your average tuna casserole. Top this gluten free tuna noodle casserole with some optional melted mozzarella and you'll have a meal that will make the whole family happy!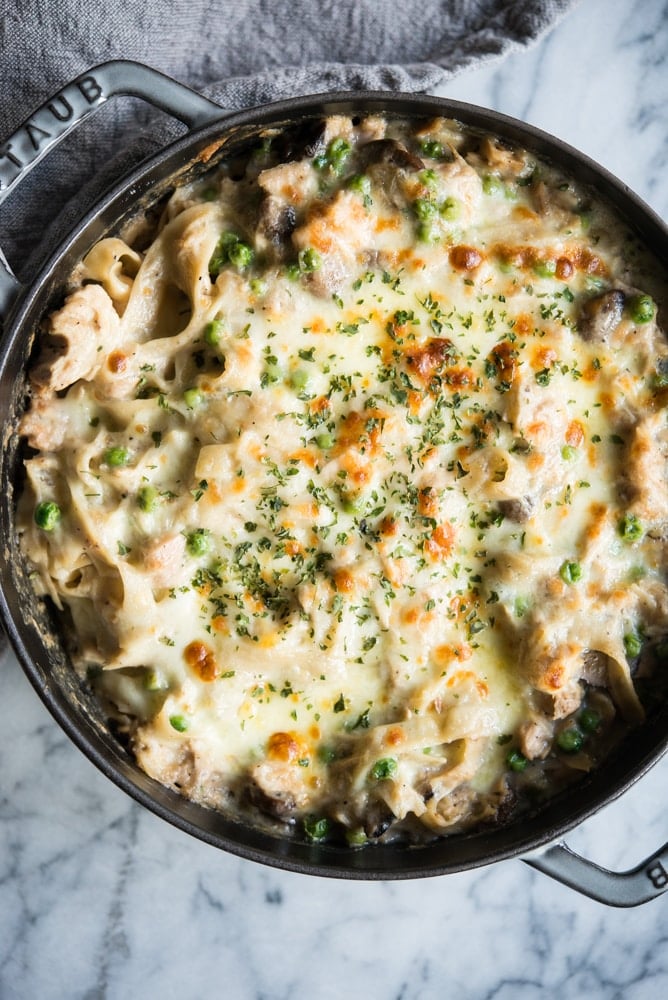 I hope you've enjoyed learning more about sustainable seafood and all that the MSC is doing to help educate and empower consumers to make a difference with their choices! I'd love if you joined me in celebrating National Seafood Month this October (and every month!) by making seafood a part of your daily diet too. Next time you're at your local grocery store, make sure to keep an eye out for the little blue fish! Purchasing products with the MSC blue fish label is an easy way to drive change with your shopping habits, and to help us create healthy oceans for generations to come.
More Favorite Seafood Recipes
Gluten Free Tuna Casserole
This tuna noodle casserole is just as good as the one you remember from childhood, but minus the gluten and (optional) dairy!
Ingredients
9

ounces

gluten free tagliatelle or linguini-style noodles

2

tablespoons

butter

1/2

yellow onion

diced

2

cloves

garlic

minced

4

ounces

button or cremini mushrooms

sliced

2

tablespoons

gluten free flour blend

1 2/3

cup

whole milk

substitute full-fat canned coconut milk for dairy free

1/2

cup

chicken broth

1

teaspoon

sea salt

1/2

teaspoon

black pepper

1

cup

frozen peas

4, 5-

ounce

cans tuna

drained

1

cup

mozzarrella cheese

for topping (omit for dairy free)

Fresh chopped parsley

for garnish
Instructions
Preheat the oven to 350 F.

Bring a large pot of water to boil and cook the noodles according to package instructions, then drain and set aside.

While the noodles are cooking, add the butter to a large, heavy-bottomed pan or cast-iron over. Once butter is melted, add the onion, garlic, and mushrooms. Saute for 4-5 minutes, until the onion and mushrooms have started to brown.

Add the flour to the onion and mushroom mixture and toss to coat, then slowly whisk in the milk and broth. Continue whisking until there are no remaining clumps.

Next, stir in the salt, pepper, peas, and tuna and let the mixture come to a bubble. Once bubbling, add the cooked and drained pasta and toss to coat.

Transfer the mixture to a 3 quart casserole dish, top with cheese, if desired, and bake at 350 for 20 minutes, until hot and bubbling. Remove from the oven, garnish with parsley, and serve!
Nutrition
Calories:
475
kcal
|
Carbohydrates:
38.4
g
|
Protein:
48.8
g
|
Fat:
14.8
g
|
Saturated Fat:
6.8
g
|
Cholesterol:
89.2
mg
|
Sodium:
1467.1
mg
|
Fiber:
3.9
g
|
Sugar:
8.7
g