Every item on this page was chosen by The Fed & Fit team. The site may earn a commission on some products (read more here).
These hard cider brats are a breeze to whip up and the perfect way to show that special man in your life some love! Made with onions, hard cider, and a few key spices, you and your family will love these.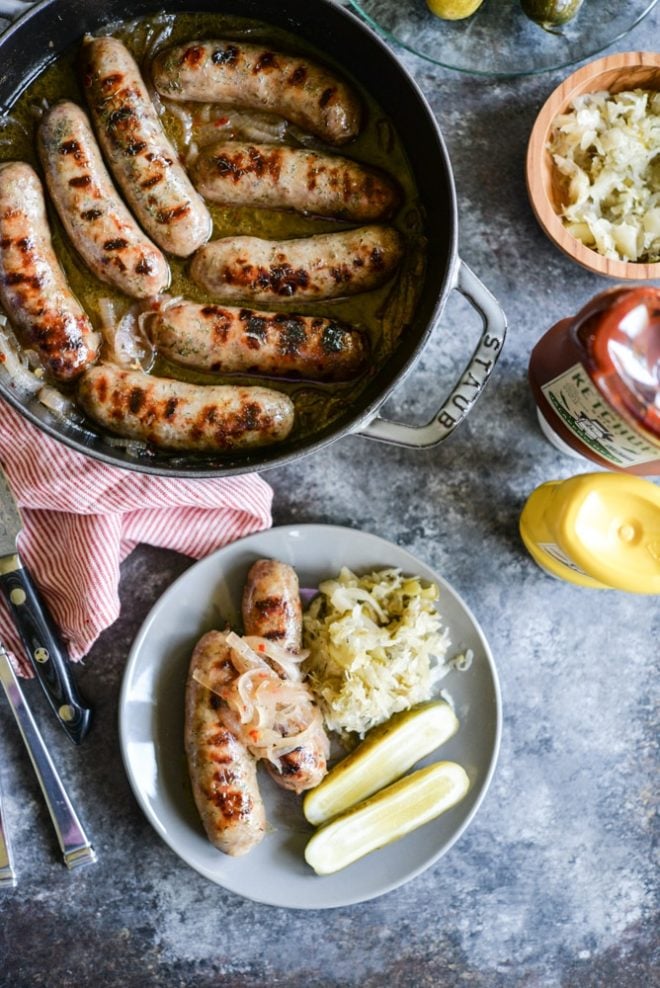 Where there's a will, there's a way, my dear. My will led me to something especially dude-friendly for this special dude (dad, specifically) weekend. It led me to something involving meat, which led me to bratwurst. Aside from tossing them on the grill (a legitimate way to cook up the tasty morsels), I wanted a way to infuse just a bit more love. Beer brats are a dude-meal cult classic, but (in my effort to infuse said bit more love) I wanted to put a thoughtful new spin on the dish. Hard cider is a naturally gluten-free alcoholic beverage; slightly sweeter than, but just as effervescent as a traditional brewski.
These hard cider brats come together quickly! First, toss a chopped small red onion in a large dutch oven (or heavy bottomed pan) with a few tablespoons of butter. Toss to combine, then add one beer's worth of hard cider. Bring to a boil, add the raw bratwursts, a few sprinkles of your chosen spices, and simmer for 15 minutes. At this point, the brats are actually cooked, but they're not quite ready for their glamorous big reveal.
To add in even MORE love, I took these brats out to the grill. I seared them on each side for about 4 to 5 minutes, or until they have some nice markings. Note: I included oven instructions below for those of you who don't have a grill.
While the brats are on the grill (or in the oven), let your hard cider + onion mixture reduce further …causing it to become even MORE delicious.
To plate, add the brats back in their bath of cider+onion! I like to serve mine up with some fresh sauerkraut, pickles, mustard, and ketchup (if you like). A few oven-baked fries or even baked potatoes would make a nice addition to this meal, too!
I hope you enjoy these hard cider brats and that you're able to celebrate with your most favorite father figure.
Ingredients
2

tablespoons

butter

1

small red onion

peeled and thinly sliced

12

ounces

hard cider

1 1/2 cups

8

links bratwurst

1/2

teaspoon

red pepper flakes

1/2

teaspoon

whole coriander seeds

1

tablespoon

extra virgin olive oil

1/4

teaspoon

dried dill

for garnish
Instructions
Place the butter and onion in a large heavy-bottomed pot over medium head, stir to combine. Add the hard cider and bring to a low boil.

Once boiling, add the bratwurst to the pot. Be sure to get them nestled in the liquid. Sprinkle the red pepper and coriander seeds over top. Simmer for 15 minutes.

Oven method: preheat oven to 400 F. Pull the brats out of the water, place them on a rimmed baking sheet, drizzle with the olive oil, and bake for 5 to 10 minutes, or until the tops start to brown, but not burn.

Grill method: preheat your grill to about 300 F. Pull the brats out of the water, place them on a rimmed baking sheet for transportation to the grill, drizzle with the olive oil, and grill for 4 to 5 minutes on each side, or until the tops start to brown, but not burn.

While the brats are finishing on the grill or in the oven, set the heat to medium/low for the cider and onion to reduce further.

Once the brats are finished, return them to the pot, toss to recombine, and serve with the garnish of dill.
Nutrition Information
Nutrition Facts
Hard Cider Brats
Amount per Serving
% Daily Value*
* Percent Daily Values are based on a 2000 calorie diet.