Recipe Updated: November 19, 2013
Deviled eggs are one of my most favorite hors d'oeuvres of all time. Depending on how your prepare them, they can either be the safest bite at the family gathering or one of the most damaging. You could say, the devil is in the details.
My family traditionally makes deviled eggs with lots of mayo, relish, and mustard. In my healthier recipe, I swapped non-fat Greek yogurt for the mayo I opted for homemade olive oil mayo and used whole grain mustard instead of the traditional yellow mustard. Sure there's nothing wrong with yellow mustard, I just feel that using whole grain makes it a treat some adult palates will enjoy.
I used a homemade piping bag to avoid the mess and hassle of spooning the deviled-yoke back into the eggs. Making your own piping bag is easy and allows for much faster application and cleanup.
Now, I have a confession. I am egg challenged. For whatever reason, I have the most difficult time boiling eggs correctly. I usually wind up with a thin layer of egg white around a gray or mushy yoke. In an effort to help myself (and any of you who have also struggled with finding a way to properly boil an egg), I did some research.
I came across this awesome how-to. The directions I have written at the bottom of this page produced the most beautiful hard-boiled eggs I have ever created. They were so easy! Below are a few of the tips and highlights:
It is best to use 4-5 day old eggs. If you use fresh eggs, the membrane will stick more firmly to the egg whites thus making them more difficult to peel. Slightly older eggs have membrane that pulled away from the egg, making them much easier to peel.
The night before you make your hard-boiled eggs, store them in the refrigerator on their side. This way, you'll have yokes that settle in the middle of the egg instead of yokes that move to the bottom and make for a thin or inconsistent layer of egg white.
Salt and vinegar in the water will help keep potentially cracked eggs together and may also ease in peeling.
How to tell if your eggs are expired? Place the raw egg in a cup of water. If it floats to the top, don't eat it!
Approximate Nutrition Facts:
Serving size: 2 egg halves (making one whole egg)
80 Calories; 5 g Fat; 6.3 g Protein; 1.1 g Sugar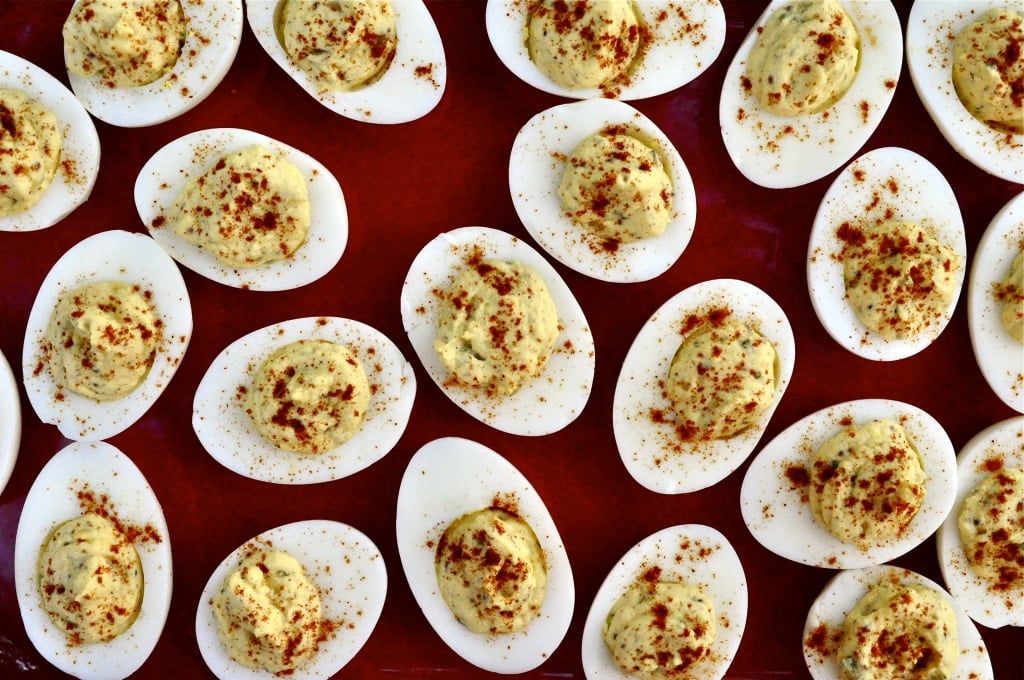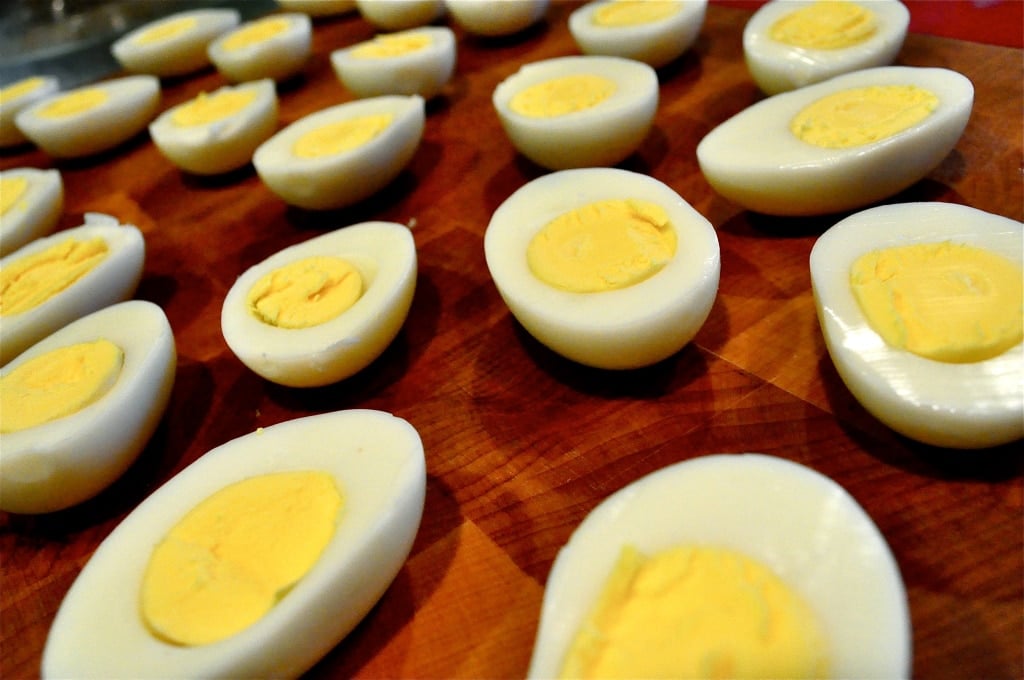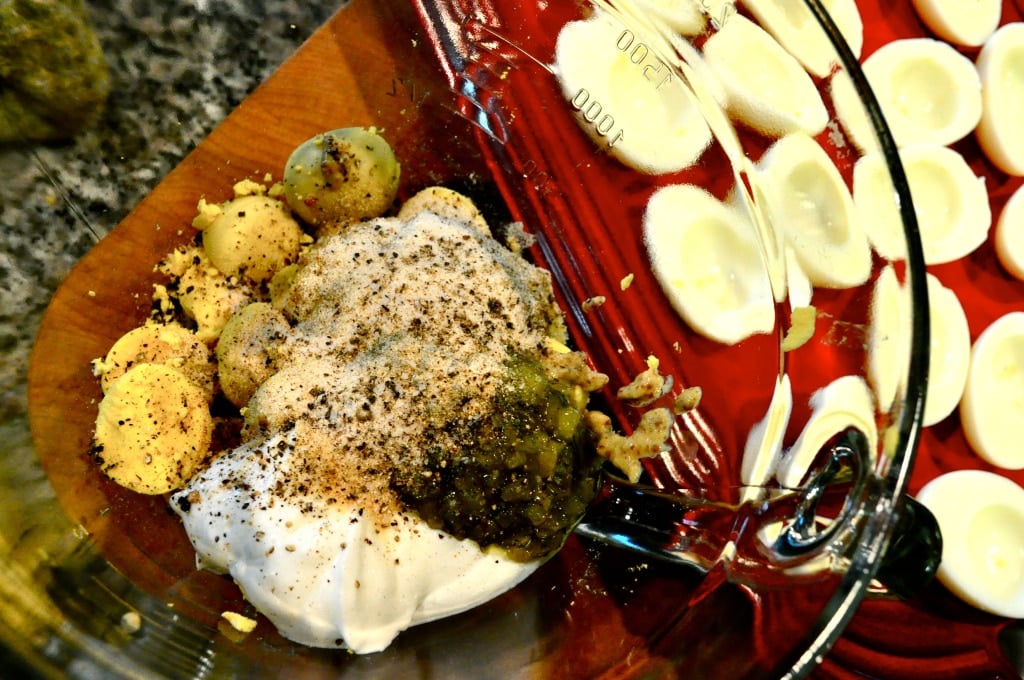 healthy deviled eggs
Makes 12 Servings (24 egg halves)
Ingredients:
12 hard-boiled eggs
2 ½ Tbl non-fat Greek yogurt homemade olive oil mayo
2 ½ Tbl whole grain mustard
2 Tbl dill relish
1 tsp garlic powder
1 tsp onion powder
1 tsp sea salt
cracked black pepper to taste
1 pinch smoked paprika
Directions – The Perfect Hard-Boiled Egg:
Let eggs come to room temperature.
Place them in a pot ONE layer thick.
Pour water in the pan to cover the eggs by about 1".
Place over heat and bring to a boil.
Once the eggs come to a boil, remove from hot burner and put on a lid.
If you're using large eggs, let them sit for 17 minutes.
After that time, submerge them in an ice bath.
Let them cool for about 5 minutes.
Peel under cool running water.
Time: 25 minutes
Directions – Healthy Deviled Eggs:
Cut all the eggs in half.
Pop out the yokes into a mixing bowl and place egg white halves aside.
Mash egg yokes with the yogurt mayo, mustard, relish, garlic powder, onion powder, sea salt, and pepper.
Take a 1-gallon plastic bag and push it into a glass.
Spoon the deviled egg yoke mixture into the bag.
Pull the bag out of the glass and cut the corner of the bag off.
Use this bag to pipe about 2 tsp of yoke back into each egg white halve.
Sprinkle with smoked paprika and enjoy!
Time: 5 minutes