We're sharing our 3 favorite pork tenderloin marinades with you today! These marinades will ensure flavorful, delicious pork tenderloin every single time.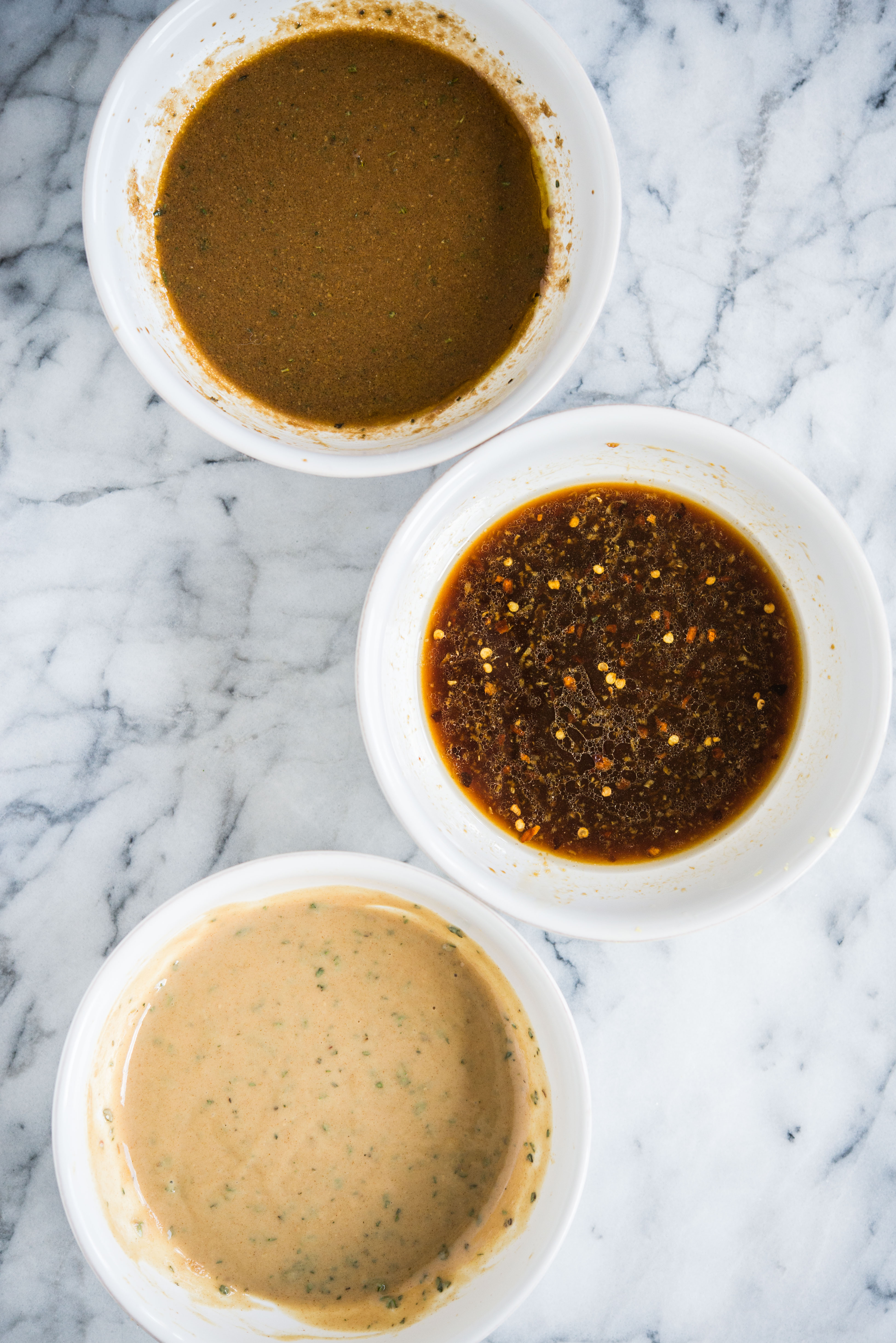 Pork tenderloin has always been a go-to dinner in my house. It cooks up quickly, is delicious (when cooked to perfection!), makes for great leftovers, and feels just fancy enough to get me out of the weeknight dinner rut. Too often, pork gets the reputation of dry and flavorless, but that's not the case when you use one of these 3 absolutely delicious marinades!
Pork Loin Marinade
Pork tenderloin is a very lean cut of meat – but what exactly does that mean? In addition to being a low-fat choice of protein, it is also very low on flavor. If you want a flavorful pork tenderloin, you're going to have to add in the flavor yourself. The good news is that since it is so mild, pork tenderloin takes on flavor easily – you just have to give it a little time.
What are the best pork tenderloin marinades?
When it comes to marinating your pork tenderloin, you can really use anything! Personally, we like a wet marinade because it is easy to throw together and really gets into the pork. A combination of salt, sweet, and acidity to make the pork even more tender is ideal. Here are our three favorites:
Sesame Ginger. This marinade is great if you want to give your pork tenderloin a bit of Asian flare! For this marinade, we whisk together coconut aminos (or soy sauce), fresh ginger, sesame oil, rice wine vinegar, honey, and red pepper flakes. It's the perfect balance of salty, sweet, and tangy, with just a hint of spice.
Balsamic Rosemary. Balsamic pork tenderloin is a classic. This marinade is slightly sweet, tangy, and filled with fresh rosemary flavor. For this one, we combine balsamic vinegar, extra-virgin olive oil, fresh rosemary, dijon mustard, garlic powder, and salt.
Maple Dijon. This marinade is pretty much a universal crowd-pleaser, great for picky kids (or husbands)! In this marinade, we simply combine dijon mustard with maple syrup, apple cider vinegar, dried thyme, and salt.
Ingredients for Pork Tenderloin Marinades
Balsamic and Rosemary Marinade
Maple Dijon Marinade
Sesame and Ginger Marinade
How to Make a Pork Tenderloin Marinade Recipe
It's really simple! All you'll need to do is whisk together your marinade ingredients and then pour the marinade over top of your pork tenderloin! You can let the pork tenderloin marinade in a lidded bowl, a large Ziplock bag, or a reusable bag!
How long do you marinate pork tenderloin for?
If you're in a rush, we recommend giving your pork tenderloin at least 30 minutes to marinate, and you can help speed up the process by poking a few holes in it with a fork. If you've got extra time though, 4-24 hours is ideal to make sure it really takes on the flavor!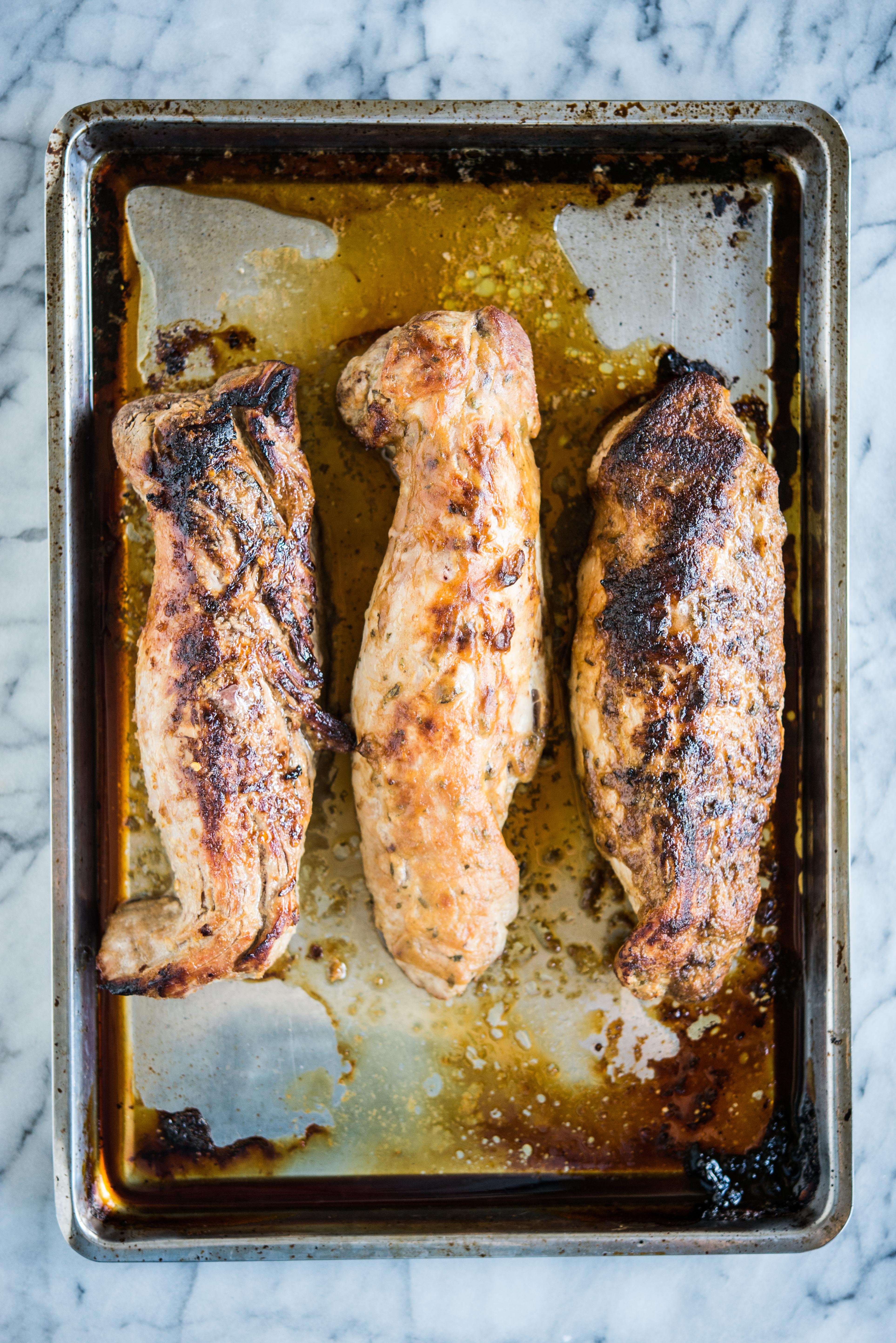 How to Cook Pork Tenderloin
Now that your pork is marinated, it's ready to be cooked! While you can absolutely grill pork tenderloin, our favorite way to cook it is in the oven because it's an accessible cooking method year-round and results in some seriously juicy, flavorful pork!
Sear it in a Cast-Iron Pan – When cooking your pork tenderloin in the oven, you'll first want to sear it in a cast-iron pan.
Bake It (allowing the internal temperature to reach 145 degrees F)
Let it rest for about 10 minutes before serving it.
(Here's our full breakdown on this fail-proof cooking method: Perfect Oven-Roasted Pork Tenderloin). In addition to a flavorful marinade, following these three simple steps will ensure perfect pork tenderloin every single time! For more in-depth instructions, see our guide to cooking pork tenderloin in the oven.
Pork Tenderloin Video
Tips for Perfection
Here are a few simple tips to ensure the juiciest, most flavorful pork tenderloin!
Let Your Pork Marinate – we recommend letting your pork tenderloin marinate for 4-24 hours. This ensures that the pork really takes on the flavor of the marinade!
Use a Thermometer – my #1 tip for cooking pork tenderloin in the oven is to buy a meat thermometer! Even better, if you can buy an in-oven thermometer that will beep as soon as the pork reaches the desired temperature (145°F).
Let the Pork Rest – you'll want to let your finished pork tenderloin rest for 8-10 minutes before serving. If you skip this step and cut into it immediately, the juices will run out of it and you'll be left with dry pork.
Pork Tenderloin Marinade Frequently Asked Questions
How do you make pork tenderloin juicy?
We always opt for searing our pork tenderloin and then baking it! Searing it locks in flavor and moisture, and then baking it for just 15-20 minutes gets it perfectly cooked (but not dried out!).
Can you freeze pork tenderloin marinade?
Totally! You can go one of two routes here – you can either freeze the marinade on its own or freeze the marinade and pork tenderloin together. If you decide to freeze the marinade on its own, these mason jars will work great. When you're ready to use the marinade, just let it thaw completely (either overnight in the fridge or in a bowl of water for a quicker thaw) and then pour it over the pork and let marinate as normal. On the other hand, if you'd like to freeze the pork and marinade together, we recommend using a gallon size Ziplock bag and squeezing out as much air as possible before freezing. Be sure to label your bag with the date and contents so that your frozen pork tenderloin doesn't become a freezer mystery! When you're ready to cook the frozen pork tenderloin+ marinade duo, simply let it thaw completely and then cook using our perfect-every-time oven method!
3 Pork Tenderloin Marinades – Balsamic, Sesame Ginger, and Maple Dijon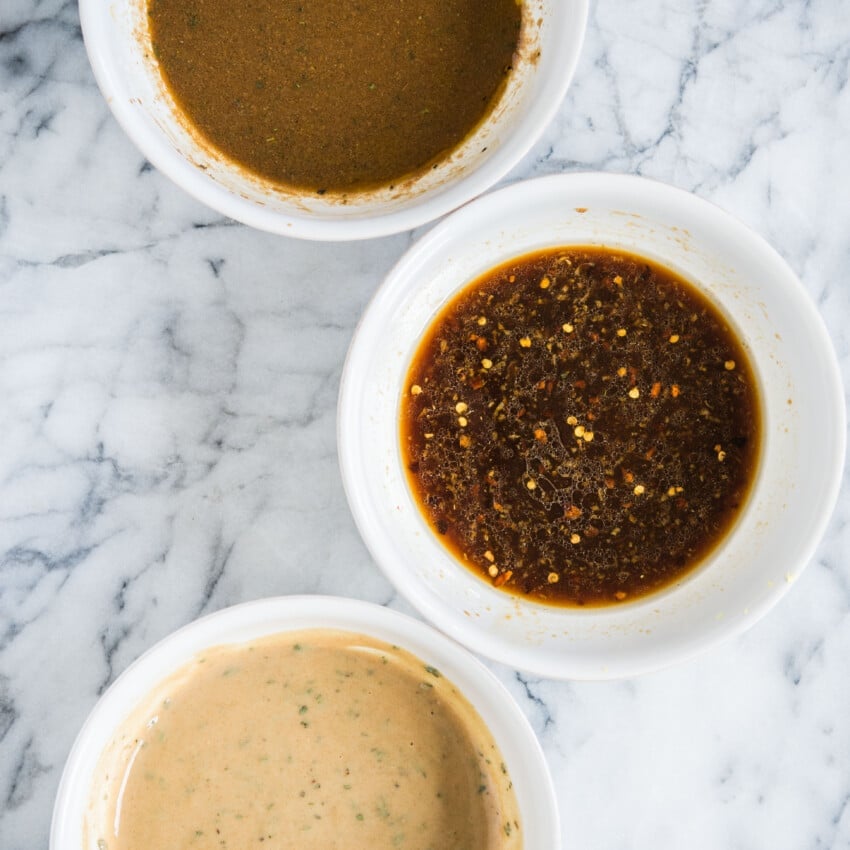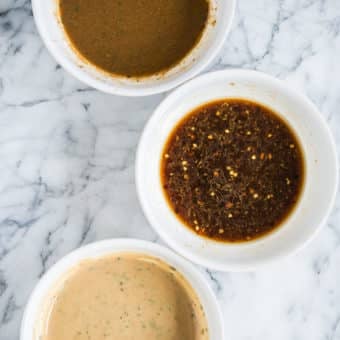 This method will give you perfectly juicy, flavorful pork tenderloin every time!
Ingredients
Balsamic and Rosemary Marinade
Sesame and Ginger Marinade
Instructions
Whisk together the ingredients for the marinade of your choice, then set aside.

Trim the silver skin off of the pork – the silver skin is the white, tough strip of connective tissue that runs about halfway down the pork tenderloin. Once you have removed it, season pork tenderloin with 1/2 teaspoon coarse sea salt and 1/4 teaspoon ground black pepper. Note: if you are using soy sauce for the ginger-sesame marinade, omit the salt.

Pour the marinade over the pork tenderloin. Refrigerate for 30 minutes up to 24 hours.

Remove or from the marinade and drain off any excess, then grill or bake the pork until it reaches a temperature of 145 F. For full instructions, see our

oven pork tenderloin recipe

.
Recipe Notes
Nutrition is for Balsamic variation.
Nutrition
Calories:
110
kcal
|
Carbohydrates:
3
g
|
Protein:
0.4
g
|
Fat:
11
g
|
Saturated Fat:
1
g
|
Polyunsaturated Fat:
1
g
|
Monounsaturated Fat:
8
g
|
Sodium:
336
mg
|
Potassium:
36
mg
|
Fiber:
0.3
g
|
Sugar:
2
g
|
Vitamin A:
17
IU
|
Vitamin C:
0.1
mg
|
Calcium:
8
mg
|
Iron:
0.3
mg