Today we're talking all things charcuterie! With this simple template, you'll learn how to make a charcuterie board that will impress all of your guests!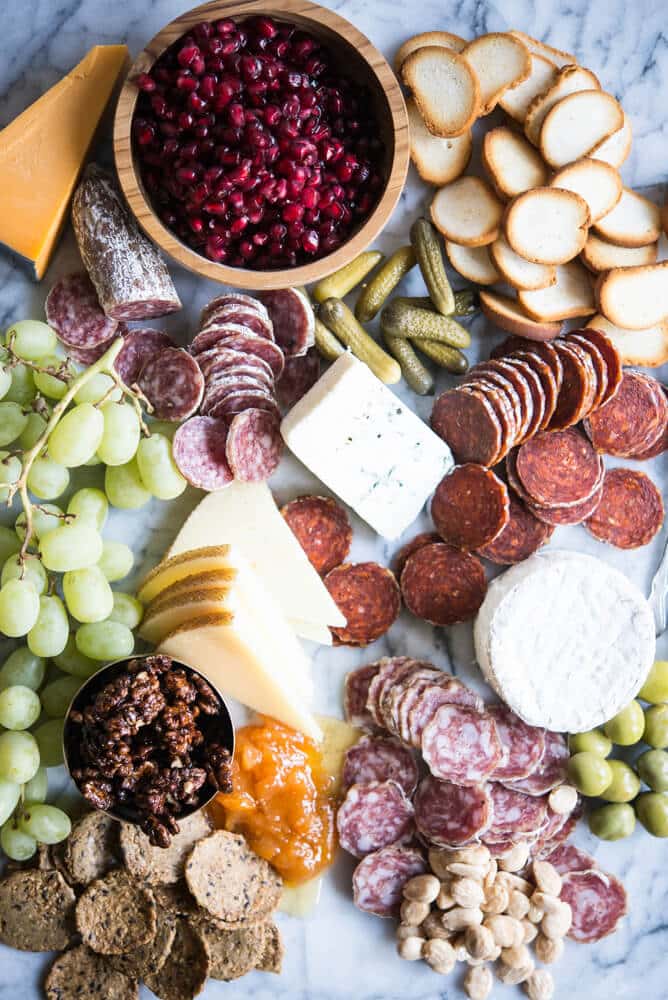 I love a good meat and cheese board. They're naturally gluten-free (as long as you use GF crackers!), a huge crowd-pleaser (there's something for everyone!), they pair great with wine, and a well thought out board is sure to earn you a few fancy hostess points.
We know that if you're not sure how to make a charcuterie board it can feel super intimidating. First, you have to navigate the cheese aisle, then you have to try to select the dried meats, fruits, and condiments that pair best together, and then you need to arrange it to make it look good. If you're in the "yep, that's WAY too much work and I'll just put out a veggie tray instead" camp, we've got good news for you – making a killer charcuterie board doesn't have to be complicated! In fact, with just a few rules of thumb, you'll be putting together cheese boards for every occasion like a pro!
What is charcuterie?
Charcuterie (pronounced shaar·koo·tuh·ree) is a French term that refers to the cooking of cured meats like bacon, salami, and ham(1). These days, we use charcuterie to refer to any combination of meats, cheeses, and other accompaniments that can be served as an appetizer or even a full meal.
What to Put on a Meat and Cheese Board
Now for the fun part – deciding what to put on your charcuterie platter!
#1: Cured Meats
Since charcuterie literally refers to cured meats, a few great meats are a must for your board! We recommend choosing 2-3 different types of cured meats for your board to pair with your cheeses. Personally, I like to go with a traditional or peppered salami, spicy Spanish chorizo, and salty prosciutto for a bit of texture contrast. Here's a full list to choose from:
Coppa
Chorizo
Iberico Ham
Mortadella
Pepperoni
Prosciutto
Sopressata
Speck
Summer Sausage
If you're not sure which to pick, you can often find done-for-you packages of cured meats that complement each other in your store's deli section!
#2: Cheese
IMO, the cheese is the most important part of any good charcuterie board! The cheese possibilities are virtually endless, but you'll want to narrow it down to just 3-4 different kinds for your board. Just pick one from each of these categories:
Soft Cheeses: these are going to be your creamy, fresh, spreadable cheeses. Some of my favorites are Brie, Burrata, fresh mozzarella, and fresh goat cheese or chevre. These pair really well with the jams or honey you may add to your board.
Blue Cheese: you either love 'em or you hate 'em, but no cheese board is complete without a staple stinky cheese! My favorite options here are Roquefort, Gorgonzola, and Stilton.
Firm Cheeses: There are a wide range of cheeses in this category, but a few favorites are Manchego, Parmesan, Swiss, and Gruyere.
Aged Cheese: Gouda, Cheddar (I especially love a good white Cheddar with salt crystals throughout), and comte.
If you're still feeling a bit overwhelmed by your cheese options, don't be afraid to ask someone at your local store for guidance!
#3: Crackers
I recommend having two types of crackers on hand – one for the crowd that loves a little extra flavor in their crackers, and one for the crowd that just likes them plain. Baguette slices or bagel chips also work great here. If you're gluten-free, here's a list of favorite crackers:
#4: Fruit
With all of the saltiness of the cheeses and meats, fruit is a welcome break for the tastebuds and pairs nicely with the softer cheeses. Grapes are a no-brainer for any cheese plate, but any seasonal fruit will work! Here we went for a combination of fresh grapes and seasonal pomegranates. You can also opt for dried fruit like figs, apricots, or cranberries.
#5: Nuts
Nuts add a great crunch factor to your charcuterie board. Your guests will rave over olive-oil fried Marcona almonds paired with another sweet or spicy glazed nut!
#6: Something Sweet
While you can leave these off, a few sweet touches will help really elevate your charcuterie board! Good quality honey or honeycomb, jams, preserves, or even cranberry sauce around the holidays are all wonderful accompaniments.
#7: Something Savory or Briny
If you want to make your meat and cheese board even more epic, you can add on a few different flavors with some extras! Add something salty like marinated olives or capers, something acidic like grainy mustard or pickles, something savory like marinated red peppers.
How much meat and cheese should I use per person?
For an appetizer, you should aim for 2-3 ounces of meat and cheese per person. If your charcuterie board is your main dish, increase that to about 5-6 ounces of each per person!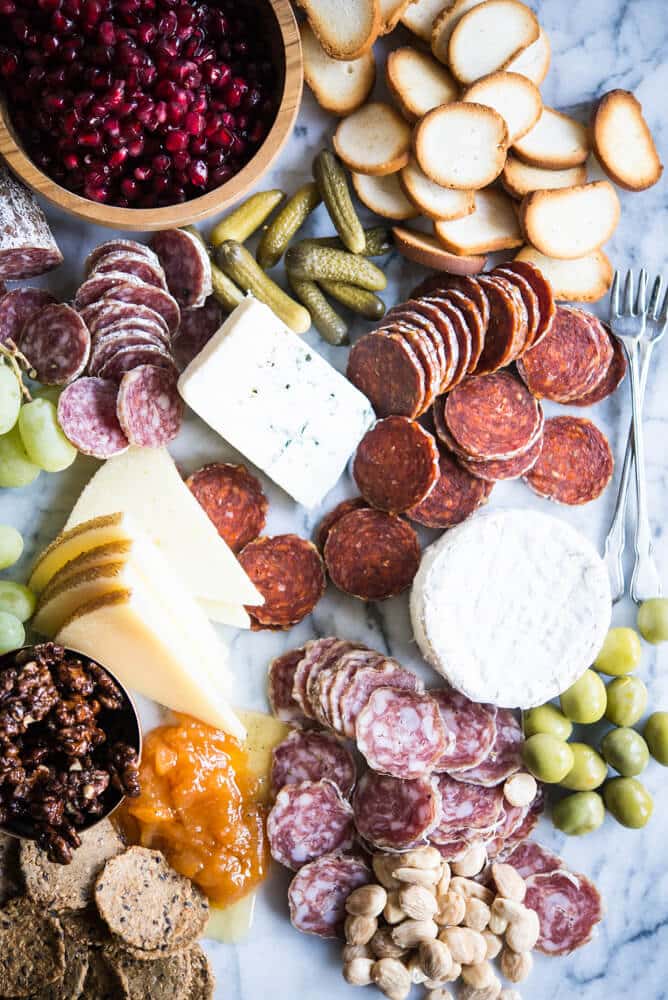 How to Assemble a Charcuterie Board
Now that you've got all your ingredients, it's officially go-time! Rest assured, putting together a beautiful meat and cheese platter isn't as difficult as it may seem at first. Here's how to do it:
Get all of your ingredients together. Grab your favorite platter or cutting board, a few knives, and all of your ingredients.
Place any large bowls of condiments on the board and any larger wedges of cheese. The key to making a pretty board is to start with the items that will take up the most space first.
Add the sliced meat and cheese. Next, you'll fill in the board with your sliced meats, cheeses, and any fruit.
Add the crackers. Next, add the crackers. If you are running out of room on the board, you can always serve your crackers on a separate plate!
Fill in the blanks. Next, you'll fill in the blank spaces with your extras – nuts, jams, honey, olives, etc, until you have a full cheeseboard.
Can you make a meat and cheese board in advance?
Yes! Cured meats and cheeses have a long shelf life, so when I'm hosting a gathering I often slice the meats and cheeses 1-2 days beforehand. You can also assemble the entire board as soon as the night before, cover it, and leave it in your refrigerator until ready to serve. My only recommendation if you do this is to leave off the crackers so they don't get soggy!
What to Use for a Charcuterie Board
You don't have to buy a specific platter for a charcuterie board! Any platter or cutting board will work. When I got married, we actually used a large mirror I wasn't using for our meat and cheese board! If you do want to buy a new platter though, here are a few of our favorite options:
More Favorite Party Appetizers
How to Make the Perfect Charcuterie Board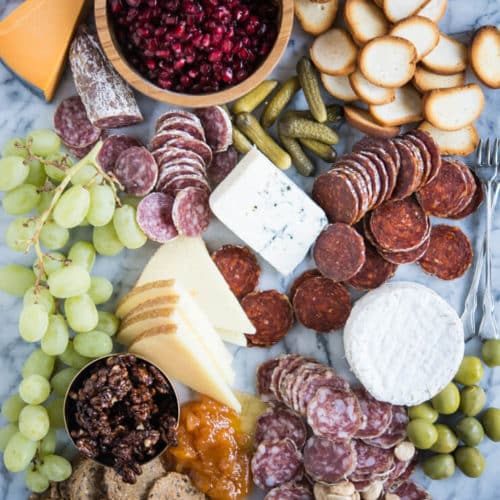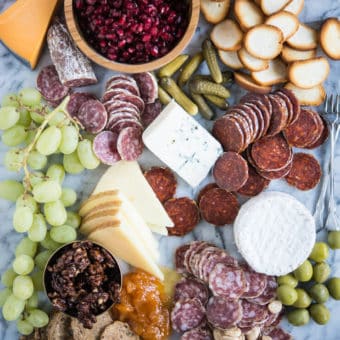 Put together an easy charcuterie board that your guests will love!
Ingredients
16

ounces

cured meats such as salami,

prosciutto, or Spanish chorizo (pick 2-3)

2

pounds

cheese such as brie,

burrata, manchego, blue cheese, gouda, and cheddar (pick 2-3)

1

pound

fresh fruit such as grapes,

pomegranates, berries, or pears

2

boxes of crackers of choice

1

cup

nuts – marcona almonds

– roasted, spiced, or glazed nuts all work

Extras – choose from preserves

– honey, olives, cornichons, dried fruit, or roasted red peppers
Instructions
Place large bowls of condiments or fruit and wedges of cheese on the board.

Place the sliced meat and cheese and any fruit on the board.

Next, add the crackers. If you are running out of room on the board, you can always serve your crackers on a separate plate!

Finally, fill in any gaps in the board with your extras, such as nuts, olives, and small bowls of honey and jam. Serve immediately or refrigerate for up to one day before serving.
Nutrition
Calories:
1018
kcal
|
Carbohydrates:
50
g
|
Protein:
44
g
|
Fat:
72
g
|
Saturated Fat:
30
g
|
Polyunsaturated Fat:
11
g
|
Monounsaturated Fat:
27
g
|
Trans Fat:
1
g
|
Cholesterol:
158
mg
|
Sodium:
2495
mg
|
Potassium:
665
mg
|
Fiber:
3
g
|
Sugar:
15
g
|
Vitamin A:
710
IU
|
Vitamin C:
2
mg
|
Calcium:
345
mg
|
Iron:
5
mg