One of my absolute favorite meals of all time is a good old fashioned roast, and this Instant Balsamic Beef Roast is fall apart tender, bursting with tons of flavor, and loaded up with perfectly cooked onions and carrots. It's JUST like mom used to make, but completed in half the time it takes for a traditional pot roast, which makes it even better in my book!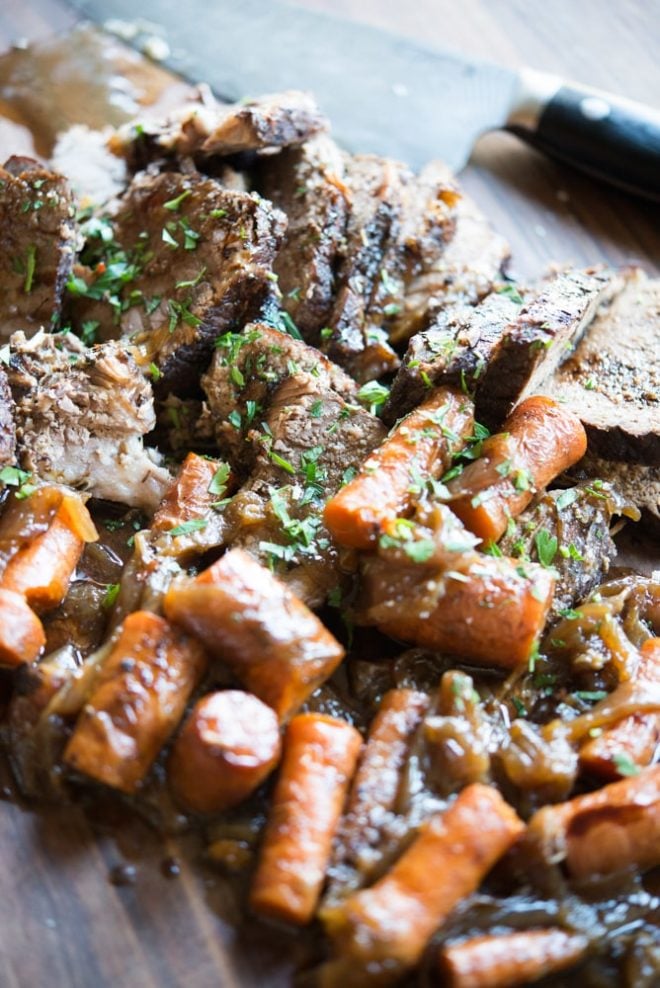 Pot roast is actually a term that's pretty all-encompassing.  Usually it means there's a large chunk of meat (sometimes a cut that many consider more tough, but also more flavorful) that is seared, then cooked in a broth alongside hunks of root veggies and onions.  Cuts can vary, and even the type of animal protein used (like honey mustard pork roast, Instant Pot pot roast, slow roasted leg of lamb, etc.), but one thing's for sure, there's almost nothing more warm and comforting than a fork-tender roast sitting in it's own rich juices! Our favorite cut of meat, that always comes out tender and juicy is the chuck roast from ButcherBox – it never fails us! One thing that takes this Instant Balsamic Beef Roast to a whole other level is the fact that we really condense those flavors through the use of one of our favorite kitchen contraptions – the Instant Pot.  This little gadget does a phenomenal job of cooking large cuts of meat both quickly and evenly due to the magic of pressure-cooking science!  Long gone are the days of wondering if the lid of your old school pressure cooker was going to pop off and maim you in the midst of cooking dinner.  We can now safely and efficiently whip up meals that would normally take ALL DAY in half the time, and I'm never looking back! (the love I have for the Instant Pot runs DEEP y'all).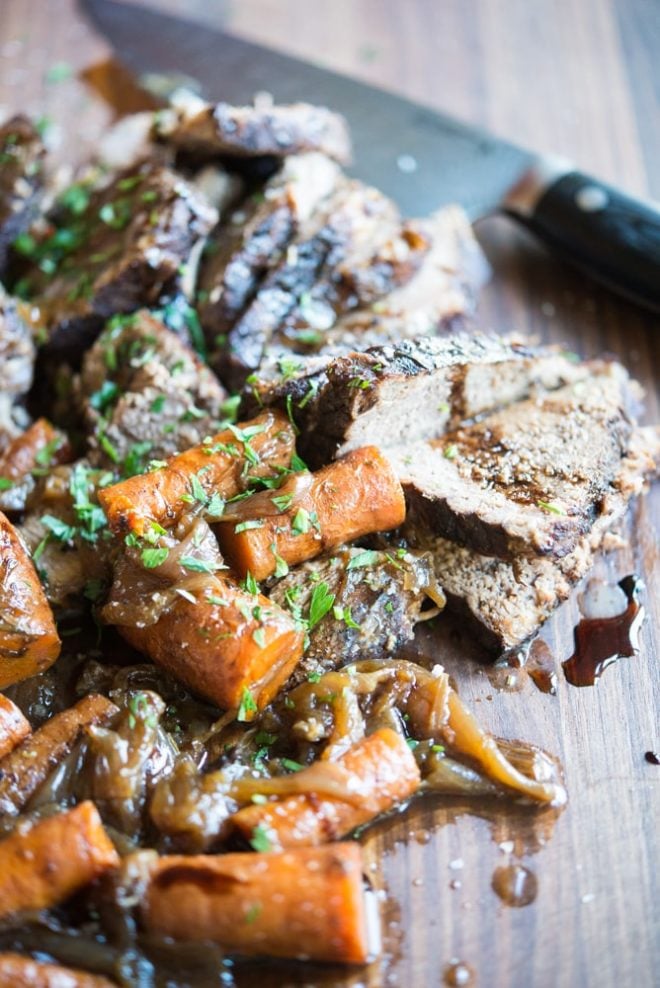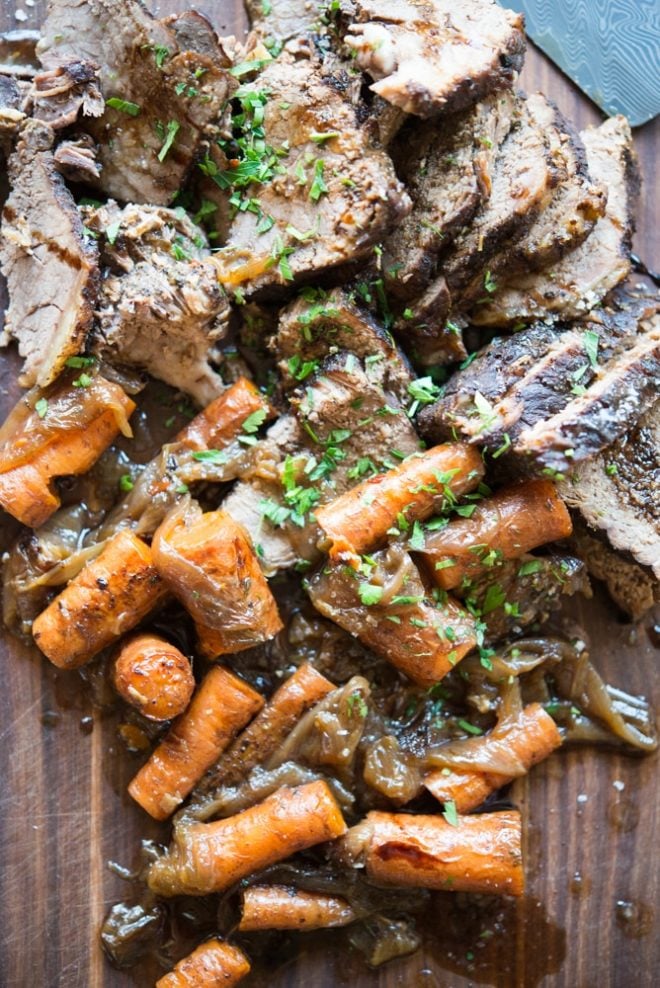 This recipe is so crazy simple and full of all the traditional components of your typical roast except that we (of course) take it up a notch with the sweet and tangy flavor of balsamic vinegar to make it a really special meal! You know I love science AND history, so of course I have to talk about the basics of balsamic. Balsamic, much like olive oil, can vary in quality, flavor, and color due to the fact that so much of what we buy on the shelves at the grocery store is augmented to allow cheaper manufacturing! True, high-quality balsamic vinegar (we love this one) is thick, dark, and contains one ingredient – grape must. Grape must is essentially just grapes cooked down to a sweet syrup. The syrup is then aged (18 years or more) in various wooden barrels and THEN it's sold and oh my goodness, it's so worth the wait! When you're perusing the grocery aisle next time to shop for some balsamic, make sure that you find one that has minimal ingredients – grape must being the main one. Try your best to avoid fillers like corn syrup, caramel coloring, and products that contain more vinegar than grape must.
Just a couple of notes about this Instant Balsamic Beef Roast that will take it from good to great! One of the most important steps in the process is the searing of the meat prior to the pressure cooking. This crucial step locks in both flavor and moisture to help get that fall apart texture that we're looking for in the end! Also, definitely take the time to reduce the remaining juices in the pot as it really concentrates the flavor of the balsamic vinegar and beef broth, making it a thick reduction that is almost like a glaze versus a sauce. The sweet flavor of the juices, paired with the fork-tender meat makes this pot roast one that will be on your regular weekly rotation for ages to come!
Instant Balsamic Beef Roast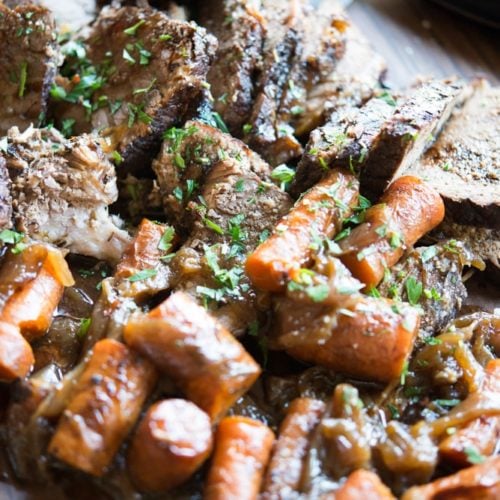 This Instant Balsamic Beef Roast is fall-apart tender, bursting with flavor, and cooks in half the time of a traditional pot roast!
Instructions
Cut the carrots into thirds, then peel the onion and cut it into sixths.

Season the beef with salt and pepper. Add 1 tablespoon oil to the instant pot and set it to "saute." Once hot, add the beef to the pot and sear for 4-5 minutes per side until the beef is browned. If your roast is too large to sear, cut it in half first. Remove the beef from the pot and set aside.

Add the additional tablespoon of oil to the Instant Pot, then add the carrots and onions. Cook for 2 minutes, then flip and cook an additional 2 minutes.

Add the broth, balsamic vinegar, and Italian seasoning into the pot with the carrots and onions. Place the beef on top of the vegetables, then place the lid on the pot, ensure that the valve is set to "sealed" rather than "venting," then press the "meat/stew" button and set it to cook for 60 minutes.

Manually release the pressure after 60 minutes, then remove the beef and set the pot to sauté for 10-15 minutes, until the juices have reduced by about 1/2.

Shred or slice the beef to your preference, then spoon the sauce over and serve alongside the onions and carrots. Enjoy!
Recipe Notes
Round roast or shoulder roast will also work here.
To make in a crockpot: follow the instructions but add an additional cup of beef broth and cook on low for 8 hours or on high for 4.
Nutrition
Calories:
468
kcal
|
Carbohydrates:
6
g
|
Protein:
44
g
|
Fat:
30
g
|
Saturated Fat:
12
g
|
Polyunsaturated Fat:
3
g
|
Monounsaturated Fat:
16
g
|
Trans Fat:
2
g
|
Cholesterol:
156
mg
|
Sodium:
900
mg
|
Potassium:
904
mg
|
Fiber:
1
g
|
Sugar:
3
g
|
Vitamin A:
5134
IU
|
Vitamin C:
3
mg
|
Calcium:
65
mg
|
Iron:
5
mg