These Instant Pot mashed potatoes are so easy to make and turn out deliciously creamy and fluffy every time! Done in under 30 minutes in your Instant Pot, these mashed potatoes will save you time and free up precious stove space.
Mashed Potatoes in the Instant Pot
I've always been firmly in the camp of only using the Instant Pot for recipes where it really shines – like for soups like this creamy chicken enchilada soup, or for shreddable proteins like this French Onion Pot Roast. But, this summer, in my very hot Texas kitchen, I fell in LOVE with using the Instant Pot to make potatoes. It all started with steaming potatoes for potato salad, then I started par-cooking potatoes before frying or roasting them, and finally, I figured out I could make perfect mashed potatoes in my Instant Pot. I loved that I could keep making my favorite potato dishes without heating up the kitchen, and get perfectly-cooked potatoes every time.
That's exactly why I love these Instant Pot mashed potatoes. You don't have to stand by the stove keeping watch over the potatoes and checking their doneness. And you can set the timer and move on to other things without worrying about overcooking. This method also produces consistently creamy, fluffy mashed potatoes that are to-die-for. They're easy enough to serve for dinner on a weeknight, but also special enough to add to your Thanksgiving spread!
Speaking of, making mashed potatoes in the Instant Pot is a great hack for when you're hosting a large dinner. It allows you to make the potatoes in advance and keep them warm until they're ready to serve, without taking up any extra space on the stove.
Mashed Potatoes Instant Pot Ingredients
2 pounds of Yukon gold or russet potatoes, cut into 1-inch cubes
1/4 cup of butter
1/4 cup of milk or heavy cream
2 teaspoons of coarse sea salt, plus more to taste
1/4 teaspoon of cracked black pepper
Which potatoes are best for making mashed potatoes?
There are a lot of varying opinions out there about which type of potatoes make the best-mashed potatoes, below are our personal favorites!
Yukon Gold – these potatoes are our top choice for mashing potatoes. They absorb less water than other varieties of potatoes, meaning your mashed potatoes will taste richer. They also naturally have a lovely, buttery texture that you won't find in other potatoes.
Russet Potatoes – Russet potatoes are a close second to Yukon gold potatoes. They still produce a nice, fluffy mash, but have less flavor and absorb a bit more water.
Red Potatoes – red potatoes are less starchy than Yukon gold and russet potatoes, meaning that the resulting mashed potatoes won't be quite as creamy and fluffy.
How to Make Mashed Potatoes in Instant Pot
Instant Pot mashed potatoes require just a few easy steps:
Dice the potatoes into 1-inch cubes.
Add the potatoes to your Instant Pot and cover with 1 inch of water.
Set the Instant Pot to cook for 9 minutes.
When the timer goes off, release the pressure, then drain the water from the potatoes and add them back to the Instant Pot.
Mash the potatoes, then stir in the butter, cream, salt, and pepper.
See? It couldn't be simpler!
Should potatoes be peeled for mashed potatoes?
Whether or not you peel your potatoes is totally up to you! Yukon gold potatoes have a really thin skin, so leaving it on doesn't actually take away from the creamy texture of the mashed potatoes. Russet potatoes, on the other hand, have a much thicker skin, so if that kind of texture bothers you, feel free to peel them ahead of time!
Are the potatoes placed directly into the inner pot or does the steam rack need to be used?
You can add your potatoes straight into the Instant Pot's inner pot! No steam rack needed.
How much water is needed in the Instant Pot for potatoes?
You'll just want to cover the potatoes with about an inch of water, so just add water until you've done that!
What's the best way to mash potatoes?
There's also a lot of debate about the best way to mash potatoes! If you want the smoothest, creamiest consistency possible, we recommend using a potato ricer. This takes a little bit more work, but will effectively get rid of all of the lumps in your mashed potatoes. Personally, I prefer a more home-style mashed potato, and use a masher with multiple holes in it like this one. This gives the result of a mostly smooth mash with just a few lumps.
You can also whip your potatoes with an electric mixer for a fluffier texture, just be sure not to overbeat! Also, never put potatoes in a food processor or blender – your result will be gluey, stuck-together potatoes.
Tips for Making the Best Mashed Potatoes in the Instant Pot
Here are a few of our best tips for making mashed potatoes:
Salt the water. Have you ever had the experience of making mashed potatoes and feeling like you can't get enough salt into them? The trick here is to salt the water first. This flavors the potatoes while they're cooking so you won't have to add much salt after the fact.
Cut the potatoes evenly. We call for dicing the potatoes into 1-inch pieces, by making sure they are uniformly cut, you'll ensure that all of the potato pieces cook evenly.
Quick-release the pressure on the Instant Pot. For this recipe, you want to make sure you perform a quick-release on the Instant Pot. If you let the pressure release naturally, the potatoes will overcook and absorb too much water.
Get a strainer insert. This one isn't a must-have, but using a silicon strainer insert like this one makes this recipe even easier!
Variations for Instant Pot Mashed Potatoes
We've given you a classic (but oh-so-good) mashed potato recipe here, but you can easily jazz them up with some of the ideas below:
For Dairy-Free Mashed Potatoes: Substitute full-fat coconut milk for the heavy cream, and ghee or your favorite dairy-free butter substitute for the butter.
For Roasted Garlic Mashed Potatoes: Slice a bulb of garlic in half, rub it with 1 teaspoon extra-virgin olive oil, then wrap it in foil and bake at 400 F for 30-40 minutes, until the cloves are soft. Squeeze the roasted garlic out of its papery skins, then mash and stir into the potatoes for a rich, garlicky mash.
For Cheater Garlic Mashed Potatoes: Add 1 teaspoon garlic powder to your mashed potatoes – this will give you great garlic flavor without the work of roasting!
For Loaded Mashed Potatoes: Replace the cream in the recipe with sour cream, then stir in 2-3 slices of crumbled bacon, 3/4 cup shredded cheese, and 1 tablespoon of sliced chives for truly decadent potatoes.
For Lightened Up Mashed Potatoes: Replace the cream with a flavorful stock or bone broth – this will add a ton of flavor to your potatoes!
Do I need to increase the Instant Pot's cook time if I double the recipe?
Nope! One of the best things about the Instant Pot is that you don't have to adjust the cook time even if you are cooking more potatoes. Just note that the pot will take a bit longer to come to pressure the more you add to it.
Instant Pot Mashed Potatoes Recipe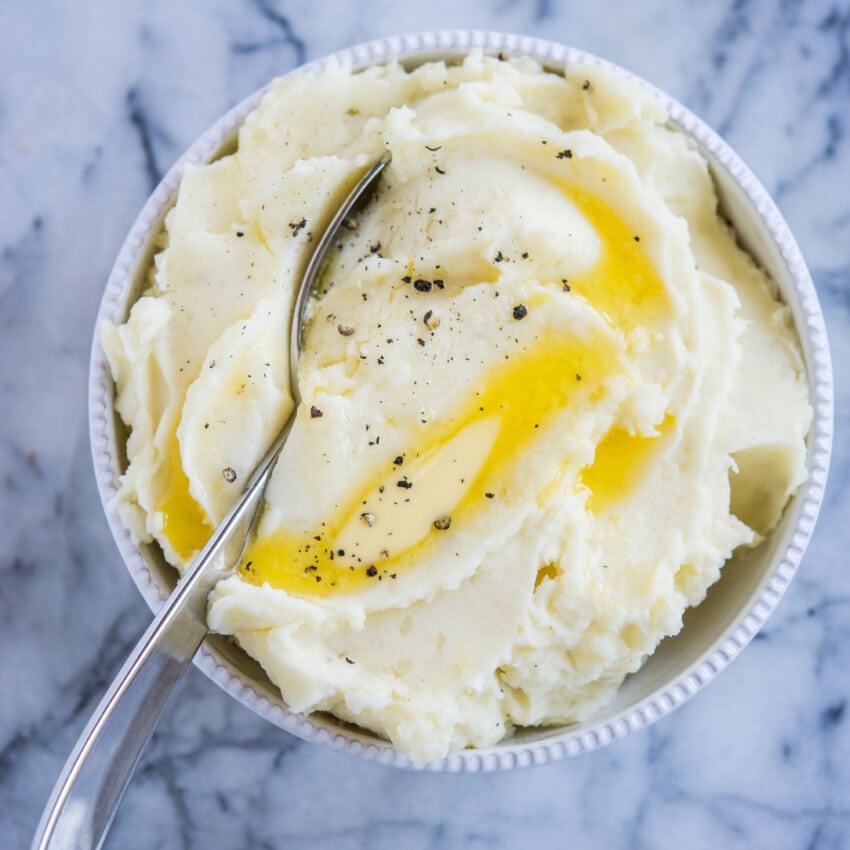 These Instant Pot mashed potatoes produce fluffy, creamy, rich results every time!
Ingredients
2

pounds

Yukon gold or russet potatoes

cut into 1-inch cubes

1/4

cup

butter

1/4

cup

milk or heavy cream

2

teaspoons

coarse sea salt

plus more to taste

1/4

teaspoon

cracked black pepper
Instructions
Place the potatoes and salt in the Instant Pot and cover with 1 inch of water. Press the 'manual' button and set to cook for 9 minutes.

Once the timer goes off, immediately release the pressure and drain the water from the potatoes.

Add the potatoes back to the pot and mash with a potato masher, then stir in the butter, cream, and pepper. Taste the potatoes and add more salt, if needed.
Recipe Notes
For dairy-free mashed potatoes: substitute full-fat coconut milk for the milk and ghee or your favorite vegan butter for the butter.
It will take the pot about 15 minutes to come to pressure
If you want to double the recipe, you do not need to adjust the cook time for the potatoes.
Nutrition
Calories:
229
kcal
|
Carbohydrates:
32
g
|
Protein:
4
g
|
Fat:
10
g
|
Saturated Fat:
6
g
|
Polyunsaturated Fat:
0.4
g
|
Monounsaturated Fat:
2
g
|
Trans Fat:
0.4
g
|
Cholesterol:
26
mg
|
Sodium:
1019
mg
|
Potassium:
786
mg
|
Fiber:
4
g
|
Sugar:
2
g
|
Vitamin A:
308
IU
|
Vitamin C:
36
mg
|
Calcium:
41
mg
|
Iron:
1
mg