Today we're talking all about how to make perfect roasted vegetables! When done right, roasting can give your veggies crunch and a slightly sweet, caramelized flavor that turns them into something addictive!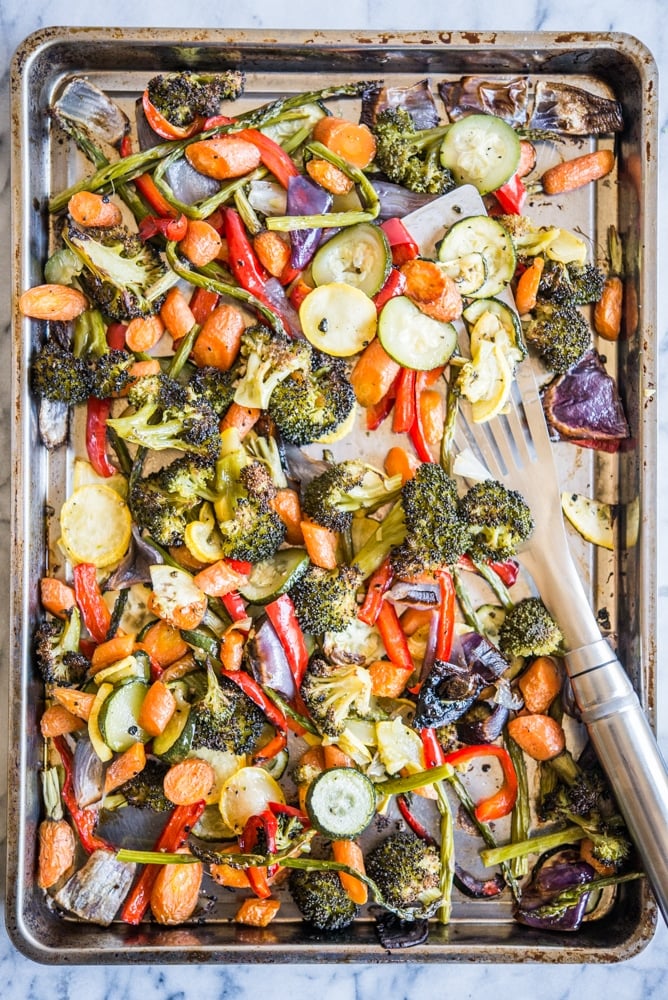 Before going Paleo, I had a very small number of veggies in my regular rotation – green beans, salads… and I think I was counting corn as a vegetable at the time, too (fun fact – it's actually a grain and falls more into the starch category!). Even though my Mom cooked from scratch nearly every night growing up, no one in the family was really a big veggie lover, so we just kept our sides simple. But, once I cut out grains I realized I really needed to up my veggie game. Not just for health, but for the sake of variety! A person can only eat so many green beans, after all.
So, after many years of not really eating broccoli, cauliflower, brussels sprouts, asparagus, etc, I decided to start trying a new veggie every week. I quickly found that the key to making them taste good was roasting! There didn't seem to be any vegetable that didn't get better with roasting. Soon enough, I was happily eating big servings of veggies and actually starting to crave them.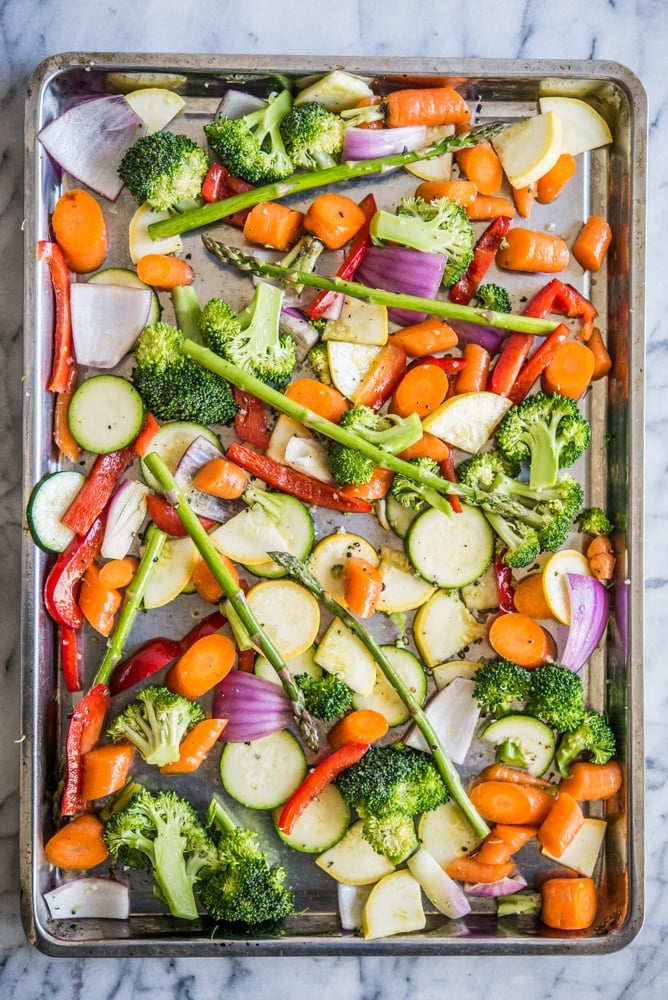 What are the Best Vegetables to Roast?
When it comes to roasting vegetables, you can roast almost any vegetable in the oven with good results! The only thing I typically stay away from is leafy greens. There are three different categories of vegetables to consider when roasting:
Root vegetables and winter squash – potatoes, sweet potatoes, carrots, turnips, rutabaga, butternut squash, acorn squash
Cruciferous + medium-weight vegetables – broccoli, cauliflower, brussels sprouts, cabbage, bell peppers, onions
Tender vegetables – zucchini, summer squash, asparagus, snow peas
Roasting Temperature
High heat at 300°F is best for roasting vegetables. We've found that this temperature results in roasted veggies that are perfectly crispy on the outside and nice and soft on the inside.
How Long to Roast Vegetables
Potatoes – 35-45 minutes
Sweet Potatoes – 35-45 minutes
Carrots – 35-45 minutes
Turnips – 35-45 minutes
Rutabaga – 35-45 minutes
Butternut Squash – 35-45 minutes
Acorn Squash – 35-45 minutes
Broccoli – 25-35 minutes
Cauliflower – 25-35 minutes
Brussels Sprouts – 25-35 minutes
Cabbage – 25-35 minutes
Bell Peppers – 25-35 minutes
Onions – 25-35 minutes
Zucchini – 15-25 minutes
Summer Squash – 15-25 minutes
Asparagus – 15-25 minutes
Snow Peas – 15-25 minutes
Can I roast more than one type of vegetable at the same time?
Yes! If you want to roast root vegetables at the same time as cruciferous vegetables, for example, we'd recommend giving the root veggies a 10-minute head start in the oven, then adding the rest of the veggies to the tray to continue to roast. You can also get around this by doing what we did in the recipe below and cutting the root veggies into smaller pieces so that they roast more quickly!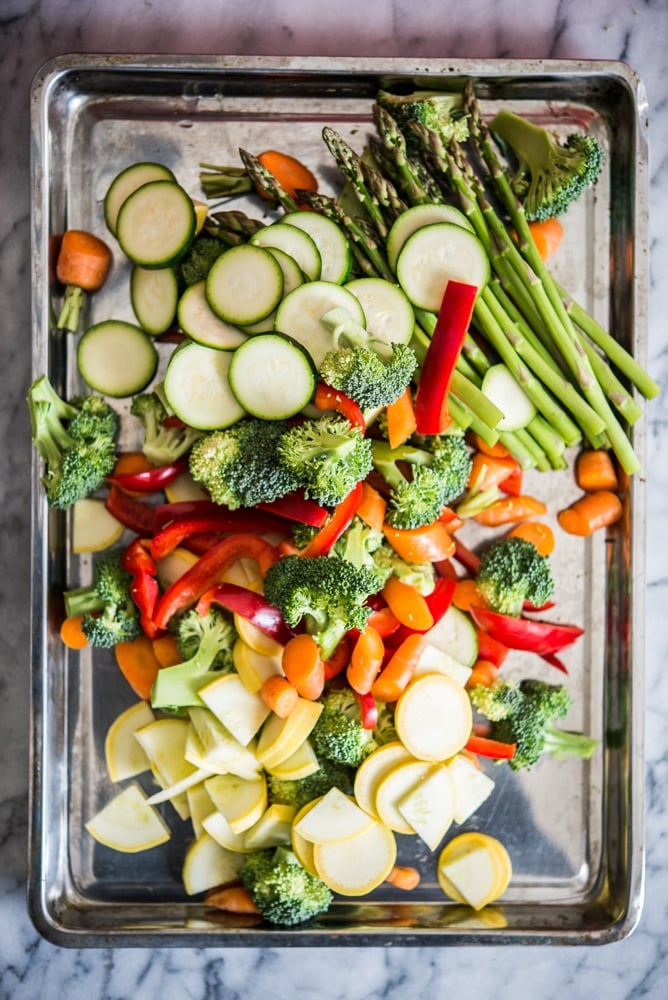 How to Make the Best Roasted Vegetables
Knowing how long to roast your vegetables and what temperature to roast them at is half the battle, but here are a few other tips for perfect veggies:
Use good oil. This is a place where you don't want to skimp on oil, because you'll wind up with dry veggies, but you also don't want to go overboard and wind up with greasy, soggy vegetables. I use around 2 teaspoons to 1 tablespoon per pound of vegetables. I like to use a good-quality olive oil like this one for added flavor, or you can go with a lighter-tasting avocado oil like this one.
Use a nonstick pan. Here we've used these non-stick stainless steel pans, but you can also line a pan with parchment paper. This prevents the vegetables from sticking so you don't lose the crispy parts when you take them off of the pan.
Don't crowd the pan. Make sure your vegetables have plenty of room on the pan. If you have them overlapping they will begin to steam and won't crisp up the same way they will when given plenty of room!
Make sure you season them well. Salt and pepper go a long way to making yummy roasted vegetables, but additional herbs, spices, garlic, and a squeeze of lemon at the end can really take your veggies to the next level. You can even do a fun twist like this buffalo roasted broccoli or these garam masala roasted carrots!
Keep a close eye on the veggies as they cook. Set your timer for the lower expected roasting time, then keep a close eye on the veggies after it goes off – they can quickly turn from not done to burnt!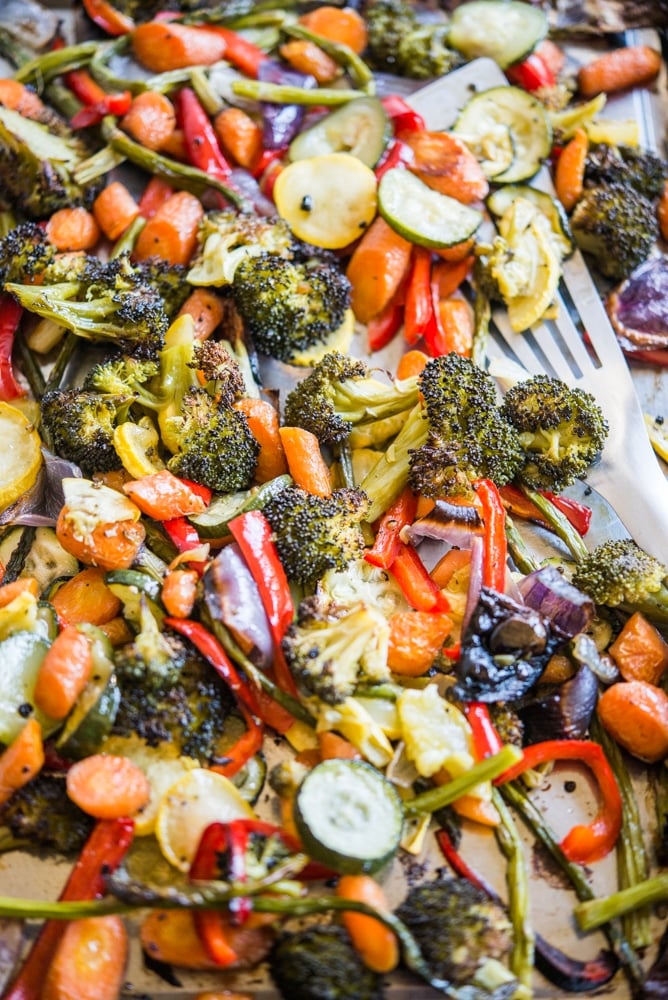 There you have it, all of our best tips for making perfect roasted vegetables! These make a perfect side dish for any meal, and are perfect to make a big batch of on Sundays so that you can reheat them and enjoy throughout the week.
More Favorite Vegetable Sides
Perfect Oven Roasted Vegetables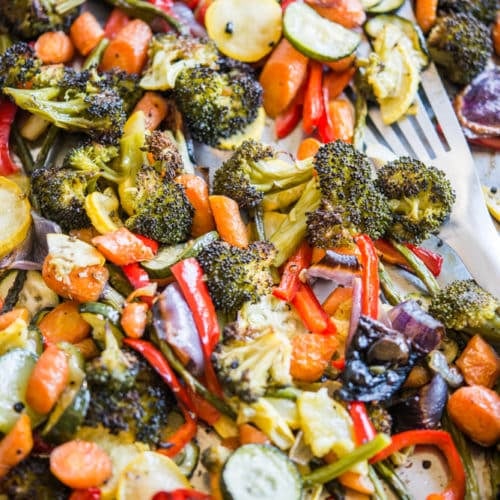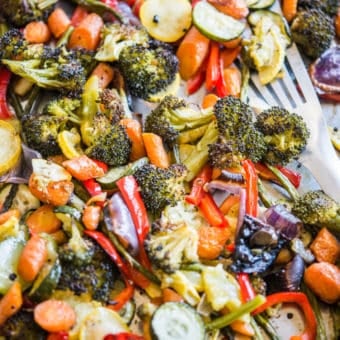 Follow these instructions for perfect roasted vegetables every time!
Ingredients
1

tablespoon

extra virgin olive oil

1/2

teaspoon

coarse sea salt

1

red bell pepper

sliced

1

zucchini

sliced

1

yellow squash

sliced

1

bunch broccoli

cut into florets

2

carrots

thinly sliced into coins

1

red onion

cut into one inch pieces
Instructions
Preheat the oven to 400°F.

Place the vegetables on a sheet pan and toss with 1 tablespoon olive oil and bake for 30-35 minutes, until the vegetables are browned. Eat immediately or store in the refrigerator for later use.

To reheat: either microwave for 45 seconds to 1 minute, or reheat in a 400°F oven for 7-10 minutes, until re-crisped.
Nutrition
Calories:
104
kcal
|
Carbohydrates:
16
g
|
Protein:
5
g
|
Fat:
4
g
|
Saturated Fat:
1
g
|
Polyunsaturated Fat:
1
g
|
Monounsaturated Fat:
2
g
|
Sodium:
295
mg
|
Potassium:
750
mg
|
Fiber:
6
g
|
Sugar:
7
g
|
Vitamin A:
5736
IU
|
Vitamin C:
156
mg
|
Calcium:
84
mg
|
Iron:
1
mg