Instant Pot Chicken Tikka Masala
jump to recipe
This Instant Pot Chicken Tikka Masala comes together quickly, but is packed with flavor, making it the perfect weeknight meal! We'll also show you how to meal prep it for your freezer, so you have dinner on hand whenever you need it.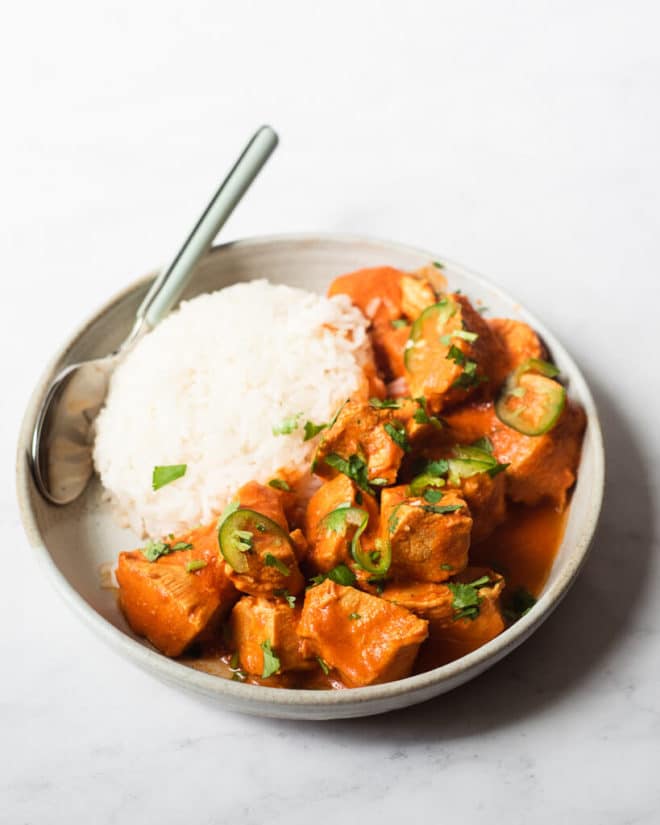 Chicken Tikka Masala remains one of the most popular recipes from my first cook book, and for good reason! The combination of the warm Indian spices, bright acidity from the tomatoes and lime juice, and creaminess from the added coconut milk have me returning to this dish again and again. Today though, we've simplified this Instant Pot chicken tikka masala to make it an even easier weeknight dinner that can also be prepped in advance for your freezer!
How to Make Freezer Meals
While we've talked before about freezing leftovers, today we're going to detail how to make meals that can be frozen, then cooked from frozen in your Instant Pot so that you have a fresh dinner for the family ready in minutes! If you don't have an Instant Pot, you can also defrost the meal and then cook it in your slow cooker instead. Here are a few reasons we love this particular freezer method:
It makes for a quick prep! It's easy to double or triple this recipe and use it to stock your freezer quickly, so you aren't spending your entire day making meals.
It is a great method for when you know you're going to need a few weeks of meals on hand, like maternity leave, preparing for surgery, or stocking meals for your family when you're going to be traveling.
You get fresh meals. One of the most common questions we've gotten about freezing foods is that you're worried the food won't taste fresh. This method resolves that problem since you are cooking the food after it is frozen.
It saves space! Depending on how you store them, these meals take up much less space in your freezer than individual frozen meals would.
Best Tools for Freezer Meals
Appliances
Instant Pot – This gadget can take food from frozen to cooked in less than an hour. Depending on the model, you can make anything from soups to stews, roasts, rice, yogurt, and more! This is our recommended appliance for these freezer meals because you are able to cook from frozen.
Slow Cooker – If you don't have an Instant Pot, a slow cooker can also get the job done! You can't place frozen food in the slow cooker due to food safety concerns, but you can defrost it overnight then place it in the slow cooker in the morning instead.
Food Storage Containers
Gallon sized plastic freezer storage bags
Round glass storage containers with lids – if you want to avoid plastic, these are the way to go! We recommend round so that the content can easily fit into your Instant Pot or slow cooker if frozen. Note that you will have to split up your servings if you're unable to find a gallon sized glass container.
Additional Tools
Labels and a sharpie – It is SO important to label things before you put them in the freezer! This will help you identify what the food is and help you make sure you eat it by its expiration date.
Vacuum Sealer (plus wrap and accessories) – though it can be pricey, using a vacuum sealer can be a great investment if you plan on incorporating freezer meals into your normal routine! It significantly improves the shelf life of your meals by removing air and condensation from your bags and eliminating freezer burn!
Baggy Stands – a really nifty contraption that will allow you to have your bags upright all together for easy assembly line prep
How to Assemble Freezer Meals
Now that you've got all your tools in place, it's time to assemble your Instant Pot chicken tikka masala! When you assemble your meals, you'll want to think about the order you'd place the ingredients in your Instant Pot or Slow Cooker. For example, if you were making this tikka masala in an Instant Pot, you'd put your chicken in first and then cover it with sauce, so, you'll fill your bag in reverse order. You'll simply whisk together the sauce ingredients, pour them into your bag or glass container, then top with chicken.
Next, you'll label your container with a date and the name of the recipe. You can do this by either writing directly on the container with a Sharpie, with labels, or you can write on a sticky note and tape it to the container. Then you'll just place in the freezer until you're ready to cook! Note: if you're freezing in Ziploc bags, laying the bag down on a piece of cardboard and freezing flat will help you save the most space. Also, if you are freezing multiple bags of food, placing cardboard in between the bags can help keep them from sticking together.
How to Cook Freezer Meals
Instant Pot Method
Once you're ready to cook your chicken tikka masala, you'll simply place it in your Instant Pot, seal it, and set it to cook for 25 minutes! If you can't get the food out of your glass container, or if you've used a Ziploc bag (meaning the contents won't fit in your Instant Pot frozen) you can let it thaw on the counter for 30 minutes or run it under hot water until it releases from the container.
Fun fact – you actually don't have to increase the cook time when you are converting Instant Pot recipes to freezer meals! Instead, know that the time it takes for your Instant Pot to come to pressure will double as it defrosts the food.
Slow Cooker Method
The slow cooker method for cooking freezer meals has one extra step – fully defrosting the meal before you cook it. Since the slow cooker cooks at such a low temperature, placing frozen meat in it allows the meat to spend too much time in the bacteria "danger zone" so to speak, so it's best to make sure you thaw before you cook! A great way to do this is to leave a bowl of water in your refrigerator and place a bagged meal in it overnight to defrost. If you've used a glass container to make your meal, leave it in the refrigerator for 24 hours to fully defrost, then place in the slow cooker when you're ready!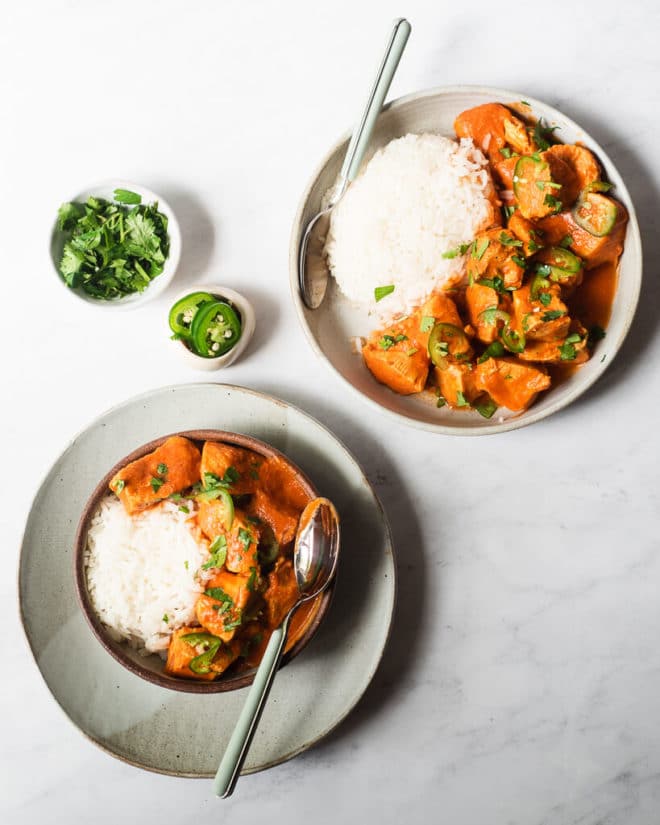 We hope that you enjoyed this freezer tutorial for Instant Pot Chicken Tikka Masala!
Print
Instant Pot Tikka Masala
For a fast spin on weeknight takeout, this Instant Pot Chicken Tikka Masala is a great new recipe for your rotation!
Author:
Prep Time:

00:15

Cook Time:

00:25

Total Time:

40 minutes

Yield: Serves

4

1

x
For the freezer pack:
Day-Of:
3 tablespoons

fresh lime juice (about

1 ½

limes)
White rice or cauliflower rice, for serving
Fresh chopped cilantro, for garnish
Fresh sliced jalapeno, for garnish
Instructions
Whisk together the tomato paste, tomato sauce, coconut milk, and spices, then pour into a freezer-safe container or Ziploc bag. Add the chicken to the bag and freeze.
To cook in the Instant Pot: place the frozen Tikka Masala in the Instant Pot then set to "meat/stew" and adjust the time to cook for 25 minutes*. Once the timer goes off, release the pressure on the Instant Pot, then stir in the lime juice. Serve over white rice and garnish with cilantro and jalapeno and serve!
To cook in the Slow Cooker: fully defrost the Tikka Masala either in the refrigerator overnight or in lukewarm water for 3-4 hours, then add to the slow cooker, once fully defrosted, and cook on high for 4 hours or low for 8 hours. Serve over white rice or cauliflower rice and garnish with cilantro and jalapeno and serve!
Notes
For the Instant Pot Method: If you can't get the chicken out of the container immediately, run it under hot water until the food releases. If you've stored the chicken in a Ziploc bag, let it sit in lukewarm water for about 30 minutes, until it is slightly defrosted and able to fit into the Instant Pot.