Paleo Chicken Tetrazzini features zucchini noodles, a creamy, but dairy-free sauce, and a grain-free almond flour crumble in place of traditional breadcrumbs!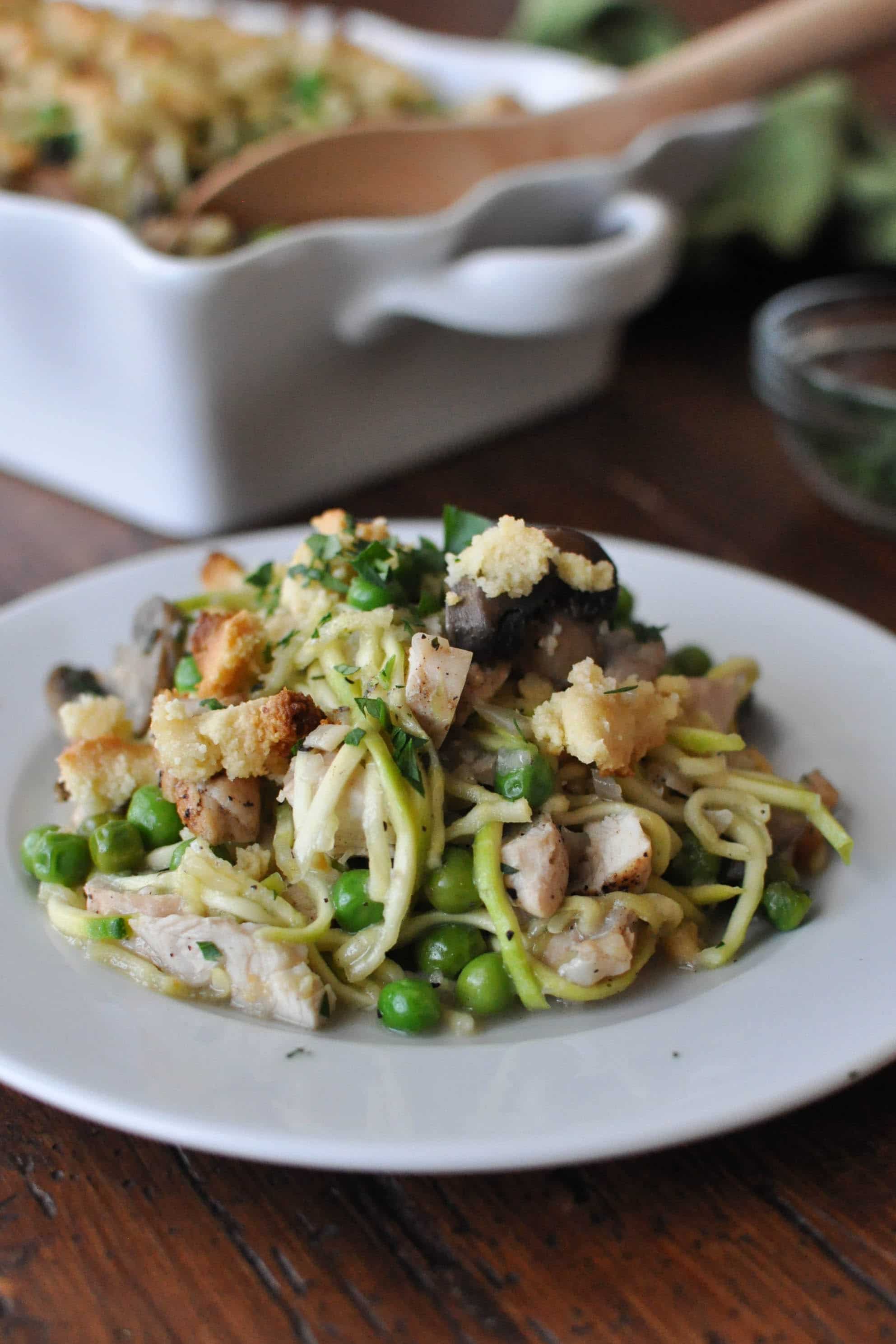 I'm always on the prowl for favorite food remakes! I ask every person I know, "what is the one unhealthy dish you can't live without?" A few months ago, my friend Sherin (who's married to Austin's older brother) told me that her husband LOVES Chicken Tetrazzini.
While she wasn't necessarily fishing for a Paleo remake, I put it in my mental recipe queue. A delicious, healthful, comforting, kid-friendly, enough food to feed an army dish is right up my alley!
When my friend Carol over at Ditch the Wheat invited me to develop a recipe for her readers, I knew it'd be the perfect opportunity to unveil my wheat-free, family-favorite casserole.
Find the recipe and the rest of my write up over on her site. If you give it a try, I'd love to know what you think!
In the meantime, here are a few teaser shots …
The recipe starts with zucchini …lots of zucchini. I recommend you peel away the green skin before turning into noodles, especially if you're trying to fool picky eaters.
If you don't have a spiral slicer, you can grab one here! Next to my coffee maker, it's my favorite kitchen toy.
The mushroom, thyme, butter, and coconut sauce is d.r.e.a.m.y.
Look at that chicken! We're not messing around with these flavors.
Sometimes I feel like a sports commentator for food. I love my job.
Mix the noodles, sauce, and chicken together.
Because traditional Chicken Tetrazzini has a breadcrumb topping, we're going to whip up our own out of crumbled almond meal and grass-fed butter.
It all comes together in the oven!
You're going to love it.
I loved it so much, I made 2 extra casseroles to keep in the freezer for those nights when I work too late but still want something healthy and homemade.
Find the full recipe here.