This healthy Kung Pao Chicken is sticky, spicy, sweet and a better-for-you alternative to takeout! It comes together in a few very simple steps.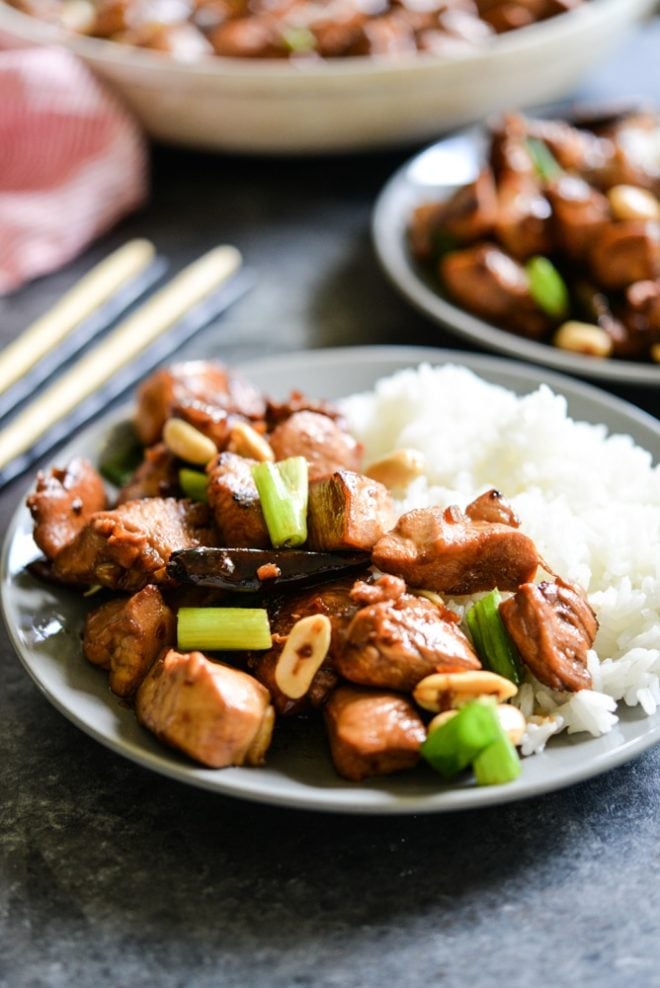 Let's have a quick, honest conversation about Chinese takeout. There are times when it sounds like a REALLY good idea to me! These times are usually when I'm exhausted after a long day, tired of the food I've been eating, and really looking forward to at least one easy button. To sweeten the deal even further, a takeout menu means that everyone gets to order exactly what they want! I know that I'll soon have a room of happy campers …at least, at first. Then, the next morning, the Chinese takeout regret starts to set in. Mine usually takes the form of a bloated belly and slight headache (I'm extremely sensitive to wheat gluten and especially sensitive to MSG).
While sifting through my baggiest shirts and most flowy dresses, battling my headache with peppermint oil, I think, "dang you delicious Chinese takeout!" My family LOVES Chinese food and, as a compromise, I resolved to design easy homemade versions of our favorites. EASY is important because, we usually want Chinese food when we also DON'T want to spend a lot of time/energy in the kitchen.
I started this adventure with Paleo Mongolian Beef, my husband's favorite, and now we're moving onto one of my favorites: Healthy Kung Pao Chicken.
Worth noting: the Mongolian Beef takes a little while longer to prepare than this Kung Pao Chicken because I really wanted to nail that authentic texture.
This healthy Kung Pao Chicken, however, comes together in NO TIME. Seriously. I also bet you have most of the ingredients already on hand. The recipe starts off with cubed chicken sitting in a simple marinade of coconut aminos, red wine vinegar, a dash of fish sauce, lime juice, and sea salt. Let the chicken infuse with the flavors while you get to work on the "pao" of the Paleo Kung Pao Chicken. The "pao" is derived from some dried red chili peppers cooked in oil. Because we're dealing with high heat, I recommend either avocado oil or ghee. Once the peppers are slightly browned, transfer them to a separate bowl and get started on searing your chicken! The dish will be finished as soon as the chicken is finished cooking. The size of the batch you're making will decide how long it takes to finish dinner. I LOVE leftovers (especially Chinese food leftovers), so I like to make this dish with about 3 to 4 pounds of chicken (took me a grand total of 15 minutes). Fresh garlic is added to the saute, additional oil is drizzled in as needed, and the chicken cooks quickly. Once all batches are finished (it's important to work in batches so that you get a good sear on the chicken, vs. steam them), toss all cooked pieces back in the pan and stir with the final ingredients (including honey and sesame oil).
Though NOT strict Paleo, I liked to add a handful of peanuts (to keep the dish as true as possible) and serve it next to a spoon of white rice.
Note: for more information on why I choose white rice over brown rice, give my podcast episode on the topic a listen!
I hope you enjoy this dish and that it helps to solve your Chinese takeout cravings in a healthier, more homemade way!
This Kung Pao chicken tastes just like your favorite takeout, but with better-for-you ingredients!
Ingredients
For the marinade:
1 1/2

pounds

chicken breast

cut into 1/2 inch cubes

1/2

cup

coconut aminos

2

tablespoons

lime juice

2

tablespoons

red wine vinegar

1

teaspoon

fish sauce

1/2

teaspoon

sea salt
To cook and finish the dish:
2 to 4

tablespoons

avocado oil or ghee

add more as needed to finish cooing

8 to 10

dried chili peppers

4

cloves

garlic

minced

2

tablespoons

honey

omit for Whole 30 and low carb

1/2

teaspoon

sesame oil

1/4

cup

peanuts

omit or sub cashews for Whole 30 and Paleo

1/4

cup

chopped green onion
Instructions
Place the chicken in a large bowl and stir with the rest of the marinade ingredients. Let sit for at least 10 minutes.

In a large saute or frying pan, heat 2 tablespoons of the oil over high heat. Add the chili peppers and saute for 2 to 3 minutes, or until fragrant. Move the peppers to a separate bowl with a slotted spoon and set aside.

Spoon the chicken pieces (discarding the marinade) into the hot pan, working in batches so that no two pieces touch each other. Add the garlic and sear the chicken on 2 to 3 sides until just slightly browned, for about 3 minutes. Spoon the finished chicken to a separate bowl and repeat for the rest of the batch. If needed, add more oil to the pan to continue cooking.

Once the chicken is finished, return the whole cooked batch back to the pan with the chili peppers. Add the honey, sesame oil, peanuts, and green onions. Stir to combine, taste for any additional seasoning, and enjoy!
Nutrition
Calories:
388
kcal
|
Carbohydrates:
19
g
|
Protein:
39
g
|
Fat:
17
g
|
Saturated Fat:
3
g
|
Polyunsaturated Fat:
3
g
|
Monounsaturated Fat:
8
g
|
Trans Fat:
0.02
g
|
Cholesterol:
109
mg
|
Sodium:
1289
mg
|
Potassium:
767
mg
|
Fiber:
1
g
|
Sugar:
9
g
|
Vitamin A:
382
IU
|
Vitamin C:
7
mg
|
Calcium:
32
mg
|
Iron:
1
mg