Today we are tackling the debate of brown rice vs. white rice. If you've researched this topic before, you've likely found many disagreeing articles diving deep into which is better and why. Today, we want to highlight some of the reasons for the debate and how to apply these thoughts to what works best for you!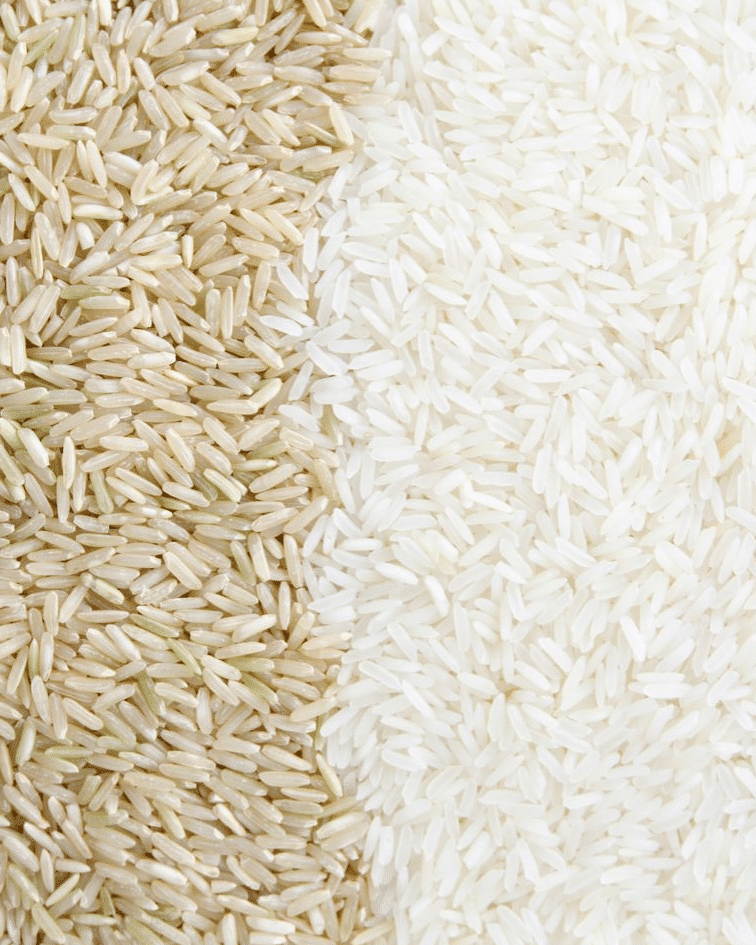 What's the difference between brown rice and white rice?
First, let's talk about the components of rice. There are 4 parts to rice: the hull or the husk (the outermost layer), the bran, the germ, and the endosperm (the innermost layer). Here's what makes the two types of rice different:
Brown rice is considered a whole grain; meaning it contains all parts of the rice grain. Processed brown rice likely has the hull/husk removed, but still contains the bran, germ, and endosperm, which is what gives it its yummy, nutty flavor. With the majority of the parts of the grain intact, all of the original nutrients of the grain are available.
For white rice, the outer layers of the grain (the germ and the bran) have been removed, leaving only the endosperm – AKA the little white grain of rice.
Is brown rice healthy?
Brown rice is often seen as a healthier option than white rice because it is a whole grain with more fiber so the sugar in it is absorbed more slowly into the bloodstream. If you are having trouble balancing blood sugar, then brown rice may be a better option for you than white rice.
Is white rice healthy?
White rice is rice that has gone through the process of polishing, which removes the outer layers of grain and leaves only the endosperm. You'll often find white rice with many different names, including long and short grain white rice, sushi or sticky rice, jasmine rice, and basmati rice. It has a higher glycemic index than brown rice, so it may not be a great choice for you if you are struggling with balancing your blood sugar. On the other hand, white rice is a bit easier to digest, so if you are having trouble with digestion, white rice could be the better choice for you.
Nutrition Comparison
The nutrition composition of brown rice versus white rice is very similar when it comes to protein, fat and carbohydrate content.
Brown Rice Nutrition (long-grain – one serving – 1 cup cooked):
Calories – 216
Fat – 1.8g
Total Carbohydrates – 45g
Fiber – 3.5g
Sugar – 0.7g
Protein – 5g
Calcium – 2%
Iron – 4%
Vitamin B6 – 15%
Magnesium – 21%
White Rice Nutrition (long-grain – one serving – 1 cup cooked):
Calories – 206
Fat – 0.4g
Total Carbohydrates – 45g
Fiber – 0.6g
Sugar – 0.1g
Protein – 4.3g
Calcium – 1%
Iron – 1%
Vitamin B6 – 5%
Magnesium – 4%
However, there are some key differences in the nutrient composition between brown and white rice; these differences are the fuel for the debate of which is better. Brown rice is known to be higher in fiber and is a good source of magnesium, and higher in B vitamins, folic acid, and iron than white rice. The majority of the fiber and nutrients in rice are actually found in the germ and in the bran, which is why white rice contains less fiber and nutrients.
So, is brown rice healthier than white rice?
Given the nutrition facts above, you may jump to the conclusion that brown rice is healthier than white rice, but there are a few different things to discuss on this matter before you decide which option is healthiest for you.
What's the difference between whole and refined grains?
Brown rice is considered a whole grain since none of the grain has been removed, while white rice is considered a refined grain and during the milling process it is stripped down to just the white endosperm portion of the grain. Overall, whole grains have more fiber and essential nutrients and are closer to the original form of the grain compared to refined grains — which is a bonus! However, while there is more fiber in brown rice, the ease in the digestion of certain grain-based fibers can be difficult to navigate, which can leave the question – "is it really better?". If we are getting a large majority of our fiber from grain-based fibers alone (think cereal for breakfast, breads/crackers/etc. for lunch, and pasta for dinner), for some people, it can be harder on the gut. White rice, due to the lower fiber content, is easier to digest and for some people with any digestive issues or gut issues, it may be a better option.
Phytates
You've probably heard the words antinutrients, phytates, or phytic acid. Antinutrients are exactly as they sound: compounds that bind the nutrients in the body and prevent their absorption (1). The degree to which antinutrients affect our nutrition is still being studied and isn't super clear yet. Phytic acid is an antinutrient found in brown rice and brown rice may cause more harm than good during that meal due to the antinutrient activity of preventing the absorption of nutrients consumed with that meal. Phytic acid specifically has been shown to decrease absorption with magnesium, calcium, iron, and zinc (2). However, to muddy the water even further, phytic acid may have some health benefits as it is an antioxidant and it may be somewhat protective against certain cancers (3). Of course, the amount of brown rice you are eating is also an important factor here – the occasional bowl of brown rice is unlikely to cause any long term impact!
How much arsenic is in rice?
Arsenic is a known compound that is found in a lot of rice – this may or may not be new news to you. Either way, it is worth discussing. Arsenic is found naturally as part of the minerals in the earth's crust and also found in fertilizers which then end up in the soil and in water. Rice more readily absorbs arsenic compared to other grains (4). Arsenic is a known toxin. We know that high levels of arsenic intake over many years can increase the risk of several health problems including different types of cancer, heart disease, and high blood pressure (5). Brown rice is known to have higher levels of arsenic than white rice (4). However, both white and brown rice are known to contain some level of arsenic. Another area to consider is rice-based products. Since rice is gluten-free, many gluten-free products have been made with rice as their base. Therefore, this should make us consider how much arsenic we actually are consuming when we factor in other rice products we consume often (think pasta, crackers, milk, etc.).
Impact on Blood Sugar
The way brown rice and white rice impact blood sugar is largely different. To compare the impact of brown and white rice on blood sugar, we use a tool called the glycemic index (GI). The glycemic index measures the effect of different carbohydrates on blood sugar immediately after consumption. A higher score equals a more rapid rise in blood sugar. White rice has a GI score of 89 and brown rice has a score of 55 (6), because the fiber present in brown rice helps the body to absorb the sugar more slowly. So, if you are diabetic or blood sugar is a concern to you, you may want to consider consuming brown rice more frequently than white. Brown rice may also be a better choice for those who are focused on weight loss, as keeping blood sugar balanced can help reduce your appetite and keep you full and energized for longer.
What about other types of rice?
Now that you have the low-down on white and brown rice, you may be wondering about other types of rice as well.
Wild Rice
Wild rice has been gaining popularity for its earthy, nutty flavor, beautiful appearance, and health benefits in recent years. Wild rice is actually an aquatic grass with an edible grain, and it is surrounded by a thick, black hull. In comparison to brown rice, wild rice is slightly higher in protein and fiber, and lower in carbohydrates. It is also a great source of magnesium, vitamin B6, folate, and manganese.
Black Rice
Black rice, or forbidden rice, has a black to deep purple color and is another great whole grain rice option. Its nutritional makeup is very similar to brown rice, but it packs the biggest antioxidant punch of all types of rice (11). Antioxidants protect cells by fighting free radicals, which can contribute to oxidative stress.
Red Rice
Red rice has a beautiful deep red color, and is similar in taste and nutrition to brown rice. Similar to black rice, what really sets red rice apart from the pack is its antioxidant content which includes anthocyanins apigenin, myricetin, and quercetin.
So… which rice is right for you?
After reading all of this, you may find yourself questioning- which is best for me? As you can see, there is a lot of back and forth between brown rice and white rice – the benefits and the potential negative aspects of each type. Deciding which one is best for you depends on your personal health goals, which one you like or enjoy eating more than the other and what makes sense for your life/lifestyle. Are you eating a lot of rice and rice products? Do you eat it on occasion? Which one do you like better? It's also important to look at how both products impact both your digestion and your blood sugar. Consider all of the information presented to you above and consider which one fits in best.
Regardless of which type of rice you decide to eat, we recommend making sure you pair it with some great heart-healthy fat and yummy protein to it to help balance out the meal to both increase the nutrients you are getting and help curb the blood sugar surge that can happen after eating either type rice; your overall diet is more impactful on your health than any one single food, so keep adding in that protein and fat! As this is a common trend, moderation is a key player in this debate – too much of either one (or really of anything) we know can likely be harmful than helpful.
Fed and Fit Podcast Episode 110: White Rice vs. Brown Rice
If you prefer to listen over read – check out this episode of the Fed and Fit Podcast!
Find us HERE on iTunes and be sure to "subscribe."

[powerpress]
Episode 110 Sponsors
Aaptiv – be sure to enter the promo code "FEDANDFIT" (one word, all caps) at checkout, and your first 30 days are on the house!
Fed + Fit Podcast #110 Transcript
References
McDonell, Kayla. "Brown vs White Rice — Which Is Better for Your Health?" Healthline, 2016, www.healthline.com/nutrition/brown-vs-white-rice.
"Are Anti-Nutrients Harmful?" The Nutrition Source, 16 Sept. 2019, www.hsph.harvard.edu/nutritionsource/anti-nutrients/.
Arnarson, Atil. "Phytic Acid 101: Everything You Need to Know." Healthline, 28 June 2018, (https://www.healthline.com/nutrition/phytic-acid-101#section5).
Consumer Reports. "How Much Arsenic Is in Your Rice?" Consumer Reports, 2014, www.consumerreports.org/cro/magazine/2015/01/how-much-arsenic-is-in-your-rice/index.htm.
Arnarson, Antil. "Arsenic in Rice: Should You Be Concerned?" Healthline, 2017, www.healthline.com/nutrition/arsenic-in-rice.
"Glycemic Index and Glycemic Load for 100+ Foods." Oregon State Extension Service, 2008, extension.oregonstate.edu/sites/default/files/documents/1/glycemicindex.pdf.
Greenwood, Darren C., et al. "Glycemic Index, Glycemic Load, Carbohydrates, and Type 2 Diabetes." Diabetes Care, American Diabetes Association, 1 Dec. 2013, care.diabetesjournals.org/content/36/12/4166.
Whelan, Corey, and Natalie Butler. "Brown Rice vs. White Rice: Which Is Better for You?" Healthline, Healthline Media, 10 July 2017, www.healthline.com/health/food-nutrition/brown-rice-vs-white-rice#takeaway.
Thomas, Liji. "Should We Eat Polished Rice?" News, 27 Feb. 2019, www.news-medical.net/health/Should-We-Eat-Polished-Rice.aspx.
Freuman, Tamara Duker. "No, You Don't Need to Avoid Anti-Nutrients." U.S. News & World Report, U.S. News & World Report, 2019, health.usnews.com/health-news/blogs/eat-run/articles/what-are-anti-nutrients-and-should-i-avoid-them
Ghasemzadeh, A., Karbalaii, M., Jaafar, H., & Rahmat, A. (2018, February 17). Phytochemical constituents, antioxidant activity, and antiproliferative properties of black, red, and brown rice bran. Retrieved July 22, 2020, from https://www.ncbi.nlm.nih.gov/pmc/articles/PMC5816734/