Slow Cooker Turkey Teriyaki Meatballs
jump to recipe
These Paleo Slow Cooker Turkey Teriyaki Meatballs are healthy, delicious, and so easy thanks to the slow-cooker!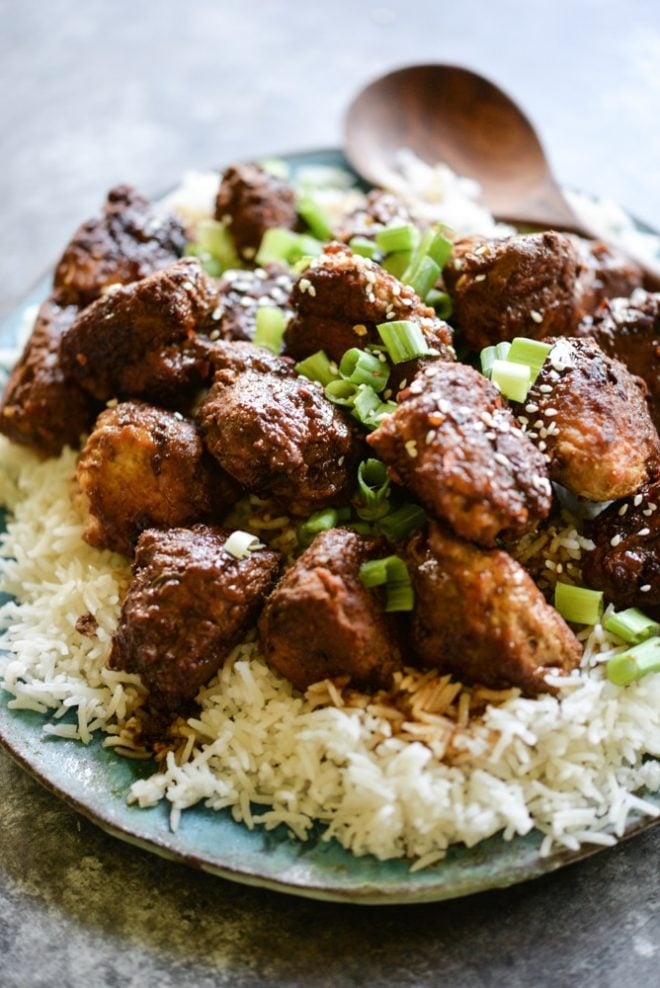 I am so excited to bring you this gem of a recipe. I try to make sure that I'm doing a good job of rotating through various kinds of proteins here on the blog. I like to make sure that in a single month, you'll see at least one beef recipe, one chicken, one pork, one seafood, and one "other." Of course, I double-down on a few of those (especially chicken), but the wide array of foods pleases my Nutritionist brain. I like to think of food as one giant multi-vitamin. Though it's great when you can build yourself a colorful plate, the different foods you enjoy across several weeks is also important. It's so easy to get stuck in a chicken, or a beef, or a pork rut. I know it's easy to get stuck in one and stay there, because I've done it! My hope is that by showcasing different proteins (and veggies) in totally different cuisines each week, it helps you stay inspired and un-bored in the kitchen. By rotating through different food groups, we really allow our bodies to take in what each unique food has to offer.
TODAY, we're diving headfirst into some turkey! While I do have a yummy (and easy) roasted turkey recipe coming your way for Thanksgiving this year, this recipe highlights *ground* turkey …which can be found pretty much anytime, all year long.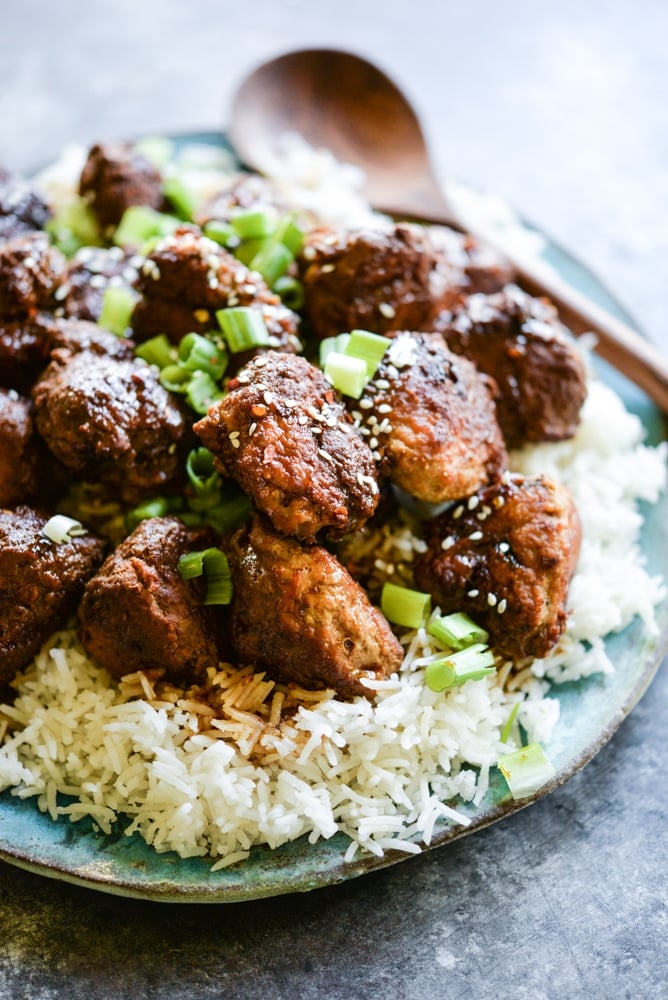 These slow cooker turkey teriyaki meatballs come together really easily! Simply smash your ground turkey with the rest of the big flavor ingredients. To smash, I recommend using your hands, they work better than any spoon I've ever encountered. If the thought of getting raw ground turkey under your fingernails freaks you out, put on a pair of housecleaning (aka. latex gloves) first. Once your turkey is well-combined, form them into about 2 tablespoon-sized balls. Melt hot oil in a large pan (or the base of your stovetop-friendly slow cooker) and start browning each meatball. This step is important because they turkey needs to be seared first for the texture to turn out in the end. It doesn't have to take long, just sear them until the balls really hold their shape. Transfer the meatballs to the slow cooker, pour over your teriyaki ingredients, and let that magical slow cooker do it's magic!
I recommend serving these slow cooker turkey teriyaki meatballs with either cauliflower rice or real-deal white rice.
Note to my fellow freezer-food lovers, this dish makes a GREAT freezer meal. Package up right with your rice, spoon on a little extra sauce, and enjoy within 5 months! For more of my tips on freezing foods, check out my podcast on the topic HERE. 
Print
Slow Cooker Turkey Teriyaki Meatballs
Author:
Prep Time:

20 minutes

Cook Time:

2 hours

Total Time:

2 hours 20 minutes

Yield:

8-10
Ingredients
For the Meatballs:
2

pounds ground turkey

1

inch ginger, peeled and grated

3

cloves garlic, finely minced

1/2

bunch green onion, thinly sliced, divided

1/2 teaspoon

sea salt

1/4 teaspoon

pepper

2 tablespoon

s ghee

1/2 teaspoon

white sesame seeds
For the Sauce:
1/2 cup

coconut aminos

1 tablespoon

honey (omit for Whole 30)

2 teaspoon

s rice vinegar

1 teaspoon

sesame oil

1/4 teaspoon

fish sauce

1/4 teaspoon

red pepper flakes
Instructions
In a large bowl, combine turkey, ginger, garlic, half of the green onions, salt, and pepper.
Form the ground turkey mixture into 2-inch balls.
In a large skillet or saute pan (or the base of your stovetop-friendly slow cooker), melt the ghee. Fry the meatballs for 2-3 minutes per side until browned, then transfer to slow cooker.
In a medium-sized bowl, whisk together all ingredients for sauce. Pour onto the meatballs.
Set slow cooker to high heat and let cook for two hours.
Garnish with sesame seeds and the remaining green onion.
Serve alongside cauliflower rice or simple white rice (basmati is my favorite).
Notes
Instant Pot Version:
Form your meatballs according to steps 1-2.
Now place your ghee into the Instant Pot bowl and press the Saute button. Place your meatballs gently in the hot ghee and saute them on all sides until they begin to brown. Shift them regularly or they may stick.
In a medium-sized bowl, whisk together all ingredients for sauce. Pour onto the meatballs and then secure the lid and manually set the time to cook for 5 minutes.
Allow the cooking cycle to complete and then quick release the pressure valve and remove the lid once safe to do so. Use a slotted spoon or skimmer to remove the meatballs and set them aside.
Serve as stated above!