These pesto meatballs are SO GOOD! They've got all of the delicious basil-y goodness of pesto but are made in meatball form for a delicious, easy, make-ahead-friendly dinner option!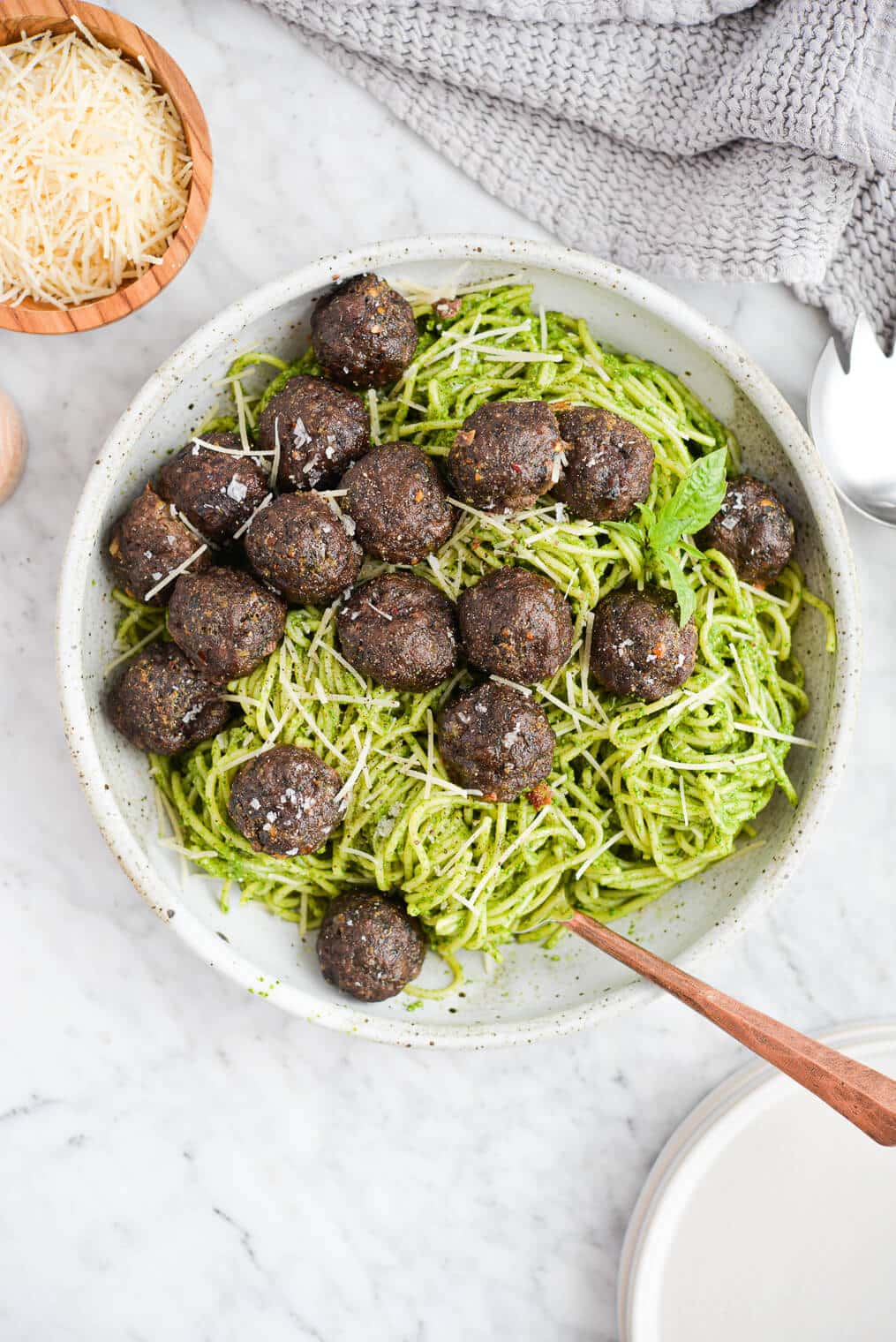 I LOVE THESE MEATBALLS! Not only are they filled with the delicious flavors of pesto, but they're also tiny, portable, and super versatile as meatballs tend to be! One of my favorite things about meatballs in general, though, is the fact that they are SUPER meal prep-friendly. Whip these delicious little morsels up on Sunday, and enjoy them all week long!
Our Favorite Ground Beef
We always opt for grass-fed and finished beef when we can, and here's why! Grass-fed and finished beef actually contains higher concentrations of ALL OF THE GOOD STUFF (omega-3 fatty acids, polyunsaturated fats, conjugated linoleic acid, vitamins, and minerals) than conventional beef. Conventional beef also tends to contain trace hormones, antibiotics, and pesticides, so going grass-fed ensures that we not only get more of the good stuff, but we also skip out on all of the bad stuff! For more about WHY we choose grass-fed beef, click HERE.
ButcherBox is our favorite source for high-quality grass-fed and finished beef. We love that ButcherBox delivers this quality meat straight to your doorstep so that you don't have to worry about finding it at your local grocery store (we know that can be tough!). Right now, when you sign up as a new ButcherBox member, you can get FREE ground beef for life! Sounds too good to be true, right? It isn't! With each future box, you'll receive 2 pounds of high-quality, grass-fed, grass-finished ground beef for the first year of your membership…SCORE! ButcherBox is our favorite way to get high-quality proteins because it is convenient, cost-effective, and we know we can trust their sourcing. We've used them for the majority of our monthly proteins for nearly 4 years here, and remain huge fans.
Get your free grass-fed ground beef HERE.
Ingredients
Add these ingredients to your shopping cart (virtual or literal!) so that you can bake these flavorful beef meatballs ASAP!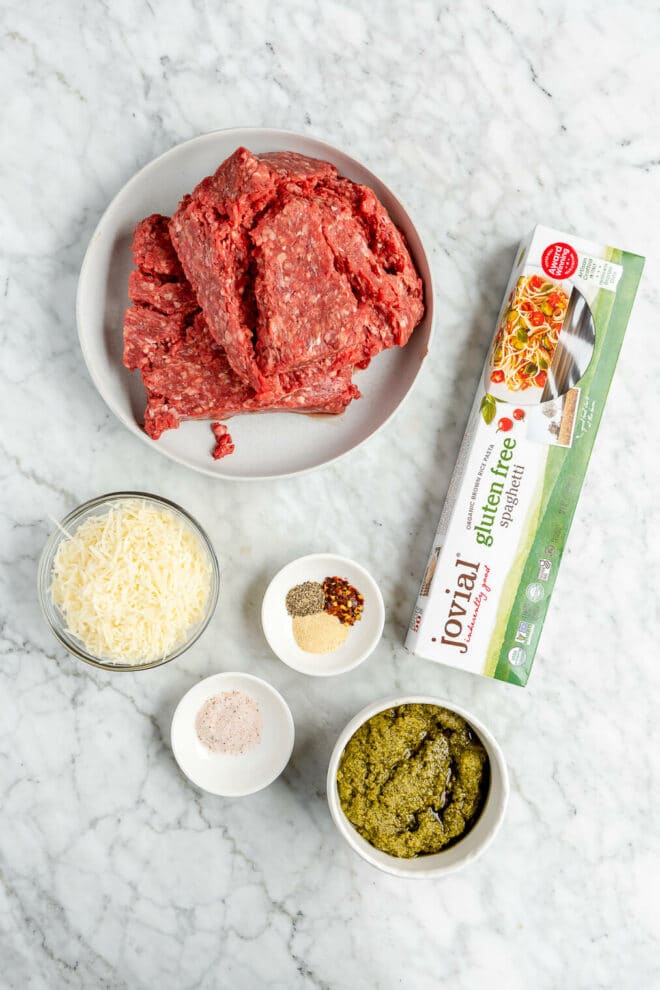 Ground Beef – you'll need 1½ pounds of ground beef here! If you'd like to round it to a nice even number, grab 3 pounds of ground beef and make a double batch of meatballs to freeze for later!
Pesto – a ½ cup of pesto (store-bought basil pesto or homemade) gives these meatballs their signature flavor. We LOVE this roasted garlic pesto and this spinach pesto (both are super easy to make), but if you're short on time, go with store-bought pesto!
Spices + Seasonings – a ½ teaspoon of garlic powder, 1 teaspoon salt, ¼ teaspoon of ground black pepper, and ¼ teaspoon of crushed red pepper flakes will go into the meat mixture also! Feel free to leave out the crushed red pepper flakes if spicy isn't your thing.
How to Make
These are EASY-PEASY, you guys! Here's how you'll whip up this family favorite:
Prep – preheat the oven to 400°F, and line a rimmed baking sheet with parchment paper.
Combine Ingredients – in a large mixing bowl, combine the ground beef, pesto, and seasonings with your hands until evenly distributed.
Form the Meatballs – shape the meatball mixture into 1-inch balls with your hands and place the meatballs in a single layer on a rimmed baking sheet.
Bake the Meatballs – bake the meatballs for 18 minutes, until browned, then remove from oven
Serve + Enjoy!
We hope you love this make-ahead, kid-friendly, easy weeknight meal – nothing beats a good, ground beef pesto meatball in my book!
How to Serve
Meatballs make for the perfect addition to SO MANY things. Our favorite way to enjoy these pesto meatballs is over your favorite pasta, rice, mashed potatoes, smashed potatoes, baked potatoes (okay, any potatoes, because potatoes are LIFE), or even over a simple green salad (hello, extra greens!), zucchini noodles, or roasted veggies for a low-carb option!
How to Store, Freeze, and Reheat
Meatballs freeze and reheat really well! I like to freeze a second batch of meatballs in a gallon-sized ziplock bag. To reheat, either pop them back on a sheet pan and bake them at 350°F or zap them in the microwave for a minute or two, until warmed through!
Frequently Asked Questions
Do I have to make my own pesto sauce?
Absolutely not! Because you're working with the freshest ingredients possible, homemade pesto tends to be even more flavorful than store-bought, but there are plenty of grocery store pestos that'll do the job beautifully! If you do want to go the homemade route, THIS roasted garlic pesto is super easy (essentially just olive oil, garlic, fresh basil, pine nuts, lemon juice, salt + pepper) and delicious. If you don't have time to roast your own garlic, check your local grocery store – many stores sell fresh, roasted garlic! If your grocery store doesn't have any, skip the roasting – it'll still be a delicious pesto!
Can I use ground turkey?
Sure – turkey meatballs would be great! We love the rich taste of beef, so that's why we went for that here, but you can absolutely swap an equal amount of ground turkey, ground chicken, or ground pork – use what you have or love most!
What does pesto taste like?
Pesto has a strong basil-forward, herby taste! My very favorite pestos are made with pine nuts, basil, and parmesan!
Can you eat pesto by itself?
Pesto is a pretty bold, healthy-fat-heavy sauce and isn't typically eaten by itself. It's delicious with pasta, proteins (chicken, beef, shrimp, etc.), and even slathered onto bread!
More Favorite Meatball Recipes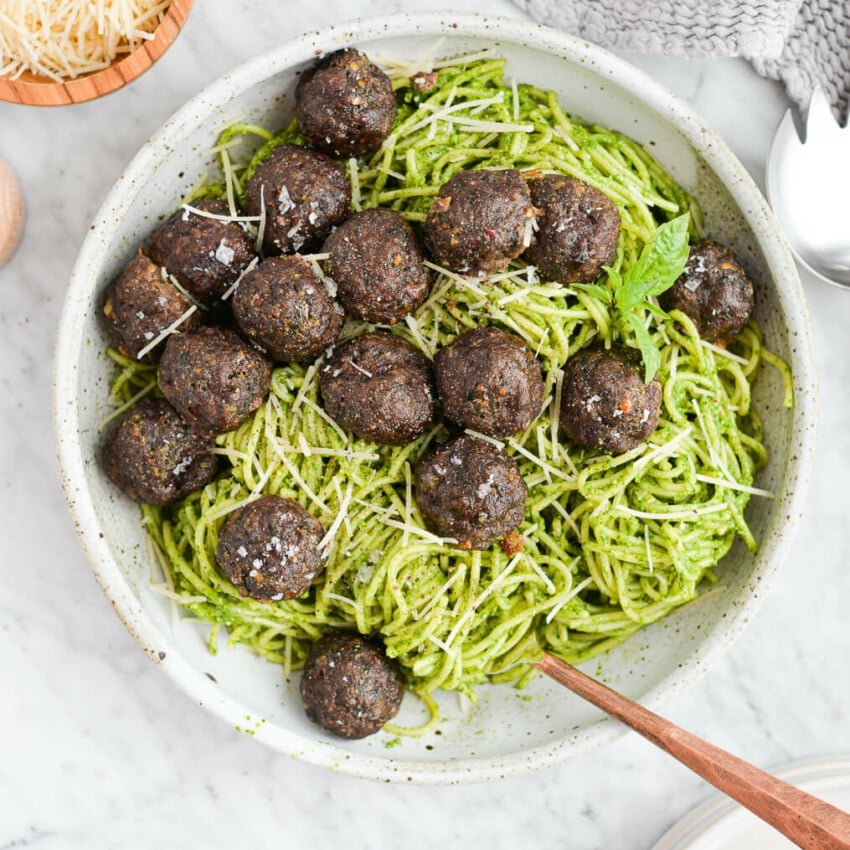 These pesto meatballs are filled with flavor and super easy to make – perfect for a weeknight meal!
Ingredients
1 1/2

pounds

ground beef

3/4

cup

pesto

store-bought or homemade, divided

1/2

teaspoon

garlic powder

1

teaspoon

sea salt

1/4

teaspoon

ground black pepper

1/4

teaspoon

crushed red pepper flakes

optional

12

ounces

spaghetti

Shredded parmesan cheese

for garnish
Instructions
Preheat the oven to 400 F.

In a large bowl, combine the ground beef, 1/2 cup of pesto, garlic powder, salt, pepper, and red pepper flakes with your hands until evenly distributed.

Shape the meat mixture into 1-inch balls with your hands and place the meatballs on a rimmed baking sheet.

Bake for 18 minutes, until browned, then remove from oven.

While the meatballs are in the oven, cook the pasta according to package instructions.

Toss pasta with the remaining 1/4 cup of pesto, then top with the meatballs and garnish with parmesan cheese.
Recipe Notes
Use our roasted garlic pesto for a dairy-free, Paleo pesto option
For a veggie-packed pesto, opt for our spinach pesto
For a low-carb, paleo option, use zucchini noodles or spaghetti squash in place of pasta
Nutrition
Calories:
212
kcal
|
Carbohydrates:
0.4
g
|
Protein:
37.8
g
|
Fat:
5.4
g
|
Saturated Fat:
2.7
g
|
Cholesterol:
102.6
mg
|
Sodium:
714.7
mg
|
Fiber:
0.1
g