With simple ingredients and big flavor, this Spicy Watermelon Salad is a delicious way to celebrate summer at your next friend or family gathering!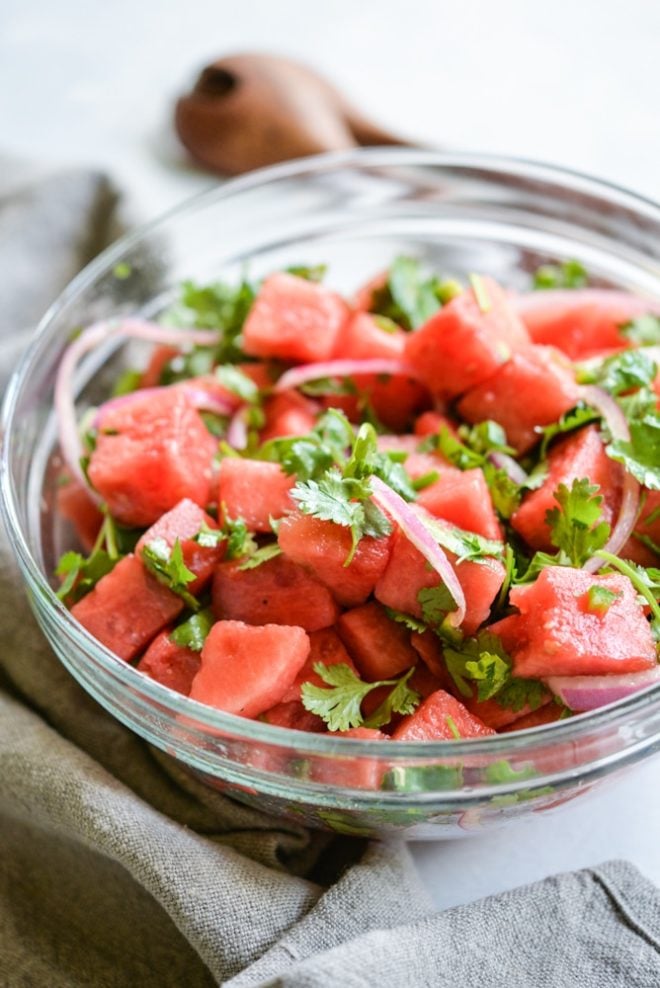 I am up, up, and away again! This week, I'm headed to Phoenix, AZ to meet up with my gal-pal Lexi Davidson (of Lexi's Clean Kitchen). The City of Phoenix is hosting us for a taste of the town! Between the hikes, museums, great food, spa visits, fabulous resorts, and (best of all) quality girl time, I cannot WAIT for this trip (I'm planning a full blog recap, too!). It started off on a bit of a hiccup, though …a getting to the airport kind of hiccup. I feel like it needs to be said that I am NOT someone who takes chances on airport timing. I always pack/shower the night before, pre-organize my travel documents (so they're easy to access), neatly place all my charger cords in a handy zipper bag, arrive early, smile, get through security with no stress, fill my water bottle after I'm by the gates, and settle in for some quality airport work. That is always my plan …but this morning did not go according to plan. I'm still baffled by it, actually. It usually takes us 25 minutes to get to the airport from our home in North San Antonio (at WORST 45 minutes, with traffic). So, I usually give it at least an hour. This morning was something special …I'm not sure if we just left at the exact wrong time or if there was a broadcast that instructed all San Antonians to leave their home when we did, but it took us over 2 hours. Time spent in those situations always seems to tick by more slowly. You don't know if you're going to make it or not and don't know if you should re-book yet. Though I STILL made it to the airport in time to walk onto my flight, I missed the window to check my giant bag (which had to bring because I have another trip right after this one). Bummer.
Luckily, a lovely lady at the American Airlines table walked me through ALL of my options …including the option to book on a completely different airline. Looking back on my morning, I can EASILY see how I could have been MUCH grumpier in the whole situation (don't worry, I was tempted). I could have easily thrown shade on my fellow San Antonio early morning commuters, been ugly to my sweet hubby, been expectant of favors by the airline, and been especially peeved when I forked over a generous amount of hard-earned dollars for my replacement ticket. It would have been SO easy …so MUCH easier, even, to indulge my frustration.
…but, I didn't.
Regardless of what I was feeling on the inside, I made it a point to outwardly thank my husband for HIS time and HIS patience, to smile at all the airport staffers, to celebrate when my replacement ticket was only $482 vs. the $483 price I'd seen online (a dollar saved is a dollar earned!), and to make the most of my additional airport time by phoning a dear friend.
I share this because the option to not indulge our irritation is ever present. Though it can be difficult to see the "overall-it's-not-that-bad" forest through the trees (especially on issues MUCH more significant than missing a simple flight), know that deep breaths and finding SOMETHING to feel thankful for can help you through the moment. I'm thankful for the quality time I got to spend with Austin this morning, thankful that my family is healthy, thankful for the helpful airline folks, thankful for this trip, and thankful that there is so much good in this world. BAM – my mood and my perspective are jolted right back into their most true form.
I get asked often about my outlook and wanted to share this process with you! It's not that I don't face challenging or upsetting circumstances (many are WAY more important than airline travel), but this method for managing MY reaction helps me hang on tight to my ultimate goal: feel all the things AND THEN be true to myself. Grumpy, irritated, entitled, and frustrated make me feel like I'm not myself …so, I try to avoid them.
I hope that's helpful.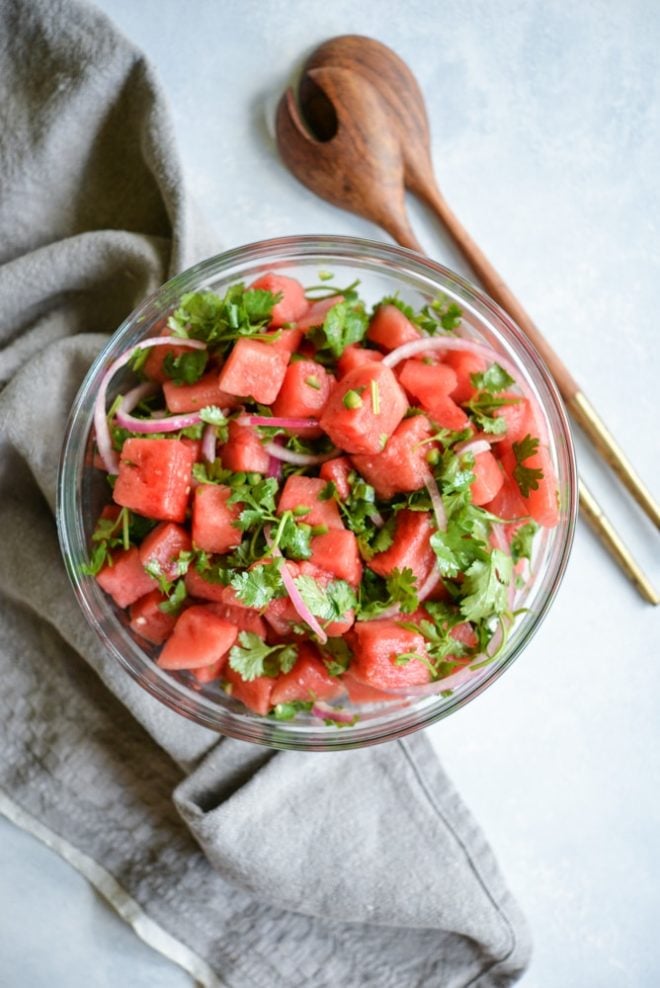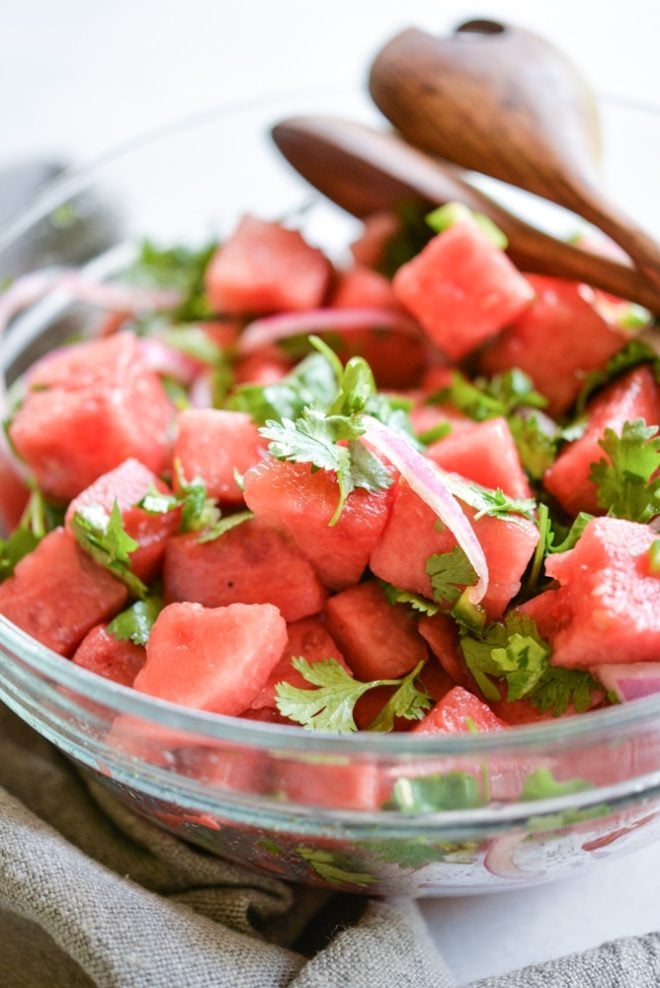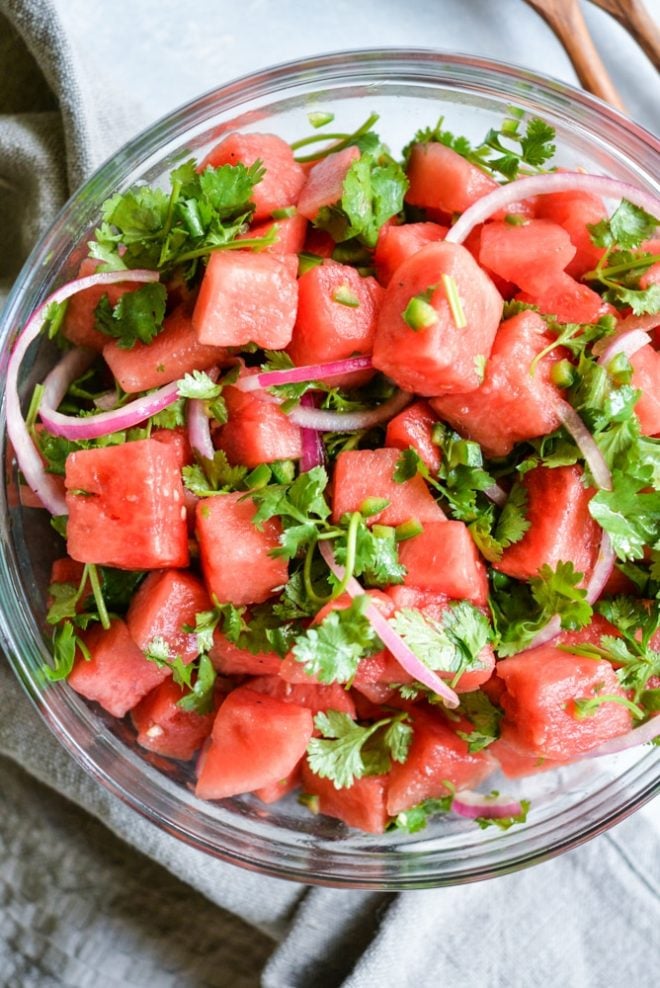 OKAY, shall we chat Spicy Watermelon Salad? Though I can almost feel Fall in the air, it's still most definitely Summer and watermelon is still most definitely in season. If you're like me and you want to enjoy the last of this fabulous Summer bounty, let's enjoy a big ol' Spicy Watermelon Salad! This salad is simple and delicious. It's a great EASY salad to serve at your next friend or family gathering! If you're sensitive to heat, feel free to omit the peppers. It'll still be delicious without them.
ALSO, if you don't have pickled onions on hand or don't want to make them, know that fresh purple onions work great, too.
I hope you enjoy this simple, tasty, healthy salad!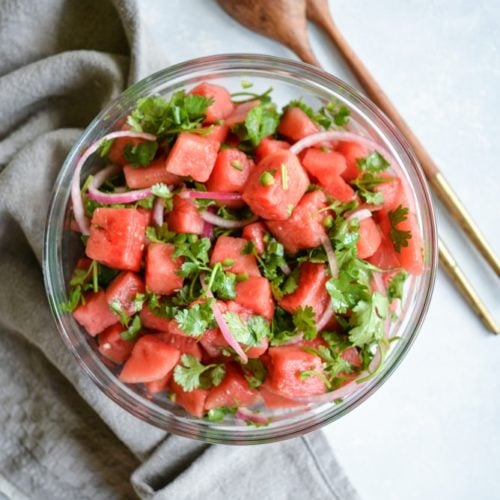 With simple ingredients and big flavor, this Spicy Watermelon Salad is a delicious way to celebrate summer at your next friend or family gathering!
Ingredients
1

small watermelon

3

Tablespoons

lime juice

2

Tablespoons

olive oil

2

small jalapenos

diced

1

bunch of cilantro

chopped (about 1 cup)

1/2

teaspoon

sea salt

1/4-1/2

cup

pickled onions
Instructions
Cut the watermelon into 1-inch cubes.

In a large bowl, whisk together lime juice and olive oil.

Add watermelon, jalapeno, cilantro, sea salt, and

pickled onions

to the bowl and mix until fully combined.
Nutrition
Calories:
273
kcal
|
Carbohydrates:
58
g
|
Protein:
5
g
|
Fat:
6
g
|
Saturated Fat:
1
g
|
Polyunsaturated Fat:
1
g
|
Monounsaturated Fat:
4
g
|
Sodium:
203
mg
|
Potassium:
880
mg
|
Fiber:
3
g
|
Sugar:
47
g
|
Vitamin A:
4429
IU
|
Vitamin C:
70
mg
|
Calcium:
57
mg
|
Iron:
2
mg