These 4-ingredient pickled onions come together in no time at all and can add a healthy punch of flavor to endless meal combinations!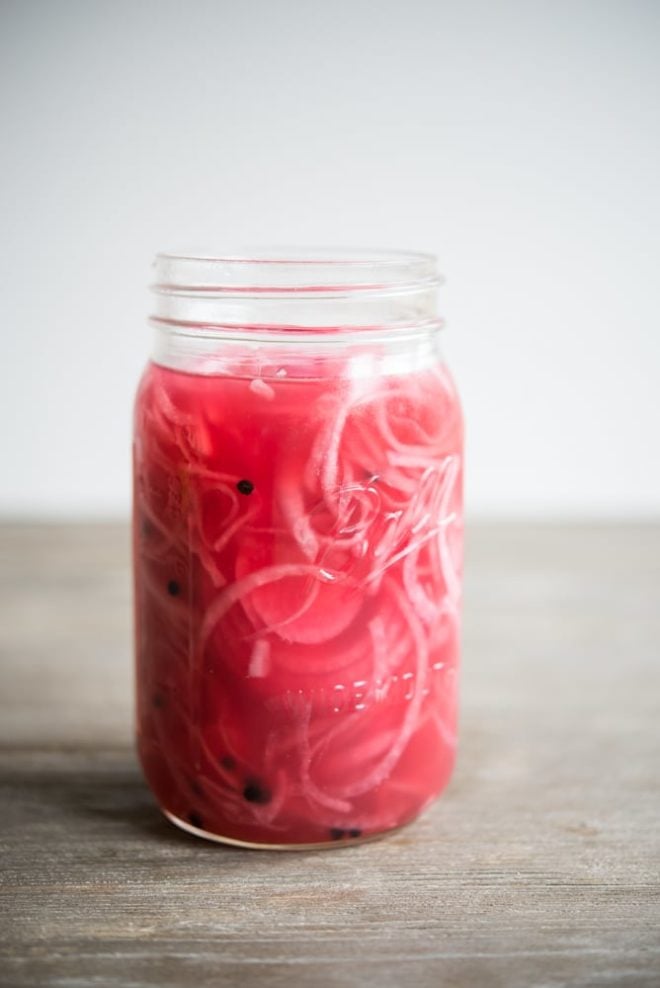 Confession: I made these pickled onions for this epic Corned Beef Breakfast Hash and HAD planned to just include this recipe with that post, but after this jar spent a week in my refrigerator and I kept finding ways to enjoy it with other meals, I knew it needed a dedicated post.
What do you eat with pickled onions, you ask? The options are endless! I personally love them over scrambled eggs, on top of an omelet, with homemade beef chili, over BBQ, on loaded carnitas nachos, over bbq pork pizza, and over an Instant Pot pot roast. Really, they're great on anything that could use an extra punch of flavor! Unlike cheese and sauces, these onions are a nutritionally benign and healthy condiment (right next to mustard!). I put them in the category of "enjoy as often as you like."
What do you need to make pickled onions?
One of the best things about making pickled onions is that the ingredients are super minimal and REALLY affordable. Here's what you'll need:
Red Onion – to start, you'll need to peel and thinly slice a red onion.
Apple Cider Vinegar – 1.5-2 cups of apple cider vinegar is responsible for the pickling here! You can absolutely use white or red wine vinegar if you'd prefer, or even a mix of vinegars.
Fine Sea Salt – in addition to the vinegar, you'll also want to add 2 teaspoons of fine sea salt to the mix.
Black Peppercorns – to finish everything off, you'll add a teaspoon of whole black peppercorns!
What is the best vinegar for pickling?
While you can definitely use white or red wine vinegar, we prefer using apple cider vinegar here. We've found that the flavor of apple cider vinegar is more mellow than other vinegars, so it lends to a more mellow pickled onion!
What are the best onions for pickled onions?
Red onions are the best onions for pickling because they have a milder flavor than yellow/white onions!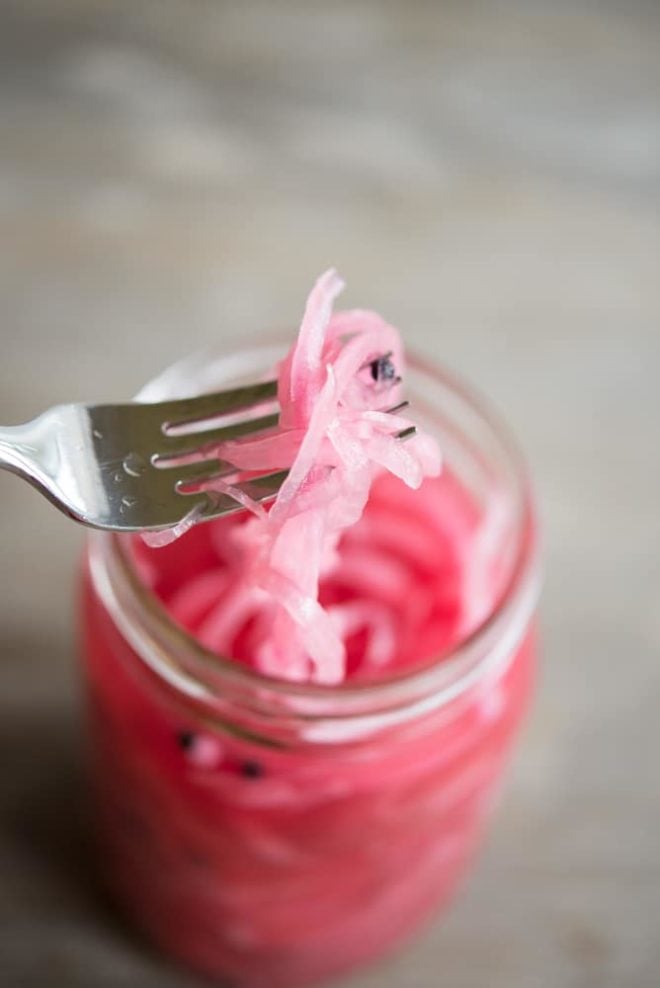 How to Make Pickled Red Onions
If the idea of pickling onions intimidates you at all, let me put your mind at ease: it's SIMPLE! You can pick from two different methods (based on how much time you have to wait for your onions to pickle). See both below!
Traditional Method (Easiest Method!)
While this method is the easiest of the two, it does require that you wait about a day for your onions to pickle.
Thinly slice the onion – to start, you'll simply need to thinly slice the onion (the thinner the better) and pop the sliced onion into a large mason jar.
Add the vinegar, salt, and peppercorns – pour the vinegar over top the onion, add the sea salt and peppercorns, top the jar with a lid, and give it a shake to help the ingredients combine.
Refrigerate – once everything is combined, stick the jar in the refrigerator to sit for at least a day (for optimal pickle flavor).
Quick Pickled Onion Method
This method requires more work to begin with, but requires a much shorter pickling period!
Boil the ingredients together – bring the onions, vinegar, salt, and pepper to boil over high heat.
Remove from heat + let sit – once boiling, remove from heat, then let sit at room temperature for 30 minutes. You can eat the onions immediately or transfer them to the refrigerator.
How long are the onions good for?
Your pickled onions will last for 2-3 weeks in the fridge. Our guess is that you'll eat them by then, though!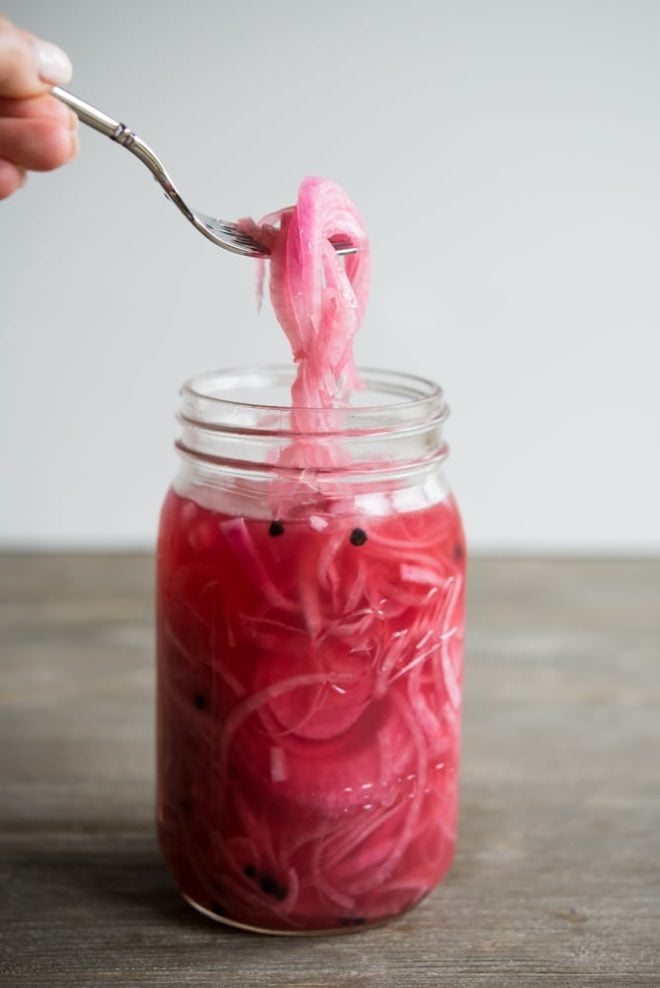 How to Use Pickled Red Onions
The possibilities are truly endless here! A few of our favorite ways to use pickled onions are…
Topping tacos – pickled onions are absolutely delicious over top shrimp tacos, BBQ chicken tacos, carnitas tacos, and even breakfast tacos!
In a slaw or salad – top your favorite salad (like this BBQ chicken cobb salad) with pickled onions, or add them to your favorite slaw!
As a burger or sandwich topper – traditional burgers like these beef sliders are really great topped with pickled onions, but not-so-traditional burgers (think: Paleo cheeseburger casserole and BBQ bacon burger loaded potatoes) are also the perfect vehicle for pickled onions!
In a hash – this recipe was originally created for our corned beef breakfast hash, but it would truly be delicious on ANY breakfast hash!
On a bowl – load a bowl up with veggies (raw or roasted), your favorite grain, and some form of protein (whether that be a plant-based protein like beans or an animal protein), and then top with pickled onions and a drizzle of your favorite sauce to finish.
Variations
This recipe is a really great standard pickled onion recipe, but you can definitely make some swaps to achieve slightly different flavors. Here are a few ideas to try:
Use different vinegars – swap the apple cider vinegar for white vinegar, red wine vinegar, champagne vinegar, or any other vinegar you love!
Add sugar – we chose to keep this recipe basic, but 2 tablespoons of white sugar or honey can help take a bit of the bite out of the onions.
Add Mexican spices – add 1 teaspoon of cumin seeds and ½ teaspoon oregano for a really fun Mexican-inspired twist on things.
Add Italian spices – add 1 tablespoon Italian seasoning and swap ¼ cup of the vinegar for red wine vinegar for an Italian spin on pickled onions.
Spicy – add a sliced jalapeno pepper in with the onions. This will give the onions a bit of a kick, and you'll have bonus pickled jalapeno peppers ready to use!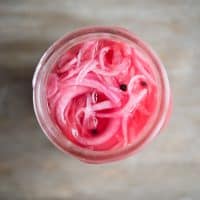 These 4-ingredient pickled onions come together in no time at all and can add a healthy punch of flavor to endless meal combinations!
Ingredients
1

red onion

peeled and thinly sliced

1 1/2 - 2

cups

apple cider vinegar

may also use white or red wine vinegar

2

teaspoons

fine sea salt

1

teaspoon

black peppercorns
Instructions
Place the sliced onions in a large wide-mouth mason jar.

Pour the vinegar over the onions, adding more as needed to cover the top. Add the salt and peppercorns, seal, and shake the jar vigorously to combine.

Refrigerate for at least one day before serving!

Enjoy.
Nutrition
Calories:
7
kcal
|
Carbohydrates:
1
g
|
Protein:
0.1
g
|
Fat:
0.01
g
|
Saturated Fat:
0.01
g
|
Polyunsaturated Fat:
0.003
g
|
Monounsaturated Fat:
0.002
g
|
Sodium:
234
mg
|
Potassium:
24
mg
|
Fiber:
0.1
g
|
Sugar:
0.3
g
|
Vitamin A:
1
IU
|
Vitamin C:
0.4
mg
|
Calcium:
4
mg
|
Iron:
0.1
mg