With two chocolate chip cookies and a homemade fresh strawberry ice cream, these Strawberry Ice Cream Sandwiches are the quintessential indulgent Summer treat.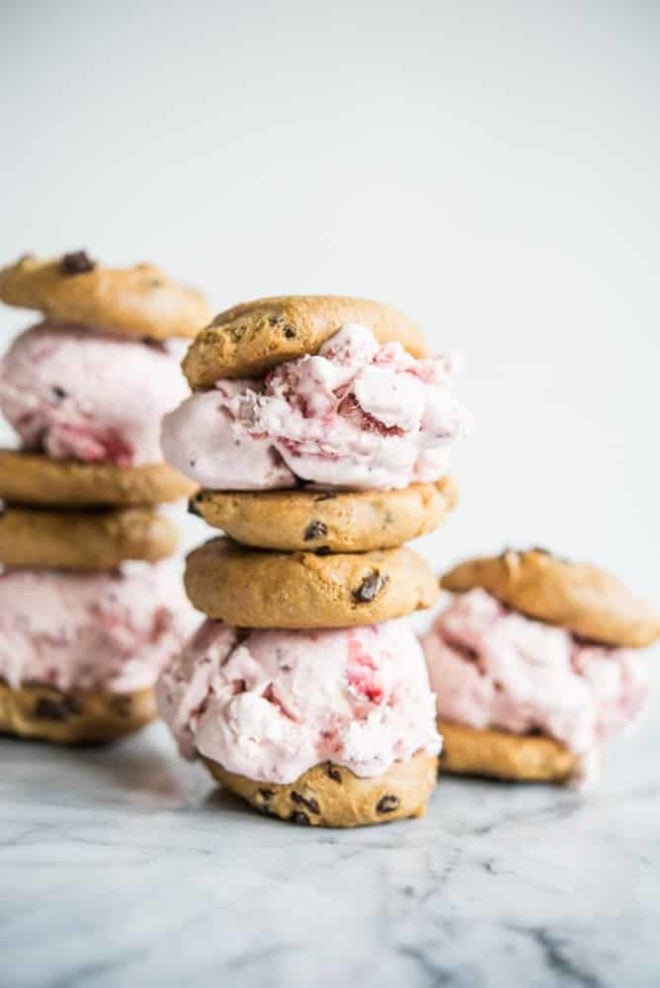 I made these Strawberry Ice Cream Sandwiches because well, I wanted them. Few things make me quite as giddy as an ice cream sandwich. Especially during Summer and especially when I don't have to wait for a special occasion to dig in. I can make these luscious treats, store them in one of my (4) freezers, and slowly enjoy over the warm months that surround a San Antonio, TX Summer. To make these little cuties, I honestly just pressed my craving a little harder for specifics. I mean, if we're going to make an ice cream sandwich, let's just go all the way out. Let's use my FAVORITE gluten-free break and bake cookies (you could totally use homemade grain-free, if you prefer), make a *quick* strawberry jam, swirl that jam in homemade ice cream, and sit back as we marvel our unabashed Summer indulgence.
Strawberry ice cream is my favorite ice cream and rose is my favorite wine …maybe I like pink foods? Even when I'm covered in spit-up, haven't washed my hair in 4 days, and can't remember the last time I applied moisturizer, strawberry ice cream (and rose, LBH) can make me feel like a lady. When I wonder out to the freezer to grab one of these ice cream sandwiches at the end of a LONG DAY (usually if my hubby is traveling and I'm home alone with baby), it feels like I'm stepping back in some form of organized, inspired power.
If you're intimidated by the homemade strawberry ice cream, you have two choices: lean into that intimidation, buy a cheap ice cream maker (that works), and just DO IT; or, buy ice cream from the store – this is a completely acceptable option.
Bake your cookies (homemade or store-bought), LET THEM COOL/harden in the fridge or freezer (a warm cookie won't squish ice cream well), scoop a crazy generous amount of ice cream in between, RE-FREEZE so that they really stick together, and enjoy.
I recommend making these for either just yourself (treat after the end of a long, spit-up-ie day) or for your next backyard party!
Strawberry Ice Cream Sandwiches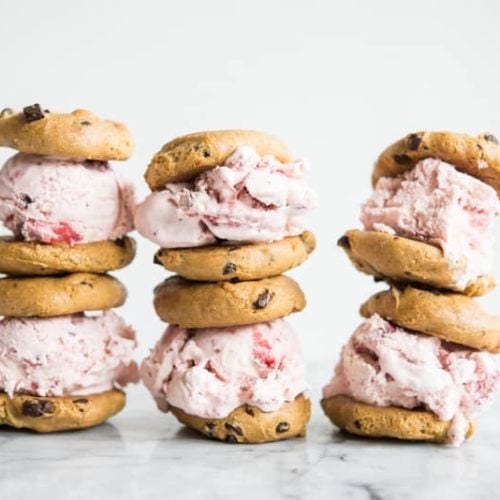 With two chocolate chip cookies and a homemade fresh strawberry ice cream, these Strawberry Ice Cream Sandwiches are the quintessential indulgent Summer treat.
Ingredients
16

ounces

strawberries

tops removed

1/4

cup

honey

Juice of one lemon

1

teaspoon

vanilla extract

Pinch

of sea salt

2

pints

heavy cream

or 2 cans full-fat coconut milk for dairy-free

24

gluten free cookies

I used these
Instructions
In a saucepan over medium heat, combine the strawberries, honey, lemon, vanilla extract, and sea salt. Cover and cook for 5-10 minutes, until strawberries are soft.

Mash strawberries with a potato masher and set aside to allow it to cool completely.

In a large bowl, stir together the strawberry mixture and the heavy cream, once fully combined, pour the mixture into your ice cream maker frozen bin and follow the manufacturers instructions.

 Spoon the mixture into a loaf pan or large bowl and freeze for about 1 hour.

From here, use an ice cream scoop to spoon a heaping amount of strawberry ice cream and place it on the backside of one cookie. Place another cookie on top of the ice cream and press down. Repeat for the entire batch. Enjoy!
Recipe Notes
Note that if you would prefer to freeze the ice cream overnight ahead of time it will harden, take it out of the freezer and let sit for 30-45 minutes before you use it.
Nutrition
Calories:
433
kcal
|
Carbohydrates:
27
g
|
Protein:
4
g
|
Fat:
36
g
|
Saturated Fat:
22
g
|
Polyunsaturated Fat:
1
g
|
Monounsaturated Fat:
7
g
|
Cholesterol:
89
mg
|
Sodium:
112
mg
|
Potassium:
137
mg
|
Fiber:
2
g
|
Sugar:
19
g
|
Vitamin A:
1164
IU
|
Vitamin C:
23
mg
|
Calcium:
79
mg
|
Iron:
2
mg