Every item on this page was chosen by The Fed & Fit team. The site may earn a commission on some products (read more here).
This frozen mango margarita recipe uses only the freshest ingredients + makes for the most delicious, fruity, poolside cocktail!
Mango Margarita Recipe
This mango margarita recipe is SO GOOD. Made with just 5 ingredients (plus 2 more if you're chili salting the rim of your glass), it's refreshing, slightly sweet, a little bit tart, creamy, and honestly, just a dream to sip on on a hot summer day.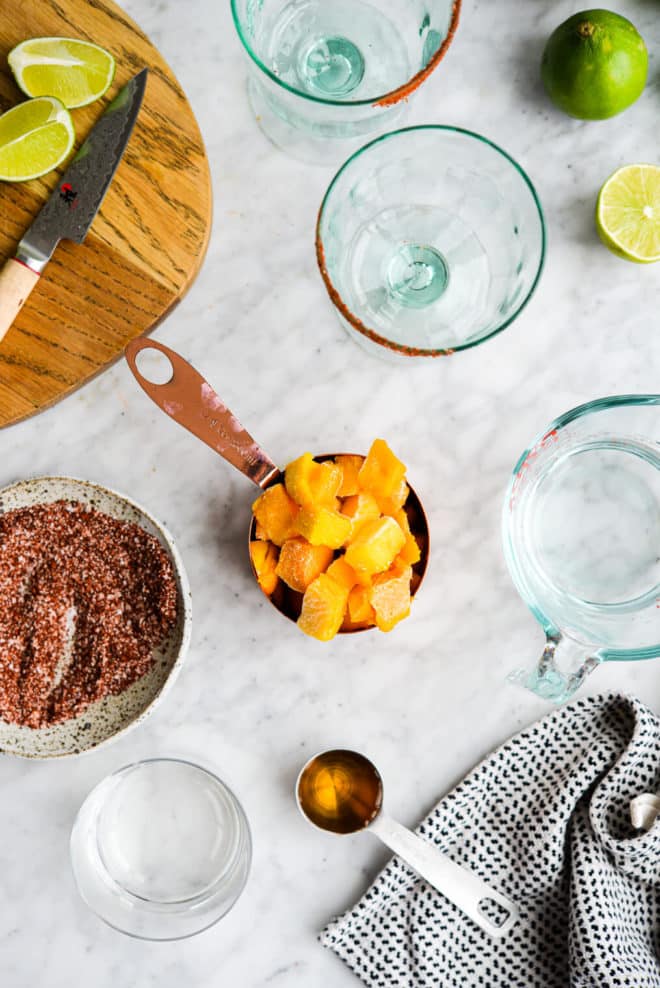 Mango Margarita Ingredients
This margarita contains just a few simple ingredients, letting the delicious, tropical mango really shine! Here's everything you'll need:
Fresh Lime Juice – to start, you'll need a ¼ cup of *fresh* lime juice. It's really important that your lime juice is fresh, so either squeeze your own limes (you'll need 2-3 *really* juicy limes here) OR, if your local grocery store sells it, buy freshly squeezed + bottled lime juice (this is different from the shelf stable bottles of lime juice – stay away from those!).
Triple Sec – you'll also want to grab some triple sec. For this recipe, you'll need a ¼ cup.
Tequila – unless you're making a mango margarita mocktail (which would be totally delicious – more on that below), you'll also need a ½ cup of tequila.
Frozen Mango – 2 cups of frozen mango make this margarita what it is! Choose to either buy cubed frozen mango from the grocery store (this is a great option, so don't be afraid to take it!), OR cut your own fresh mango and freeze it.
Agave – to add a touch of sweetness, you'll also need 1 tablespoon of agave nectar/syrup. This is a natural sweetener made from the agave plant that is often used to sweeten margaritas.
Salt – this is an optional ingredient used for salting the rim of your mango margarita. For a traditional salted rim, just use salt (we recommend kosher salt). To jazz up a typical salted rim, you'll combine the salt with…
Chili Powder – …CHILI POWDER! We prefer a combination of salt and chili powder to rim these mango margaritas. The combination is delicious!
How To Make a Mango Margarita
This is truly the easiest margarita EVER. Here's what you'll do:
Blend – toss the lime juice, triple sec, tequila, frozen mango, and agave nectar into a blender and blend until smooth.
Serve – once blended, pour into chili salt rimmed glasses (if desired) and serve!
Variation: Frozen Mango Margarita Recipe
This recipe is written for a frozen margarita, so if that's what you're looking for, just follow the recipe as written!
Variation: Mango Margarita on the Rocks
If you'd prefer a mango margarita on the rocks, the recipe will be a little bit different than what's written, and will instead be: 2 parts tequila, 1 part lime juice, 2 parts mango juice (we like this one the best), and a ¼ part agave. So for 2 mango margaritas on the rocks, you'll need…
½ cup tequila
¼ cup lime juice
½ cup mango juice
1 tablespoon agave nectar
Simply combine the above ingredients in a mason jar and either stir or shake them together!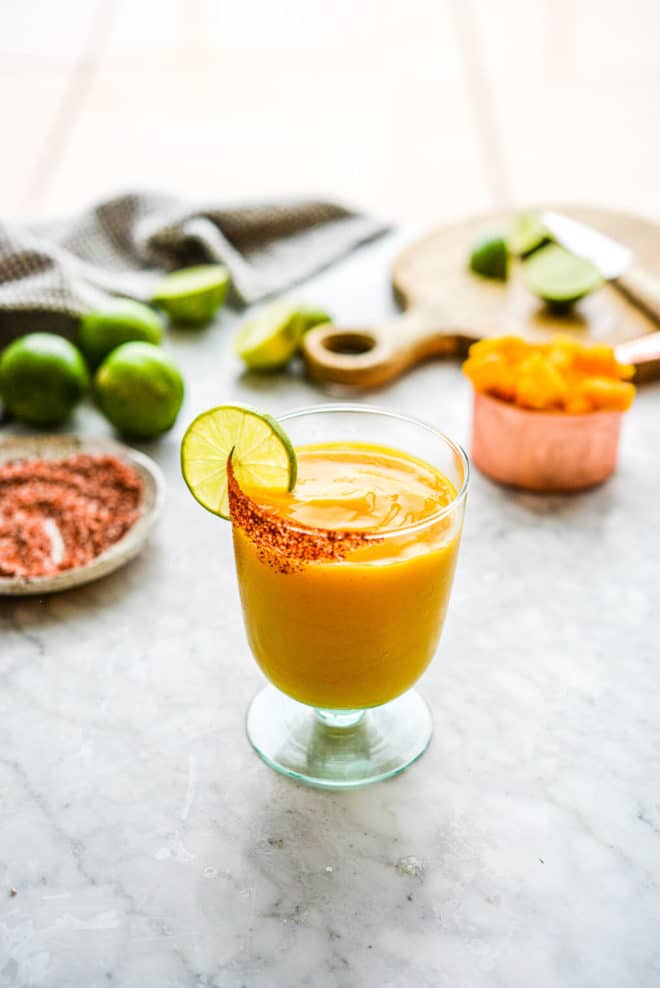 Variation: Virgin Mango Margarita
When it comes to mocktails, we typically suggest just swapping the alcohol for sparkling water or kombucha (find our full mocktail how-to here), but because this recipe is written for a frozen margarita, those swaps won't work. Just leaving out the tequila altogether and not replacing it with anything also won't work because we need that extra bit of liquid so that our blender can do its job! Here's what we recommend:
For a regular virgin mango margarita – for a recipe as similar to the alcoholic version that we've written, we recommend just swapping in a ½ cup of water for the tequila. The water will act as a great liquid addition without altering the flavor of the margarita.
For a creamy virgin mango margarita – if you want something a bit more decadent, we recommend swapping the tequila for an equal amount of full-fat canned coconut milk. YUM!
Video
What alcohol is in a margarita?
Tequila! We've done a lot of testing and research and have found that a silver (or blanco) tequila is the best way to go here. It has a milder flavor than an aged tequila and tends to be reasonably priced.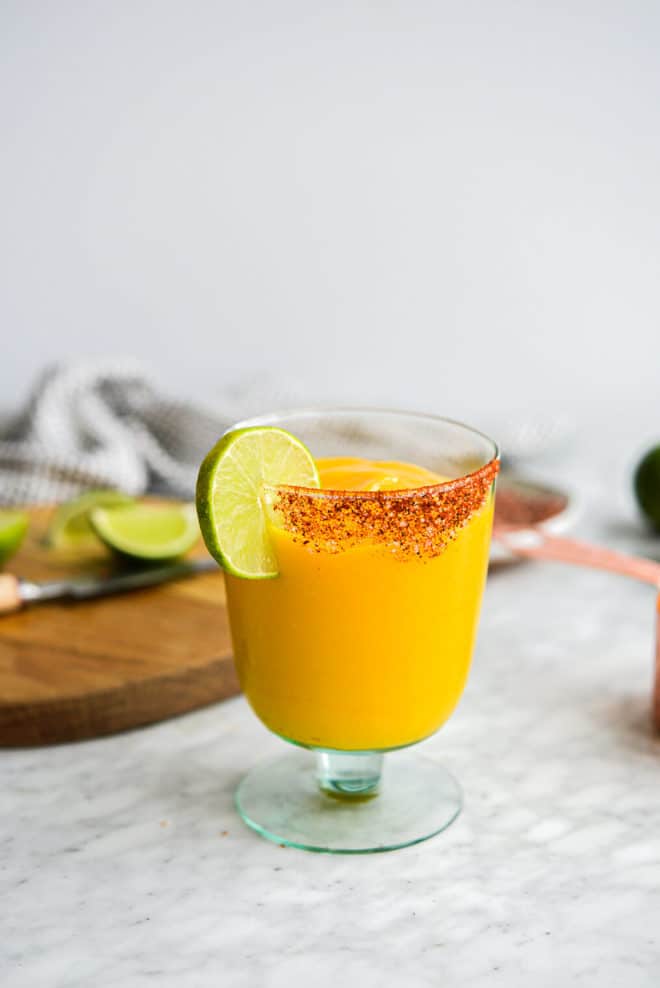 What is better in a margarita, Cointreau or Triple Sec?
Through all of the testing and tasting that we did while developing our classic margarita, we found that triple sec was always the more popular pick, so we stick with that for our margarita recipes. If you know that you prefer a different orange liqueur, though, feel free to use that!
What is the difference between a skinny margarita and a regular margarita?
A skinny margarita tends to have less sugar than a classic margarita. Many skinny margaritas still contain a sweetener (though usually a natural option) like agave but don't usually have orange liqueur (orange juice or orange extract is used instead).
Ingredients
1/4

cup

fresh lime juice

1/4

cup

triple sec

1/2

cup

tequila

2

cups

frozen mango

1

tablespoon

agave nectar

1

lime wedge

for the chili salt rim (optional)

Kosher or coarse salt

for the chili salt rim (optional)

Chili powder

for the chili salt rim (optional)
Instructions
Add the lime juice, triple sec, tequila, frozen mango, and agave into a blender and blend until smooth (about 30 seconds-1 minute).

For the chili salt rim: combine the salt and chili powder together and spread onto a small plate. Run the lime around half of the margarita glass rim (where you'd like the salt to stick to), then dip it in the chili salt. Shake off the excess salt, then fill the glass with the mango margarita. Repeat for each glass, then serve and enjoy!