This Paleo blueberry crumble ice cream combines a dairy-free coconut milk ice cream base with blueberry jam and a cashew cookie crumble for the perfect summer treat!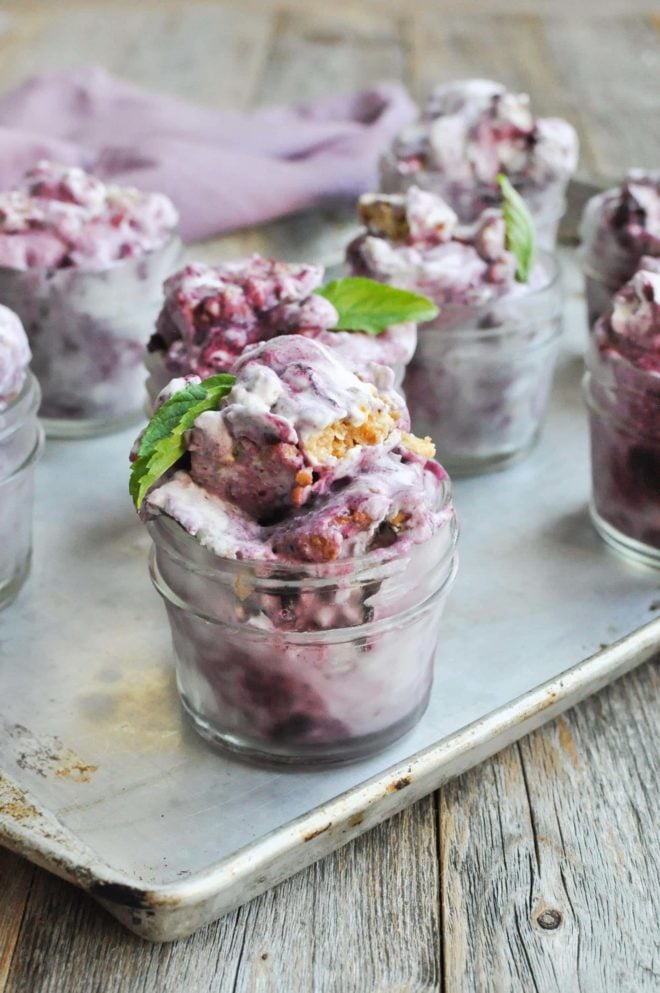 Sitting in our living room the other night with two dear friends, a bottle of wine, and their three sleeping babies upstairs, we compared memories from our own childhood summertimes. While so many of my friends' fondest memories revolve around their orchestrated summer family vacations, my most vivid experiences occurred right outside the front door.
You see, I was the oldest of three girls AND, by happenstance, the oldest kid in our entire neighborhood. Instead of shunning my younger sisters and their eager-to-please neighborhood friends, I embraced the rare opportunity of age-granted authority and went into business. To make productive use of our warm, sweaty days away from school, I banded our smallish tribe into a group called "The CJ Club." I kid you not. Of course, this is the kind of narcissistic memory that has me a little embarrassed and my friends rolling on the floor.
The CJ Club met once in the morning and once in the afternoon. Every member was given a role and an assignment. Assignments varied from "go get everyone a string cheese" to "brainstorm a non-lemonade curbside product." You see, I was of the belief that lemonade stands were SO 1990. We (I) wanted to turn a profit, but we (I) also wanted to be cutting-edge. I wanted our curbside neighborhood stand to be the talk of the whole wide town. After a lot of deliberation, we voted, I vetoed, and we landed on the decision that perfume would constitute our market niche. Everyone was in charge of formulating their own perfume for sale. The perfume that sold best after a few days would be dubbed victor and we'd go into mass production of that one scent. We sold (I bought) exactly 3 jars of the perfume I created and 0 jars of the competition. I called a meeting to start our next-stage production of "The Cassyfume" and then everyone quit The CJ Club.
Things I learned from The CJ Club:
Semi-tyrannical, narcissistic 8 year old self-dubbed leaders CAN grow up into semi-normal, gracious adults.
People want lemonade sold by smiling children, not wildflower hose water perfume sold in retired jam jars by competitive sisters.
My karmic payback for The CJ Club is a lifetime of giving away free recipes while happily obliging to whims of my family and friends.
This paleo blueberry crumble ice cream represents one of those whims.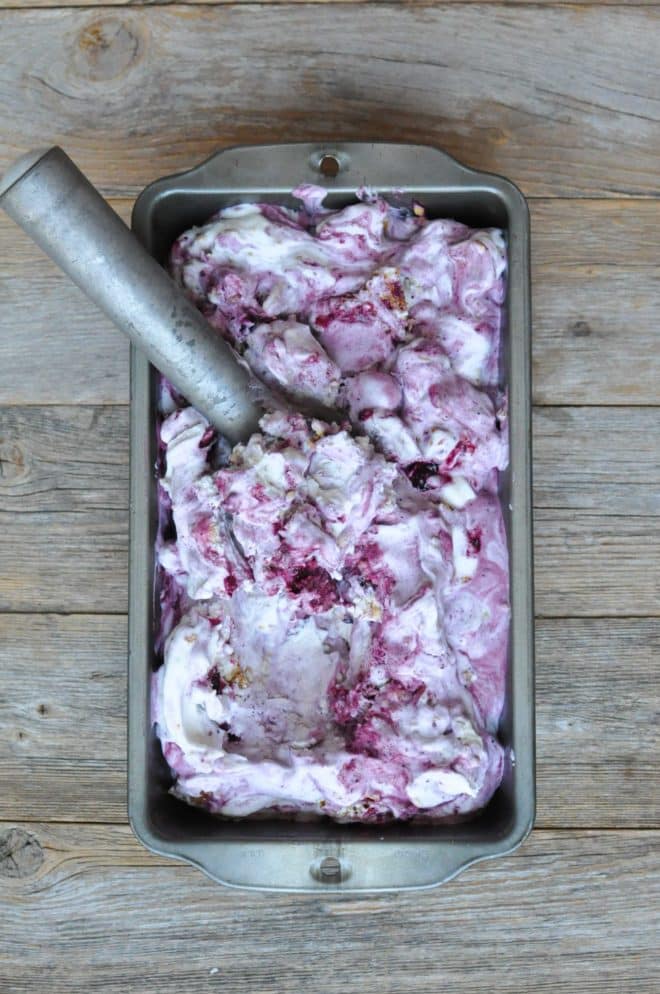 About 6 months ago, my parents worked through my Fed+Fit Project and have been AMAZED by their results. After working through the rigors of the initial "Feel Good Reset" and subsequent food+fitness self-studies, they've arrived at comfortable state of eating well and feeling really, truly great. Having decided to forgo dairy, they've also gone without their beloved summertime ice cream. Seeing an opportunity to provide my family with a dessert that tastes better than store-bought AND supports their healthy living goals, I got to work.
What I stumbled across is, probably, one of the most delicious recipes to grace this website. I served it up almost 3 weeks ago and they're still talking about it.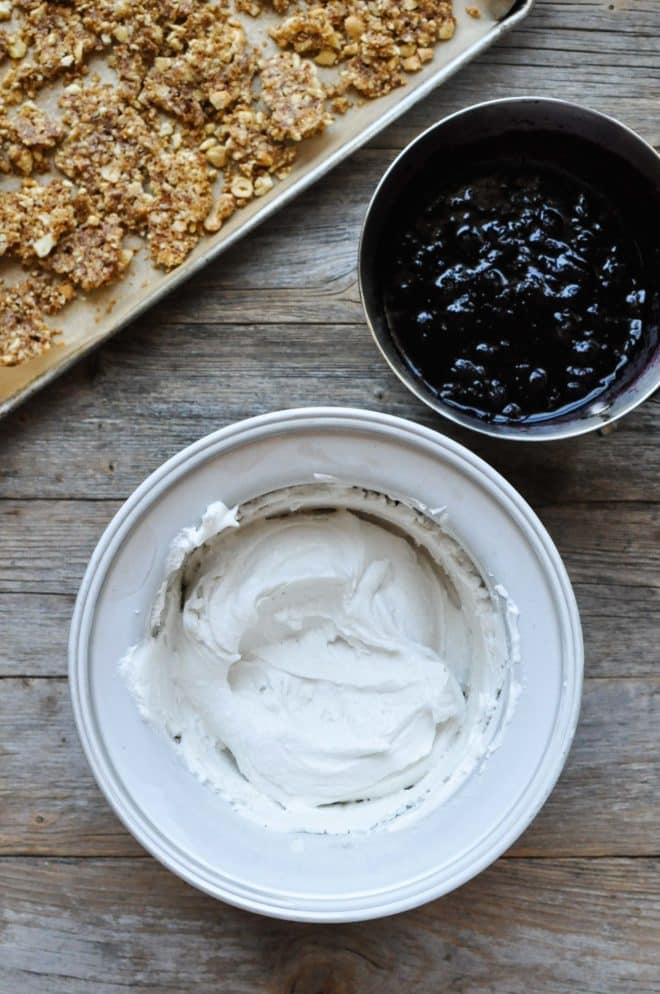 This Paleo Blueberry Crumble Ice Cream is swirled with a tart blueberry jam and drool-worthy cashew cookie crumble. It's surprisingly easy to whip up and I guarantee your kitchen (or neighborhood ice cream stand?) will be the booming, ground-breaking, talk of the town.
Spoon your soft-serve consistency coconut milk ice cream out of the ice cream maker into a BIG bowl. Plop the *now cooled* blueberry jam on top and the very roughly crumbled cashew cookie on top.
Give it just a few folds – you want a little of the jam streaks to stay together AND you want some untouched vanilla.
Spoon the Paleo blueberry crumble ice cream into a loaf pan and freeze until just slightly hardened (about 1 hour). I recommend you then transfer it to your individual serving bowls. Freeze those bowls solid BUT place them in the refrigerator about 45 minutes before you plan to serve. This will help it soften just enough so that your guests can easily spoon the deliciousness as fast as they like.
Enjoy!
Paleo Blueberry Crumble Ice Cream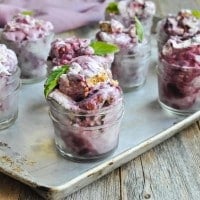 This Paleo blueberry crumble ice cream combines a dairy-free coconut milk ice cream base with blueberry jam and a cashew cookie crumble for the perfect summer treat!
Ingredients
For the Jam:
2

cups

blueberries

frozen or fresh

2

tablespoons

lemon juice

1/4

teaspoon

sea salt

2

teaspoons

honey
For the Cashew Cookie Crumble:
1 1/2

cup

whole cashews

1/2

cup

arrowroot

1/4

teaspoon

sea salt

1/3

cup

coconut sugar

1/2

cup

butter

melted
For the Ice Cream:
2, 13.5

ounce

cans of full-fat coconut milk

1

teaspoon

vanilla extract

2

tablespoons

honey

2

tablespoons

gelatin dissolved into 1/2 cup boiling water
Instructions
Bring all the ingredients for the jam to a simmer in a small to medium-sized sauce pan. Reduce heat, cover, and let it simmer for 30 minutes or until most of the berries have burst and it resembles a jam-like consistency.

Pull off heat and let it cool completely.

Preheat oven to 350 and line a large baking sheet with parchment paper.

Place the cashews, arrowroot, sea salt, and coconut sugar in a food processor and pulse until the cashews are mostly broken up, but you can still see some chunks.

Add the butter and pulse the food processor until it's pretty evenly combined.

Pour the cookie dough out onto the parchment paper and flatten into one large cookie.

Bake at 350 for 12-13 minutes, or until it just starts to turn golden brown. Remove from the oven and let it cool completely.

Once cooled, break the cookie up into large chunks and set aside.

In your blender, blend the coconut milk, vanilla, honey, and dissolved gelatin together until smooth.

Pour the mixture into your ice cream maker frozen bin and follow the manufacturers instructions.

In a large bowl, add the ice cream to the cooled blueberry jam and broken cashew cookies. Give the mixture 4-5 stirs (or folds) and try to resist over-mixing. Spoon this into a loaf pan and freeze for about 1 hour.

From here, you can either serve and enjoy directly or spoon it into small serving bowls.

If you're preparing to enjoy at a later time, freeze the small bowls and then about 45 minutes before you plan to enjoy, place them in the refrigerator so that they may soften a bit.

Enjoy!
Nutrition
Calories:
444
kcal
|
Carbohydrates:
33
g
|
Protein:
7
g
|
Fat:
34
g
|
Saturated Fat:
20
g
|
Polyunsaturated Fat:
3
g
|
Monounsaturated Fat:
9
g
|
Trans Fat:
0.5
g
|
Cholesterol:
31
mg
|
Sodium:
264
mg
|
Potassium:
322
mg
|
Fiber:
2
g
|
Sugar:
15
g
|
Vitamin A:
375
IU
|
Vitamin C:
6
mg
|
Calcium:
29
mg
|
Iron:
4
mg