Frozen watermelon margaritas are the perfect summer cocktail! With just 4 ingredients, these margaritas come together quickly and will be a hit with any crowd on a hot day.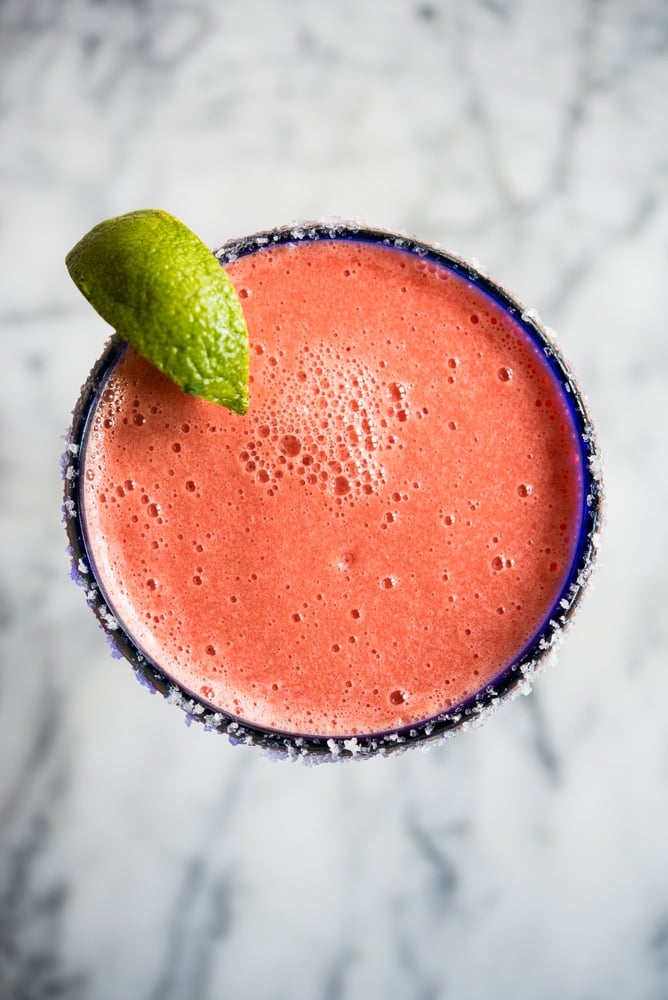 It's no secret that I love a good margarita whether it's traditional on the rocks, a slightly spicy fresh lime and jalapeno rendition, or even a ginger beet margarita (a less-traditional version made with beet juice and ginger), it's safe to say that if tequila and lime are involved, I am IN. So, it wasn't a surprise that I also love these frozen watermelon margaritas – but let me tell you I was not prepared for just how good they would be!
These watermelon margaritas legitimately taste like a watermelon jolly rancher – equal parts sweet, tangy, and loaded with that fresh watermelon flavor that just screams summertime. This is the perfect drink to make for a BBQ, for sipping poolside, or just for cooling down on your patio after a long day.
Frozen Watermelon Margarita Ingredients
As I mentioned earlier, these margaritas are super simple to make and only contain 4 ingredients plus an optional salt garnish for the rim of your glass. Here's what goes into this frosty concoction:
Fresh Watermelon – Yes, obviously! Watermelon is the star of our show here. This is a fantastic way to use up that giant watermelon sitting on your countertop, or you can go ahead and buy pre-cut cubed watermelon if you'd like – just make sure it's seedless so you don't have to spend a lot of time de-seeding or risk a crunchy drink.
Fresh Lime Juice – I've said it before and I'll say it again: freshly-squeezed lime juice is a MUST for a good margarita. If your local store sells freshly squeezed (same day) lime juice, that'll do just fine, but please don't buy the stuff on the shelf, or, worse, the stuff in the little green lime bottle.
Honey – Honey is my favorite margarita sweetener! It doesn't alter the flavor or the color of the drink, and it blends up perfectly every time.
Tequila – After all, what's a margarita without tequila? For this recipe, I opt for a good-quality silver tequila so it doesn't overpower the drink too much. However, if you're avoiding alcohol right now this would also make a delicious mocktail!
Coarse Sea Salt – If you are on team salted rim, make sure you have some good-quality coarse sea salt on hand and a few extra lime wedges.
What type of watermelon to buy?
First thing's first, you'll definitely want to grab a seedless watermelon here. Below, you'll find a few tips to ensure that you pick a good, juicy, ripe seedless watermelon.
Look at the stripes – you'll want to pick a watermelon with an obvious, consistent stripe pattern. The green stripe should be a dark, deep green color, and the lighter stripe should be a creamy, pale yellow color.
Look for the yellow spot – when watermelons rest on the ground for a long period of time, they form a yellow spot. Look for it! If the watermelon is ripe, this spot should be a pale, creamy yellow color.
Listen to it – tap the watermelon. A ripe watermelon should sound deep and hollow, while a not-quite-ready watermelon will sound solid.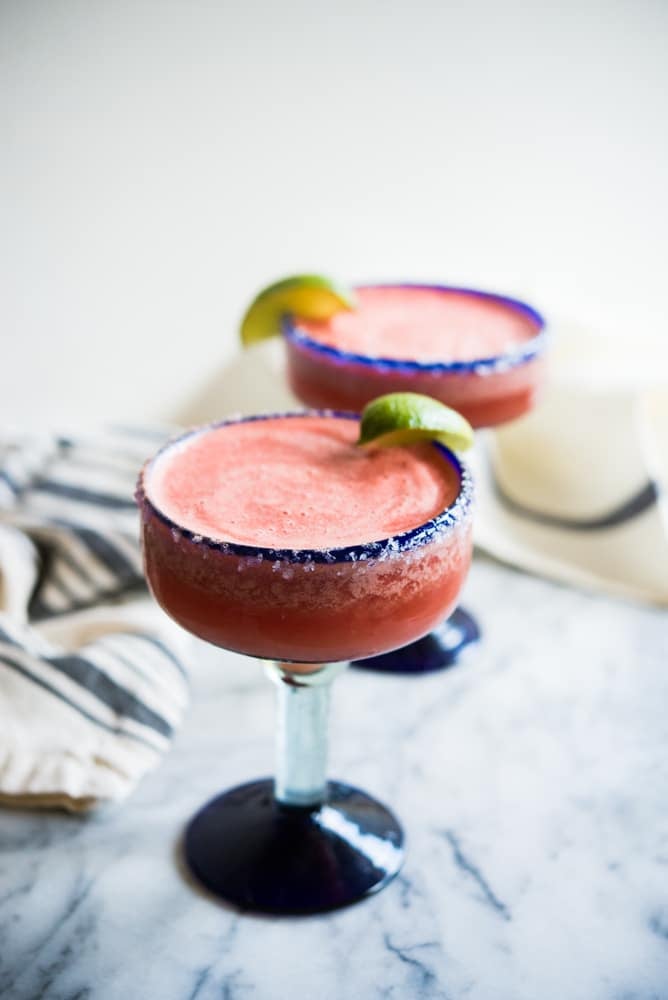 How to Make Watermelon Margaritas
Now that you've got all your ingredients, it's go time! Just a few steps separate you from margarita bliss:
Freeze 3 cups of watermelon. Since we wanted a frozen margarita without the watered down flavor, we decided to freeze the watermelon! To do this, spread 3 cups of watermelon out on a sheet pan, making sure the cubes aren't touching, and freeze for 2-3 hours, until hardened.
Grab a high-powered blender. This is definitely the time to pull out your good blender, especially if you froze your watermelon in larger cubes! This will help ensure a smooth, frothy end-result.
Blend! To make blending easier, you'll add 1 cup of fresh (not frozen) watermelon cubes to the blender along with the lime juice and honey and blend until smooth. Next, you'll add the frozen watermelon and blend again until the watermelon is fully broken down. Finally, you'll add in the tequila and blend one last time. Give it a taste and add more honey or tequila as desired!
Salt your glasses. To salt your glasses, simply pour your coarse sea salt onto a small plate, then run a lime wedge around the edge of the glass and dunk it in the salt. Pour the watermelon margaritas into the glass then sit back, sip, and relax!
Frozen Watermelon Cocktail Tips
Below, you'll find all of our very best tips for these yummy frozen watermelon margaritas!
Use a seedless watermelon – although it is possible to pick out every single seed of a watermelon, it is a waste of time, and totally unnecessary! Go with a seedless watermelon to save time and guarantee that you won't end up with a seed in your drink!
Use a high powdered blender – using a high powdered blender makes ALL of the difference here, y'all! It'll ensure a smooth, delicious, frothy end product.
Use coarse sea salt – if you're planning to salt your rim, be sure to use a coarse sea salt rather than a fine sea salt. It will really take your margarita to the next level!
There you have it – easy watermelon margaritas! We hope you love these as much we do!
More Summer Drink Recipes
Video
Frozen Watermelon Margaritas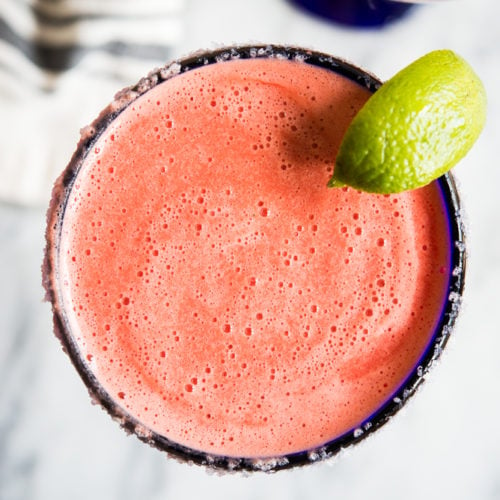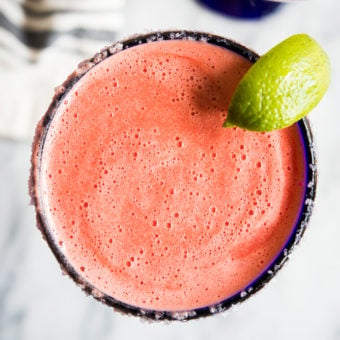 Frozen watermelon margaritas are the perfect summer cocktail! With just 4 ingredients, these margaritas come together quickly and will be a hit with any crowd on a hot day.
Ingredients
Instructions
Spread 3 cups of watermelon out on a baking sheet and freeze for at least 2 hours, until completely frozen through.

Add 1 cup fresh watermelon and lime juice to a blender and blend until smooth. Add the frozen watermelon and honey and blend again, then add in the tequila.

Pour the salt onto a small plate, then cut a small slit in a lime wedge and run it along the edge of your margarita glass. Dip the glass in the salt, then pour the margarita in the glass and enjoy! Keep any remaining margarita in the freezer until you are ready to drink it.
Nutrition
Calories:
62
kcal
|
Carbohydrates:
7
g
|
Protein:
0.3
g
|
Fat:
0.1
g
|
Saturated Fat:
0.01
g
|
Polyunsaturated Fat:
0.03
g
|
Monounsaturated Fat:
0.02
g
|
Sodium:
1
mg
|
Potassium:
67
mg
|
Fiber:
0.2
g
|
Sugar:
6
g
|
Vitamin A:
292
IU
|
Vitamin C:
6
mg
|
Calcium:
5
mg
|
Iron:
0.1
mg