100+ Summer BBQ Recipes that are Perfect for a Cookout
These healthy BBQ recipes (appetizers, side dishes, main courses, desserts, and drinks included!) are perfect for your next summer cookout!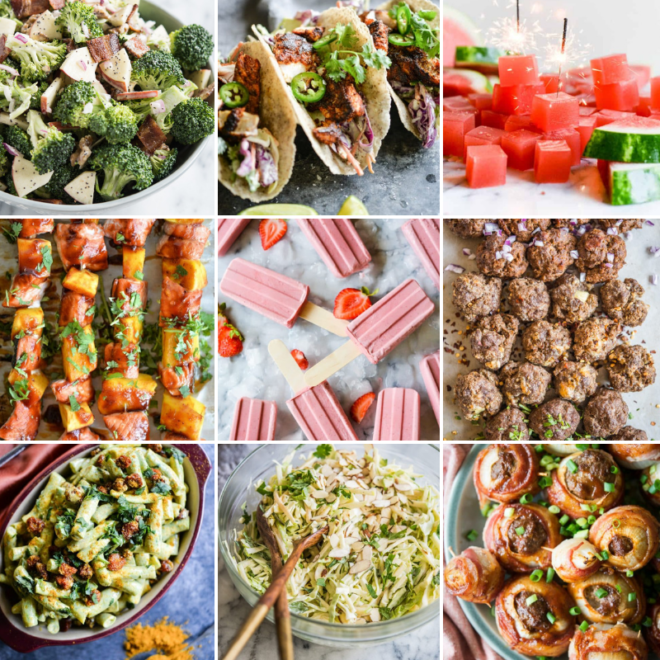 Nothing says summer like barbecues, ice-cold drinks, and fresh, vibrant dishes that beg to be eaten outside under the shade of a pool umbrella. Whether it's a big gathering or a small family get together, these meals will be perfect to keep in your regular summer rotation, as temps go up and we get outside!
Healthy Cookout Sides for Appetizers & Dips
A good gathering always starts with an appetizer, am I right?! These BBQ appetizers are perfect for your guests to munch on as they mingle!
Favorites from Around the Web:
Summer BBQ Sides
Ah, the side dish! The perfect accompaniment to the main course, and secretly, my favorite part of the meal!
More Favorites from Around the Web:
HEALTHY SUMMER BBQ RECIPES FOR MAIN DISHES ​
While grilling is always our summer gathering go-to, we've got delicious options for cooking inside too!
Healthy Dessert BBQ Dishes
Whether you prefer a fruity dessert or a more decadent chocolate dessert, you're bound to find something you love on this list! 
Favorites from Around the Web:
Summer Cookout Ideas for Drinks
We're all about refreshing poolside sips over here! Plus, ours are made high-quality, better-for-you ingredients, so you can feel good about pouring a second glass!
Favorites from Around the Web:
We hope this collection of BBQ recipes keeps your summer gatherings chock full of fresh, healthy, crowd-pleasing options!