We know that after a long day of work (whether it be at home or away), cooking dinner can quickly be scrapped for take-out, which can be discouraging when your intention was to get a homemade meal on the table. These tasty, healthy Instant Pot chicken recipes are a game-changer on those busy weeknights and make for effortless one-pot meals that are sure to please the whole family!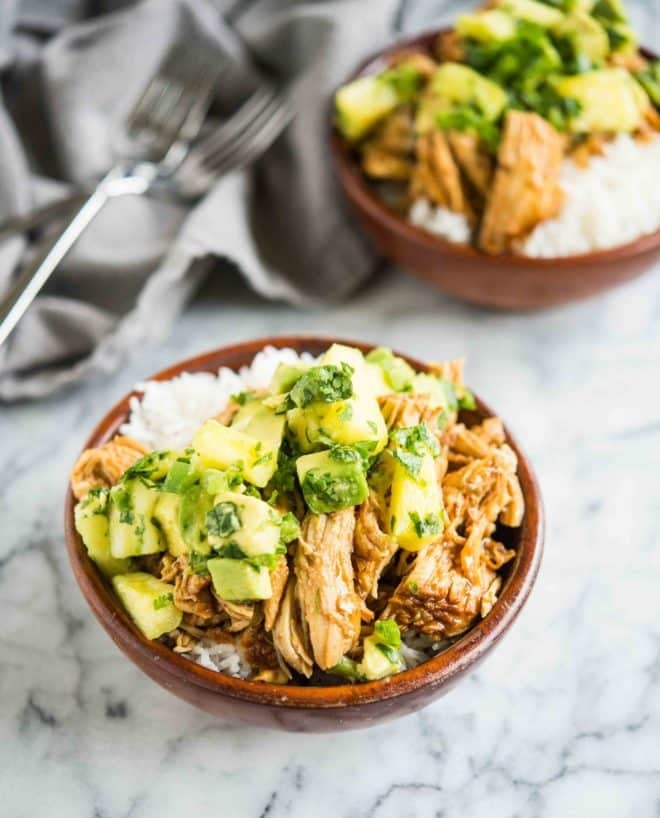 Instant Pot Tips & Tricks
If you've never used the Instant Pot, it can feel a little bit intimidating at first. We hope these tips + tricks make cooking in the Instant Pot for the first time feel more doable, and if you've been cooking in your Instant Pot, we hope you learn something new!
Utilize the saute function. Don't forget all of the fabulous features on your Instant Pot! While the pressure setting is our most used, the saute function is fantastic for sauteing veggies, searing chicken, and thickening sauces.
Use liquids besides just water. While you can throw a protein (think: chicken breast, beef roast, pork shoulder, etc.) in the Instant Pot with some water for a quick, easy protein meal component, try changing it up with chicken or beef broth for an added depth of flavor!
Add a little bit of time. Though the Instant Pot makes for a QUICK meal, keep in mind that it takes 10-15 minutes for your Instant Pot to get to pressure before the actual cooking begins, so be sure to factor that into the total cook time. For example, if you're making our Instant Pot Salsa Chicken, be sure to add 10-15 minutes to the 12 minute cook time, totaling to just under 30 minutes in the Instant Pot.
Do a quick wipe down after each use. Of course, you'll want to do a thorough wash of the inner pot (where the cooking actually happens) and lid each time you use your Instant Pot, but also consider a quick wipe down of the brim and the rest of the outer pot to keep things nice and clean between uses. This will ensure a long life for your favorite do-it-all appliance!
Cooking Chicken in the Instant Pot
How do you cook chicken in an Instant Pot?
Although you'll want to reference the recipe you're using for specifics, each recipe will typically have a few things in common: you'll add some sort of liquid into your Instant Pot (water, broth, salsa, etc.), place your chicken in the pot, close the lid, seal it, and cook it under high pressure. It's that simple!
How long does it take to cook chicken in a pressure cooker?
Just like the name "Instant" Pot implies, food cooks quickly in this small appliance. The Instant Pot is super efficient, and even though it takes some time to build pressure before the cooking actually begins, the entire process is relatively hands-off, allowing you to spend your time elsewhere while the Instant Pot does the cooking for you.
Here is a guideline for specific cooking times:
Instant Pot Chicken Frequently Asked Questions
Can you put frozen chicken in the Instant Pot?
You can! Honestly, this is one of the most amazing things about the Instant Pot. Because it cooks so efficiently, the Instant Pot is able to heat frozen food to a safe temperature quickly. Do expect it to take a little bit longer for your Instant Pot to reach pressure if your chicken is frozen, though it still shouldn't take more than 15 minutes.

Also, frozen chicken tends to release quite a bit of liquid when cooking, so it may work better for some recipes than others. Look at the recipe that you're using for specific recommendations regarding the use of frozen chicken as it'll likely be different from recipe to recipe.
Can you stack chicken in the Instant Pot?
Yes. Stacking chicken in the Instant Pot is fine. We recommend layering as evenly as possible so that your chicken cooks evenly though. When your food is finished cooking and the pressure is released, be sure to check the overlapping areas for doneness!
Our Best Healthy Instant Pot Chicken Recipes
Now for the good stuff: the recipes! From bowls to tacos, soups, and chilis, there is truly something for everyone on this list!
Easy Instant Pot Chicken Recipes from Around the Web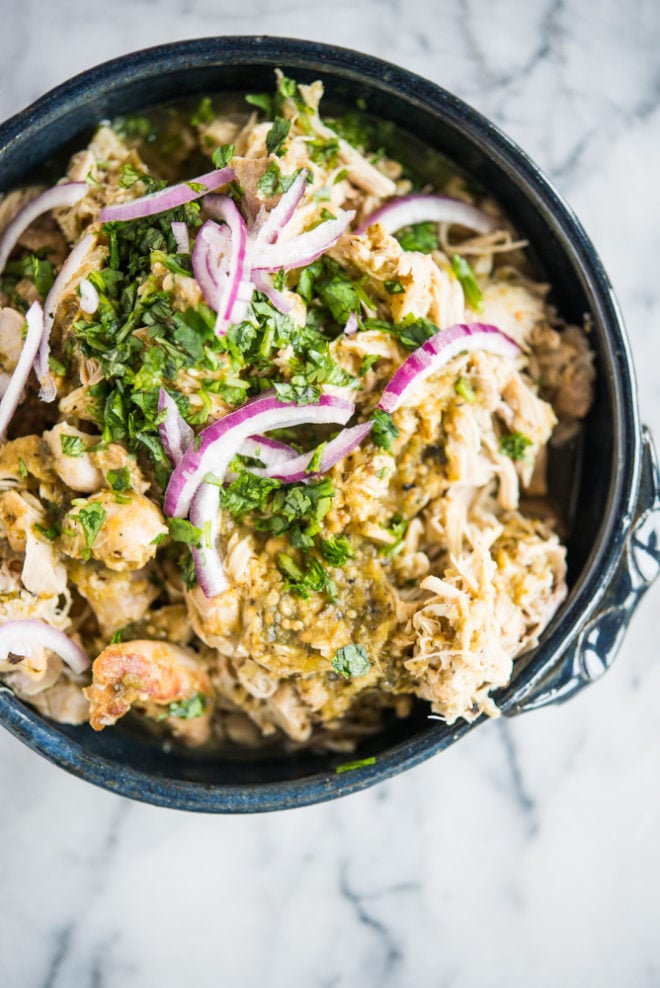 Now that you've seen our best Instant Pot chicken recipes, let's look at some of our favorites from around the web!
Instant Pot Soup Recipes
Instant Pot Chicken Breast Recipes
Instant Pot Chicken Thigh Recipes
More Instant Pot Chicken Recipes
We hope you love the variety of healthy instant pot chicken recipes in this round-up! Whichever you choose, dinner is sure to be flavorful and done in no time at all!