Shredded chicken is one of the most versatile proteins out there and cooking it in the Instant Pot makes the process super fast and easy!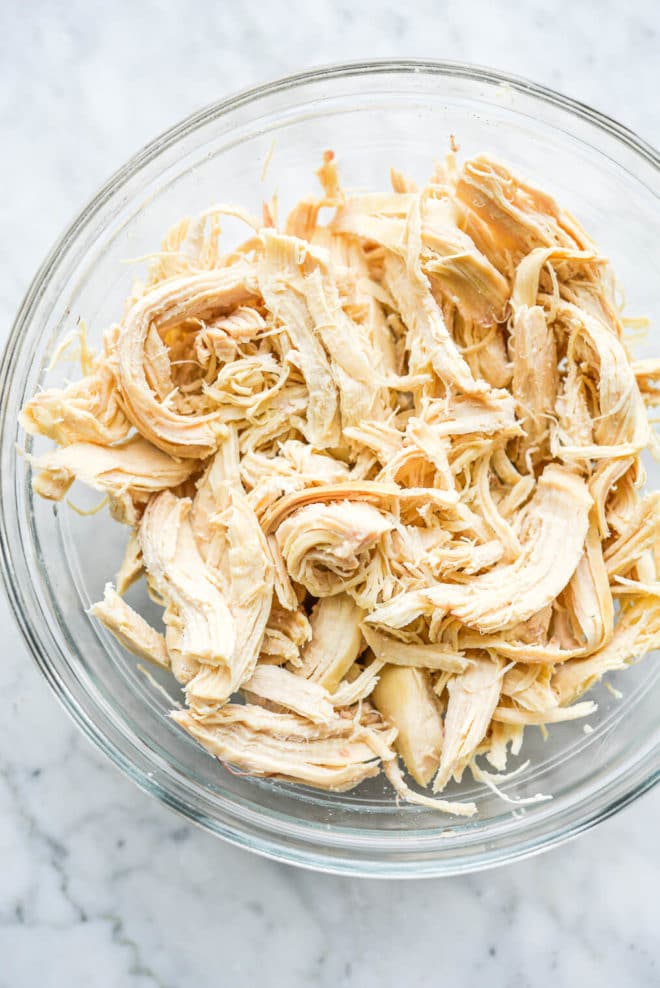 Shredded chicken is one of our favorite proteins! It can be used in casseroles, soups, bowls, tacos, pizzas, and *so* much more. You name it, shredded chicken can do it.
While cooking shredded chicken in the slow cooker is a great option (and one that we definitely recommend, especially if you don't have an Instant Pot), it isn't a quick process, and because of that, definitely takes some planning ahead. This Instant Pot method, on the other hand, is super fast, meaning that it doesn't require much planning in advance + can be done on a busy weeknight!
Ingredients for Shredded Chicken
To keep the shredded chicken as versatile as possible, this recipe calls only for the necessities:
How To Make Shredded Chicken In Instant Pot
The Instant Pot is wonderful for many reasons, and chief among them is the amount of time that it saves. That, and the fact that *most* Instant Pot recipes (this one included) are, essentially, hands-off, saving even more of our time! Here's how you'll make simple shredded chicken in the Instant Pot: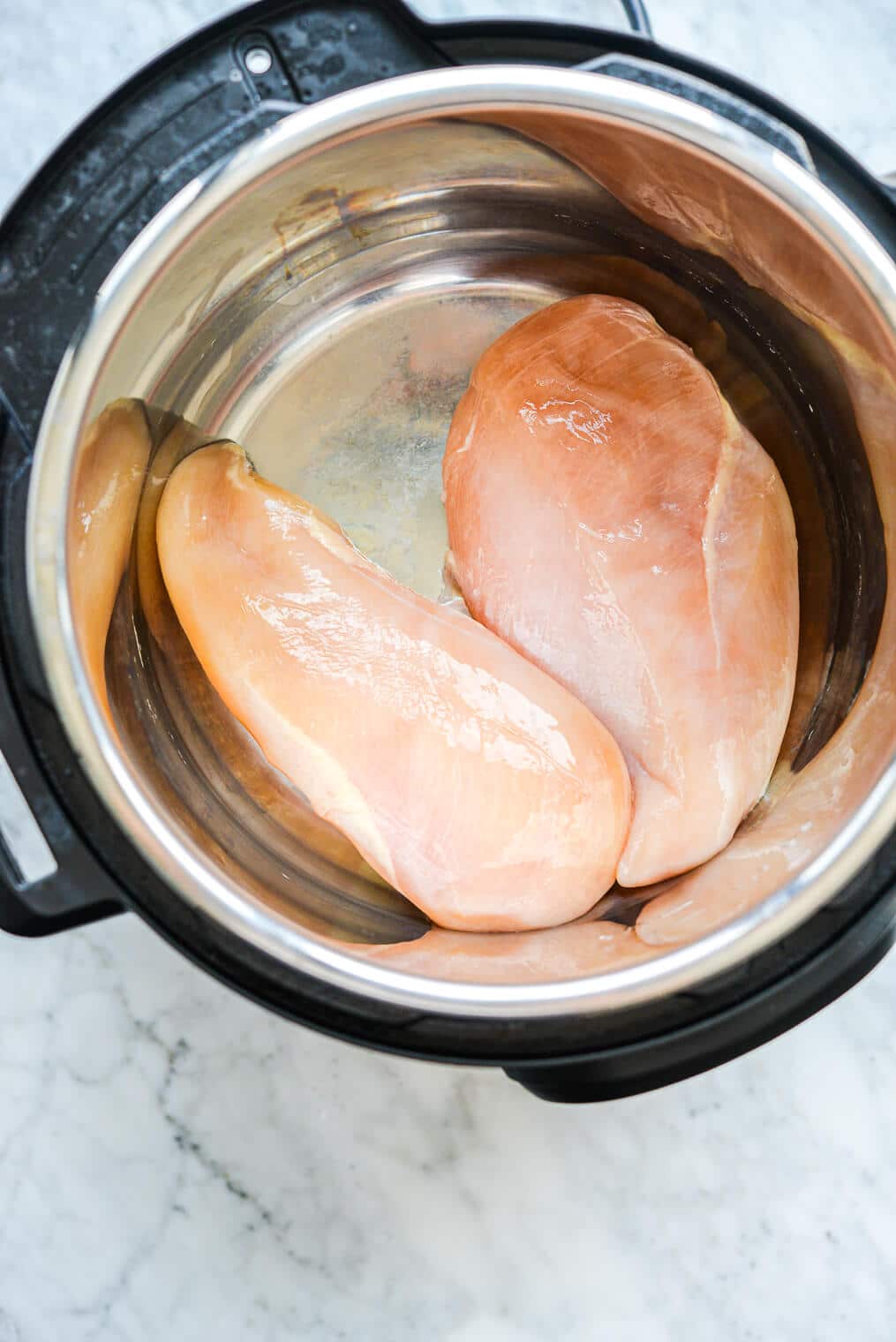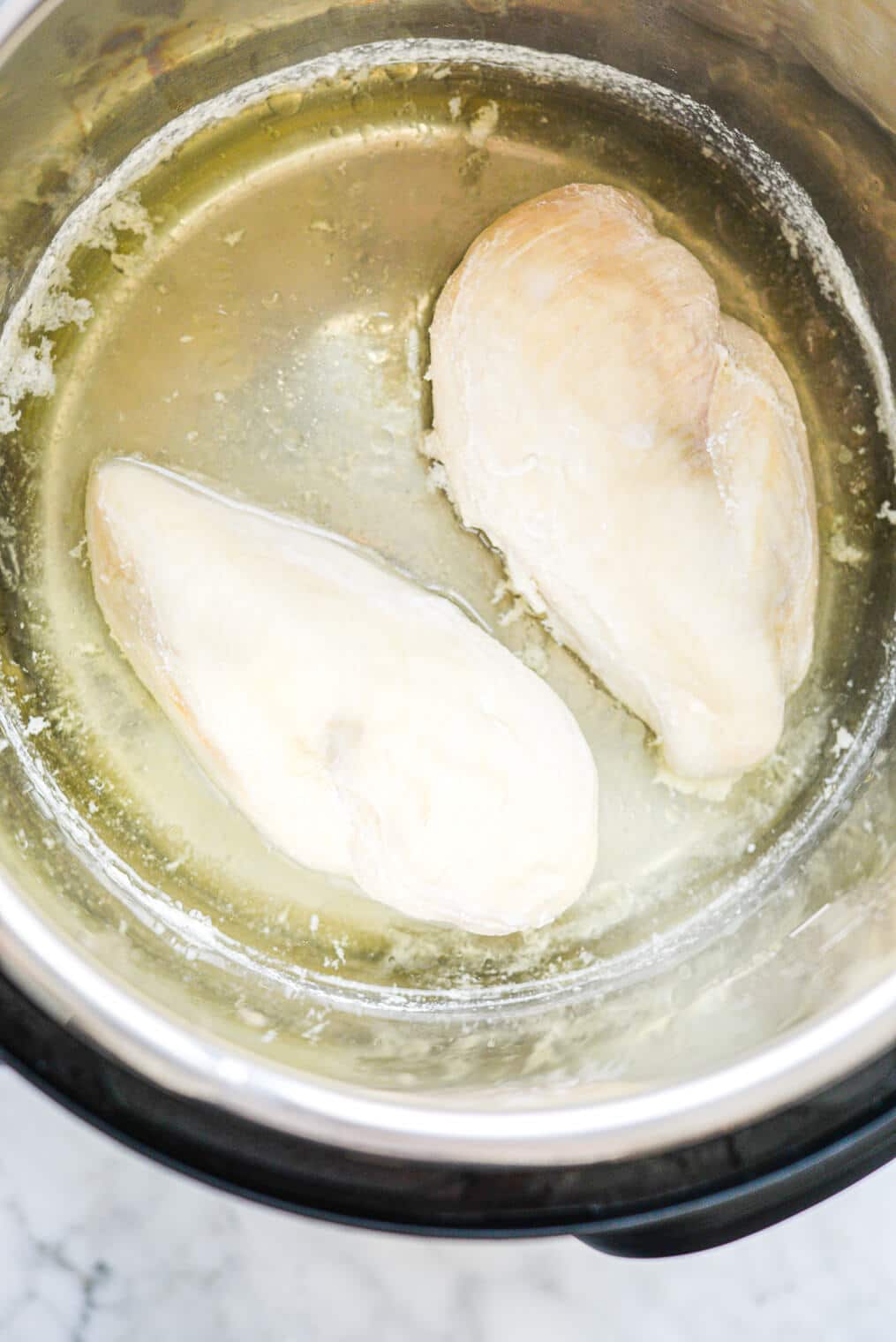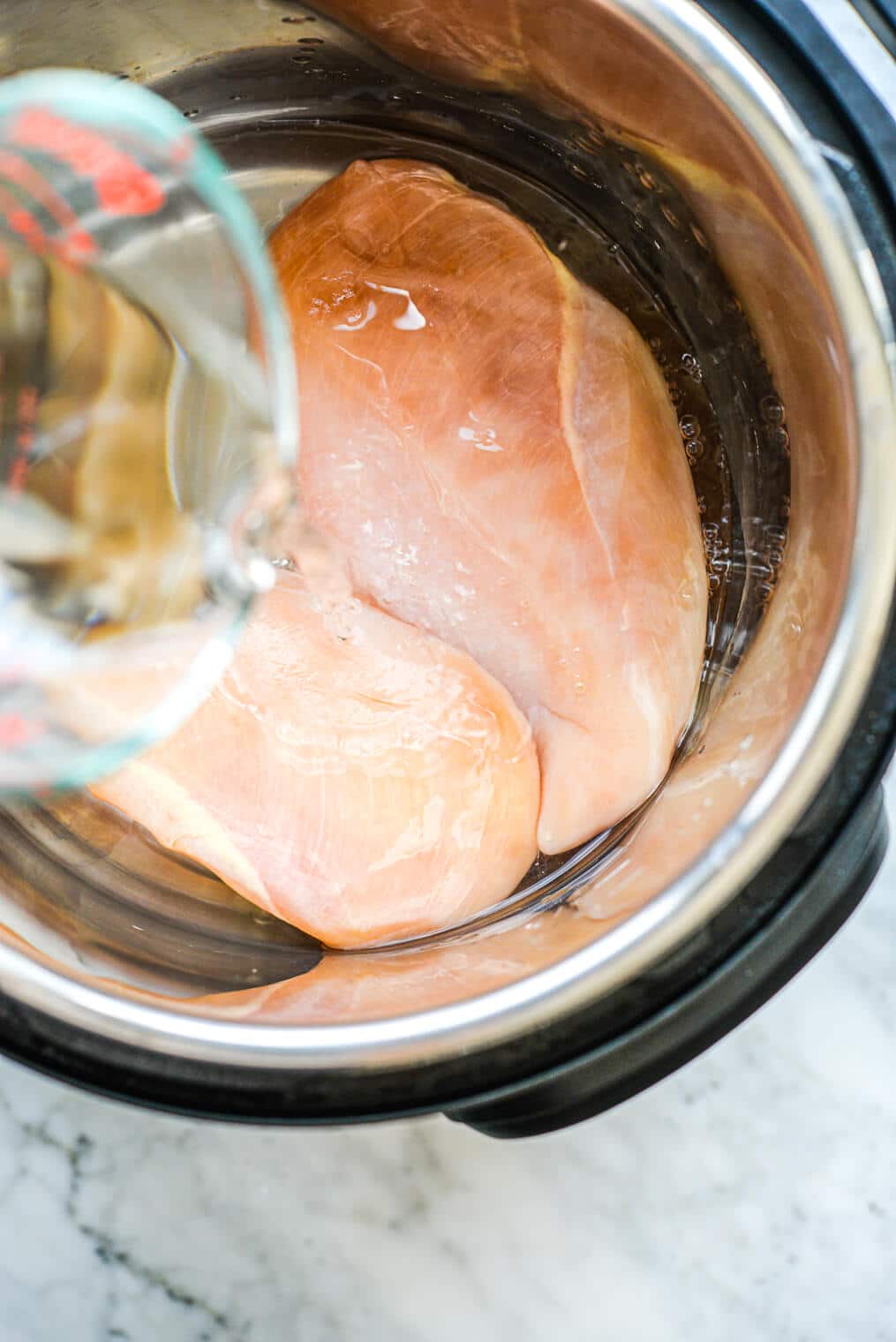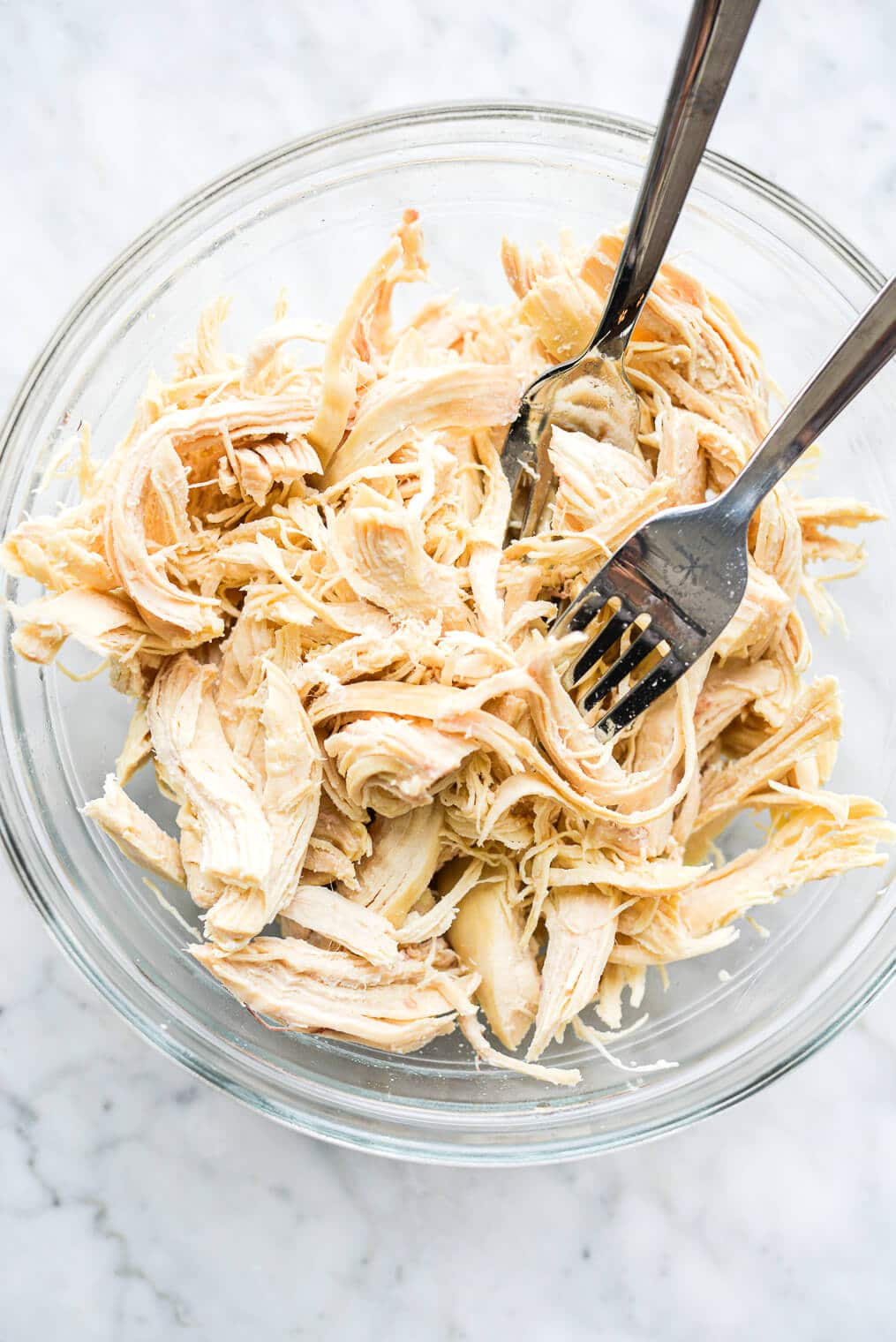 Add the chicken + water to the Instant Pot – place the chicken and water (or broth) in the Instant Pot, then secure the lid until you hear it beep.
Seal the steam release valve + cook – make sure the steam release valve is sealed, and then set the pot to cook on high pressure for 20 minutes.
Let the pressure naturally release – once the 20 minutes is up, let the Instant Pot release the pressure naturally (meaning that you don't need to turn the pressure seal valve at all). This should take about 10 minutes.
Shred the chicken – remove the chicken from the liquid, and shred it with your stand mixer, a hand mixer, or two forks.
How to Shred Chicken
There are a couple different ways that you can go about shredding chicken, but ultimately, the way you choose to shred it is totally up to you and the equipment you have on hand! Here's a breakdown of our two favorite shredding methods: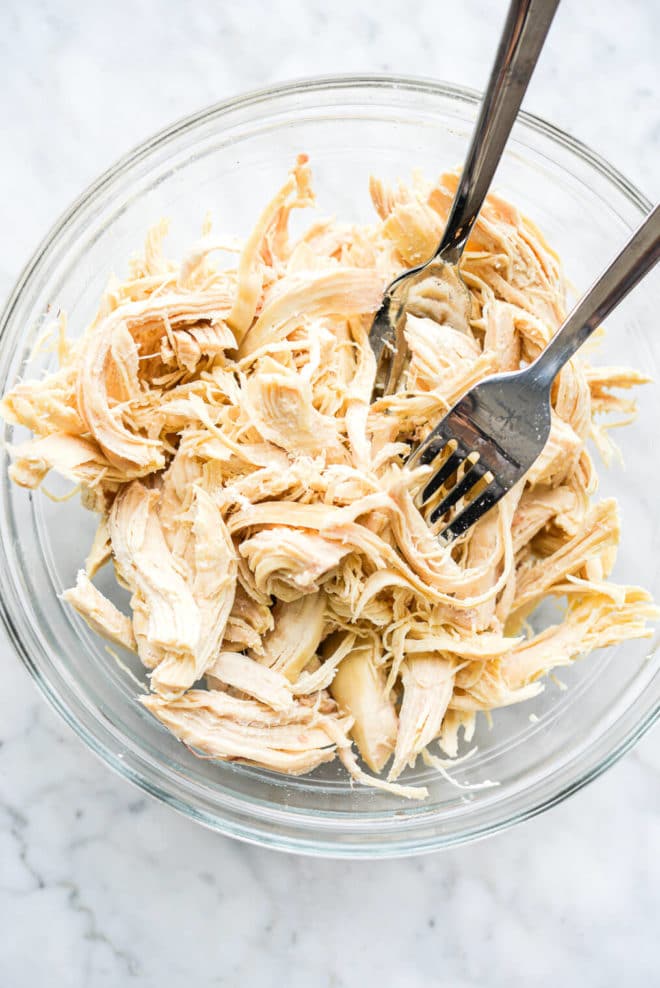 How To Make Perfect Instant Pot Chicken Breast
Though making shredded chicken in the Instant Pot is super simple, if this is your first time (or you just don't feel super comfortable with the method yet), you'll want to keep a few things in mind: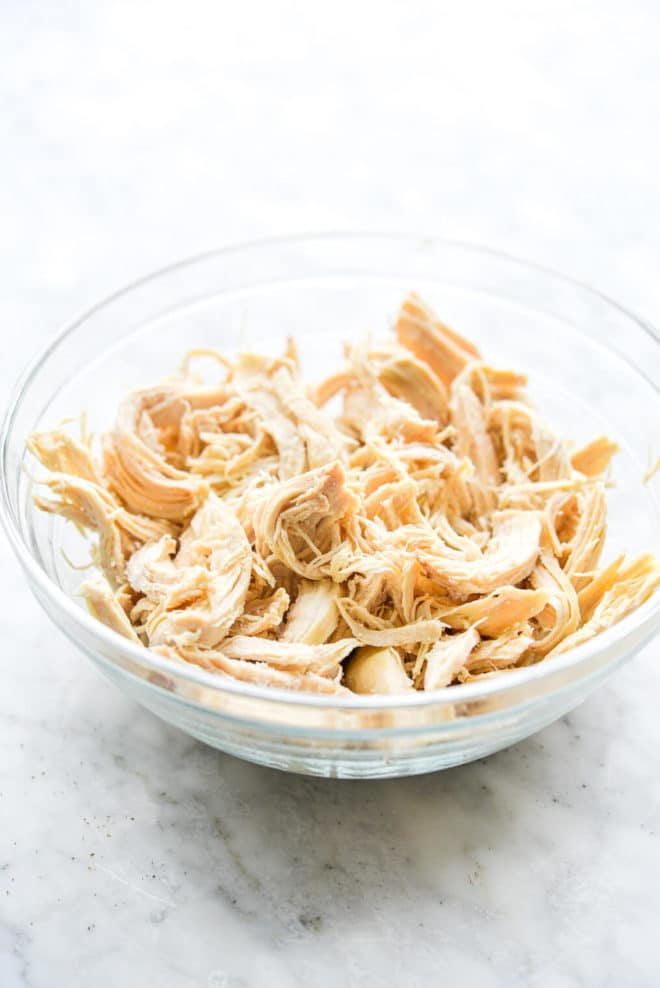 What to use shredded chicken for?
The possibilities are truly endless, y'all. Shredded chicken can be used in *so* many different ways, and having pre-cooked shredded chicken on hand makes mealtime incredibly easy! We've listed several different recipes to make great use of your shredded chicken below, and in each of them, you'll simply skip the step that calls for cooking the chicken, and sub in your already cooked chicken instead!
Lunch Recipes
Dinner Recipes
Frequently Asked Questions
How long does it take to cook raw chicken in Instant Pot?
Whether you're looking to cook enough chicken for 1 night of dinner or a larger amount for, say, 3-4 dinners (or to just stock up the freezer with an easy, ready-to-heat-and-eat protein option), we've kept the amount of time the same here. The short reason for this? We've found that 20 minutes is long enough to really tenderize and achieve a shreddable texture in anywhere from 1 to 5 pounds of chicken, and if we can keep things really simple by sticking to one time (with really great results), that's what we're going to do!

Though 20 minutes may seem slightly longer than other Instant Pot shredded chicken recipes that you see on the internet, we've found that giving the chicken a few extra minutes of pressure cooking actually yields a much more shreddable, tender chicken.
Can you overcook chicken in Instant Pot?
Interestingly enough, we actually find it really difficult to overcook shredded chicken in the Instant Pot. In fact, the more time that the chicken has to sit in its own juices and break down with pressure, the more tender and "shreddable" it becomes. Granted, you don't want your chicken to pressure cook for double the time that we recommend in hopes of it becoming ultra-shreddable, but do know that overcooking it is actually more difficult than it may seem.
Why is my Instant Pot chicken rubbery?
We've found that a lot of recipes for Instant Pot shredded chicken actually call for pressure cooking the chicken for less time than we do, but in our experimentation, the lower amount of time tends to yield more rubbery, hard-to-shred chicken, while the amount of time that we recommend (slightly longer than you may see elsewhere) really allows the protein to break down and become tender + very easily shreddable.
More Favorite Instant Pot Chicken Recipes
Instant Pot Shredded Chicken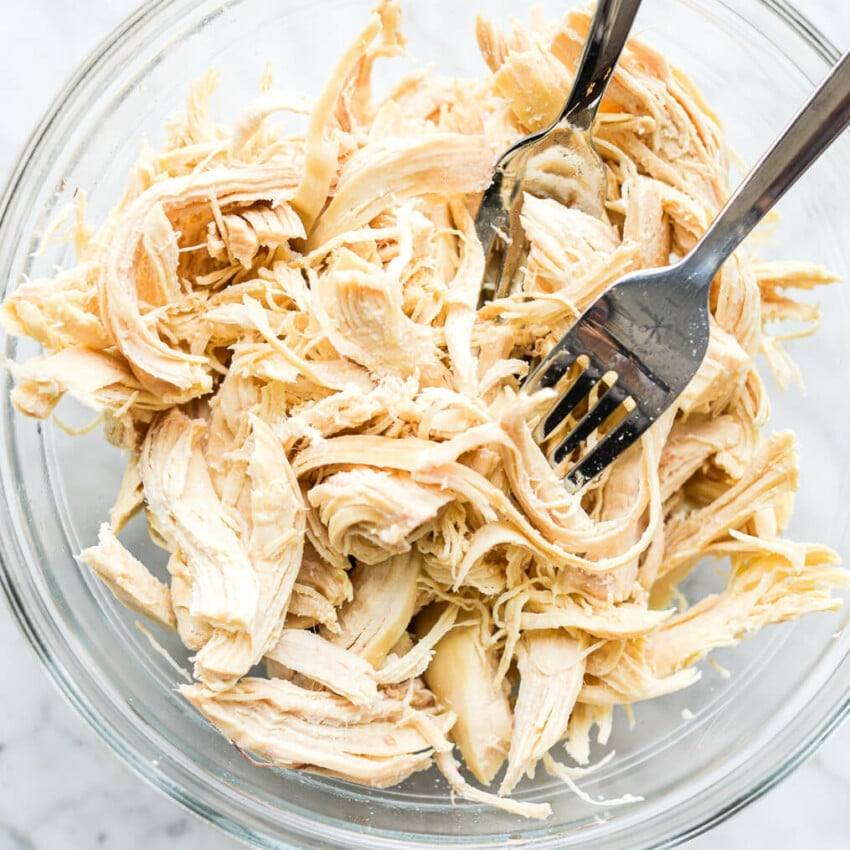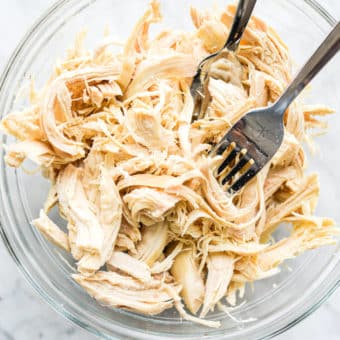 This Instant Pot shredded chicken is perfectly tender, done in minutes, and a perfect versatile protein to use in tons of meals!
Ingredients
1-5

pounds

chicken breast

1

cup

chicken broth or water
Instructions
Place the chicken and broth or water in the Instant Pot, then secure the lid until you hear it beep.

Close the lid and make sure the steam release valve is sealed, then set the pot to cook on high pressure for 20 minutes.

Let the pressure naturally release for at least 15 minutes, then turn the steam release valve to release any additional pressure. Once it is fully released, remove the lid and transfer the chicken to a bowl.

Shred the chicken in your stand mixer using the paddle attachment, with an electric hand mixer, or with two forks, then serve or store for later!
Recipe Notes
Nutritional information is for 1 pound of chicken breast cooked in water.
Nutrition
Calories:
272
kcal
|
Protein:
51
g
|
Fat:
5.9
g
|
Saturated Fat:
1.3
g
|
Cholesterol:
165.5
mg
|
Sodium:
102
mg