Whether you're trying to get over your latest cold or you just want to give your body a little extra nourishment, this healing chicken soup loaded with nutrient-dense foods like turmeric, ginger, and kale is sure to have you feeling better in no time.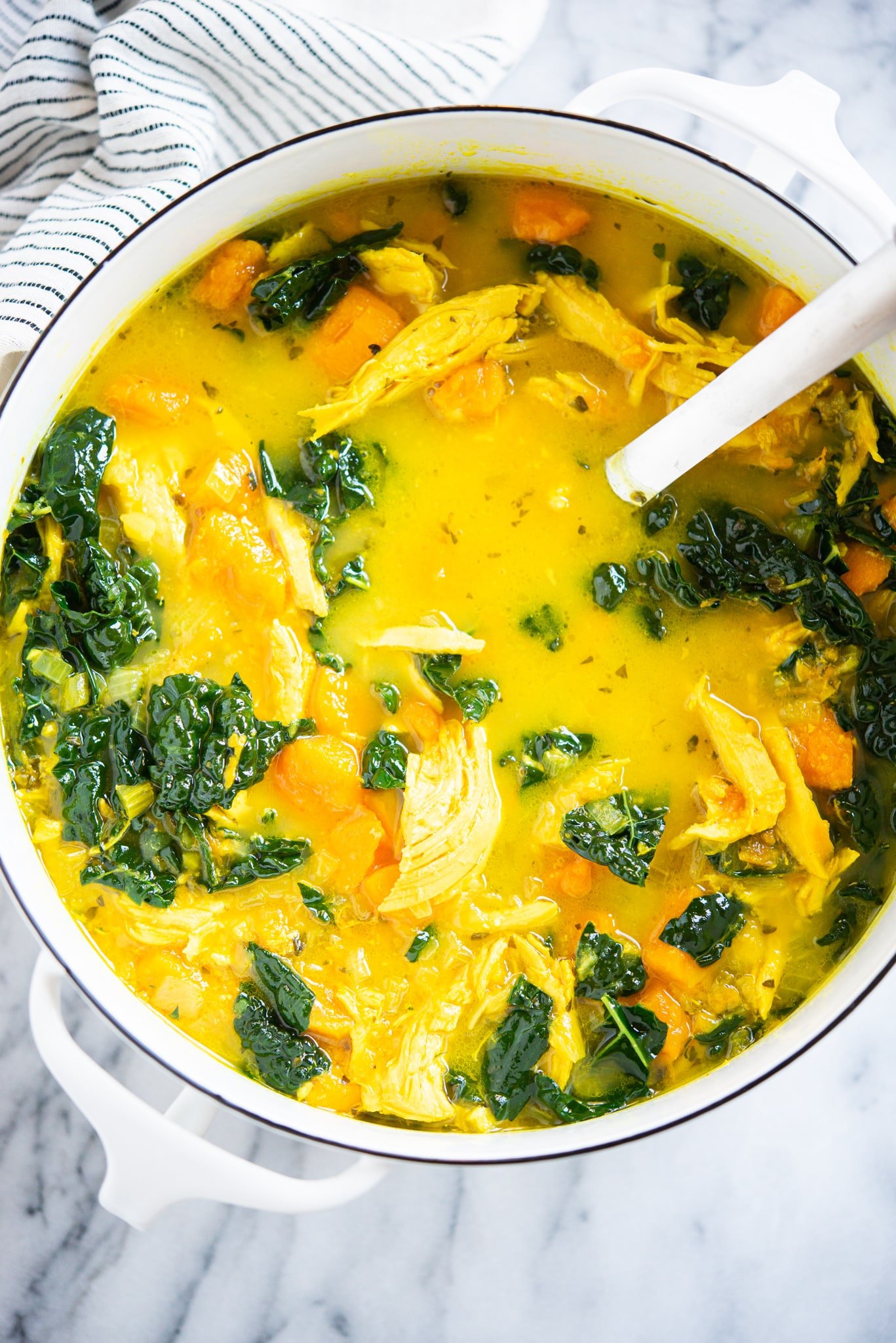 It's that time of year again when the cold and flu seems to be getting everyone, which means it is the perfect time to make a big batch of cozy, nutritious soup! There's nothing like Mom's homemade chicken soup to cure a cold, and today we're taking classic chicken soup and upping the ante with loads of immune-boosting ingredients. With its rich turmeric-ginger broth, shredded chicken, sweet potatoes, kale, and bright lemon juice, this soup is also completely crave-worthy. We recommend making a double batch – one to eat now, and one to freeze for later, just in case!
Ingredients for Healing Chicken Soup
The nutritionist in me is SO pumped to talk about the magical healing properties of the ingredients in this soup! The anti-inflammatory and antioxidant powers of food are truly incredible.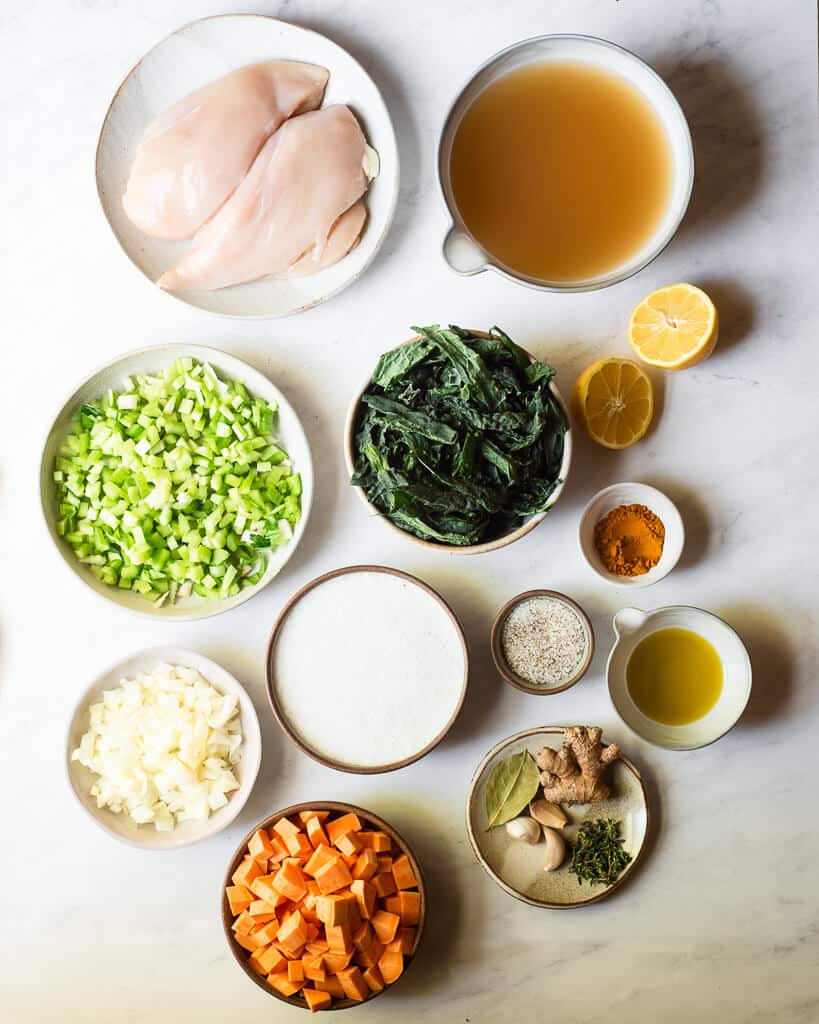 Bone Broth – The base of this soup starts with bone broth. Why bone broth over traditional broth? Bone broth is filled with vitamins, minerals, and collagen that can help support a healthy immune system. Whether you make it or buy it, bone broth is great to have in your cold-fighting arsenal!
Turmeric – Turmeric is a potent anti-inflammatory and antioxidant spice that gives this soup its beautiful yellow color. Turmeric has also been shown to have antiviral properties(1), which is great for fighting off the cold and flu.
Ginger – Ginger is another spice that has antiviral and antibacterial properties in addition to anti-inflammatory and antioxidant compounds that can be helpful in healing the cold and flu, and has been shown to be especially good for digestive issues(2). Ginger has also been shown to be helpful for sore throats, and sipping on ginger tea can often provide immediate relief.
Onion & Garlic – While they may not exactly be trendy veggies, did you know that they actually have strong antibacterial, antiviral, and antioxidant properties? In addition, onion has a wealth of vitamins and minerals that are great for your overall health and for flu-fighting. Garlic contains a compound called allicin that is thought to give it its powerful antiviral and anti-fungal properties(3), in addition to other benefits.
Celery – Lately celery has become popular thanks to the touted benefits of celery juice, but here we're using it in its whole form! Celery is rich in vitamins and minerals, including antioxidants like Vitamin C.
Sweet Potatoes – Sweet potatoes are highly nutritious, rich in antioxidants, and a great source of vitamins, including Vitamins A, C, and B6, and healthy carbohydrates, which can help keep your energy up when you're feeling under the weather!
Lacinato Kale – Kale is widely known for being a nutritional powerhouse. It is rich in vitamins A, K, and C, as well as antioxidants. We use lacinato kale here because we love the flavor over curly kale.
Fresh Thyme – Did you know that many herbs actually have incredibly powerful properties? In this recipe, we chose thyme because we love the flavor. Thyme is antimicrobial, so it is a great option for fighting the cold and flu, and it also has expectorant properties, which can help clear mucus and fight cold and congestion.
Chicken – You can use either chicken breast or thighs for this recipe, and feel free to save yourself some extra work by buying rotisserie chicken at the store! The chicken will cook in the soup, and then you will simply shred it with two forks.
Coconut Milk – Coconut milk pairs perfectly with the flavors in this soup, adds a slightly creamy consistency and provides a source of healthy fats.
Lemon Juice – The juice of one lemon stirred in at the end of cooking helps lend a bright, light flavor to the soup, plus lemon is known to be great for supporting detoxification, as well as being high in Vitamin C.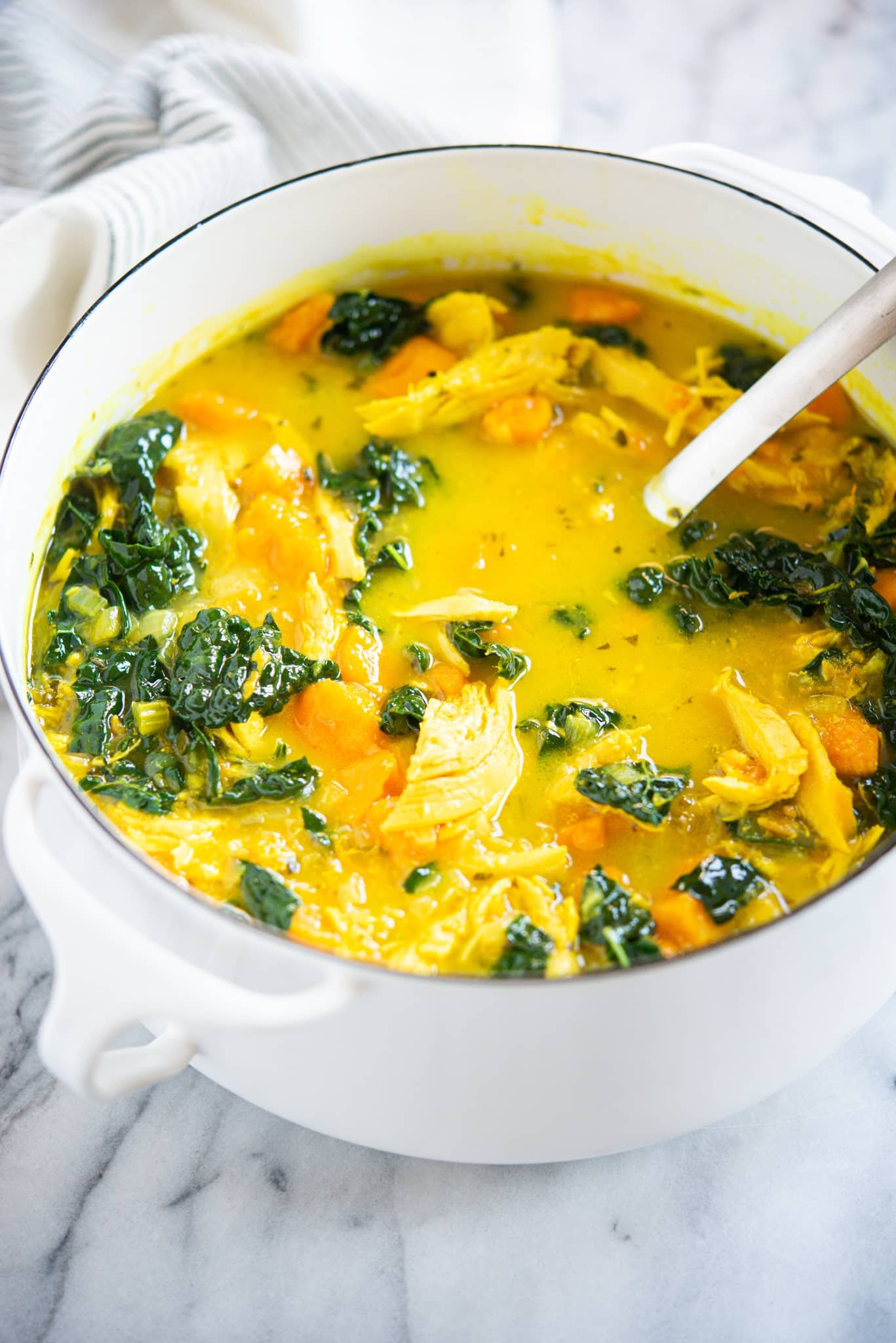 How To Make Healing Ginger Chicken Soup
This chicken soup is super simple to make! For the stovetop version, just follow the steps below: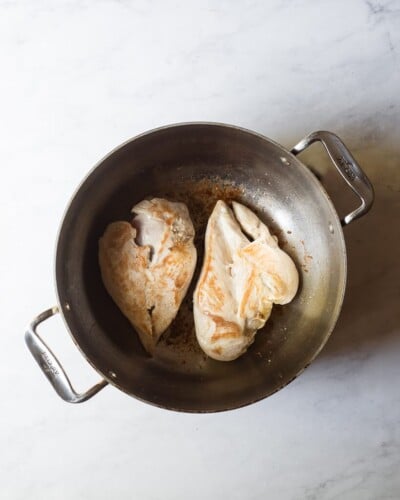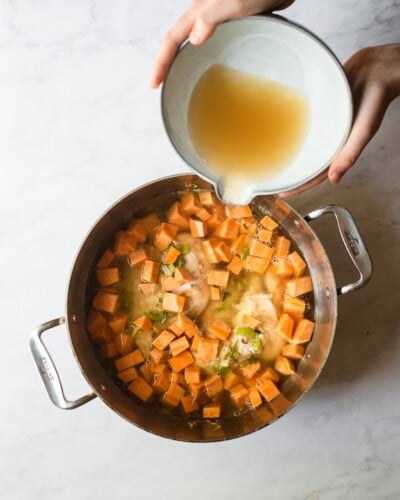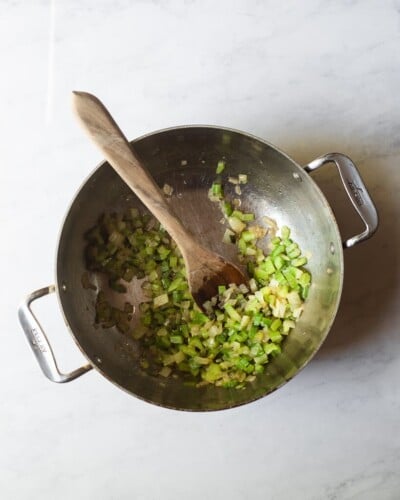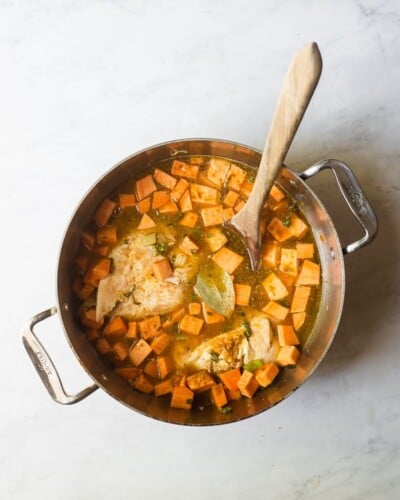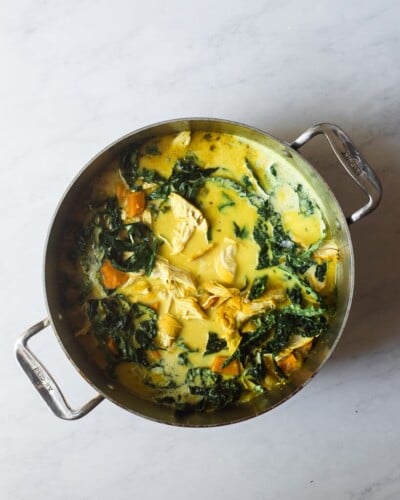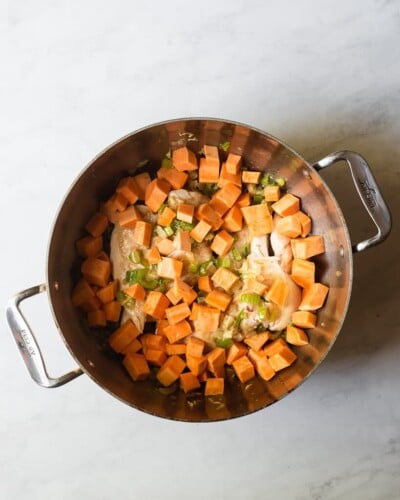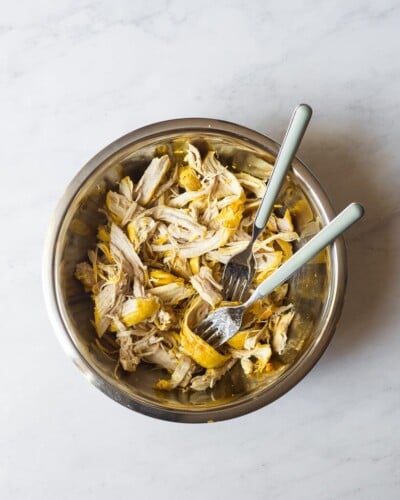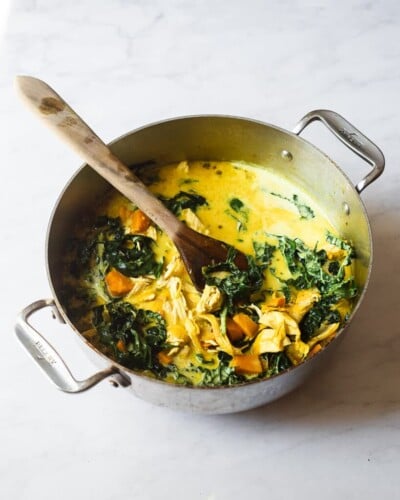 Brown the chicken. First, you'll brown your chicken breasts or thighs in the same pot that you'll be making the soup in. You don't want to cook them all the way through, but searing will help you build flavor.
Saute the onions, garlic, and celery. Once you remove the chicken, you'll saute the onions, garlic, and celery until they are just tender.
Add the remaining ingredients and simmer. Next, you'll quickly saute the ginger, then add the chicken back to the pot along with the sweet potatoes, broth, and seasonings. Simmer for 30-40 minutes, until the chicken shreds easily with a fork and the sweet potatoes are fully cooked.
Stir in the coconut milk and kale. Stir in the coconut milk and the kale and let it cook for 2-3 minutes, until the kale turns bright green, then turn off the heat.
Squeeze in the lemon juice and taste for seasoning. Finally, squeeze in the juice of a lemon and then taste for seasoning, and enjoy!
Chicken Soup Frequently Asked Questions
Can I freeze this soup?
Yes! This soup freezes great. Just pack it into airtight containers, or, if you need to save room in your freezer, ladle it into Ziplock bags then lay the bags flat in the freezer. Once they're frozen, you can pack them together and stand them up. To reheat, simply microwave a serving for 3-4 minutes, stirring halfway through, or simmer on the stove over medium heat for about 10 minutes.
Can I make this in the Instant Pot or Crockpot?
This soup will work in either the Instant Pot or Crockpot. We recommend cooking it on high pressure for 15 minutes in the Instant Pot and either 4 hours on high or 6-8 hours on low in the Crockpot. Whichever way you make it, we hope this healing chicken soup helps boost you through this cold and flu season! For more nourishing Instant Pot soup recipes check these out: creamy pumpkin, chicken noodle, chicken tortilla, or cauliflower with leek.
What to Serve with Ginger Chicken Soup?
While this soup is totally a meal all on its own (it's got all of the goods – healthy fats, energizing carbohydrates, and filling protein), feel free to add your favorite crunchy bread as a yummy starchy side or even enjoy this soup overtop white or brown rice! If you're a soup + salad person, this really simple arugula salad would be a great veggie side.
Video
More Favorite Soup Recipes
Ginger Chicken Soup Recipe with Turmeric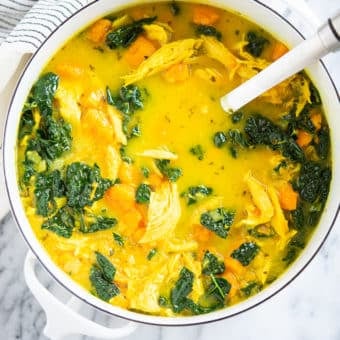 This chicken soup is packed with nutrient-dense, immune-boosting veggies and herbs to help you feel better faster!
Ingredients
2

tablespoons

butter or olive oil

1

small onion

diced

3

stalks of celery

diced

3

cloves of garlic

minced

1

tablespoon

fresh grated ginger

2

medium

sweet potatoes (about 1 pound)

cut into 1-inch cubes

2

pounds

boneless, skinless chicken breast

5

cups

chicken broth or bone broth

1

teaspoon

fresh thyme

chopped

½

teaspoon

coarse sea salt

¼

teaspoon

black pepper

1

bay leaf

2

teaspoons

ground turmeric

1

cup

full-fat coconut milk

1

head

lacinato kale

de-stemmed and roughly chopped

2

tablespoons

lemon juice (about 1 lemon)
Instructions
Melt the butter in a large, heavy-bottomed pot over medium-high heat. Once the butter is melted, add the chicken. Cook for 3-5 minutes per side until browned, then remove from the pan and set aside.

Add the onion and celery to the pot and cook for 5-7 minutes, until both are browned and the onion is translucent, then add the garlic and ginger and saute for about 1 minute, until fragrant.

Return the chicken to the pot along with the sweet potatoes, then stir in the chicken broth, thyme, salt, pepper, bay leaf, and turmeric.

Cover and simmer over medium-low heat for 30-40 minutes, until the chicken can be easily pulled apart with a fork.

Pull the chicken from the pot and shred with two forks or with the paddle attachment of a stand mixer. Add the chicken back to the pot then stir in the coconut milk and kale. Cook for 2-3 minutes until kale is fully wilted.

Add the lemon juice and then taste the soup for seasoning, adding additional salt and pepper if needed. Spoon into individual bowls and serve!
Recipe Notes
Instant Pot Method
To make this recipe in your Instant Pot, reduce the amount of broth by 1 cup and complete steps 1 and 2 in your Instant Pot on 'saute' mode. Then, add the chicken broth, thyme, salt, pepper, bay leaf, and turmeric. Seal the Instant Pot and set to cook on 'manual' for 15 minutes. Once the timer goes off, you can either release the pressure immediately or let it release manually, then remove the lid, set the pot to 'saute' mode and continue with steps 5 and 6.
Crockpot Instructions
To make this recipe in your Crockpot, complete steps 1 and 2 on the stove, then transfer everything to your slow cooker. Cook on high for 4 hours or on low for 6-8 hours, then continue with steps 5 and 6.
Nutrition
Calories:
402
kcal
|
Carbohydrates:
23.5
g
|
Protein:
40.2
g
|
Fat:
16.9
g
|
Saturated Fat:
8.7
g
|
Cholesterol:
110.3
mg
|
Sodium:
336.7
mg
|
Fiber:
3.7
g
|
Sugar:
5
g