Every item on this page was chosen by The Fed & Fit team. The site may earn a commission on some products (read more here).
This Instant Pot Salsa Chicken can be thrown together in under an hour with very little hands-on time! It's perfect for a quick weeknight meal or for meal prepping ahead of the week.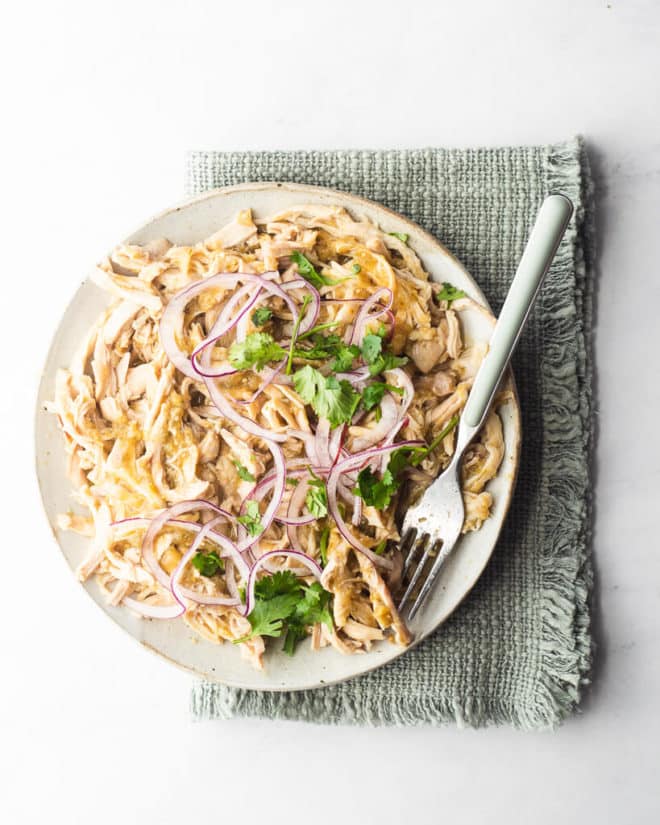 Instant Pot Salsa Chicken
We have all experienced a night or two when everyone in your family wants something different for dinner and you can't decide who "wins." Someone wants tacos (someone ALWAYS wants tacos), someone wants a salad, and you're up for anything as long as it is tasty, requires minimal effort, and can please everyone ASAP! This Instant Pot salsa chicken is the answer to those nights. It can be used in a variety of ways that will make sure everyone gets what they want, and the best part is how quickly it comes together. You can easily use it on top of a salad, in tacos, or in a burrito bowl!
Salsa Chicken Instant Pot Ingredients
Chicken – to start, you'll need 2 pounds of either boneless, skinless chicken thighs or breasts.
Salsa Verde – you'll also need 1.5 cups of salsa verde. Do note that if you want to keep things super simple, 12 ounces of store-bought jarred salsa verde will work great too!
Sea Salt – a 1/2 teaspoon of coarse sea salt helps to lightly season the chicken (we don't need much seasoning because the salsa verde is so flavorful!)
Cilantro (optional) – whether in a burrito bowl, taco, or salad, we really love topping this chicken with fresh chopped cilantro.
Red Onion (optional) – again, regardless of how you use this shredded salsa chicken, sliced red onion tops it beautifully!
How to Make Instant Pot Salsa Chicken
Making this salsa chicken honestly couldn't be any easier! You'll just add two pounds of chicken to your Instant Pot along with 1.5 cups (12 ounces) of salsa, and a little bit of salt. Toss it all together to make sure the chicken is well-coated, then set the Instant Pot to cook for 30 minutes. Once the timer goes off, it's up to you whether you want to let the pressure release naturally, or if you want to release it manually to save a bit of time. When the pressure has released, you'll open the lid to find tender, flavorful chicken!
How to Shred Chicken
It's up to you how to shred your chicken, but we tend to go with one of these two easy methods:
Shred with two forks. This is the tried-and-true way best for shredding smaller batches of chicken. You'll just pull at the chicken with the two forks until it is fully shredded.
Use an electric mixer. A stand mixer with a paddle attachment works best here, but really any mixer will do! This method is best for large quantities of chicken (think – doubling this recipe) when you don't want to spend a long time shredding. Simply place the chicken in a bowl, turn your mixer to its lowest setting, and mix up the chicken just like you would a batter. Within about 15 seconds you'll have a full bowl of shredded chicken!
What's the best way to serve this Salsa Verde Chicken Instant Pot Recipe?
Our favorite thing about this dish is that you have nearly endless possibilities for how to use it. Because of that, it's also a great recipe to double so that you can keep extra on hand! Here are a few ideas for serving this chicken:
Make tacos. You can keep it simple, or you can add a bunch of toppings, a slaw, or fajita veggies.
Make burrito bowls with white rice or cauliflower rice, guacamole, and sauteed onions and peppers.
Have a nacho night! Pile chips with this chicken, black beans, cheese, then load up on all the toppings – guacamole, sour cream, salsa, chopped cilantro, and whatever else your heart desires.
Make a Mexican-Inspired salad. Think greens, black beans, corn, some diced bell pepper, tortilla strips, and maybe a little jalapeno ranch.
Make a cheater green chicken chili. You can easily turn this recipe into a green chicken chili by adding two cups of broth while it cooks, then squeezing in the juice of one lime and stirring in a few handfuls of greens once it's done. Garnish with a little sour cream and cilantro and you've got one tasty dish.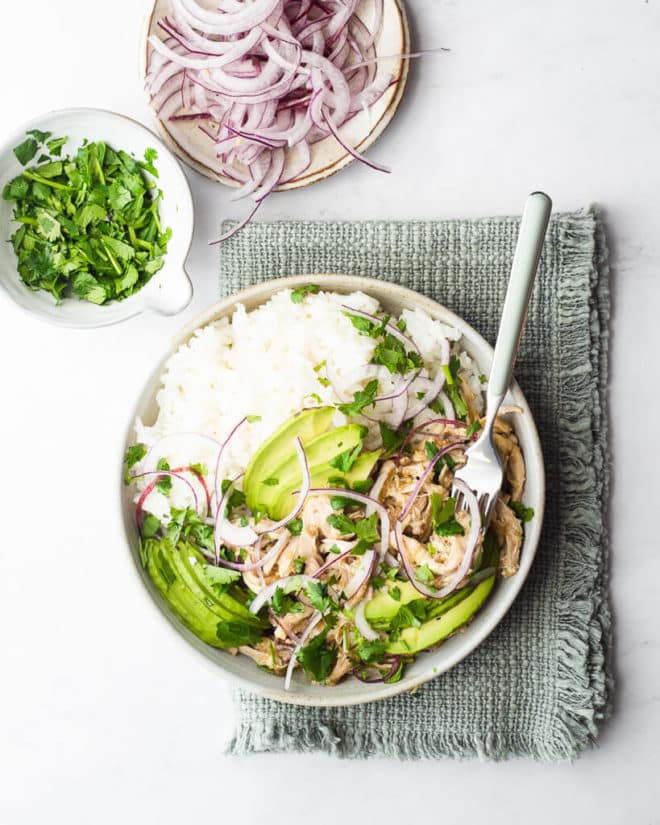 If you find this recipe as versatile as we do, then make sure to keep a jar of your favorite salsa verde on hand and when you just aren't quite sure what to make you can whip this Instant Pot Salsa Chicken again! Hopefully, this recipe makes those nights when everyone wants something different just a little easier. Enjoy!
More of our Favorite
Instant Pot Recipes
Need more easy Instant Pot chicken recipes?
This Instant Pot Chicken and Potatoes with honey mustard is an easy, flavorful meal that's sure to be a hit with your whole family! If you're looking for a great summer meal, these Hawaiian Chicken bowls are SO good. They have shredded chicken in a sweet and tangy sauce and a fresh pineapple avocado salsa on the side. This Instant Pot Chicken Enchilada Soup is perfect for when you're craving something cozy and comforting, plus it only requires a few minutes of hands-on time!
Video
Instant Pot Salsa Verde Chicken FAQ
Q
What is the best type of chicken to use for shredding chicken in the Instant Pot?
A
We love using boneless, skinless chicken thighs for making shredded chicken because their higher fat content means that they don't dry out in the Instant Pot. If you aren't a fan of dark meat though, our second-best choice is boneless, skinless chicken breast tenders, which retain a little more moisture, followed by boneless, skinless chicken breast.
Q
If making Instant Pot Shredded Chicken Thighs for this recipe, how long do I cook chicken before shredding?
A
The chicken + salsa verde combine and cook for just 30 minutes before being deliciously shreddable!
Q
Can you put Frozen Chicken breast in Instant Pot?
A
Yep! One of our favorite things about the Instant Pot is that you can cook food from frozen in it. If you're using frozen chicken, you can use the same cook time of 30 minutes – just anticipate that the pot will take longer to come to pressure.
Q
What's the best type of salsa to use?
A
We tend toward salsa verde, but you can absolutely use a red salsa in its place! It's truly whatever you prefer. When looking for salsa, we recommend looking for one with minimal ingredients and additives. Pick one that you enjoy eating by itself because the salsa will be providing the majority of the dish's flavor.
Q
Is it easier to shred chicken hot or cold?
A
We prefer shredded our chicken while it's still hot (or at least warm), but either will work just fine.
Q
Can I freeze this dish?
A
Yep! Shredded chicken freezes great, and this salsa chicken is no exception. Just store it in an airtight container or Ziploc bag, label it, and eat within 3 months. It reheats easily in the microwave or on the stovetop.
Just for You
Chicken Recipes
Want more recipes like this?
Ingredients
2

pounds

boneless

skinless chicken thighs or breasts

1 1/2

cups

salsa verde

1/2

teaspoon

coarse sea salt

Fresh chopped cilantro

for garnish

Sliced red onion

for garnish
Instructions
Place the chicken in the Instant pot and toss with the salsa and sea salt. Seal the lid of the Instant Pot and set to cook on the manual setting for 30 minutes.

Once the timer goes off, manually release the pressure by turning the valve on the Instant Pot from 'sealed' to 'venting.' Once all the steam has been released, remove the lid from the pot.

Shred the chicken with two forks You can eat it as-is, or use it as a filling for tacos or in burrito bowls!
Nutrition Information
Nutrition Facts
Instant Pot Salsa Chicken
Amount per Serving
% Daily Value*
* Percent Daily Values are based on a 2000 calorie diet.
Recipe Notes
To Make in the Slow Cooker:
Place the chicken in the slow cooker and toss with salsa and sea salt. Cook on high for 4 hours, or low on 8 hours, until the chicken shreds easily with a fork.