This Pizza Ranch Chicken Casserole is a healthier way to have a family pizza night with even more flavor! Today's post is brought to you in partnership with Sir Kensington's.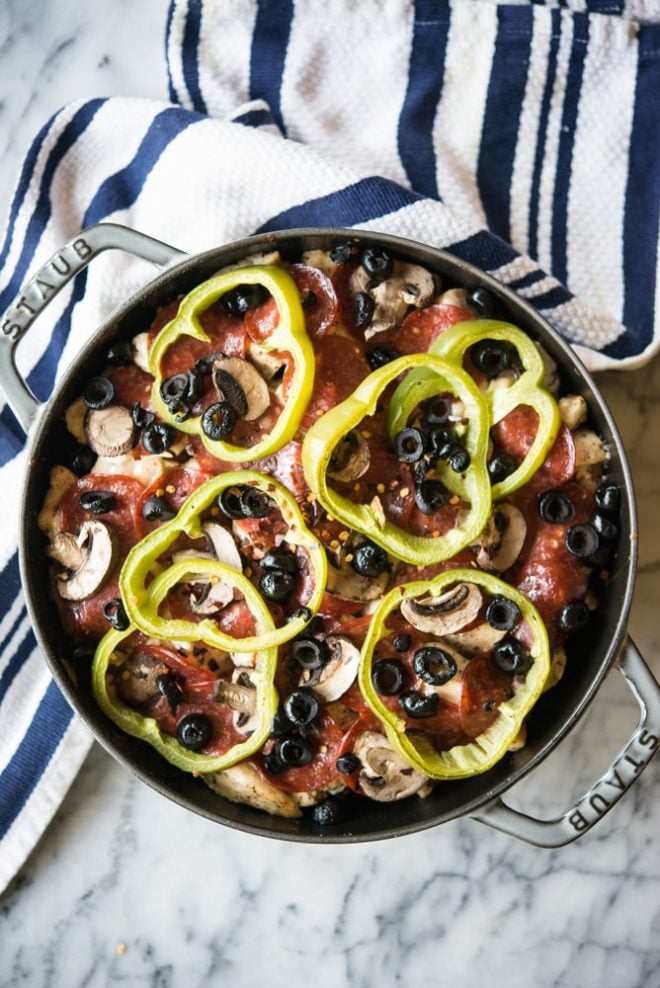 It's CASSEROLE TIME! Once upon a time, I was in New Jersey for a stop on my book tour for Fed & Fit (the book) and I mentioned that my book had a whole chapter devoted to casseroles …it was met with a quiet, blank-stare response. I did NOT know that casseroles aren't a kitchen staple everywhere! They may have been pulling my leg, but a sweet lady in the crowd asked, "is a casserole that thing from the 80's?"
HA!
Yes, yes it is …and like all good things, they have come back around. So let's embrace a couple of the gems from the 80's: white leather shoes and the casserole. But this time, let's casserole a little differently.
In previous decades, casseroles were a mixture of mostly pasta with a little meat, maybe some veggie (for color, mostly), and some kind of a creamy/cheesy sauce. YES that sounds delicious to me, too …but it also sounds like a stomach ache.
Loving the idea of a casserole because it allows me to make a BIG meal that provides lots of leftovers, I am constantly on the brainstorm lookout for a healthy way to make one.
You can find a good number of my healthy casseroles here on the blog, but I'm exceptionally excited about THIS Pizza Ranch Chicken Casserole! Here's the breakdown…
First, we start off by pouring some roasted potatoes into the bottom of our casserole dish. Then, well-drained diced tomatoes go on top with a heavy sprinkle of Italian seasoning. You can think of this like the pizza crust + sauce! The potatoes represent the crust and tomatoes …well, you get it.
From there, things get especially tasty (and easy, thanks to Sir Kensington's). Because chicken is the protein star of this show, I wanted to dress it up. I'm that girl who always dips her pizza in ranch dressing, so ranch was an obvious flavor choice. We settled on the brand new Pizza Ranch from Sir Kensington's and it was FANTASTIC!! I love this ranch because it's made with really high-quality ingredients, is naturally gluten-free, is dairy-free, sugar-free, and just plain good. It's the new ranch we keep in our house!
So, that chicken gets tossed in a liberal amount of the ranch then spread over our "pizza crust." Pepperoni is layered over the chicken to be followed by YOUR favorite pizza toppings. I chose green pepper, black olives, and mushrooms. Into the oven it goes until the toppings look crisp! Sprinkle the top with crushed red pepper and ENJOY this pizza ranch chicken casserole!
You can find Sir Kensington's Ranch online HERE or find them in a store near you by clicking HERE.
Pizza Ranch Chicken Casserole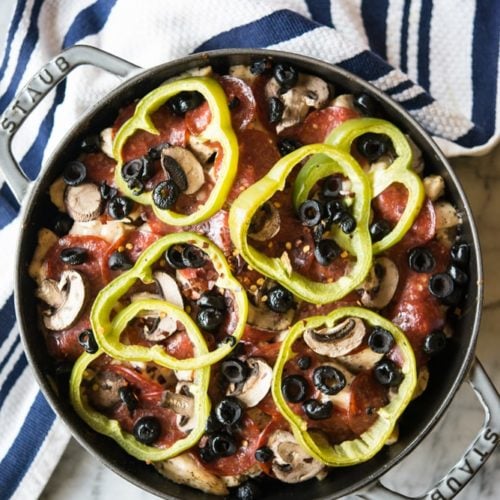 Easy, weeknight, dairy free recipe that tastes just like your favorite pizza!
Ingredients
For the Roasted Potatoes:
Instructions
Preheat oven to 425 F.

Toss the potatoes with the olive oil, salt, pepper, and garlic powder, then spread out on a rimmed baking sheet lined with parchment paper. Bake for 30 minutes until crisp, then remove from the oven and reduce heat to 350 F.

While the potatoes are cooking, add the olive oil to a large pan over medium heat.

Season the chicken liberally on both sides with the salt and pepper. Working in two batches, add the chicken to the pan with the olive oil. Sear for 5 minutes on one side, then turn over and sear for 2 minutes on the other side.

Once the chicken is finished cooking, cut into 1-inch pieces, then toss with the pizza ranch dressing, then set aside.

Toss the drained diced tomatoes with the Italian seasoning and garlic powder, then set aside.

To assemble the casserole: place the potatoes in the bottom of a round casserole dish, then top with the tomato mixture, followed by the ranch chicken mixture. Next, place the pepperonis on top of the chicken, then add the mushrooms, olives, and green bell pepper, making sure they are evenly spread out.

Bake at 350 F for 30 minutes, let cool slightly, and serve with additional pizza ranch on the side!
Recipe Notes
You can also use our 5-Ingredient ranch in this recipe!
Nutrition
Calories:
552
kcal
|
Carbohydrates:
32
g
|
Protein:
38
g
|
Fat:
30
g
|
Saturated Fat:
6
g
|
Polyunsaturated Fat:
10
g
|
Monounsaturated Fat:
12
g
|
Trans Fat:
0.2
g
|
Cholesterol:
114
mg
|
Sodium:
1536
mg
|
Potassium:
1396
mg
|
Fiber:
5
g
|
Sugar:
4
g
|
Vitamin A:
226
IU
|
Vitamin C:
52
mg
|
Calcium:
70
mg
|
Iron:
3
mg
[cft format=0]