Every item on this page was chosen by The Fed & Fit team. The site may earn a commission on some products (read more here).
These BBQ Ranch Meatloaf-Stuffed Tomatoes are an absolute breeze to whip up and will make the entire family happy! Delicious protein, healthy fats, and vegetables packed in each bite.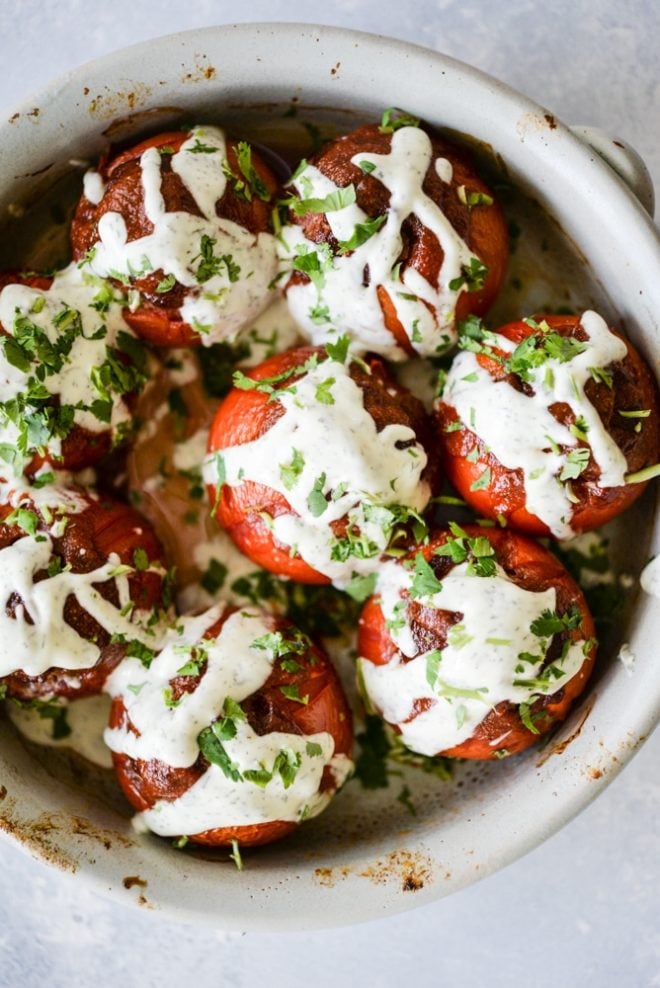 If you're a long-time reader here or if you have a copy of my Fed & Fit book, you know that I consider "foods that are stuffed" to be in a league of their own. They even have, rightfully-so, a dedicated "Foods that are Stuffed" chapter in my book. I LOVE stuffing foods! I think it's a neat and efficient way to get veggies and proteins to happily wed.
I'm thrilled to welcome a new recipe into the stuffed-foods family today! These BBQ Ranch Meatloaf-Stuffed Tomatoes are the real freaking deal, you guys. They're also crazy simple to make. Here's the gist: we take about 8 medium-sized tomatoes, cut a hole in the top, and spoon out the insides.
Pro tip: use a grapefruit spoon (one with a serrated edge) to help scoop out the inside membrane. It helps to cut through the flesh more easily than a regular spoon!
I like to nestle my hulled-out tomatoes in a pie or small casserole dish. Once your tomatoes are prepped, it's time to start on the meatloaf filling! Simply take one pound of ground beef and add in 1/3 cup of BBQ sauce. Note: I have a great recipe for BBQ sauce in my book and you can find another on my blog HERE. Make sure the sauce is well-incorporated into the meat. THEN, simply form balls and squish as much as you can into each tomato. If you have any leftover, either pile it on top of a few chosen 'maters or form into a patty and make yourself a quick burger snack.
Spoon a little extra BBQ sauce on top of each stuffed tomato and then bake at 350 F for 45 minutes, or until bubbly and smelling delicious.
NOTE: while the tomatoes and beef cook, they WILL release a lot of liquid. This is completely normal. Once your pan has cooled slightly, I recommend using a turkey baster to suck up and discard the extra liquid.
Garnish the finished tomatoes with an extra drizzle of fresh BBQ sauce, a generous drizzle of some homemade ranch dressing, and sprinkle of fresh cilantro.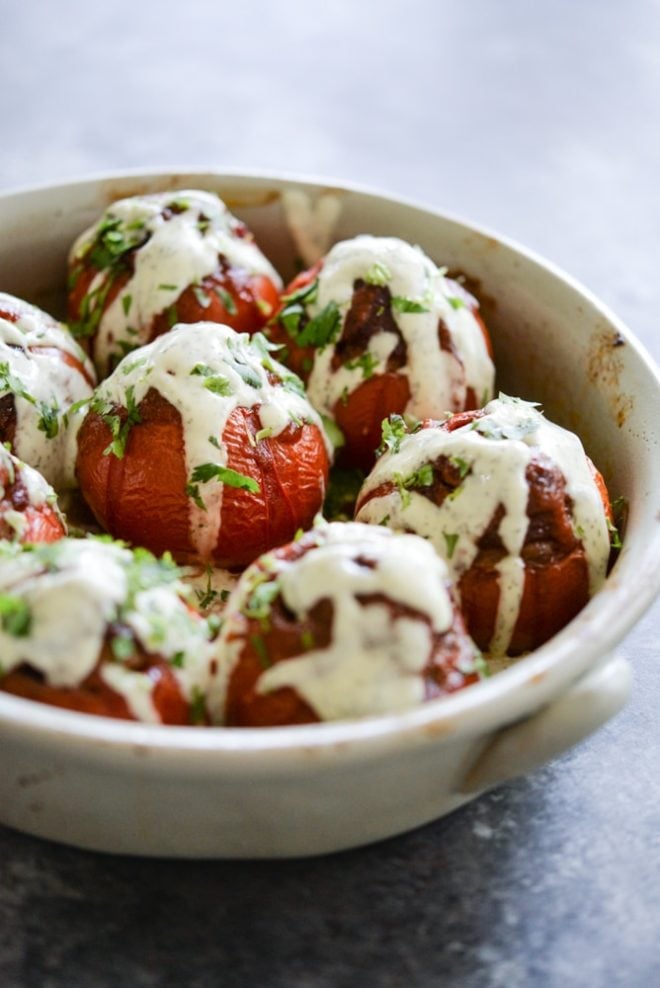 These BBQ Ranch Meatloaf-Stuffed Tomatoes are SO GOOD, you guys. You're going to love them. To make it a complete meal, I recommend serving next to some mashed potatoes and quick greens.
Enjoy!
Ingredients
8

medium-sized tomatoes

hulled (see above for instructions)

1

pound

ground beef

1/2

cup

BBQ sauce

divided

2

tablespoons

ranch dressing

1

tablespoon

chopped cilantro
Instructions
Place the hulled tomatoes in a appropriately-sized pie pan or casserole dish. Preheat oven to 350 F.

In a medium-sized mixing bowl, massage 1/3 cup of the BBQ sauce into the ground beef until well-incorporated. Spoon an equal amount of beef into each tomato, rounding off the tops.

Spoon a small amount of BBQ sauce on top of each stuffed tomato.

Bake at 350 F for 45 minutes, or until bubbly but not burnt.

Let cool for a few minutes, then use a baster to remove the excess fluid that released while in the oven. Discard the fluid.

Garnish the tomatoes with the remaining BBQ sauce, ranch dressing, and fresh cilantro.

Enjoy!
Nutrition Information
Nutrition Facts
BBQ Ranch Meatloaf Stuffed Tomatoes
Amount per Serving
% Daily Value*
* Percent Daily Values are based on a 2000 calorie diet.